TraderNovo Scam

At first sight TraderNovo creates a powerful impression of a good FX broker. However, if you investigate this broker carefully, you will find out that this is just another scam. What is exactly wrong with this broker? You will discover all the answers in this review.
TraderNovo: The Company
TraderNovo is an offshore FX broker, which headquarters is said to be in the Marshall Islands. This is basically the only piece of information you can learn about TraderNovo firm on its own website. It has no regulation and thereby tries to attract customers with different promotions and empty promises. In addition, TraderNovo does not welcome clients from the USA, Pakistan and Sri Lanka.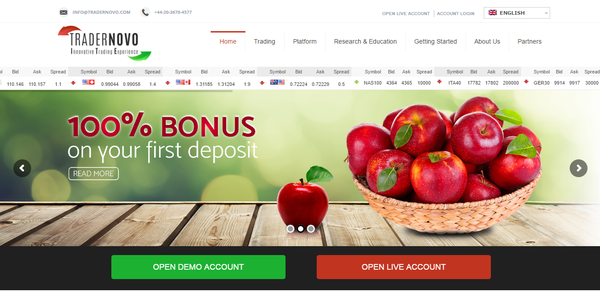 TraderNovo claims to be an ECN broker, which is not necessarily true. In order to be ECN, the broker has at least to be technologically advanced. This is why it becomes even harder to believe TraderNovo, since it cannot even provide a simple HTTP-secure website. Therefore, all your personal data is exposed to risk.
Customer support at TraderNovo Forex is poor and unqualified. You can contact it only by using phone, live chat and email. However, do not expect to receive an immediate response.
TraderNovo: The Actual Trading
TraderNovo offers 3 account types: Novo ECN, Novo ECN Pro and Novo ECN VIP. TraderNovo outlines that its key advantage is providing a diversification in what they offer. However, this is far from being true, because the accounts do not grant traders something really exciting as well as not differ much from each other. You can observe that when looking at Novo ECN Pro and Novo ECN VIP accounts.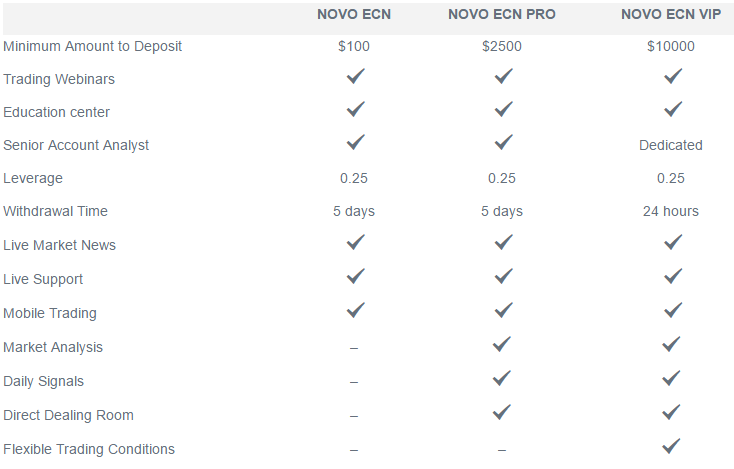 Tradable assets include CFDs, Forex, indices, commodities and stocks. At TraderNovo you can currently trade on MT4 platform, the WebTrader platform and Mobile platform, although we would not recommend you to do that. Remember that TraderNovo is not a trustworthy broker.
TraderNovo Reviews: Absence of Educational facilities
If you are new to online trading, then TraderNovo is not competent to teach you any comprehensive trading strategies or provide any useful educational materials. There are no articles, no video tutorials and no trading glossary to extend your understanding of financial markets.
TraderNovo: Deposits & Withdrawals
It is easy to deposit money, but rather difficult to withdraw it. This the way scam brokers operate. You have to go through a very complicated process of account verification to withdraw funds. It is also not stated how long does it for your money to reach your bank account.
TraderNovo: Opinion
TraderNovo is utilizing different methods do deceive traders. Is TraderNovo scam? Our answer is definitely yes. Do not sign up with this broker.