I'm not one to judge a book by the cover, but come on, S2Trade! However, I'm going to keep this S2Trade review as professional as I can. As a disclaimer, I will admit to being a bit pedantic, and even little things get me wary of a company, especially one that handles money. So, if you find me to be too nit-picky, that's fine, just remember that the devil is in the details – the tiny details.
Who is S2Trade broker?
If you're going to give somebody money, you had better know who they are and where you can find them. S2Trade forex broker is the tradename for Goldtech Media Services OÜ. I had to copy-paste that last bit because the company is based in Estonia, but their services extend beyond the country. From the company's website, they claim to have spread their services all the way across Europe and into Asia. I even tried to open an account through a VPN routed through the US, and I could still open an account with them. So, you can open an account with them from anywhere in the world.

You see, that is the thing about an unregulated broker, they have absolutely no restrictions. That is right, S2Trade have no license at all from any financial regulator anywhere in the world. Working with a broker without a license is not a good idea at all, after all, who would you complain to if you had a problem. Therefore, when you deposit your money with S2Trade brokers, you can never be certain it will be safe. A lack of licensing and regulation should be your first warning of the S2Trade scam being ran over there.
A look at S2Trade services
As I said at the start, I don't judge by the cover, so let's take a look under the hood.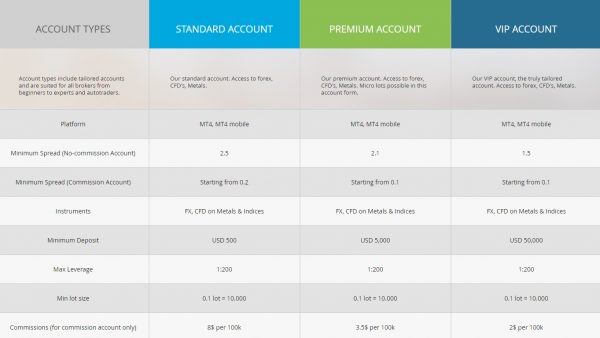 S2Trade provide many currency pairs for forex trading, and on top of that also offer CFDs trading for commodities, metals and indices. Other brokers also include CFDs for bonds, ETFs and other instruments, but the S2Trade offerings are not completely bad. So far so good, until you look at their other trading conditions. The minimum account opening balance with the broker is $500, and that is just for the standard account. It's not completely unreasonable, although other brokers allow even a $100 minimum balance. Also considering that they are not regulated, why would they require such a high amount of capital?
Besides, they have several account types, with the basic ones being incurring reasonable spreads on the major forex pairs. With the exotic pairs, though, the spreads become very wide, enough to make the trading quite costly. Things are no better with the ECN accounts, because these accounts charge a commission, but the spreads remain relatively wide. A lot of other brokers definitely offer better trading conditions that these of S2Trade.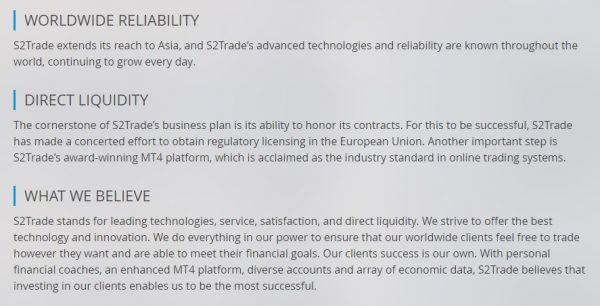 However, the S2Trade bonus is not bad, with clients receiving a 25% bonus of the amount they deposit. Unlike other brokers, you do get to withdraw your bonus, as long as you achieve the minimum required trading volume. Achieving the minimum requirement can be quite a task, but it's better that the bonus offered by other brokers that is completely non-withdrawable.
Is S2Trade legit?
Being completely unregulated by any financial regulatory body, I had a problem with S2Trade immediately. Nevertheless, I've seen some unregulated forex and binary options brokers who I would still use, although very cautiously. In the case of S2Trade opinions, though, I am not pleased by what they have to offer or their services. That they are not regulated only adds to my dislike for the broker, and I would ask any trader to stay away, for their own sake. But if you still feel lucky about using S2Trade, please take some time and leave some S2Trade reviews below, I bet it won't be positive.