Trading forex and CFDs online is an exciting process, yet it is quite stressful and demanding. Day traders have to be focused all the time to identify the best trading opportunities. Without a doubt, you don't want trading software to be in your way, not only that, but you want your trading platform to make the whole process easier for you. This is why Top Forex Brokers presents you with this list of the best Forex trading platforms for beginners and professionals alike. We hope that this will enable you to quickly compare the platforms and read the more detailed reviews for the platforms that interest you! Also, check out our Software Guide for 2023 and see what are the most prominent platforms.
Best Third Party Forex Trading Platforms
The FX Industry is mostly dominated by MetaQuotes, a Russian software company behind MetaTrader 4 and MetaTrader 5 Platforms. Most of the brokers will give you access to MT4 and in 2023 quite many provide MT5. MetaQuotes family is currently challenged by the cTrader platform, developed by the Spotware, and lately, cTrader has been adopted by many brokers. These are the platforms that you will encounter most often with brokers, but these are not necessarily the easiest or beginner friendly to master. Thankfully, they are highly customizable, so anyone will be able to enjoy them with a little tweaking. Preview the key features and read full reviews!
Broker Proprietary Forex Trading Platforms
There are some brokers that have created their own trading platforms. In this section, we focus on the review of the most prominent and interesting custom platforms. All of the platforms below come with a web version and with mobile apps. Still, all of the platforms are quite different and suitable for various types of traders. The individual qualities of the traders determine which platforms might be the best for them, but most platforms will be able to satisfy the very basic needs of each kind of trader.
Other Trading Platforms
There are other forex trading platforms in the foreign exchange industry. These platforms are usually used for specific reasons. Many of such platforms, like ProTrader, are designed for institutional trading and are not available for retail investors, therefore they are not reviewed at Top Forex Brokers. Yet, we still strive to tell you more about the platforms that are available, so maybe we can pique your interest in them. Look at some of the best FX trading platforms reviewed below to find out more about them!

What is ZuluTrade? It is a social forex trading platform that is based on the MT4 Accounts. Zulu has been one of the first 3rd party copy forex trading platforms and since then it has been adopted by almost every major broker. The service is great, it allows you to receive trading signals from the large pool of traders. The signal providers charge compensation for their services in return. As it is the only major inter-broker trading network, it has quite a lot of users. Read the full ZuluTrade review.
Sirix WebTrader has been mostly used by Markets.com customers. It got so popular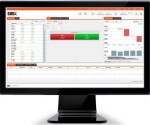 with this broker that some people actually thought that it is a custom platform of the broker. Sirix WebTrader had been developed by Leverate, a market leader in the fx and binaries software development. This forex trading platform collides web interface, social trading, charting, and community. In its concept, Sirix WebTrader is quite similar to eToro, yet it is available with a number of brokers.