Trying the EagleFX review to figure out the company's features

EagleFX is a Forex brokerage located in the Commonwealth of Dominica and offers trading options on Forex pairs, company shares, commodities and cryptocurrencies alike.
Before we even begin our EagleFX review we need to say that this company is most definitely a scam. One for not holding a license with a legitimate financial regulator, and two for offering trading services to customers from places like the USA without holding any permitting documentation.
In this review, we will be trying to break down the whole process of the EagleFX scam and trying to show you how these companies operate. We will be showcasing all of their trading conditions as well as the evidence we've gathered on their case.
EagleFX review at a simple glance
Whenever we make a Forex broker review we always like to take a look at the company's website and determine just how much effort they were willing to show in order to make it as user-friendly as possible.
Luckily, it seems that EagleFX showed at least some interest in designing their website to have it easily navigable for the users, but there are some key aspects missing that would be great additions.
For example, when making our EagleFX broker review we were forced to use the FAQ section to get most of the information. There were no dedicated pages or platforms that explained everything in depth. Things like leverage, spread, EagleFX withdrawal procedure, and deposit information were hard to come by, therefore transparency isn't the best that can be found here.
But we're here to discuss if the EagleFX scam is true and not rate a website's design. Let's start looking into the company's legal documentation to showcase the evidence we've found so far.
EagleFX is indeed a scam, evident of license issues
As already mentioned above, legal information was easy to come by, just not the type we were looking for or expecting a brokerage to have showcased on their website.
Things like the AML policy, privacy policy, and terms & conditions were easily found at the footer of the website, but everything else such as the information about licensing and regulatory compliance was nowhere to be found, so answering the question – is EagleFX regulated, isn't that easy.
The only clue that we got about the company's whereabouts was a mention of the Commonwealth of Dominica at the footer, and that itself was just a small mention.

However, that small mention of the Commonwealth of Dominica is what led us to identify the EagleFX scam. This jurisdiction does not support the regulation of Forex brokerages and therefore does not recommend any companies located on its soil. Sure, they allow them to register, but catering to the local population is a big no-no.
Furthermore, EagleFX broker seems to be catering to the US customer base, which is a huge deal when it comes to Forex trading. If a company can handle a license from the CFTC then it will definitely be a high caliber brokerage, but judging by EagleFX regulated trading conditions, size, and age we can definitely say that their offer of service for US clientele is illegal.
Is EagleFX a good brokerage?
All the problems surrounding the legal matters for the brokerage aside, let's take a look at the EagleFX spreads, trading conditions, and leverage, to try to determine whether or not they'd be worth a try if they held a legitimate license.
The first thing we need to focus on is the leverage and spreads offered by the company. But unfortunately, neither our nor other EagleFX reviews have yielded any info on the spreads, but we do know that the maximum leverage available for Forex pairs is 1:500, and the lowest is 1:100 for cryptocurrencies.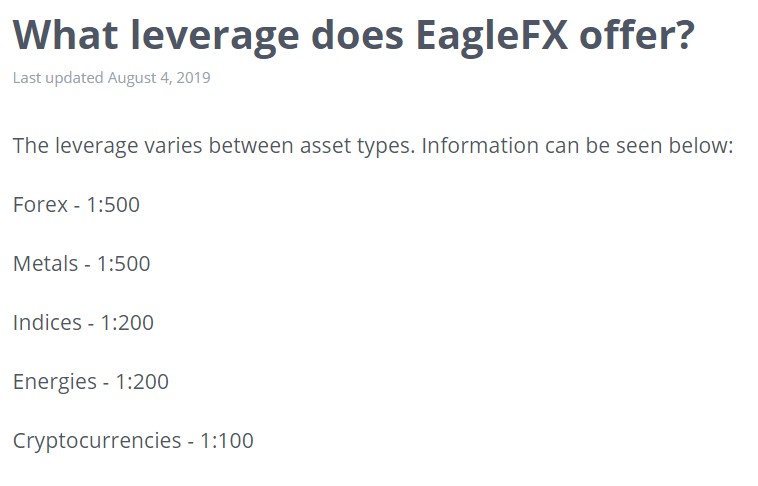 Considering the competition in the FX market, these leverage offers are quite decent. But one major gripe we have with the company's offers is that they don't deny having spreads on their trades and say it's floating based, while also requesting commissions for traded lots. The commission is around $6.
The only redeeming quality of commissions is the maximum leverage offered, but even the 1:500 is not enough for maintaining the best profitability possible with both spreads and commissions attached.
Are EagleFX withdrawals a scam feature as well?
Usually, most scam brokerages reveal themselves when they showcase their deposits and withdrawal features. However, it's safe to say that EagleFX withdrawals come with quite decent requirements. The EagleFX minimum withdrawal, as well as the EagleFX minimum deposit, is $10 with no fees attached.
The only issue we have with the withdrawals is that it's only available via Bitcoin and nothing else. The deposits can be processed through Credit/Debit cards, Wire transfer and Bitcoin though.
MT4 and WebTrader
Another good feature we found was that there is at least some kind of diversity when it comes to the trading software available with EagleFX. Traders can use both MT4 and WebTrader that come with demo versions as well. We're always excited when the broker has a WebTrader version as it allows them to customize it as much as possible.
However, when scammers have it, it's always a red flag, therefore, we can't really brand the EagleFX Webtrader as an amazing addition to the overall features.
It's about time to round the review up don't you think?
Trading with EagleFX – is it worth it?
No, it's definitely not worth it simply due to the issues with EagleFX regulation compliance and their outright illegal ways of offering services to US clients make them one of the worst choices you can make.
The reason why we reviewed their features though, was to showcase how these companies tend to entice their traders. In this case, EagleFX was definitely trying to do so with Bitcoin withdrawals and various other innovations.
The overall conclusion remains the same though. EagleFX is definitely a scam and trading with them is not recommended.