TradeMarkets details
With volatility persisting since the start of 2022 in the cryptocurrency market, traders should begin to question the effectiveness of HODL. Such an environment is more appropriate for trading, and one of the newer regulated brands out there providing promising crypto trading benefits is TradeMarkets.
Authorized by the FSCA, it has strong security and operates under transparent policies. On top of that, the company is not limited to cryptocurrencies, making it possible for customers to get involved in other traditional assets. Although this review will focus on crypto, some other benefits will be highlighted as well.
Crypto trading benefits
In case you are looking for secure crypto trading conditions, TradeMarkets is one of the best places to be right now. You can enter the digital era by simply creating an account and starting to trade with zero commissions and competitive rates.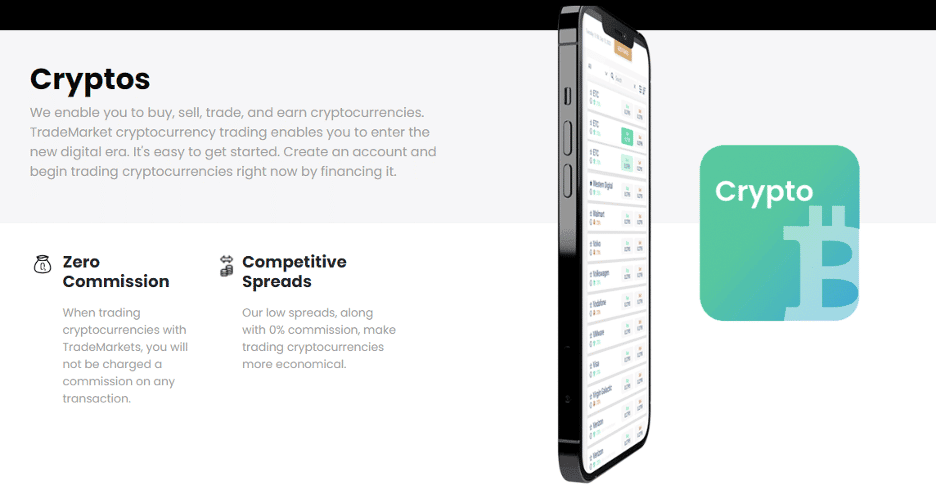 Source: trademarkets.com
TradeMarkets currently covers crypto pairs. The list is longer and includes other altcoins that are now popular among crypto enthusiasts.
If crypto seems too volatile, at any point you can diversify with currency pairs, commodities and much, much more. There are more than 80 instruments available with this broker, more than enough to spot trending assets every day.
Trade crypto with professional software
Because cryptocurrency prices are so volatile, traders now demand optimal trading software. TradeMarkets delivers the customized WebTrader, as well as mobile trading capabilities via proprietary apps and the MetaTrader versions for Android or iOS.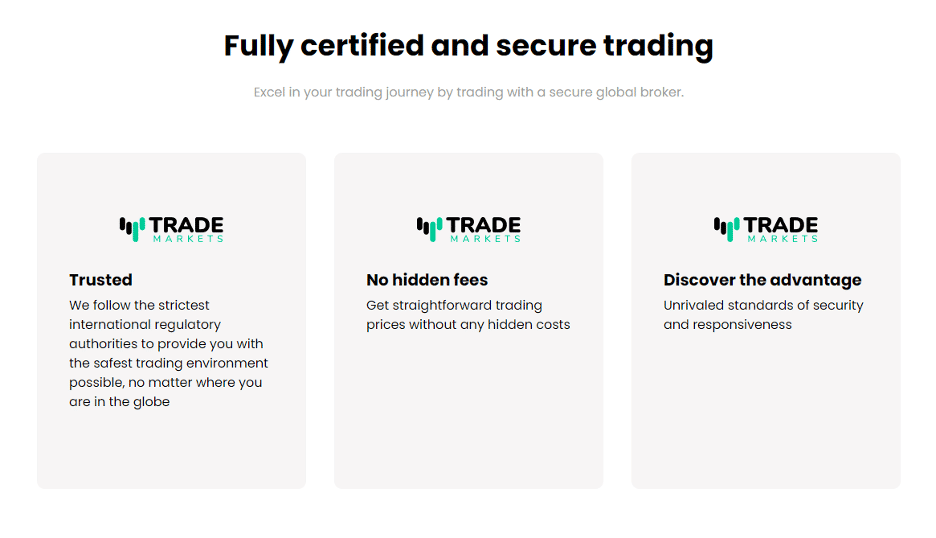 Source: https://trademarkets.com/who-we-are/
By having access to so many different platforms, each trader signing up for an account can make the right pick, based on prior background, as well as trading objectives. Each of the platforms covered has been tested, and they all benefit from positive feedback.
Supporting customers
Not everyone has ample experience with trading, and some newer traders might need assistance. This is where TradeMarkets steps in once again with a series of educational resources and professional customer support.
Trading is a skill-based endeavor and by learning how the industry functions, it's possible to design techniques to spot new trade setups. This broker displays a large volume of information at the customers' disposal, hoping to encourage responsible trading.
Although some of these resources are available for all users, it should be noted that there are 4 different account types, and each comes with different features. Before you open an account,you need to check the account comparison table, to find out which one fits best for you.
Should you consider TradeMarkets?
Based on our analysis, TradeMarkets is a powerful trading provider, especially when it comes to the crypto trading benefits. You can trade more than a dozen crypto pairs even with a small account, and take advantage of tight trading costs.
If trading is something new to you, no need to be worried, because thanks to an account manager and plenty of educational material, TradeMarkets can certainly offer a helping hand.