Most of the forex trading market is dominated by MetaTrader 4. Unlike this, custom platforms became quite popular in social trading. This eToro OpenBook review will explain you the proprietary platform from eToro in detail. This is quite a common platform with tons of users, so it can be interesting for you as a follower and as a manager.
eToro OpenBook Review at a Glance
This platform is

like a social network of financial trading and connects different people around the world that view trading as a hobby or as a profession. It has gained an important number of awards and has gained recognition since its launch. For a trading platform, it is innovative, since it has many attributes that are present on social networks and not at all on other trading platforms. It has an impressive number of 1.5 million users. The trading quotes are available on the website's main page. Continue reading eToro OpenBook review to find out the features of it!
eToro OpenBook Features
It has an impressive degree of transparency, because the user names, the trading amounts and the positions open by customers are available for all to see. If someone wants to view the trading activity of the top 100 traders, they can do so. This has the enormous benefit of being a very useful trading tool for beginners. It is great to learn from more advanced traders. These beginner traders can copy the orders of others and can select the person they want to copy. This is easy, just check the percentage gains or losses of others. Making an eToro OpenBook review of the leaders, find the best ones and copy. As simple as that.
A lot of features are color coded. For markets, green shows low risk, yellow shows medium risk and red shows high risk. This can also be interpreted as the market dynamics, so that a person who wants to benefit from a large price swing will enter the market especially if the color red is shown. For market sentiment, green shows that the general perception is that the price of that instrument will rise, while red shows the opposite. These are just the anticipations of a segment of customers, but a large number of people have a better chance of being right, compared with an individual one. Great design makes this eToro OpenBook review to stand out from the others!
It is also easy to consult the trading profile of a customer simply by knowing their user name. Their profile will show all the trades realized by him, including corresponding profits and losses. Additional information is also available, such as the number of followers each trader has, his attitude toward risk and the percentage of trades realized that were profitable.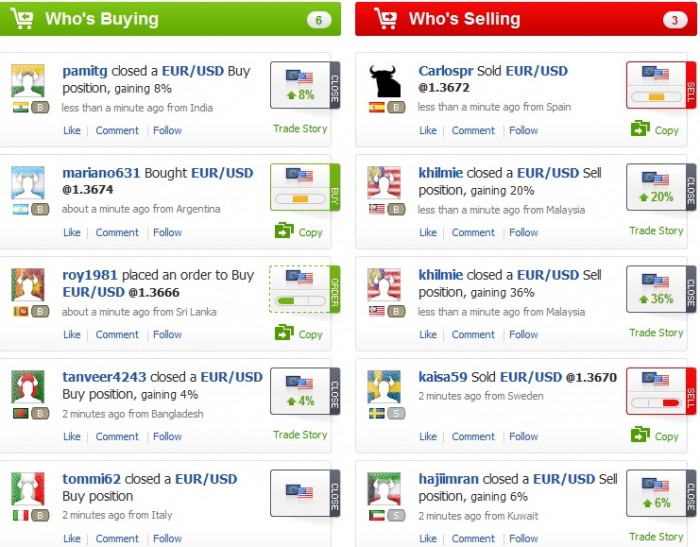 In addition to their simplicity and their enhanced usability, both the social investment network and the trading platform are integrated into one site and everything can be accessed with the same interface. Traders that have reasonable profits and who can be copied are
named Professional Investors. Their performance is represented as percentage gains over a specified period. Unfortunately not all the information regarding these traders is displayed. It is not possible to view their transactions and their full trading history, so the profits obtained by them can't be verified with calculations.
There is at least the advantage that whoever becomes a Professional Investor displays their real name and photo, so at least the customers can be certain that they are following real people. In order to find the best traders, they can be ranked by number of followers, percentage of profit trading consistency and other criteria.
The platform does not use fees and commissions, so the only costs are the spreads and the rollover fees. It can be argued that the spreads are a little higher than those found at other brokers. However an advantage is that there is no slippage in most cases, so the price that the trader paid and the price paid by the person he copied are the same. The overnight rollover fees are also above average compared on what can be found on the market. That means if positions are kept open for a long time, the rollover fees can add up so that the profit margin is diminished considerably.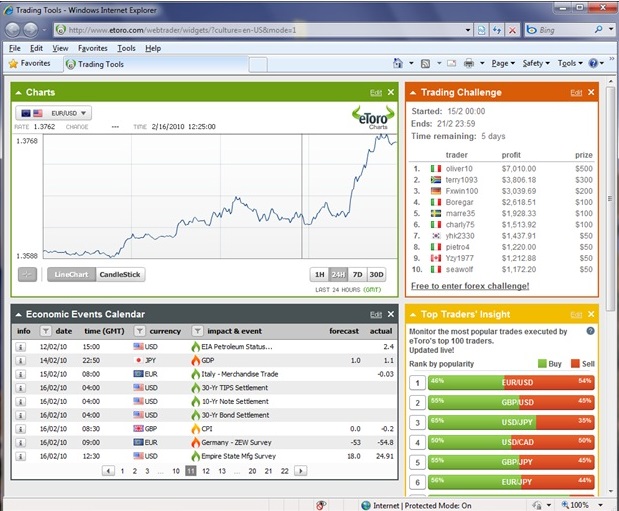 There is also a considerable amount of materials for new traders to parse through, as well as webcasts and daily news relating to recent events. Any question that a new trader has can also be answered very quickly, because the community is large and helpful.
Copying the trades of Professional Investors does not guarantee profits. That is become almost anyone can become a Professional Investor, even if it just copies other Professional Investors and does not trade by himself. Another reason is that they also leave positions open for large amounts of time, meaning that the sums invested fluctuate and the rollover fees add up. Also the results of the Professional Investors are improved by the fact that they receive monthly payments from each follower, so that a trader that has a lot of followers will likely register a profit even if he didn't make spectacular trades.
The main advantages that this platform has are the innovative interface that integrates trading with social networking, the demo account that is usable and reliable and the possibility to trade currencies, indices and commodities. We may add the well realized training materials and the fact that order execution presents no slippage in most cases.
The disadvantages are that it is not possible to view the full history of Professional Trades and knowing who to follow is a challenge onto itself. For every good trader there are also not so good ones. Also it can be mentioned the high spreads and rollover fees and the restriction of opening an account only in dollars, with other currencies not being supported.
eToro OpenBook Review Conclusion
The ability to copy the trades of a more advanced customer is a very powerful tool for a beginner, but one should not fall into complacency by just simply copying without trying to understand the underlying reasoning behind it and whether it was a smart trade or maybe the trader was just lucky. Understanding the reasoning is of paramount importance for the evolution of a trader. What this platform does is much more than other platforms do, because it creates an active community focused on trading where users can learn from one another. It is true that other platforms offer some degree of social trading, but none offer this amount of transparency taken to this extent. New traders will be advised to use this platform, because they stand to learn more here than anywhere else, but they have to be careful which people to copy and not rely on the fact that they can obtain the exact same profits.