A brief overview of MaxWise broker
MaxWise is a crypto-oriented brand established with the clear goal of acting as a gateway to the fascinating world of digital assets. This is a market that moves up and down at an aggressive pace, creating favorable conditions for short-term speculation.
The team of experts and some of the latest technologies is what makes MaxWise a top pick for traders who are keen on a trading account where they can enjoy cryptocurrencies. This isn't the first provider focused on crypto, so our job today is to highlight some of the features setting MaxWise apart from the crowd.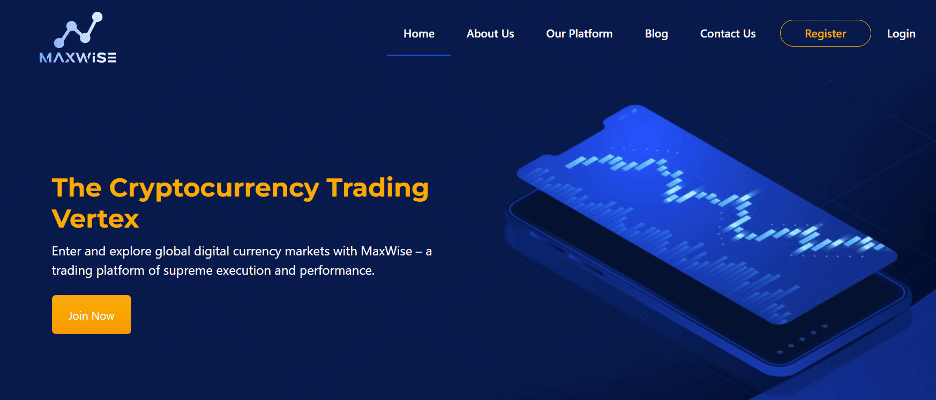 Source: max-wise.com
The safety and security of MaxWise
MaxWise is not regulated, but it cares about the safety of its clients by introducing several security measures in place including 2-fa authentication, and SSL security. Additionally, the broker offers negative balance protection and uses segregated accounts. Anti-money laundering policy, payment, and identity verification processes are also implemented by MaxWise. The only thing remaining for this broker is to get licenses somewhere and increase its reputation even further.
Fees and Spreads
Spreads for BTCUSDT and ETHUSDT are well within the industry average and can be traded for maximum profitability. MaxWise traders have an advantage when it comes to crypto trading as the broker is solely focused on crypto markets, and the spreads are tight and competitive. There are no trading commissions charged for crypto trading.
Because these are crypto derivatives, there are no trading commissions involved. Cost-wise, such instruments are appealing, as long as you are keeping trades open for less than a day. There is a swap fee for overnight transactions.
Compliance
Upon opening an account, MaxWise asks you to pass the compliance requirements. First, you need to offer personal identification details. Then, it is mandatory to provide documents supporting that information.
If everything is ok, which it normally is, the company can approve your documents in no time. Naturally, the next step would be to make a deposit and start trading. Keep in mind, however, that these compliance measures apply to all customers. MaxWise abides by international trading standards and does not want high-risk individuals to join its ranks.
Accounts, deposits, and withdrawals
Because it offers a proprietary platform, MaxWise is in a position to provide a unique crypto trading experience. Every tool is integrated, so even beginners are able to plot an indicator on the chart or place a market order, with utmost simplicity. Account creation is fast and there is a very comfortable account type that offers quality crypto trading experience.
Intuitiveness and professional tools set this platform apart, now that there is a great need for solutions that make no compromises in regard to performance. As long as you have a device supporting a browser, the WebTrader can be accessed without installing anything.
Withdrawals are powered by blockchain and are faster with MaxWise. Depending on your withdrawal cryptocurrency, it can vary between minutes to a few hours.  The same is true for deposits, as cryptos offer maximum flexibility to MaxWise clients.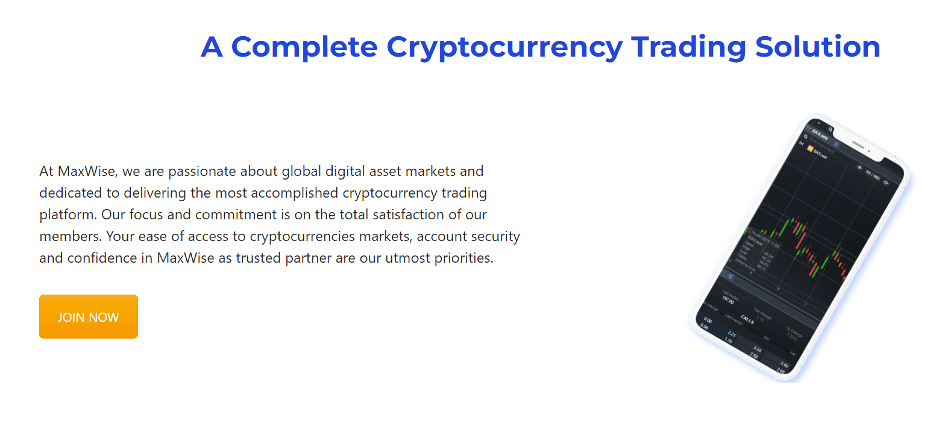 Source: max-wise.com/about-us/
Trading Assets and features
Speaking of crypto trading features that stand out, asset coverage ranks very high. You can buy and sell tens of different popular tokens, making sure you are not exposed to a single coin at any point. The good news is that MaxWise has a flexible approach and as new projects come out, it can add new assets to the list.
Execution is in line with the market averages and that is definitely good news. You must be able to get in and out of the market at the desired price, without delays or requote. MaxWise made sure this is possible for all customers, without any exceptions.
Customer Support Review
MaxWise clients can enjoy 24/7 customer support, and there is a reason for it. The crypto markets are open 24/7 and traders may need support at any moment of the week. To answer these challenges, MaxWise representatives are always online and waiting for their customers.
Education
MaxWise offers daily updates and its experts project prices for main cryptos like BTC regularly. These resources are not entirely focused on education but offer very high value as they are well-thought conclusions from industry experts.
Should you consider this broker?
A solid choice for crypto traders, MaxWise proves its effectiveness. If you decide to work with it, the account is ready for you to use in no time, and once you have funds deposited, it's possible to trade on tens of cryptocurrencies. The experience is informative and rich, which is what most traders expect to get nowadays. This company is aware that customers are looking for a dynamic trading environment and supplies them with just that.