Forex brokers regulated by the Australian Securities and Investments Commission (ASIC) generally enjoy a favorable reputation among traders worldwide. However, it's worth noting that there are still some brokers within this category that possess a less-than-stellar reputation, and TMGM Forex broker falls into that category. TMGM is operated by TradeMax Group Pty Limited, a group encompassing multiple brokerage companies such as TradeMax.top, TradeMax.ink, SuperTraderFX.com.au, and FXUF.com. During our previous review, the services and policies offered by TMGM were highly disappointing, to say the least. Numerous red flags emerged, suggesting the potential for scam activity. Let's revisit the broker and see if they have improved their services or if are they legit scam frauding people of hard-earned money.
If you are considering opening an account with the broker make sure to read this upgraded review as it provides full information about TMGM (TradeMax)broker you don't want to miss.

The Safety and Security of TMGM broker
The regulations are the first and one of the most critical points in defining if the broker is legit or not. TMGM broker has acquired some licenses as the group consists of several brokerages and they are known to be changing websites very often. This very detail indicates a possible scam activity and is a huge red flag. TMGM.com-related sites included DoPro-Exchange.com, and KT-Financial.com. They are now vanished and the broker has changed its name and websites again. But it is still possible to find brokers' legal names and regulations below the website. Here is the list of TMGM licenses and regulators:
Trademax Australia Limited is regulated and authorized by the Australian Securities and Investment Commission (ASIC) with the license AFSL no. 436416
Trademax Global Markets (NZ) is regulated and authorized by the Financial Markets Authority of New Zealand, with the license FSP No. 569807
Trademax Global Limited is regulated and authorized by the Vanuatu Financial Services Commission (VFSC), with license 40356
Trademax Global Markets (International) Pty Ltd is regulated and authorized by the Financial Services Commission, Mauritius (FSC) with license no. GB22201012

The broker has 4 different licenses from independent regulators and still managed to mess up which is very unfortunate.

The negative balance protection is not going to protect the clients if they go into minus and they could be in debt, as the broker can acknowledge the negative balance as a market manipulation from their client agreement document. What this means is despite being regulated the broker still finds a way to find loopholes and inefficiencies in regulations and use it to their advantage. 1:500 leverage is a receipt for a disaster for newbie traders especially.
TMGM broker Fees and spreads
Let's discuss the fees and spreads to see if TMGM is good at least in something. On the classic account, the spreads start from 1 pip for majors and are variable. On the edge account, the broker claims spreads from 0 pips and has a 7 USD round turn commission. As for the leverage it is set to 1:500 and varies depending on the jurisdiction the trader falls under. In Australia, the maximum allowed leverage is 1:30, but for other regulators 1:500 is possible.
A monthly inactivity fee will be charged if the trading account is dormant for more than 6 months. We could not find the exact number despite scanning through the 64-page document of the client agreement.
TMGM broker Accounts, deposits, and withdrawals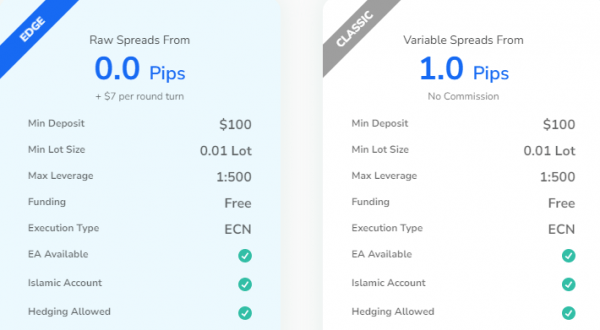 There are two account types offered by the broker called edge and classic accounts. The broker claims an edge account of having raw spreads, meaning it does not add markups to the spread provided by the liquidity providers. In theory, such spreads will benefit the scalpers in increasing profitability, but since the broker has terrible withdrawal policies I would not test these spreads on a live account. Edge account has a trading commission of 7 USD round turn per 100k traded. The classic account comes with a variable 1 pip spread and is commission-free. Both accounts will require a minimum deposit of 100 USD and a lot size starts from 0.01 lots.
TMGM deposits and withdrawals – A huge red flag!
Now is the time to delve into the withdrawals and discuss why it is a huge red flag for the clients. Broker mentions excellent trust pilot score on their website which we weren't lazy not to check.

After reading through the comments on the trust pilot one comment from the broker representative caught our attention. The representative discussed the withdrawal rules and it was clear the broker hates when people withdraw funds and makes it rocket science. What newbie traders can learn from our experienced traders who are reviewing these brokers is that when a broker complicates the withdrawal process there is a high chance of it being a scam.

It is clear that broker tries to make withdrawal lengthy process as many traders use cards for their deposit and withdrawals. If you have used a card for a deposit then you will have to wait for a wire transfer and pay all the fees not to mention the 5-6 days of waiting times. Readers can decide if they want to trade with TMGM at their own discretion. We suggest staying away from this broker.
TMGM broker Trading assets and features
Trading assets are diverse and well-defined on the website including
Forex
Shares CFDs
Precious metals
Energies
Cryptocurrencies
Indices
Indices CFD dividends
Share CFD dividends
As we can see, the list of tradable instruments is diverse and the broker even offers dividends. If you hold indices and shares CFDs when the dividends payouts happen you could also get dividends which is cool. The harsh truth is you would probably have a hard time withdrawing those dividends from your TMGM account.
Trading platforms
The main trading platform offered by TMGM is MetaTrader 4 (MT4). MT4 is a very robust and popular platform that offers numerous advanced features including tens of inbuilt technical indicators and countless technical analysis tools. TMGM MT4 is available for desktops, Macs, Android, and tablets. MT4 mobile app was recently upgraded and is now very robust trading software for smartphones to analyze and trade markets on the go.
TMGM broker Customer Support Review
The broker offers email support for each of the jurisdictions it gots licenses from. This is great and makes it easy to exactly connect with the representatives of your jurisdiction. Besides email support, there is a live chat to contact the broker directly and efficiently. Live chat is the fastest method of support that is also cost-efficient. Hotline is great sometimes but it is expensive to call the broker from another part of the world and live chat is exactly a solution to this challenge. The website is multilingual in 13 different languages, but the live chat is only in English. There is also a Fax number together with a phone number provided on the website. All in all if not for the complicated withdrawal policies TMGM could be a great broker to consider.
TMGM broker Education
TMGM broker does not provide any educational resources for traders. However, they do offer a range of tools including an economic calendar, market sentiment tool, free VPS, Trading Central, a max calculator, and a section on trading terminology. Although the trading terminology and FAQs section can be considered educational materials, they may not be sufficient for gaining a comprehensive understanding of the intricate nature of financial markets and key trading concepts.
Should you consider TMGM broker?
The short answer is no. As for the long answer when the brokerage makes it complicated and difficult to withdraw your funds the chances of them being scammed are astronomically high. In the TMGM case despite being well-regulated and experienced, the broker seems to using all the loopholes in the laws to make the withdrawing process painstakingly difficult. Stay away from TMGM broker!
What are the fees and spreads offered by TMGM broker?
How is the customer support provided by TMGM broker?