BlitzBrokers is an online forex broker that was started in 2016. It is still pretty young however it is regulated by FCA UK but that's primarily because it is an introducing broker for AxiTrader UK. While all may seem great on the outside, BlitzBrokers is not all it makes itself out to be. Read our BlitzBrokers forex review to find out more.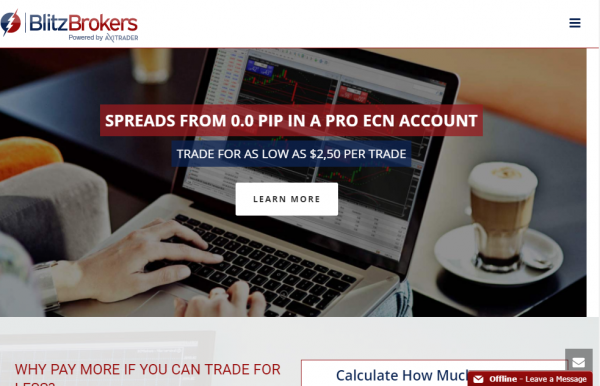 BlitzBrokers Customer Support
Blitzbrokers' offers a number of different ways to get in touch with them:
Online form
Live Chat
Email
Telephone
Social Media (Twitter, Facebook, Google+ & LinkedIn)
However, even with so many different ways to get in touch with BlitzBrokers, it seems you can never actually get in touch with them. It was as if BlitzBrokers was actually the BlitzBrokers fx scam.
During our research, we tested our all communication channels to see which one worked the best. We rated it based on response time and the quality of the responses. Sad to say, all channels performed poorly.
While we did not expect much from social media responses and it is clear to see given how sparse BlitzBrokers social media pages are. We did expect more from more traditional broker communication channels such as the live chat, email, and phone. But, unfortunately, all of them performed poorly.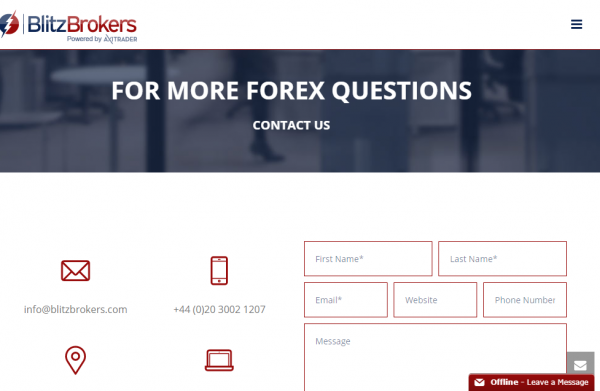 When it came to phone calls, which is costly due to the lack of an international number, we could not get through to an actual human being. We could only imagine how frustrating that would be for a trader who needed to get in touch with a BlitzBrokers representative right away.
Live chat was no better. Which was even more upsetting because live chat is there for convenience and speedy responses yet all of our attempts went unanswered. And when we left messages when it went offline, there were no responses even a week later.
All in all, BlitzBrokers has displayed that is does not value potential clients and one can only imagine how it treats current clients. But given that it is new, it is only a matter of time before we are reading negative BlitzBrokers reviews from traders.
BlitzBrokers Accounts
There are only types of accounts offered by BlitzBrokers:
MT4 Standard Account
The MT4 Standard Account is free to set up and offers spreads from 1 pips upward. There's no commission or minimum deposit. It features 5 digit pricing, margin up to 400:1 and is available in EUR, GBP, and USD. This account gives you access to mobile trading. The minimum trade size is 0.01 lots and BlitzBrokers claims there's a $4 round turn rebate.
MT4 Pro Account
The Pro MT4 Account like the Standard Account is free to set up however the spreads are from 0.0 pips. And the rebate offered is $2 round turn. Pro Account holders gain access to mobile trading, margins up to 400:1 and the same markets as Standard Account holders. However, there is a commission charged for this account and it's $7 per round trip. And the minimum trade size is the same as the Standard Account which is 0.01 lots.
With only two account options, BlitzBrokers is not offering many options and would only restrict you if you were to register with it. So far during our BlitzBrokers fx review, we have noticed that lack of options is recurring thing with BlitzBrokers and while for some that may work, it neglects a number of other traders.
BlitzBrokers Platform
BlitzBrokers' clients have access to the Meta Trader 4 (MT4) platform which has several different versions:
Mobile
WebTrader
Desktop
MT4 Nex Gen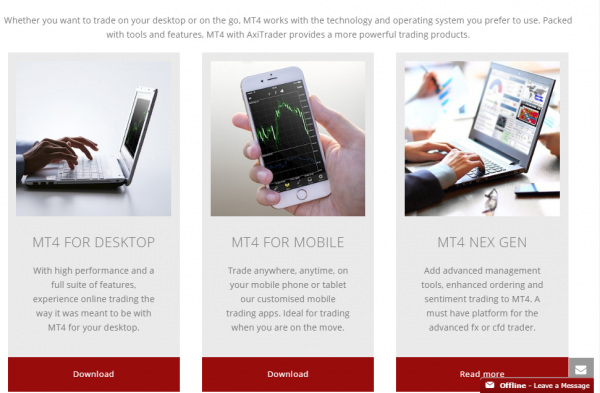 While the MT4 platform is widely popular namely because it's free, it also has a host of faults which limit your trading capabilities.
If BlitzBrokers offered another platform that could balance the faults of the MT4 platform then you would be in luck however that is not the case. If you register with BlitzBrokers and use the MT4 platform you would have to endure slow execution which is not fit for doing multiple high-frequency strategies.
The programming language, MQL, also limits you as well. It limits you to only using trade-related programming, if you do wish to do anything else to improve the functionality of the platform, you'd need to use DLL programming. This would have you using more time improving the platform than actually trading.
It also lacks a reliable data source which is critical to back testing and improving your skills as a trader. There are no custom time frames available on the charts and the programming language is also riddled with a number of weird bugs.
Yes, indeed the MT4 platform is used by a huge number of traders but that's because it is free. Registering with a broker that only using the MT4 platform such as BlitzBrokers, would seriously hinder your capabilities as a trader.
BlitzBrokers Deposit & Withdrawal
Funding for BlitzBrokers is rather limited in comparison to numerous other brokers. You can deposit and withdraw money using:
Skrill
Visa
Visa Electron
JCB
MasterCard
Maestro
Bank Transfer
It's important to note that bank transfers are only available for CAD, CHF, EUR, GBP, HKD, JPY, NZD, SGD, USD.
BlitzBrokers Review Conclusion
While BlitzBrokers may be regulated, the poor customer support and lack of account and platform options leave a lot to be desired. The BlitzBrokers scam may not be an issue but we recommend you find a broker that offers multiple account types and another platform besides MT4 so you can have options and grow as a trader.
[RICH_REVIEWS_SNIPPET category="page"]
[RICH_REVIEWS_SHOW category="page"]
[RICH_REVIEWS_FORM]