The problem with scam brokers is that some of them are really good at what they do. Some of them simply devise clever strategies, so that even if they aren't too good at everything, they can get what they want just by covering the very basics. This is the case with the Nigma Finance Forex broker, or to be more honest about its true nature, the scam that we are about to discuss. These guys have deiced that the best way to make money is for them to set up a decent looking website and dupe the less observant or those who are less than versed in the world of internet, to being convinced of their legitimacy. This way, they get people to deposit large sums of money with them and, as a result, help them lose this money. Let us look beyond the beautiful surface of the broker's website and see, what kind of truly terrible service they are offering to their clients, and what kind of truly terrible decision it would be to start working with them.
The company information
Every Forex broker out there is obliged to provide their potential clients with all of the information about the company, their operations and the offers they have for them. Often times, when you come across a scam broker, you will notice that there is a lack of such information. The Nigma Finance scam is such a broker – the information they provide about themselves to the user coming to the website is extremely limited. Though they do their best to cover this up by creating a familiar and inviting design. The design is familiar because it is a copy of the many broker websites across the internet and yes, it is so simple as to lead us to believe it is nothing but a WordPress template or something along the lines of that. The pictures that come with the website are pretty to look at and the design is simple to navigate. But there is barely any specific information regarding the nature of the broker's operations.
The first piece of the information hat the website provides is in the form of a claim that the company is licensed and regulated. While we are happy to hear they are saying this, we are also struggling to find any license number or even a regulatory body mentioned on the website. Further research into whether the company is licensed or not led us through several Google searches and a number of inquiries with regulatory bodies. What came back is the discovery that there is no such license, as far as we know. So we can say, with confidence, that Nigma Finance fraud starts with their claim of having a license. But it goes further than that.
Important features
Further investigation into the website will lead the user to the realization that the company does not have anything to offer to the client. Once you visit the features page, you will find yourself confused, met with only general statements about good API, security and ePayment systems. There is no information about currency pairs, spreads and there is not even a mention of a trading platform that users can employ for their trading. There is no information on leverages, trading hours and even if you try to get in touch with them, the live chat seems to be permanently offline. All you can is submit a question, with a promise that you will receive an answer sometime in the future (we did this, it has been two days, nothing has come as of yet). The Nigma Finance rating, if it could fall any lower, would. But one star is the minimum we can assign to a broker, unfortunately.
Though the company does seem to provide a little bit of information about some of their features. In the plan section of their website, you will find three offers to the clients.T he Silver, Gold and Platinum offers are all directed at introducing levels of trading accounts, to enable more flexibility. Though, unfortunately, the flexibility is not provided. This is because even to get to the lowest, a person would have to make a deposit of ten thousand US dollars. That leaves out most of the retail traders, which might be a good thing, considering the fact that we are pretty legit that the answer to the question "Is Nigma Finance legit?" is "run in the other direction. This sentiment is further enhanced by the fact that each level offers a different level of "monthly income", which is a strange concept for a trader. Do they mean forty percent of the deposit that has just been made by the trader? How is this return guaranteed, trading has no guarantees? Is the deposited money an investment and is somebody else trading for the client? Is the money returned through a process of acquiring more and more investment from different parties to make returns to the persons involved in the trading? Is this a Ponzi scheme? Whatever it is, the answer is, don't you dare deposit any money with them. Especially if you consider that there is a 12% commission on any trade you make, which is an astounding amount of money.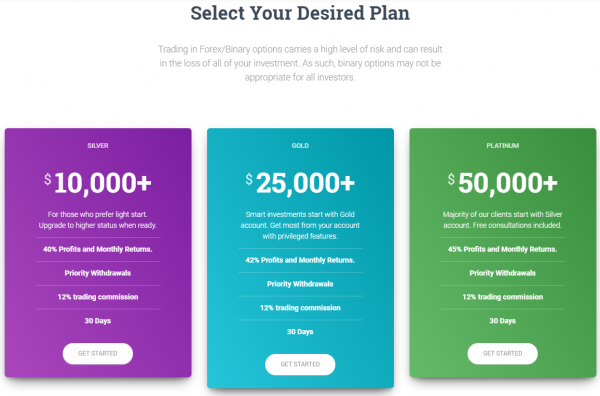 This is the information that might go unnoticed, once a potential client gets seduced by the design. But who would be baited into depositing such a large amount of money? Well, people who do not have much experience and large savings that they are hoping to increase might consider doing so. People like retirees who have access to their entire retirement funds might find it a good idea to invest so much money for a stable, monthly return of 40 percent and a nice chance at multiplying their savings several times through trading. This is why we consider people employing such tactics to be evil – they are doing their best to take away the livelihood of vulnerable groups.
Additional details
There are additional details that are not immediately clear to the eye of a person who does not know what to look for. Little details, such as the fact that the English used on the website is sub-par, that there are many big typos which could have been ironed out with a bit of editing, as well as the fact that the team showcased on the website is not actually (or we don't believe it is) the team of the Nigma Finance FX brokerage. The CFO, COO, and head trader showed off so proudly on the website can be found, through reverse image search, on other scam broker websites claiming them to be part of the executive team. This is a direct sign that the company is lying in order to achieve its nefarious goals.
Above the team, you will also see the biggest mistake of the entire website, where they claim that the fake team below assisted the company in the "success of their success".

It is little details like these that point towards how underdeveloped the website really is and how nefarious their goals really are. There are many more mistakes like these across the website, but listing only one of them should be sufficient in establishing the website as a naturally suspicious one.
Finally
In our sincere Nigma Finance opinion, it is nothing but a scam and a lie, there to take the money of the people away from them. They have no license, no features, no trading platform and nothing to offer to their clients. All they have is a Ponzi scheme designed to lure in vulnerable groups of people or those who do not know how the internet operates and take their money. We believe them to be morally corrupt and that they need to be avoided at all costs.