ALB.com is a relatively new CFD brokerage that offers services on trading CFDs on Forex, cryptocurrencies, commodities, and various other financial assets as well.
The company seems to be legitimate as they possess the Malta Financial Services Authority's license and have been registered in the country since 2017. This allows them to tap into the EU markets quite effectively. However, this ALB review will focus on the broker's capabilities for delivering a much better service than its European counterparts.
Things such as leverage, spreads, minimum deposits, and the overall situation for ALB will be discussed. But most importantly, we need to first find out if this company can be trusted or not.
ALB review – how does the website look for a reviewer?
Much like our previous broker reviews, we will also be focusing on the broker's website and trying to identify just how easy it is to get relevant information from them and base your opinion solely on the company's transparency.
Fortunately for ALB, they managed to tick almost all of the checkboxes that we require from brokers as they have displayed almost every single document on a relevant page. Things such as AML policy, KYC rules, customer information disclosure, and various other quintessential pieces of documentation are there to read for anyone who's interested.
Well, we read them and everything seems to check itself out. Although we don't like to classify brokers as trustworthy purely based on their website design, it's easy to say that an ALB scam is a very unlikely possibility.
The safety and security of ALB.com
Although a license from the Malta Financial Services Authority is not the best one to get in the European Union, it's still a part of the EU so we can't really criticize it.
There's absolutely no doubt that the license that ALB.com has is legitimate and verified. In terms of the anxiety that some traders have about potentially being scammed, we can say that it's completely redundant with this brokerage.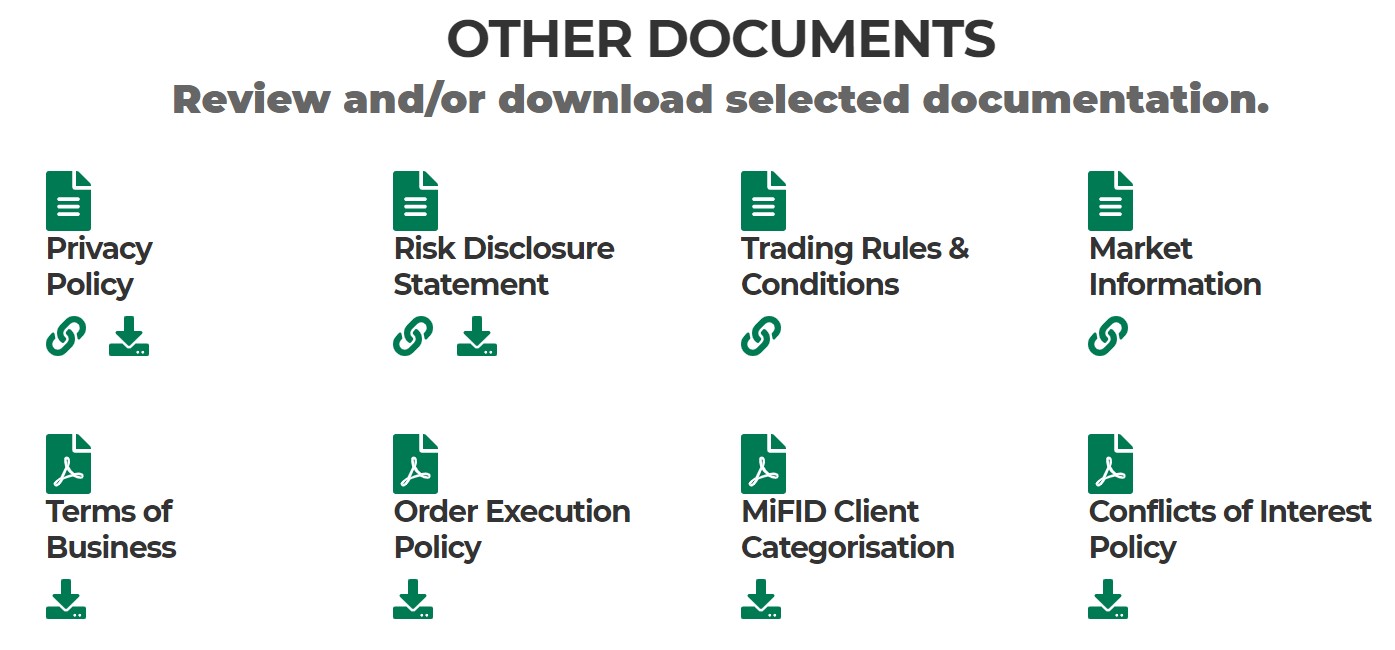 However, now that we've squared away the ALB fraud case, we need to focus on whether or not it's worth it to trade with the broker according to the trading conditions and benefits they offer to their traders.
Although the first half of this review came across as positive, taking a look at the conditions reduced that positivity a bit. Let's look at what we're trying to say here.
ALB.com Fees and spreads
The spreads and commissions are usually there to help us calculate if the broker is profitable for both beginners and veterans. Since the question "Is ALB legit" has been answered, we won't be focusing on determining the trustworthiness of the broker from the spreads, as they can sometimes indicate to that as well.
After a thorough search, we found out that the smallest spread option is 0.7 pips on the EUR/USD pair, which is miles above what the market standard offers with regular Forex brokers. The standard is 0.1 pips on pairs like EUR/USD and 0.4 pips on other major currency pairs.

But, if you go for a basic ALB account, you will be given not a 0.7 pips spread, but 1.5 pips spread on EUR/USD, which is much worse than what we just mentioned above.
Don't forget that ALB is a CFD broker, which means that they have piles upon piles of fees about delayed trade positions, as well as trade placement fees as well.
Overall, profitability isn't necessarily the forte here.
Are ALB Accounts, deposits, and withdrawals worth it?
In this section of the review, we will discuss things such as ALB withdrawals, spreads, leverage, deposits, and various other aspects that would potentially make it profitable for both beginner and veteran traders.
But simply looking at them is not enough in this case. We need to compare them somehow to already existing market standards and see if they have at least something different or better to offer than what's already available with other brokers.
Maximum Leverage
Considering the fact that ALB.com is a CFD broker, high maximum leverage is not to be expected. In fact, it should be pretty obvious for every EU trader what type of leverage a company registered in the EU would have because of ESMA regulations.
That's right, Forex pairs have the leverage of 1:30 with basic accounts and 1:100 with Pro accounts, which usually require a large deposit.
But regardless if you get a Pro account or not, consider that it's always better to trade Forex as it is, rather than limit yourself to CFDs, which tend to have very inhibiting rules for traders wanting to hit it big.
The Forex brokers that the EU market has to offer don't have to reduce their leverage to almost nothing just because they're told to. They reduce it in case they have a bad liquidity provider.
Therefore, just based on leverage the ALB.com CFD broker is not really worth it if you want to trade Forex.
ALB withdrawals and deposits
In the trading conditions segment of withdrawals, we can say that ALB is relatively better than all of its competitors in the EU market.
The withdrawals can be processed at any time and will take approximately 5 business days depending on which option you go for. The good news is that there are no fees attached to this action.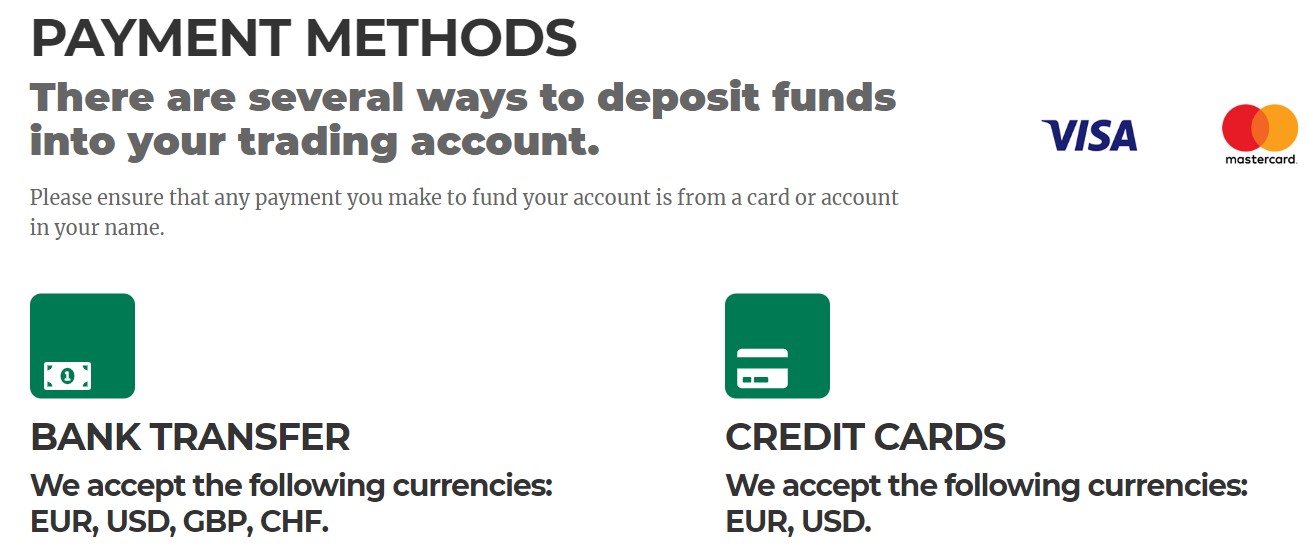 The only issue is that diversity isn't quite there. The only methods of withdrawal are Credit Cards and Bank Transfers, which take quite a long time to process as mentioned above. Having at least one digital wallet option would have been much better simply due to the speed.
As for deposits though, the ALB ratings managed to reach the level they have now simply because they have no minimum requirement on the basic account. Meaning that you don't have to pay a dime to open an account. However, the Pro account that comes with 1:100 leverage could have a price tag attached to it.
Trading assets and features of ALB.com
Forex, commodities, precious metals (are commodities also), energies (also commodities), indices, shares and stocks CFDs, bonds, and cryptos,  are among the offered trading asset classes of ALB.com. Forex spreads are appealing and there are many pairs to trade. Where ALB.com shines is crypto trading. Not only does the broker offers various cryptos for trading, but it also has its companies (whichever has the company and stocks like finance)stocks available for trading and speculating. All cryptos are offered as CFDs and enable traders to quickly speculate with their lightning execution speeds. CFDs or Contracts for Difference are speculative derivatives that enable traders to buy and sell the underlying assets without owning them. Cryptos are known to take up to several hours for each transaction and with crypto CFDs ALB.com enables traders to instantly buy and sell any crypto pair they want to trade.
As for the trading platform, the broker has MetaTrader 5 (MT5) as the main trading platform offering advanced features and market analysis tools to their traders. MT5 is a robust, advanced trading and charting platform that has all the tools in existence to analyze price charts and conclude predictions.
ALB.com Customer Support Review – Can you get assistance?

As we can see the broker has the live chat to quickly answer all queries from clients. Live chat is the most robust form of support as it is a fast and cost-efficient way to contact your broker within minutes or even seconds. The fact that this broker offers live chat is already a great advantage for its clients and should be considered a very positive thing for this broker.
From other support methods, the online form is noteworthy as it enables clients to send a message to the broker in case the live chat is not working or is offline. Additionally, users can use the hotline and call the broker. From all the forms offered by ALB.com, live chat is recommended as the fastest way to contact and resolve any issues that may arise during trading activities.
ALB.com Education – What can you learn?

The broker lacks order when it comes to educational materials and research tools as these two are combined under a single section called analysis. The educational resources and courses include webinars and blogs. Periodic webinars are a great way of getting started in the complex world of FX trading and should enable newbies to gain basic concepts and knowledge to start trading on a demo account and develop their own strategies. The blog is great for getting information on various topics and comments and asking questions and getting answers from expert traders or traders with more experience.
As for research tools ALB.com offers Autochartist, research and news, and an economic calendar that are al targeted at aiding traders to find all necessary information and signals under one website and make it more convenient.
Should you consider ALB.com? Or are there better options?
After such an extensive review, we need to culminate everything with a final thought.
Although the broker managed to impress us with the transparency of displaying legal documentation, we need to mention that to conditions they offer to their traders are quite lackluster even on the CFD level.
Even though the deposits are nonexistent, the spreads simply don't make it worth a trader's time to trade on this platform. If you're looking for Forex options, better go for a Forex broker instead.
Based on ALB opinions around the web, as well as ours, the broker is legit in a legal sense, but not legit in a profit sense.
What are the fees and spreads on ALB.com?
What are the account options, deposits, and withdrawals like on ALB.com?