*76.4% of retail CFD accounts lose money
Finding a decent CFD Forex broker is very hard nowadays, considering the fact we are constantly facing various scams and fraudulent schemes. As the Forex industry evolves rapidly, some fraudsters are trying to obtain money by offering unrealistic services to clients illegally. Almost every day news pops up on social media and TV, that a certain brokerage company was found to be a scam.
The main problem associated with scam brokers is the fact that they are so well-prepared that even thorough research is sometimes not enough to determine the validity. This is the moment where the reviews of prominent websites come in handy. If there are mainly negative reviews on a particular company, then you should avoid using it.
However, as hard as discovering reliable brokers may look, fearing that you may become a victim of a scam, there are certainly a lot of brokers that are legit, helpful, and always open to new customers. Their services are reliable and trustworthy, the license is genuine, and the regulatory body is credible as well.
This review will talk about the Plus500 broker, looking into the services it offers. We will try to determine if we are dealing with another scam, or if they actually can be trusted.
A brief look at Plus500
Founded in 2008, Plus500 is a leading provider of CFDs on Forex, shares, commodities, and cryptocurrencies with the help of innovative technology. The Financial Conduct Authority regulates and authorizes the company. It has a strong presence in Europe and Asia and offers a portfolio of over 1000 instruments to its clients.
Since its creation in 2008, Plus500 always looked forward to adopting innovations, and its strategic priorities differed from time to time. It was mainly because, as the trading system changes all the time, it is crucial to keep up with all the trends. Moreover, the company has developed continuously effective marketing campaigns to attract more customers worldwide.
Plus500 strives to increase its market share in regions where it already provides offerings and to expand its reach by entering new jurisdictions, in which it does not have new customers.
As technological development and innovation are essential nowadays in any field of business, Plust500 also sees the need to introduce and incorporate new financial instruments as a part of its strategy to carry on building a solid customer base.
Plus500 is currently considered an industry leader in the CFD sector in mobile innovation. Customers are also delighted with the services Plus500 provides.
With the help of technological development, the company made it possible for customers to access its services not only on PC, laptops, or Macs but on smartphones and tablets as well.
Plus500 was the first broker to offer CFDs on Bitcoin back in 2013. Currently, Plus500 offers cryptocurrency CFDs on Bitcoin, Bitcoin Cash, Ethereum, Litecoin, Ripple, and IOTA.
In September 2018, Plus500 became one of the main components of the FTSE 250.
One of the most notable things we can mention about Plus500 is the partnership with the Spanish La Liga club Atletico Madrid. Not often you will see a club choosing a brokerage company as a partner, especially when we are talking about a team like Atletico. They have been in a partnership since 2015.
The Plus500 brand serves CFD traders through its subsidiaries licensed in big financial centers in the United Kingdom, Cyprus, Israel, Singapore, and Australia.
Plus500 is built on several main principles, which are professionalism, transparency, and the human side. The first one is pretty simple to understand – the clients are aware of what they get and pay for, and the clients do not pay any commissions. Professionalism is creating a platform that is secured by SSL where clients can execute transactions without any problems. The human side means continuous development and keeping faith in yourself.
The company has over 35+ million positions opened, 200+ thousand active customers, and $1310+ billion in traded value.

*76.4% of retail CFD accounts lose money
A first glance at the plus500.com website
When you enter the official website of Plus500, the first thing that grabs your attention is the subtle look of the site. It is very well-designed and completely customer-oriented with easy access to its features. The site is very simple, with no additional visual effects or unnecessary features to flood you with.
The sections are clearly separated from each other. At the top, the Instrument Categories section contains eight subsections. Here you can access shares, cryptos, Forex, commodities, and four other subsections.
In the Tools section, there are four subsections that are mainly aimed at helping the visitors. They resemble guidelines, for example, the economic calendar.
The Company section has eight subsections in it, and they contain information about the company, affiliation, fees & charges. It can be considered the main section of the website because all the relevant information that is interesting for a client is stored there.
Then there is Login, which pretty much explains itself – when you sign up and create an account, you can access it by logging in. The creation of an official account requires the verification of your phone number, payment method, name, email address, etc.
Next to the Login section, there is a language bar. You can easily switch from one language to another, and in total, it has 32 languages available.
The next one is the Search bar. Like many websites, Search plays an integral part for customers to find out the information they need most. It is very simple and writing a particular word will provide you with results.
The final section is Start Trading – no further need to explain this, as you understand that it is all about trade.
When you scroll down a little bit, you will notice instrument categories. Here you can see the most popular ones, which are rising and which are falling, indices.
The safety and security of Plus500 Licensing
When you are looking for a reliable broker, the first thing you should look for is a legitimate license. One of the main advantages of trading with a regulated firm is that you can rest assured, that you are dealing with a reputable and trustworthy provider which has all of the necessary rules and regulations to ensure the protection of clients' interests.
We mentioned at the beginning of the review that the Financial Conduct Authority regulates Plus500. Considering the reputation and power of Great Britain across the world, the regulator is clearly one of the most potent regulator bodies worldwide.
In various countries, Plus500's subsidiaries are regulated under different jurisdictions. This particular subject is indeed regulated and very well-controlled. We can mention several subsidiaries. For instance:
Plus500UK Ltd is authorized & regulated by the FCA (#509909).
Plus500CY Ltd is authorized & regulated by CySEC (#250/14).
Plus500SG Pte Ltd, licensed by the MAS (#CMS100648-1) and IE Singapore (#PLUS/CBL/2018).
Plus500SEY Ltd is authorized and regulated by the Seychelles Financial Services Authority (Licence No. SD039).
Plus500AU Pty Ltd (ACN 153301681), licensed by:
ASIC in Australia, AFSL #417727, FMA in New Zealand, FSP #486026; Authorised Financial Services Provider in South Africa, FSP #47546.
So there is no question about the legitimacy of Plus500 and the company has branches in several countries.
One of the indicators of a legit company is the details it provides on the website, for customers that want to make a complaint about an issue. The address is available in the About Us subsection.
Plus500 Fees and Spreads
As for leverage, the company offers a maximum 30:1 leverage, which basically means that if the price of the underlying asset changes by 1%, it is like the CFD changed by 10%. For instance, if you take a 300$ balance which is leveraged by 30:1, it is increased to $9,000. It allows you to trade up to $9,000 worth of instruments. The leverage can be considered pretty much decent at this point, not very high nor too low.
The next one is spread. The spread is the difference between the ask and bid price. Plus500 is compensated through the 'market spread'. So for instance, if you are trading EUR/USD and the buy rate is 1.3129 and the sell rate – is 1.3127 the market spread will be two pips because the difference is 0.0002. It is essential to point out that while some instruments have a fixed spread, the rest have a dynamic spread, which is continually adjusted based on the market spread.
Plus500 Accounts, deposits, and withdrawals
Now we should talk about accounts, which are essential for conducting trading. Plus500 offers both real accounts and demo accounts. If you are a novice and do not want to risk real funds, you should create a demo account. It is quite simple – in the registration process just click on 'Demo Mode' in the 'Select Account Mode' window. A demo account will help you get to the trading system without risking real money.
As for the real account, the creation process is easy as well. When you create your account, you will be able to access the Plus500 Platform via all devices from laptops to smartphones.
Deposit and withdrawals
There are several limitations on depositing the money, which vary depending on the country. The maximum deposit amount is outlined for each available payment method. But it should be said that the company does not charge a deposit fee.
The website also offers all the payment methods available on the first page. It ranges from traditional Visa to less popular ones. The site even tells that some methods might not be available in a particular country.
As for the minimum deposit amount, it should be no less than $100. It is not a very high amount considering the fact that with the leverage of 30:1, you can gain the effect of $30 000 capital.
We should also discuss deposit and withdrawal methods which are quite sophisticated. Plus500 offers three withdrawal methods which are electronic wallets, credit cards, and bank transfers.
When you make a withdrawal via electronic wallet(PayPal and Skrill), the funds will be available in your account within 3-7 working days, and the minimum withdrawal amount is $50.
The minimum withdrawal amount for bank transfers and credit cards equals $100, and when you make a direct bank-to-bank transfer, it will take 5-7 business days to complete your request.
As for maximum withdrawal, there is nothing about it in the User Agreement, so it is probably not limited.
Trading assets and features of Plus500
Now we must review the most crucial topic of any brokerage company – trading terms and conditions. Generally, Plus500 offers CFDs on over 2000 financial instruments ranging from Shares to Options. Their number recently was around 2800 tradable instruments in diverse markets including CFDs on cryptos, Forex pairs, commodities, indices, shares, options, and ETFs. To be more specific the number of FX pairs is around 66 which should include all majors, minors, and many exotic pairs. From 1634 share CFDs the chances of finding your preferable instruments are very high. Besides share CFDs, there are also 1200 real shares offered by Plus500 making the broker attractive to investors as well who want to accumulate diverse portfolios. The main difference between CFDs and real shares is CFDs' character of being able to buy or sell them effectively making money in both market directions. Meanwhile, for real shares, it is not possible t directly short-sell them and CFDs are better for speculating purposes in this regard but are a riskier asset class. What's more exciting about this broker is it offers 19 different cryptos for trading which is a very good number considering the majority of brokers have only a few cryptos available. 31 indices and 22 commodities also offer high levels of flexibility to choose from diverse markets. ETFs and options are also offered and are very attractive for certain traders. With these many asset types and tradable instruments, Plus500 is a powerhouse of trading and has amassed a large trader base of all kinds and types.
Unfortunately, there is no MT4 platform on the Plus 500. All trading platforms are developed in-house by Plus500. But it supports everything from iPhone to WebTrader. WebTrader has an improved design, and there is a feeling that everything is packed more conveniently in its interface, compared to the desktop version.
The company has some restrictions on trading. In particular scalping, hedging, and automated data entry system are prohibited under the terms of the User Agreement. If you neglect the terms, then Plus500 has the right to nullify your trades and close the account.
If you are not able to find more details about trading terms and conditions, you can view a Trader's Guide, which will provide all of the information you need to conduct trading.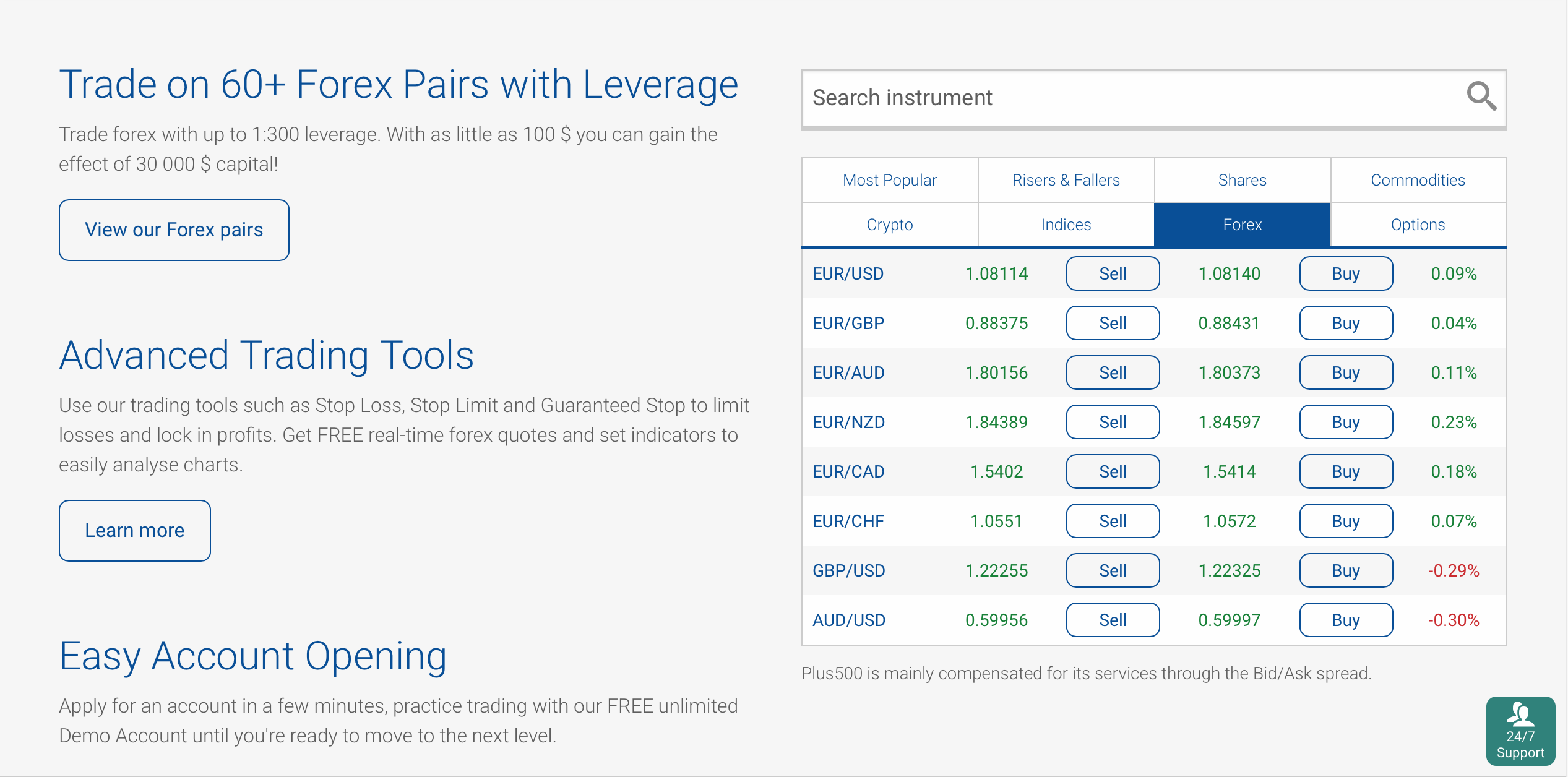 *illustrative prices
*76.4% of retail CFD accounts lose money
Plus500 Customer Support review
While we have generally reviewed accounts and sections, the next thing we should talk about is customer support. Without decent customer support, it is hard to have excellent service. When you open a website, in the bottom right corner, there is an icon, named 24/7 Support, which redirects you to the FAQ section. Here you can find all the information you need about different topics. Moreover, if you cannot find something, the search bar comes in handy, and you can write a word or phrase to look for the relevant information.
And if you are still not able to discover what you are looking for then there is an Email bar on the left side of the FAQ section, where you can contact Plus500 and the team will assist you 24/7.
Today, social media is a very powerful weapon to communicate with people and disseminate information. When you scroll down to the bottom, you will encounter icons of Facebook, Twitter, and Instagram, which are available to follow.
Overall the website is well-created, without extra annoying features, and all the information is presented decently.
Education of Plus500 reviewed

As the reader would already notice is that Plus500 is a solid broker with a diverse range of assets and competitive offerings. The broker excels also I education materials numbers and types. It is possible to choose between various types of educational resources. Beginners can read books, watch videos, or explore FAQs. As the broker advertises itself, these materials are Informative, Comprehensive, and Intuitive. We agree with that statement as education requires diverse types of materials as each of these materials offers certain pros and cons, and together they are powerful educational resources. But that's not all the broker has to offer, Plus500 has various trading tools and news and analysis resources helping traders to further increase their decision accuracy. Economic calendars, alerts, and risk management tools offer the ability to manage trading processes more effectively.
Should you consider Plus500?
Although the Forex market is very attractive and can bring you a lot of money, is also full of dangers. In this case, the risks are associated with brokerage companies, that are unreliable and design fraudulent schemes to obtain money from people illegally. You should always be alert and careful dealing with them, and thorough research is the key to protecting yourself.
In this review, we explored all the features and services Plus500 offers to people. In general, it is a very well-built site completely oriented to customers' needs. And what is more important, the license which the company has proves that it is nowhere close to a scam and enjoys a high authority.
The account types we looked at on the website are real accounts, and demo accounts, both of which are easily available and the latter is more suited to fresh traders.
Furthermore, the trading terms, deposit, and withdrawal methods also deserve some attention, which is helpful and entirely beneficial.
Plus500 can be a good choice, as the platform is very easy to understand, and its design is aimed at making trading convenient in every way. However, the Plus500 offer lacks customer training materials and research content, and the available trading platforms are very light compared to competing platforms.
Given a range of traded instruments – more than 2,000 CFDs, including almost 60 for currency pairs – as well as a low minimum deposit to open a real account, Plus500 provides new market participants with a wide range of instruments and a convenient way to test the world of online trading.
So we give this broker a 4/5 rating, and if you are looking for a trustworthy platform, you should definitely visit Plus500.
*76.4% of retail investor accounts lose money when trading CFDs with this provider. You should consider whether you can afford to take the high risk of losing your money.
Frequently asked questions
Is using the demo account connected with risks?
Are there any limitations on withdrawal amount?
How to know if a Forex broker is not a scam?
Is it possible to have more than one account?