Searching for the right financial broker is an important step to consider whenever you are stepping up into the world of trading. You are going to check through thousands of brokers that will appear in the simplest Google search, but you need to consider a few things before you start transferring your funds to any broker's account.
In the following, we are going to review 7bForex broker, one of the Forex brokers that offers its services to traders in Nigeria benefiting from the lack of currency conversion as the broker operates the local currency of Nigeria, and offering many bonuses and benefits to start trading.
We have researched and analyzed the different 7bForex broker opinions about their offering and legitimacy, to give you all the tools to decide if you want to invest your money with this financial broker.
7bForex broker is an offshore broker in St. Vincent and the Grenadines. Being an offshore broker is probably the first sign of danger that a trader would pay attention to because a lot of financial scam crimes have originated from brokerage companies operating in remote islands.
There are 3 types of accounts offered for traders, all of them enjoy very generous leverage that can go up to 1:1000 which is in fact very risky and does not abide by any regulations in the most reputable license. The spread range is variable and it changes according to the account type and the product being traded.
Many traders search for a financial broker that offers any sort of bonus or incentives, and 7bForex broker bonuses are available for both new and existing clients, which makes it tempting for traders to get their trades handled by this broker.
However, these bonuses do not come with no cost, there are many commissions that are charged by the broker on different activities and mainly on trading activities and they differ between the different accounts which will be discussed in detail as we go in this review.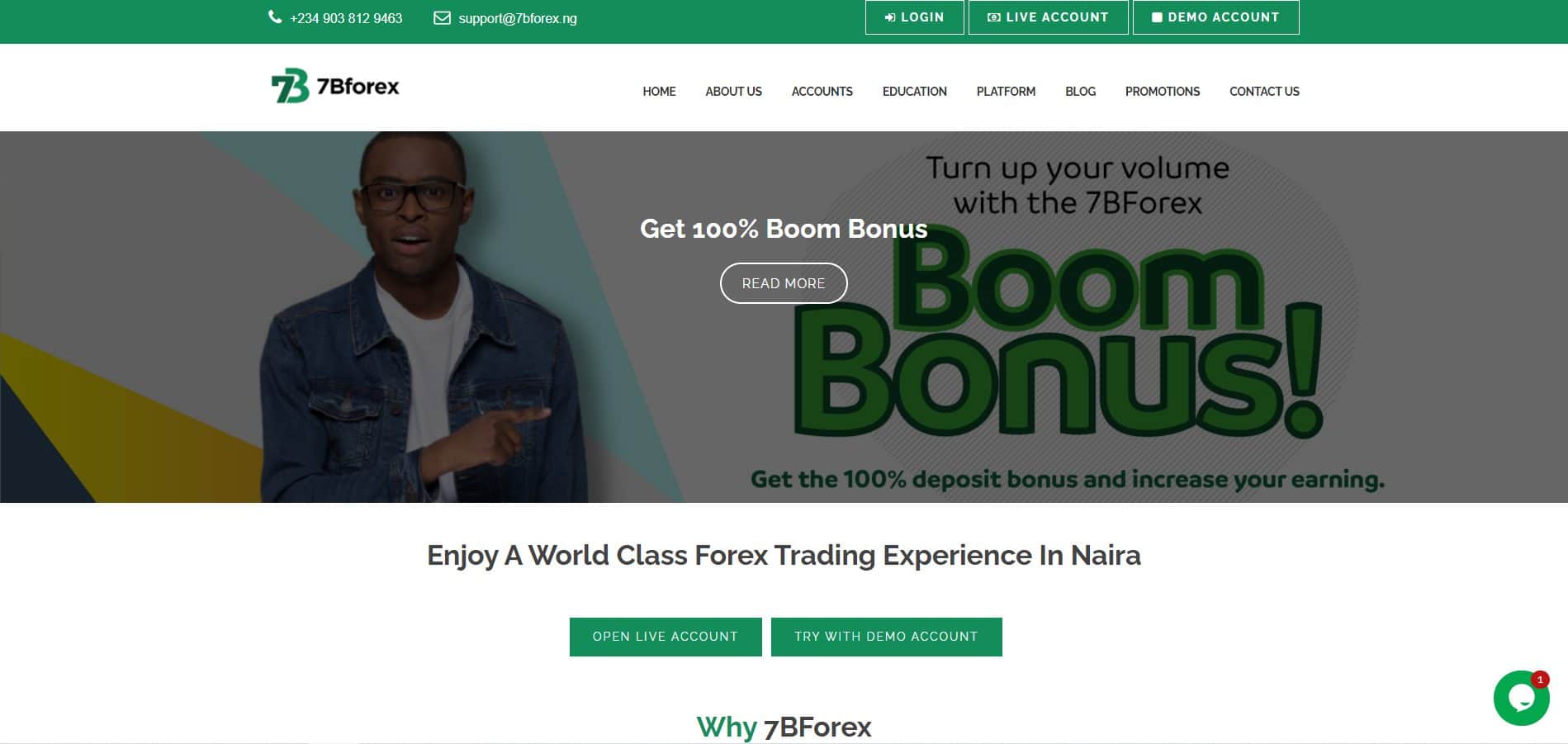 Is 7bForex regulated?
7bForex is not regulated by any license, which makes it very risky to trade with this broker because the broker cannot be held accountable for their operations and their scam once a trader provides their banking or credit card information, then the broker has the freedom to do whatever they can with the client's money.
The broker claims to be registered, however, it is only registered as a business entity which allows it to set up a business, employe brokers, and handle financial transactions, but there are licenses that work as a guideline for the broker's behavior, and 7bForex does not hold any of these licenses.
Add to that, St Vincent and the Grenadines and other remote islands have emerged as a hub for all sketchy business and 7bForex is a fraud broker that hides its activities far from any stringent regulations that control business activities in many countries.
Opening your account
7bForex and other scam brokers make it very easy for users to get themselves registered so that they do not have time to think twice before getting their personal information and banking information delivered at the broker's disposal.
Once you click on "Live account" on the top of the main page, over the green navigation bar, you will be taken to another page where you insert your personal information, your place of residency, and your address. After that, you will be asked a few questions to determine your level of expertise and your expectations, 7bForex has this process to seem like a legit broker.
Then in order to get your account verified you will be asked to submit further identification documents such as personal ID, proof of address, and banking information, once that is done you are free to fund your account and start trading, using one of three accounts that are offered.
Standard account
This account is usually used by new traders, the minimum deposit required here is 5,000 NGN while the spread is floating and starts from 2.1 pips.
The access to markets is limited to 70 assets, and the minimum lot size that can be used is 0.01.
Elite account
This account is designed to be used by advanced traders who can afford big deposits since the first time deposit required is 100,000 NGN using a spread that starts from 1.9 pips.
The access here to markets is wider than any other account, where more than 150 assets are available most of them are from the Forex market and stocks market.
Classic account
This account uses mixes from the other two accounts, while it keeps the minimum deposit to low as 5,000 NGN, with a low spread range that starts from 1.3 pips.
The market access here is limited to 70 assets, and there are no commissions on trading activities, however, the minimum lot size is 1.0.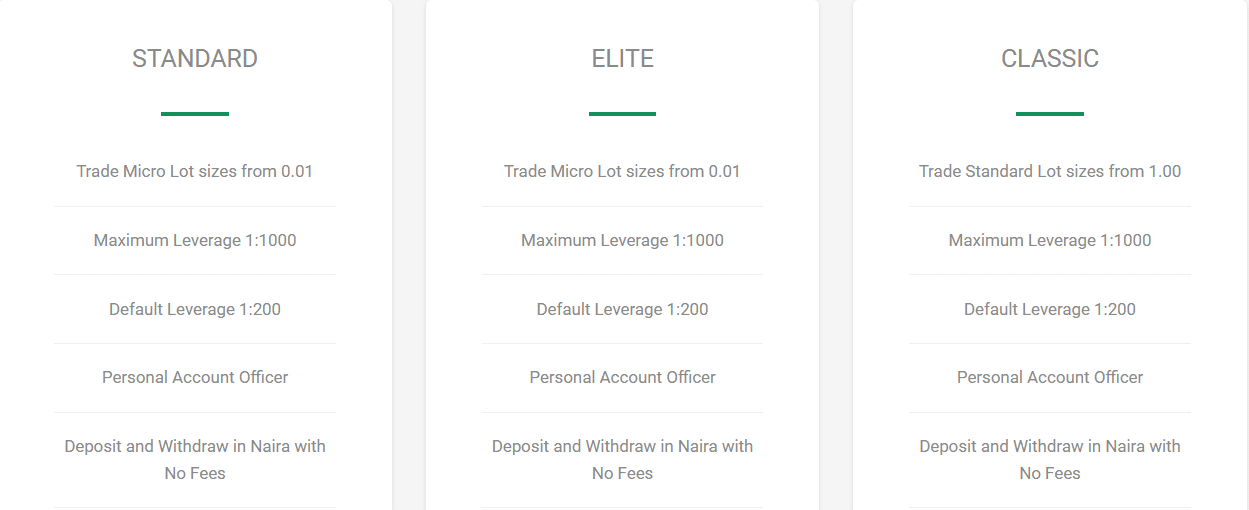 Across all the types of accounts, the leverage ranges from 1:200 to 1:1000, and the 7bForexMT4 trading platform is the only trading software offered, while the demo trading account is only offered for the standard account holders.
Commission fees
There are several fees charged by the broker as trading commissions, and they are in fixed values according to the account type, except the classic account type which does not have any commissions associated with it
7bForex financial broker commissions fees are fixed values per 0.01 lot size, and it is multiplied by the lot size the trader is using.
The classic account commissions fees are as the following
Forex: 7 Major currencies = ₦60
Forex: 21 Cross currencies = ₦100
Forex: 36 Exotic currencies = ₦500
Gold: 2 assets = ₦92.5
Silver: 1 asset = ₦102.5
Energy: 3 assets = ₦12.50
The elite account commissions fees are as the following
Forex: 7 Major currencies = ₦120
Forex: 21 Cross currencies = ₦200
Forex: 36 Exotic currencies = ₦1,000
Gold: 2 assets = ₦185
Silver: 1 asset = ₦205
Energy: 3 assets = ₦25
Stocks: 64 stocks = ₦12,000
Indices: 12 index = ₦120
cryptocurrencies: 35 crypto = ₦12,000
Markets & products
7bForex focuses mainly on the Forex market, while other markets are also considered for example commodities, stock, indices, and cryptocurrencies. However, the access to them is different between the accounts.
Standard and classic accounts have limited access to 64 currency pairs from the Forex market, and commodities markets such as gold (2 assets), silver (1 asset), and energy (3 assets).
The 7bForex financial broker elite account gives the trader wider access to more markets and products, where 64 stocks are available, in addition to 12 indices and 35 cryptocurrencies available as well
However, the website does not state exactly what are currency pairs are available, and it seems that the only way to know is to register.
Trading platform
7bForex broker provides a single trading platform and that is the Metatrader4, which is unlike the majority of reliable brokers who provide multiple platforms, 7bForex MT4 trading platform seems like the only choice for traders here.
It is understandable that the Metatrader is the most commonly used platform, and maybe the broker intends to show a reliable image by adopting the use of very popular software, but in fact, it can get very easy to be associated with the Metatrader, so it does not really add to the authenticity of the broker.
The lack of flexibility on this website is what would keep traders away, many traders prefer using the Webtrader which can be accessed on the broker's website without installing any external software. Well, this option is not available on this broker's website, which is similar to most scam brokers.
Payment methods
We could not find very detailed information about the payment methods available, such information is very crucial for every trader to check beforehand, however it seems that the 7bForex fraud broker is trying to hide something regarding the used payment methods at the website.
The only information we could find is that only credit/debit bank cards and online banking are the accepted methods to deposit and withdraw money with 7bForex, which is very risky.
7bForex website does not include the safest way to process payments such as e-wallets and wire transfers, and it seems that 7bForex scam broker is interested in collecting banking and credit card information from its clients, for some scamming purposes.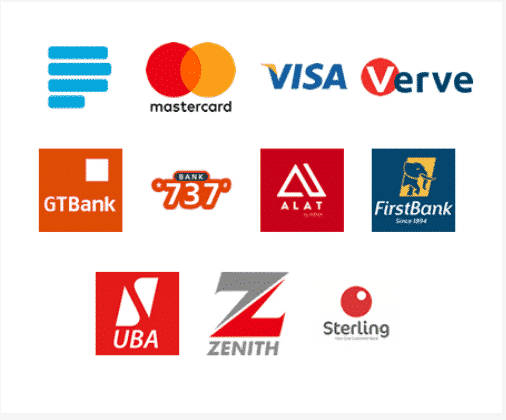 Bonus
7bForex broker tries so hard to make the website appealing for all visitors, by soaking the website with bonuses and cash awards, which is going to attract many traders. These promotions include:
Welcome bonus
100% deposit bonus
Trade rally promotion
Welcome bonus
This is a classic way to attract new clients, and the 7bForex welcome bonus offers every newly registered trader the opportunity to get 10,000 NGN once they register their new account without making any deposit.
The bonus amount can only be used for trading purposes and a trader cannot withdraw it directly, however, the trader may withdraw any profit made using trading this bonus amount.
100% deposit bonus
To get this bonus, a trader must have a standard account and deposit amount of 5,000 NGN at least to get a matching 100% bonus of the amount that was deposited, and note that it is an ongoing bonus, which means that every time a trader deposits 5,000 NGN, they are eligible to receive a 100% bonus.
Note that a trader may use one 100% bonus at a time, meaning that a trader cannot accumulate several 100% bonuses at the same time.

Trade rally campaign
This is another 7bForex broker bonus that required traders to have active trading positions, a trader shall use up to 0.1 lot size in trades and be actively trading waiting for defined dates of the month that are defined by the broker on the website.
Once the campaign starts, at the last hour of every day a winning number will be announced and the winner will get 100,000 NGN.
Education
7bForex incorporates an educational section and a demo account, which are ideally designed to keep the clients aware of what is being done with their money, and to get familiar with trading and trading terms.
General information
The content of the educational material is very basic and fundamental which might be useful for beginners and those who are still learning what is trading and what is the Forex market.
However, for advanced traders, there is nothing new since the information provided is not strategic or innovative, the same fundamental and basic content is repeated across the whole educational section.
Demo account
The demo account might be the only good feature on this website, where www.7bForex.ng demo account can be found and registered easily, selecting the budget and the leverage, then just start trading simulations in a way that looks like real-life trading, the only difference is that it is using virtual money.
Customer support
7bForex states several points of contact on the website, including live chat, telephone number, and email address. However, none of these channels really work, the telephone number can keep you waiting for almost an hour. While the email support is useless, you would only get a support ticket number which is the first and the last thing you would receive.
The live chat is very pushy and you will be overwhelmed with notifications and pop-ups about 7bForex financial broker live chat, but if you really have a question and want their help, they will just respond once and remain helpless to solve any problem. They are just capable to reply but incapable of settling up any conflict.
Conclusion
Unless you want to deposit your money with the risk of not getting anything back, there is no reason to get yourself registered with this broker, there are many things we have uncovered that indicated a scam activity going on with it.
The lack of license is the first warning that every trader would notice that 7bForex is not regulated and scam since there is no regulatory body that monitors and punishes the company if they undertake any financial scam activity.
It is natural for scam brokers to lure traders by offering a generous package of bonuses and promotions, which 7bForex financial broker is trying to do by offering 3 types of bonuses for new and existing traders.
Finally, there is no way for anyone to check the tradable assets and the payment methods in advance, a user would have to register first and deliver their personal information, and then it would be too late.
After conducting this thorough 7bForex broker review, it is not recommended to get involved with this trader, because we could not find any sign of legitimacy, and there is a high risk of losing all your capital whenever you deposit with this broker.