Portex Markets broker review

Recently, topForexBrokers has published a Portex Markets review by an independent trader. It does seem that this review failed to deliver a fully objective opinion about Portex Markets broker. Below we will keep the original review unchanged, yet we will indicate its problematic parts and also add a bit more information that we have found.
I can't remember the last time I ever fell for a forex scam, but that is only because I learned the hard way. Now, I can usually spot a forex scam a mile away, or in this case, with just a few clicks. The Portex Markets scam was one of those that is a bit tricky and doesn't jump out at you.
This text has appeared in the intro paragraph of the Portex Markets review and we can neither confirm nor deny that Portex Markets is a scam. Same goes for the quote below.
It takes a bit of time but once you see it you can just know right away not to dare make a deposit. I have done many forex broker reviews, and this Portex Markets review is supposed to be a warning as well as a lesson to all traders who might be susceptible to what I went through.
Here are about details about this brokerage:
Is Portex Markets legit?
The first thing all of us look for in a forex broker is whether they are licensed or not. Some of us will even go a step further to confirm whether the license number provided actually exists. Unfortunately, the scammers also know this and I may be guilty of providing the clues inadvertently as I was educating.
Anyway, at the bottom of the Portex Markets website is a license number provided, 466201. They have also indicated that Portex Markets is just a brand of C B Financial Services, which is licensed by the FCA in the UK and the FSB in South Africa. If you search through the FCA directory, you will indeed find that C B Financial Services has the license number 466201. However, when you check the listed domains on the FCA website, you will find that all these details are actually for One Financial Markets. In fact, when you check the One Financial Markets website, you will find that most of the features mentioned by Portex Markets are exactly the same.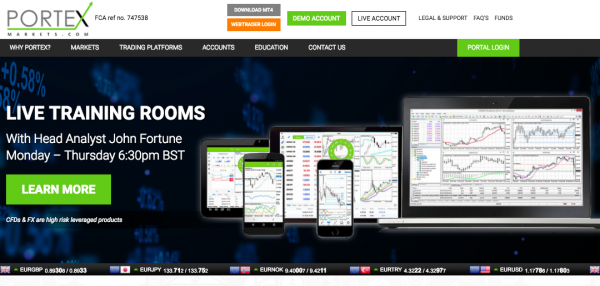 When we looked up the FCA register, it does seem that there is a legal connection between C B Financial Services and Portex Markets. The later is a legal representative as well Trust Capital S.A.L Limited and Version Internal Trading and Contracting Company.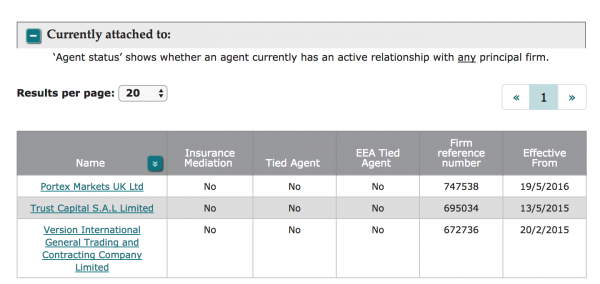 So, is Portex Markets UK regulated? Yes, it is. But this is not the most important question. Is there anything fishy about having an established company represented by a newcomer? Why would one do it?
This should be your lightbulb moment, when you finally answer, can Portex Markets be trusted? Spoiler alert… they can't.
Portex Markets reviews
Let's take a look and examine some of the real traders' reviews of Portex Markets. Before we move on, we would like to point out that PortexMarkets.com was only registered in the end of 2014, so the domain exists for about 3 years. If we check the archived records of the web pages, we only see a single record at our Portex Markets review, and it is dated November 2016. Hence, it does seem that the broker has been around for about a year. Hence, we can clearly see why there should not be many opinions about this company online. Still, there are some.
Once we google Portex Markets reviews, we encounter the FPA page, and it is cleat that the first reviews were submitted by the company representatives: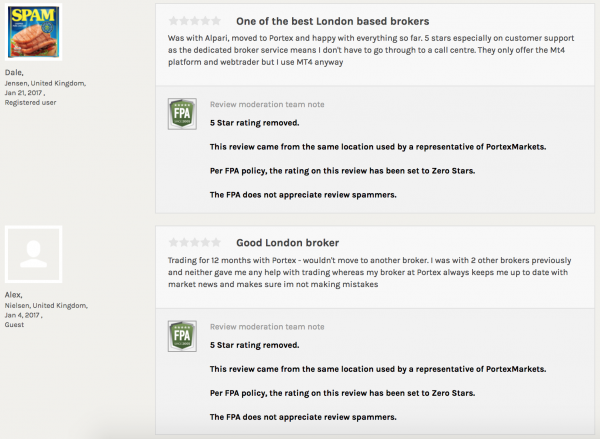 There are certainly more reviews of this brokerage on FPA, but surprising they are all 5-start and are written in the exactly same manner. It does look very suspicious to us, and we decided to reach out to the FPA to confirm that the reviews are authentic. We will update this section once we heard back. The fact that all of the remaining reviews were published in February 2017 gives us a clue that Portex Markets faked the reviews.
Can we find more Portex Markets opinions?
Yes, we can. Essentially, as Portex Markets is just a representative of C B Financial Services, all of your funds are held and are administered by C B Financial Services. Hence, one may ask a logical question, why should you open an account with Portex Markets if you can get one at C B Financial Services? Well, this is not the most important questions. Let's better see what people have to say about C B Financial Services in the first place. The company operates under OneFinancialMarkets.com and a few other brands. These are some reviews from FPA: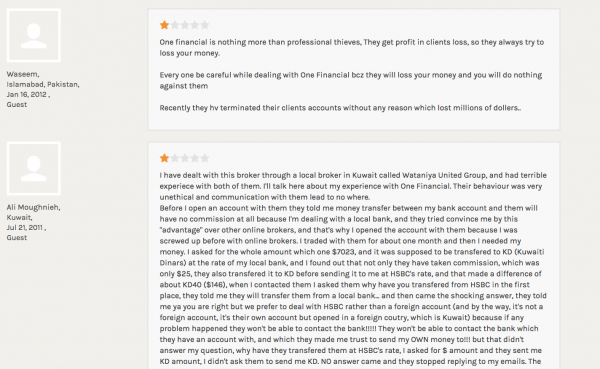 Certainly, above you can only see the negative reviews…but they should give you a clue about the company you are about to deal with. Besides that, One Financial Markets is accused on submitted multiple fake reviews on the FPA website. Seems like they are using exactly the same strategy when doing Portex Markets reviews.
Portex Markets and One Financial Markets Connection
It does seem that both of the companies are located in London, yet they do not share the same address. Having said this, the websites of both entities are looking pretty much similar. Both sites are designed in a very poor and a sloppy manner, which gives us a clue that these companies are not investing much into developing a user-friendly place for the traders. It also seems that once One Financial Markets started getting negative coverage, the company simply decided to use another brand – Portex Markets.
Can Portex Markets be trusted?
We have already mentioned that the company is regulated. However, we have seen numerous cases of having FCA brokers that are actual scams, and while we can neither deny or confirm that Portex Markets scam is a true statement, we would not recommend anyone to trade with it. Does this broker lie? Yes, and we have a proof.
Once you try opening an account with Portex Markets, you will see a few places where you are promised to fill out an application through a secured connection.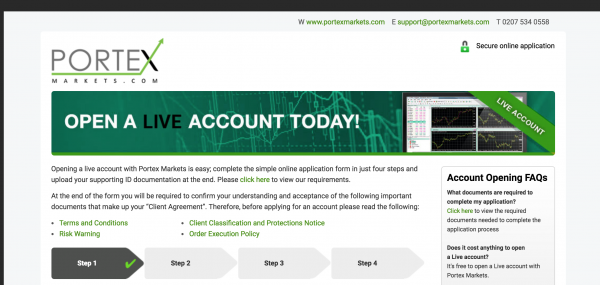 You can clearly see "Secure online application", right? Here is a promise to serve pages through SSL certificates too: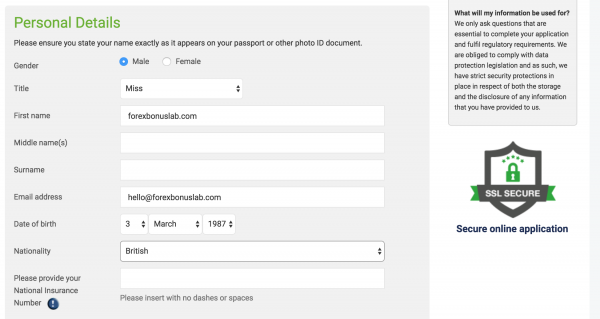 Check the website URL, and you will notice it doesn't have an SSL certificate. These certificates are essential for any website that requires users to enter sensitive data about credit cards, but they haven't included that. It means that the broker themselves can see your personal data and so can other attackers. Therefore, using Portex Markets is not only risky for your deposits, but also to your bank balance and the personal data.

Most important point here is that the broker promises to treat your data in a secured way, but in the same time it fails to deliver. Nowadays, having an SSL certificate is absolutely free and requires an hour of work…if the broker cannot integrate this essential ingredient into its website, how can it be trusted at all?

What others have to say about the Portex Markets broker
At this point of my research, I was curious to see what other people had to say about the broker. There were only a handful of Portex Markets reviews about them. By the way, you can't always trust these review websites because the reviews can be easily bought – just check fiverr. I was sure I would find plenty of negative reviews, so I was surprised that the Portex Markets opinions posted were positive.
This is another quote from the independent reviewer. As you see, it is pretty much similar to what we have found during our research.
Portex Markets withdrawals and deposits
There is nothing extra that you can find here, this broker will offer you credit card processing and two common online wallets (that belong to the same company) – Skrill and Neteller. It is safe to assume that the company will gladly accept your deposits. However, we have not heard of anyone who has managed to withdraw from Portex Markets. As mentioned earlier, the company is very new and there is simply not enough info to accuse it of being a scam already now.

Portex Markets review conclusion
After checking how old the Portex Markets websites is, it was about 2 years old, so the only conclusion I could draw is that these reviews were bought. After checking reviews for other scam brokers I know, I realised that there are the same 6 or 7 reviewers making similar reviews over and over. Overall, Portex Markets are an outright scam that all should avoid.
Here at Top Forex Brokers we cannot confirm that Portex Markets scams traders as of yet. However, it does have actual signs of a scam – like paid reviews, cheap looking site, false promises of security and so on.
We certainly recommend you to stay away from this broker, and opt out for a trusted trading company instead.