When you're looking for a new forex broker, many things go through your mind because you want to know that your money will be safe and that you will be making a profit. When you came across ECN Capital, you undoubtedly asked yourself "is ECN Capital legit?" Well we are here to answer that very question.
ECN Capital Regulation
Regulation is one of the most important things you should consider when choosing a broker. This is because there is a higher chance of unregulated brokers robbing you than regulated ones. And even if a regulated broker tries to rob you, you will be compensated in some form whilst if you register with an unregulated broker then you will be left out in the cold.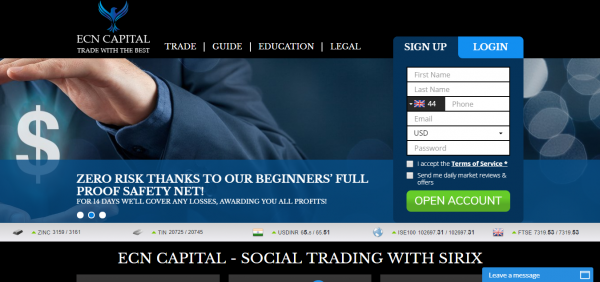 Unfortunately, ECN Capital shows no signs of regulation. The company is registered in Cyprus and as such should be registered with Cyprus Securities and Exchange Commission. (CySEC). We checked CySEC's database as well as the company website and there is no information on ECN Capital being registered. Sure, on the company website, there are several policies mentioned but without any regulatory body to hold ECN Capital accountable, we would not advise you to risk it. Brokers such as ECN Capital scam their way to the bank by robbing unsuspecting clients of all their money and profits.
ECN Capital Customer Support
Contacting ECN Capital is made easy through the multiple communication channels made available such as email, online form, live chat, and telephone. However, what we noticed through our own experience as well as from multiple ECN Capital reviews is that the customer service is extremely lacking.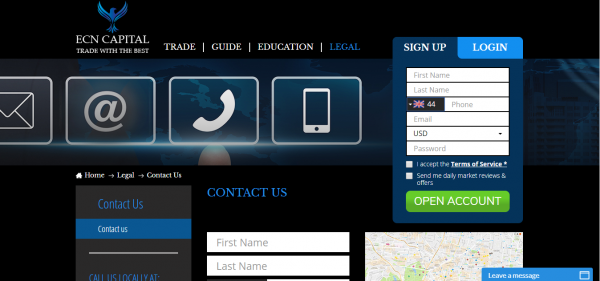 The customer service was without a doubt one of the worst we have experienced during our team reviewing online forex brokers and quite frankly we are left to wonder how ECN Capital has managed to gain any clients with their poor customer service.
ECN Capital Accounts
There are currently five types of accounts available for you to choose from at ECN Capital:
Bronze
Silver
Gold
Platinum
Mega
There are major differences between the deposits for each account and some of the features available but there are also features available for every account such as:
24/7 Live support
Online financial course
FX Majors & Minors
Metals
Energies
World Indices
Bronze Account
The Bronze Account has the lowest minimum deposit which is $500 and it caps at $9,999. Clients with a bronze account do not receive free signals or free VPS service.There is also no training available for these members, nor is there an analyst manager or access to ECN Capital's webinars. Bronze Account clients also cannot trade agricultures and have the smallest trade size at 0.1. The indices at 1:50 leverage with FX being 1:200 and Commodities being 1:100.
Silver Account
The Silver Account has a minimum deposit of $10,000 and unlike the Bronze account, receives signals free for one week. However, there is no free VPS service.Training is included in the package but there is no access to an analyst manager or webinars or agricultures. Trade size is 0.2 with leverage for indices being 1:100, 1:200 for FX and 1:100 for commodities.
Gold Account
The minimum deposit for Gold Account members is $30,000 which grants them signals free for a month, along with training and agricultures.. However, like the Bronze and Silver members, Gold members do not have access to the free VPS service or webinars. Trade size is 0.4 while the leverage for indices is 1:100, FX and commodities is 1:200. With this being the middle account, you would expect more features especially with $30,000 being the minimum deposit. This is why ECN Capital opinions are never favorable.
Platinum Account
Clients have to deposit at least $50,000 to gain Platinum membership. This grants them a free signals for the lifetime of their accounts, access to training, webinars, and agricultures. However, there is no account manager available even though you pay $50,000. The trade size is 0.6, the leverage for indices, FX, and commodities is 1:200.
Mega Account
The last account option is the one with the highest minimum deposit. The Mega Account has a minimum deposit of $100,000. As you can imagine, this grants you access to everything, free VPS service, analyst manager, webinars, and agricultures. Mega clients even receive VIP signals for the lifetime of their accounts. The receive the highest trade size at 1 with the leverage for indices and commodities being 1:200 and FX being 1:400.
All things considered, ECN Capital is quite expensive and what makes things worse is the fact that they are not regulated. In our experience, brokers that ask for this much money tend to be a scam as they seek ways to cash in quickly, not earn you, the client, any money.
ECN Capital Bonus
There are bonuses available for each account type. Bronze clients receive a 20% bonus, while Silver clients receive a 30% bonus. Gold clients get a 30% bonus while both Platinum and Mega clients get a 50% bonus and apparently can request more from their account managers.
ECN Capital Platform
At this point, when you think of ECN Capital fraud is all that comes to mind. That being said, the platform used is not all bad. It focuses on social trading more than anything else and the platform that they use for this is the Sirix trader. This platform is a web-based platform that requires no download. Its main focus is social trading and you can use it for newsfeed and social calendar integration.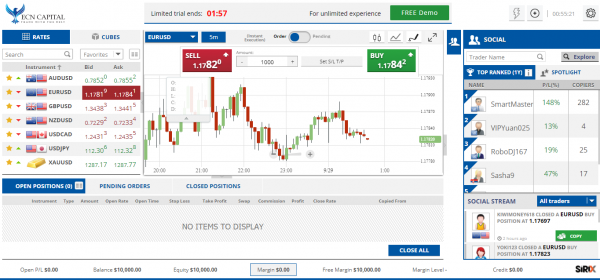 While the Sirix trader has its advantages, it also comes with some disadvantages which outweigh those disadvantages for many users. Even though it is web-based, it's a heavy loaded platform which you cannot run without a strong internet connection. On top of that, its indicators are uncommon and its interface is crowded which both present a steep learning curve for anyone new to the Sirix trader. It would have been better if ECN Capital coupled the Sirix trader without another trading platform to offer its clients variety and choice.
ECN Capital Conclusion
When you came across our review, you had one main question "can ECN Capital be trusted?" After, our research, we found out that they cannot. The first major red flag is the lack of regulation, the second is the poor online reviews and fake positive ones. The poor customer service and extremely high deposits are clear signs that ECN Capital is nothing but a scam.