Now brokers are not necessarily bad brokers, they may be quite legit and upfront, they may offer exactly what the market needs and help traders implement their strategy and make money together. So, we do not have misconceptions and we do not right off a broker just because it is new, much like Atiora Forex broker is. Find out if this broker is a good choice for you in our Atiora Review!
[broker-overview]

No, we first evaluate it, see the strong point and the weak points and have the big picture before making up our minds. And unfortunately, we did see the big picture, and we analyzed the good and the bad, and we came in the red. But let's see how they work, and underline their practices as we go along. Now, because they are a new broker, they try to get traders to use them, and as a result, the minimum deposit is quite…minimum.
They start from 1 USD and the highest one is of 200 USD. They say they offer some bonuses, however, from the Atiora opinions we read, the traders don't seem to find those bonuses anywhere. Maybe this is a computer glitch, due to the novelty of the broker, but it most certainly this is not a good sign. Their size is small, granted, but they implemented some techniques and offer some products that don't necessarily qualify them to get into the big league in the Forex world.
Atiora Forex Broker Accounts Overview
Atiora tries to bring the decent choice of accounts to their traders. But we recon that they are not as good as they should be. You can preview Atiora accounts on the image below.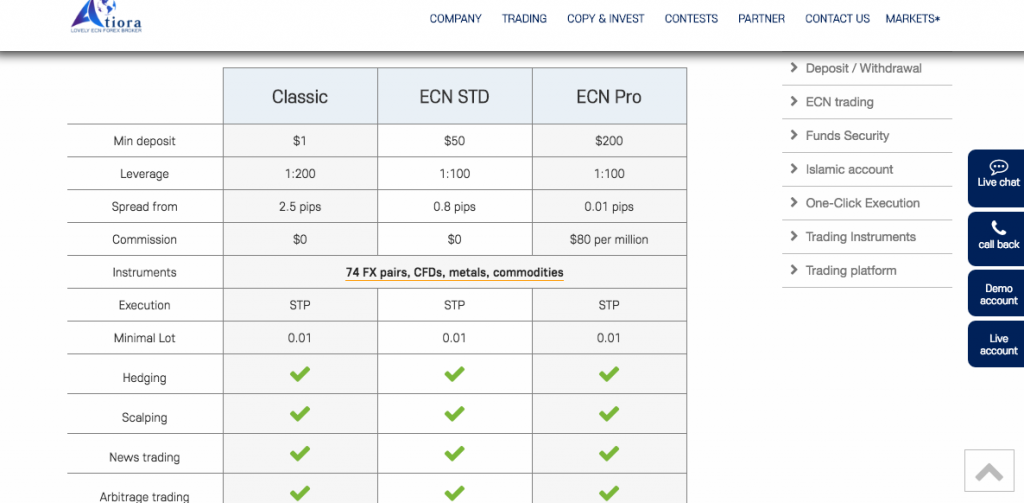 Atiora Contest Review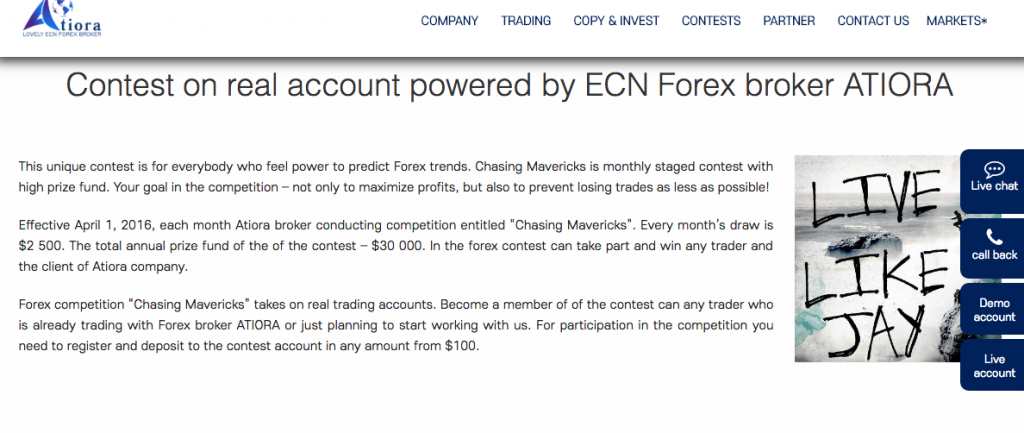 In an attempt to find those illusive bonuses, we looked at their so-called contests they seem to have going on, where traders go on all sorts of tournaments. Yes, we said tournaments. Atiora Forex broker offer traders the possibility to play with each other, much like children. And if you have a 100 USD minimum deposit (doesn't the 1 USD deposit seem a scheme to attract you to trade with them?) you can play Chasing Mavericks.
Yes, we know, it is rather amusing to talk about such "contests" in an Atiora review, but this is the reality. So, the Chasing Mavericks offer you the "unique" chance to win 2,500 USD, the big prize. If you trade enough and you don't lose. Don't be fooled by their English.
The "not only to maximize profits, but also to prevent losing trades as less as possible!" from their clauses, doesn't mean that you should lose as much as possible, they meant "not only to maximize profits, but also to prevent losing trades as much as possible".
Anyway, Atiora broker Forex has other contests as well, like best of scalpers, with 1,000 USD prize. Again, the minimum deposit needs to be 100 USD. So, these contests are nothing but means to make traders deposit at least 100 USD with them, which is more in the line of bad practice, than legit business.
Of course they are new and they want to attract as many traders as possible, but this is not the way. A correct first deposit limit is one of the conditions for fair brokerage. Another is to present all the data, so that the traders don't have to read Atiora reviews to find out if they benefit or not from bonuses.
And another would be to have all the information available on their web site. Which is not the case. So, be aware, this is not only new, but opaque broker, and if you don't have all the data, you should not trade with them.