Retail forex industry is dominated by the brokers established decades ago, however there are also new comers into this sector that could sliced a substantial slice of the market share within just a few years. Developed in 2010, IronFX became quite popular among the traders and bonus hunters, due to its flexible and generous offers. Is IronFX a trusted broker? Continue reading IronFX review and find out!

IronFX Forex Trading Broker at a Glance
IronFX has branched into an impressive number of 180 countries all around the world. The 1,500 employees it has work in 60 offices and also offer support in no less than 45 languages. The share size of this broker makes it easy to give customized support to different people around the globe, regardless of the region. Also, the offer has very good pricing. This is offered because of the numerous liquidity providers IronFX collaborates with. This is one of the biggest and most respected new brokers in the business.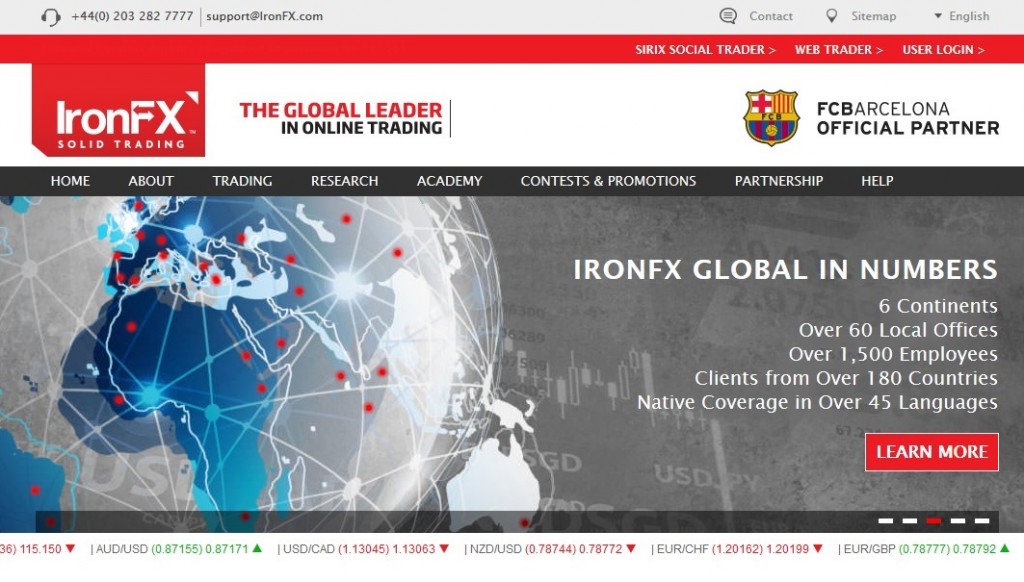 IronFX Forex Broker Accounts
It has Zero-spread accounts, Micro accounts, Premium Accounts and VIP Accounts. It is immediately visible that the Zero-spread account has a lot of disadvantages because it has high commission rates and the investor is unable to choose between fixed and variable spreads. These accounts are available in the following currencies USD, EUR, JPY, GBP, AUD, CHF, PLN, RUB, HUF, the exception being the VIP Account. It is a glaring omission that the VIP Account doesn't have the option to contain any currency other than USD.


There are also STP accounts: STP No Commission Account and STP No Spread Account that are self-explanatory and give the investor the opportunity to choose between paying commissions or spreads.
There are also institution-oriented accounts – Affiliate, Affiliate Plus, Business and Managed accounts. It is immediately observable that the commissions are lower for these accounts, because they start from 0.9 pips. It is necessary to be introduced by a broker in order to have this type of account.
IronFX Reviews of Trading Platforms
Trading with IronFX is done in an efficient and accessible way.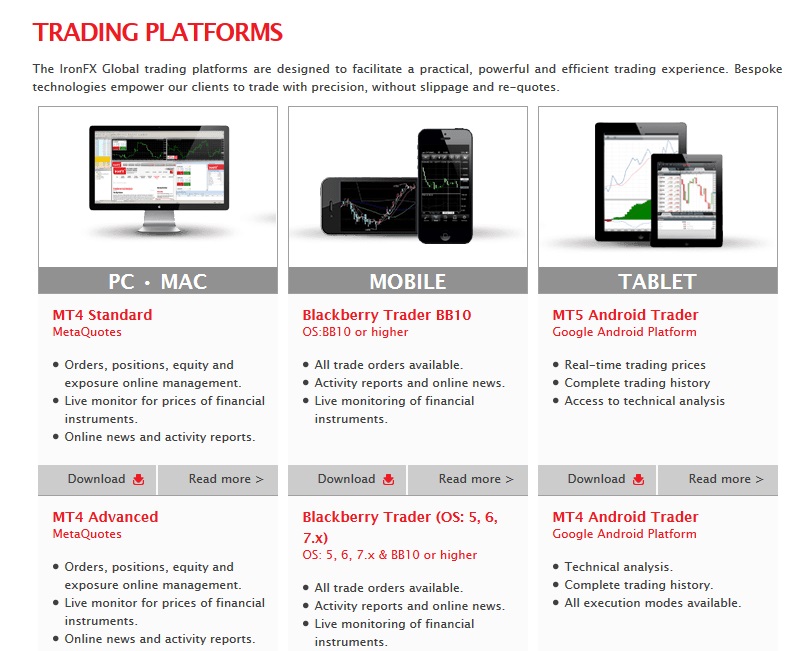 A wide range of trading platforms is available:
for PC: MT4[, MT5, PMAM, MultiTrade, Webtrader
for mobile phones: Blackberry Trader, Blackberry Trader (OS: 5, 6, 7.x), MT4 iPhone Trader, MT5 Android App, MT4 Android App, MT4 Mobile Trader, Smartphone Trader, MT5 iPhone Trader
for tablets: MT4 and MT5 Apps available from Android and iOS
IronFX Reviews of Extra Features
This site has a number of facilities meant to instruct new traders. It gives them the information they need to easily start their activity and be successful. We can enumerate webinars, seminars, expositions, a Forex encyclopedia and educational videos.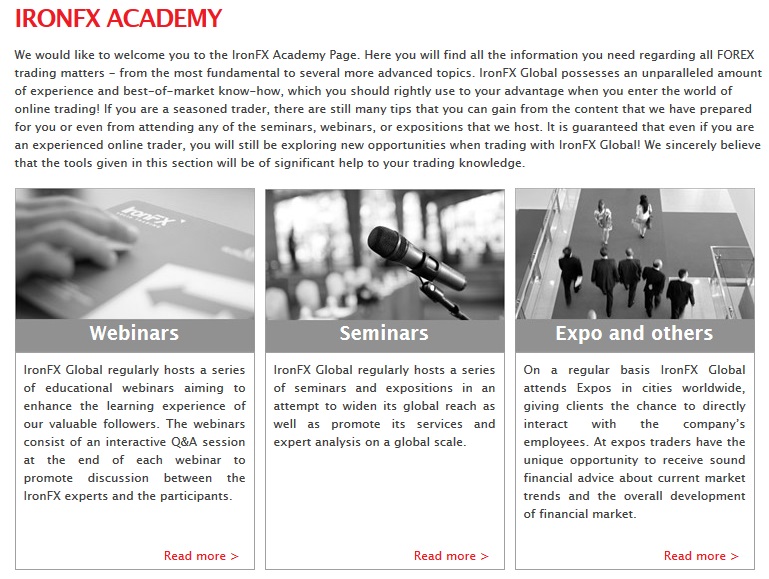 The educational videos are only five and don't explain important information such as what the most useful indicators for trading are. Market orders and more advanced concepts are also not covered. The webinars unfortunately are in different European languages and none of them are in English. If a trader wants to see them all, then he must speak all those languages, which is not the case for most of them. Most of the seminars are held in Germany.
IronFX Forex Trading Broker Support
Customer support is offered 24/7 on a number of 400 lines. An impressive number of 46 different languages are provided to enable the customer to experience a dynamic online financial trading environment. Contact possibilities include e-mail and call-back functions.
IronFX Review Conclusion
IronFX has been known as a broker that provides the best bonuses on the market. Recently (in early 2015) it has received a lot of criticism, as some of the traders couldn't not withdraw from IronFX. While the executives of IronFX try to tell that these traders have committed frauds, Top Forex Brokers has actually seen some statements and we couldn't identify any sign of a fraud. This is why Top Forex Brokers doesn't recommend you to open an account with IronFX, at least within these times of uncertainty. If you are looking for a good broker, you may either try Plus500, a great broker with superior platforms.
IronFX Scam
Is IronFX a scam? Top Forex Brokers doesn't say that IronFX is a scam forex broker in this IronFX review. Still, you have to take into account that after January 2015 it is really hard to say wether the broker is on the edge of bankruptcy or no. Top Forex Brokers hopes that IronFX will make it through the difficulties and restores its reputation, as it was always offering great IronFX bonuses. Nevertheless, some people would say IronFX is a scam, as they still couldn't withdraw their fund from this broker.
[RICH_REVIEWS_SNIPPET category="page"]
[RICH_REVIEWS_SHOW category="page"]
[RICH_REVIEWS_FORM]