In today's financial industry, foreign exchange is by far the biggest trading market in terms of daily traded volume of well over 5 trillion US dollars and its multitude of participants. This also means that no market is more liquid than Forex.
For these qualities, the currency market attracts millions of traders and brokers from all around the world. For brokers, the catch is about attracting as many new traders as possible and expanding their platform.
Unfortunately, though, not all brokers are doing that honorably. The internet is full of fraudulent brokerages that promote their fancy trading terms like highest leverage ratios, shallowest spreads, and fancy websites. But underneath all that, there hides a scam that is designed to steal people's money.
Distinguishing scammers from trustworthy brokers isn't easy but it is definitely possible. Today, we'll try to do just that with the FBS Forex broker by taking a look at what the broker offers to its clients. So, without further ado, let's get started.
FBS is a Forex trading broker that was established in 2009 in Belize. In its 11 years of operation on the market, the broker has expanded its platform by increasing the number of trading symbols from just Forex pairs to CFDs, commodities, and stocks.
One very special thing about the FBS Forex broker is that from January 1st, 2020, the broker has become the main trading partner of one of the most renowned football teams, FC Barcelona. Being chosen by such a legendary team only means one thing: that FBS has a sturdy reputation in the trading industry.
But what makes its platform so appealing? Well, we're here to find that out.
The website overview
First things first, we have to start with the website and software support. Now, while the interface isn't the most simplistic ones we've seen in our experience, it certainly has a professionalistic feel to it. The combination of grass greens and greys renders the whole website pleasant to look at while the information provided becomes more defined.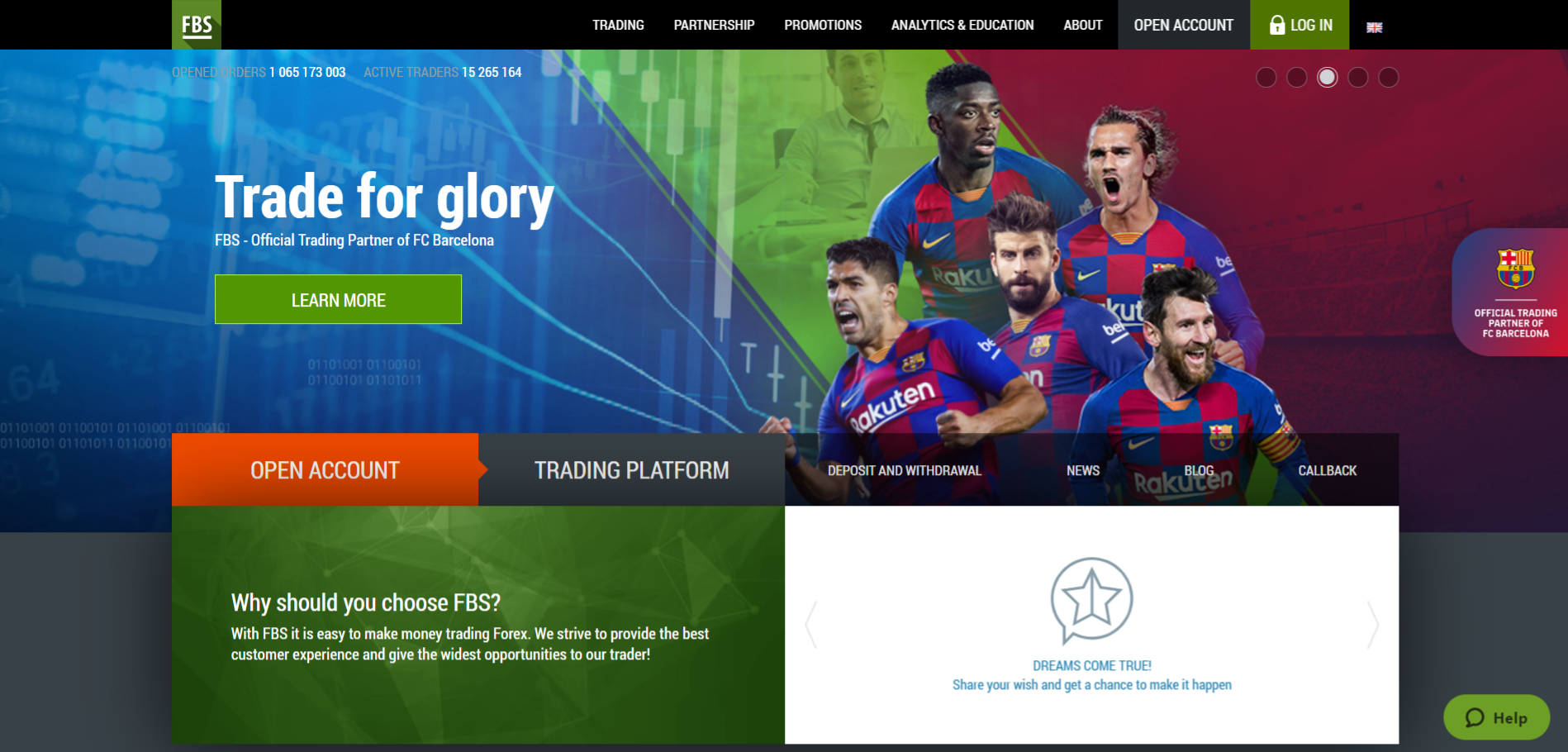 The website is divided into five thematic sections: Trading, Partnership, Promotions, Analytics & Education, and About. Each of these sections contains valuable information about how exactly trading is done on FBS FX brokerage. We were able to find every little detail about leverage and margin, spreads, overnight fees, etc.
Then we went on to explore trading accounts and found five different packages: Cent, Micro, Standard, Zero Spread, and ECN accounts. When you look at the offerings of these individual accounts like 1:3000 leverage, you'll have a hard time not to be astonished. We'll cover these offerings in the final chapter of this review.
Finally, there's the trading platform support. Every FBS client, regardless of their account choice, is going to get the FBS MT4/MT5 full support, meaning some of the best MetaTrader programs are in their service to make most of their trades. On top of that, the broker offers its own proprietary desktop platform that also works on iOS and Android smartphones.
The licensing – Is FBS legit?
Moving on, let's take a look at the regulatory material. As FBS openly points out, the company was registered in Belize in 2009 with a financial license granted by the International Financial Services Commission – the main regulatory body of the country.
A lot of the FBS scam suspicions stem from the fact that the broker doesn't have a license or the IFSC license isn't powerful enough to restrict the broker's activities. In our opinion, though, neither of those claims is close to the truth.

The IFSC license is one of the most popular financial regulatory materials one can find today. Lots of trustworthy brokerages are proudly showcasing this license to prove they're complying with sturdy rules and guidelines. For that reason, we think that those reports and suspicions about the FBS fraud aren't accurate and the broker is as legit as it can get.
Trading terms and conditions
Last but not least, let's discuss trading numbers and other terms. As we noted earlier, different trading accounts have different, yet all astonishing, terms and conditions, and now we're going to explore those.
We'll start with the leverage and spreads. On FBS, the maximum leverage you can get is 1:3000, which is just bananas considering how big your prospective account size can become after applying such a multiplication rate. But it's also worth noting that in the same section, where leverage ratios are presented, the broker notes that this is a dangerous feature, and traders should be extra careful when using it.
As for spreads, FBS has varying offerings to its clients: Floating spread from 1 pip for Cent Account holders, fixed spread from 3 pips for Micro Account holders, floating spread from 0.5 pip for Standard Account holders, fixed spread 0 pip for Zero Spread Account holders, and floating spread from -1 pip for ECN Account holders.
These spread rates ensure that when traders enter any market, be it Forex, stocks, or metals, they're going to get the maximum amount of profit they've earned. The broker is very open about how much it takes from individual trades and in many cases, it doesn't take anything at all.
Then there's FBS promotions that range from Trader Parties all the way to Cashback bonuses. Also worth noting in this section is the 100% Deposit Bonus, which is a promotion applied to any FBS client with no time limitations. This and other bonuses make trading so much more exciting.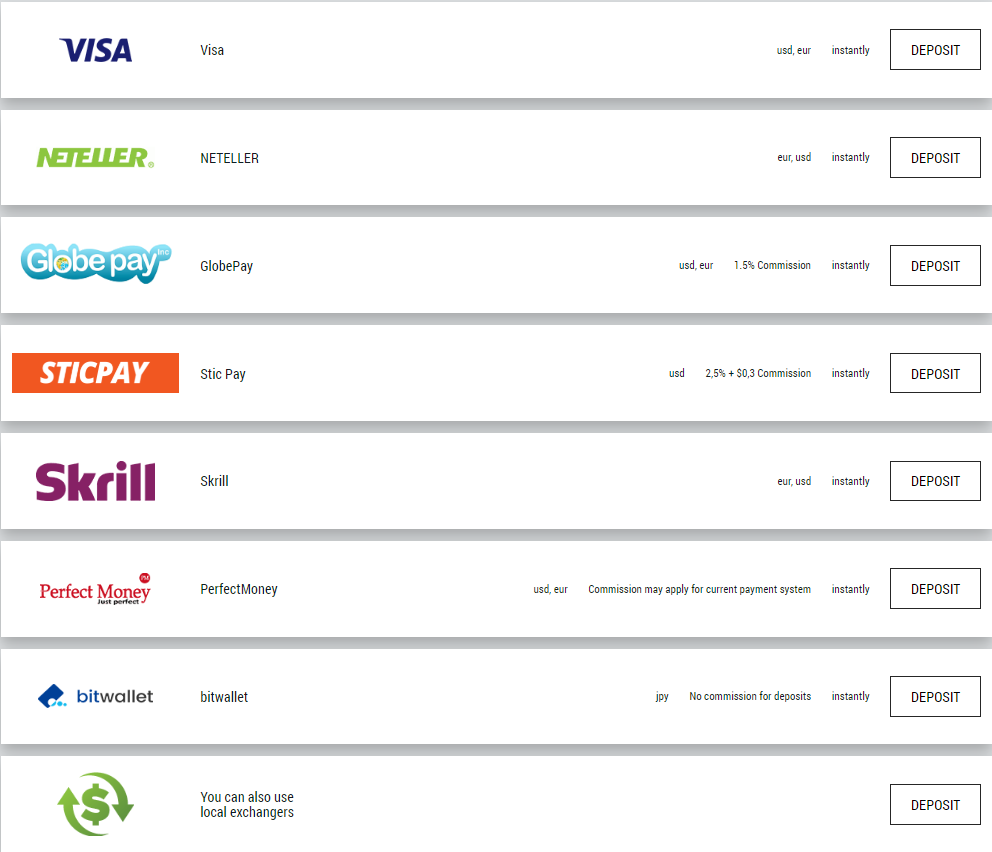 Finally, let's talk about financial platforms. On FBS, traders can use lots of different methods to deposit and withdraw their funds. For deposits, they can use credit cards, local exchanges, Skrill, Neteller, bitwallet, and many more. As for FBS withdrawals, the same platforms are available with the maximum processing time of 48 hours (usually it takes 15-20 mins). One thing to note here is that bitwallet withdrawals are effective immediately – an advantage of crypto payments.
Final FBS rating
In this FBS review, we talked about the broker's website, licensing, and trading terms and conditions. We examined everything from interface design all the way to financial platforms and withdrawal terms.
Judging from everything we've discussed, be it 1:3000 leverage ratios, 0 spreads, very informative website, and sturdy licensing, there's only one logical conclusion to this review:
FBS Forex broker is a trustworthy enterprise that is focused on customer safety and satisfaction. It offers trading terms that are designed to make trading as lucrative as it can get while not sacrificing customer's financial stability. Therefore, we can recommend this broker to anyone who wants to start trading right now!