This is a broker that has been steadily gaining popularity. While OctaFX does have an FCA license, it is a broker worth taking a look! Continue reading the OctaFX review to find out more.
OctaFX is a Forex broker that has been offering its services to the customers around the world since 2011. The company has over a million trading accounts and has executed more than 250 million transactions. Currently, OctaFX broker operates in 100 countries and the multinationality of the company is reflected in its services and customer support as well. According to the company, it has paid out $2,436,492 to the customers in the form of bonuses during its time of operation. Regarding OctaFX regulation, the company is supervised by the British Financial Conduct Authority. "We're here to create a cost-effective trading experience where Forex traders, new and professional, can earn more with the same investment," – says the company's mission statement. OctaFX review offered below takes into the consideration the company's products, accolades, OctaFX reviews by its customers and other factors to answer the questions: is OctaFX a scam or is OctaFX legit?
[broker-overview]
OctaFX Review of Deposits & Withdrawals
One of the most important things to consider when choosing a Forex broker are the deposit and withdrawal options. Sometimes people go through the extensive registration process only to find out that their preferred payment options aren't available. That shouldn't be a problem with OctaFX as it allows users to deposit and withdraw money from their accounts through multiple channels. Using Visa or MC cards customers can deposit any amount over $5 and withdraw without any limitations. It is also possible to use online wallets like Skrill and Neteller for these transactions, but in this case, the OctaFX minimum deposit amount is $50 and the minimum amount for withdrawal is $5. With the modern innovations, OctaFX review spotted that it also considers those who might want to make deposits in Bitcoin. It should be noted that there are no commissions on any of these payment channels.

Once the money is deposited security issues become the priority. OctaFX has taken measures to ensure the safety of their users' funds. Some of these measures include 3D secure Visa/MasterCard authorization, account verification, SSL-protected personal area and segregated accounts. Furthermore, the company goes to great lengths to assign professionals who will monitor the activity on the platform. "The OctaFX technical environment is monitored 24/7 by a dedicated team of highly professional security engineers and technical specialists. They have developed and maintain top-level protection, so any data loss, damage or other technical issues are highly unlikely," – says the company's website.
OctaFX Broker Assets Available
Besides the 28 currency pairs, OctaFX broker also offers trading with CFDs for a few of the most popular indices like Dow Jones 30 Index, Nasdaq 100 Index, DAX 30 Index and more. In addition to these, the users can also trade in commodities. Particularly, customers have an option to trade gold, platinum, Brent crude oil, palladium and other assets. "We've minimised your commodity trading costs, and we offer some of the lowest spreads in the industry," – says OctaFX. Those who are interested in cryptocurrencies will be able to find several options on OctaFX as well. These assets that have gained popularity quite recently have exhibited large volatility but still remain one of the top choices for many traders around the world.
OctaFX Platforms Review
OctaFX review found out that this broker offers several software downloads including MetaTrader 4, MetaTrader 5 and cTrader. MetaTrader 4 is the most popular platform used by traders and offers many tools that facilitate trading. "MT4 web platform allows you to trade from any browser on any operating system with a well-known interface of a desktop platform. All major tools are available including one click trading and chart trading," – says the company. OctaFX M4 is available for web, desktop, Android and iOS so that users of any type should have ease finding the right fit for them.
Those who prefer MT5 will also be able to download the software from OctaFX. The company provides an explanation on the differences between the two platforms with a comment: "MetaTrader 5, or MT5, is a next-gen multi-asset trading platform that will replace MT4 in the very near future. Its back-testing functions are not only faster than those of MT4, but it also allows simultaneous multi-pair testing. A similar graphical interface to MT4 will help you get used to the platform quickly, while unique MT5 integration with centralised exchange enables traders to trade commodities and indices in addition to Forex."
OctaFX cTrader is another option made available by the company. This platform is especially user-friendly as it offers various graphs designed to give the users a better understanding of the markets as well as his/her standings. It also offers a customizable interface so that customers are able to fit the application to their liking. Much like the other two platforms, cTrader is also available on web and as a desktop application.
In addition to these platforms, OctaFX also offers its mobile application that will help the customers manage their accounts, deposit money on the account, restore passwords, modify leverage and much more. This is convenient for users who don't spend a lot of time in front of computers as they allow for easy and fast changes.
OctaFX Broker Accounts
During OctaFX review, it has been found out that this broker offers three types of accounts. The Micro account, which is the most common option is recommended for new users and goes with the MT4 platform. Micro account owners will be able to trade 28 currency pairs, 4 indices, 3 cryptocurrencies, gold and silver. The leverage for these assets is up to 1:500 for currencies, 1:200 for metals, 1:50 for indices and 1:2 for cryptocurrencies.
Another type of account is the Pro account enabled for MT5 users and recommended for experienced traders. Similarly to the other account types, there are no markups or commissions for Pro account traders as well. In addition to 28 currency pairs and 3 cryptocurrencies, Pro account holders are able to trade 4 metals, 10 indices and 2 energies. The leverage for this account type is up to 1:200 for currencies, 1:100 for metals and energies, 1:50 for indices and 1:2 for cryptocurrencies.
Finally, there are also ECN accounts for cTrader users that are recommended for progressive traders. ECN accounts can trade 28 currency pairs in addition to gold and silver. The leverage is up to 1:500 for currencies and 1:200 for metals. CFD trading and cryptocurrency trading isn't possible for the users with ECN accounts.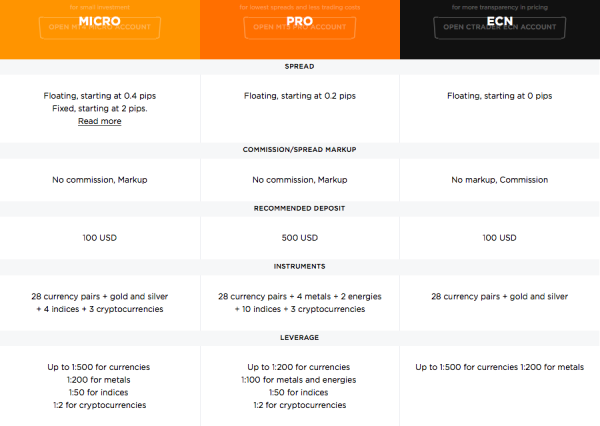 Additional tools and benefits at OctaFX
OctaFX Forex Broker emphasizes the importance of education and offers a lot of services to help better equip its users for trading. Some of the resources available on the company's website include video tutorials that take the users through the basics of using the trading platforms. There are written documents as well that educate the customers on the services offered by the company. Oftentimes, people simply miss out on some products because they aren't informed about them. OctaFX has put a lot of effort into making sure that the customers are familiar with its platform.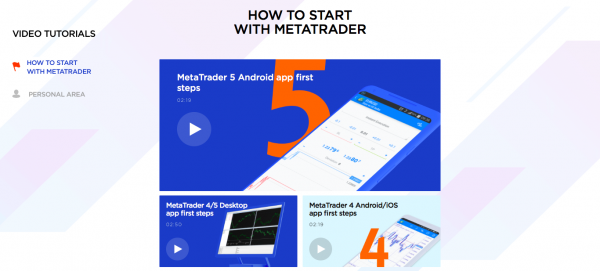 In addition to this, there are many trading tools available on the website that should definitely be helpful for traders. These include an economic calendar, market insights, profit and trading calculators and Forex news to keep the customers up to date with the most recent developments in the markets. There is also a list of holidays based on territories and other information that could be of use.
OctaFX Opinion
It is clear that OctaFX focuses on its customers and has designed a website that helps the traders in many different ways. For the novice traders, there are many educational resources on the website to better prepare for the actual process of trading before putting any money at risk. The company has a multilingual customer support that is also readily available to help the users should they have any questions. It should also be noted that the company is equipped to serve customers with various needs and of different backgrounds. There are many different types of assets as well as trading platforms available for the users depending on their preferences.
[RICH_REVIEWS_SNIPPET category="page"]
[RICH_REVIEWS_SHOW category="page"]
[RICH_REVIEWS_FORM]