Doo Prime is definitely not a new kid on the block, judging from the fact that it's a subsidiary of a rather large Group Holding in Hong Kong. However, despite it being a subsidiary, our Doo Prime review found out that the brokerage has some grey areas it wants to hide.
Read our detailed review below to find out if the broker is worth your time.
Doo Prime at a glance
When visiting the website, it's not really difficult to be impressed with all the CSS and Javascript gimmicks of the brokerage. They decided to go with the "one-page" website layout, which to be honest, is not as user-friendly as one may imagine. Having all the information segmented into separate pages is a much better resource for better transparency.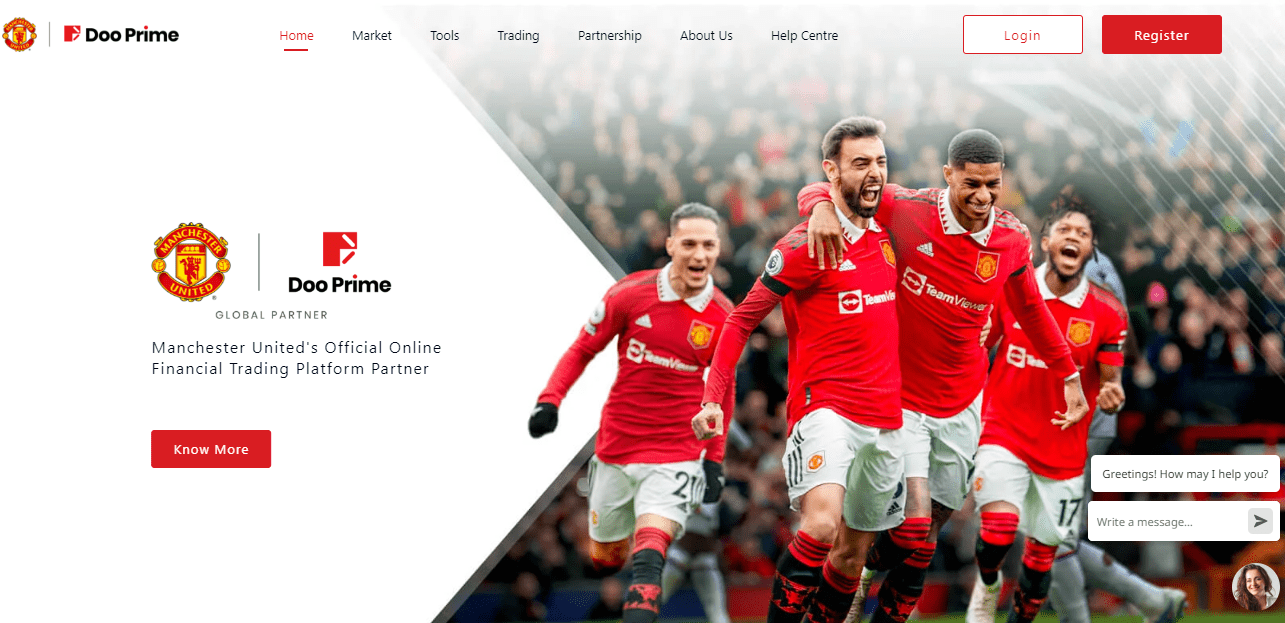 The broker has been on the scene for some time now and has managed to acquire a partnership with Manchester United, which is not a small fit. The broker has several awards displayed on their website as well. It may seem that the company is quite honest with its operations by disclosing info about being a subsidiary, but when it comes to the rewards that it claims to possess, there is no evidence.
For example, Doo Prime claims that they're the owner of the 2017 Best MT5 broker award, which they don't link to, and Google says that it's actually the FxPro Forex broker and not Doo Prime.
With all that being said, we don't want to call someone a scam without further researching their platforms. Let's dive deep and discover what this broker has to offer beyond its flashy awards which we think could be suspicious. Because the transparency issues alone don't strictly suggest that Doo Prime is a fraudster.
Doo Prime The safety and security – So many licenses!
When digging through the footer of Doo Prime's website, where legal information is usually located for Forex brokers, we found out that they are a subsidiary of Doo Holding Group Limited, located in Hong Kong. However, the Doo Prime Forex broker itself is in the Cayman Islands. The company has so many licenses including the USA and UK that the legitimacy of it almost is guaranteed!
The complete list of regulators overseeing Doo Prime activities regulators:
The United States Securities and Exchange Commission (US SEC)
Financial Industry Regulatory Authority (US FINRA)
The United Kingdom Financial Conduct Authority (UK FCA)
The Australian Securities & Investments Commission (ASIC)
The Australian Transaction Reports and Analysis Centre (AUSTRAC)
The Hong Kong Customs and Excise Department (Money Service Operator Licence)
The Seychelles Financial Services Authority (SC FSA)
The Malaysia Labuan Financial Services Authority (MY Labuan FSA)
The Mauritius Financial Services Commission (MU FSC)
The Vanuatu Financial Services Commission (VU FSC)
With these many regulatory licenses under its belt, the safety and security of Doo Prime are more than sufficient for us to say that the broker is legit and completely safe.  Australia, the US, and the UK are among the most reputable and strict regulators in the world, and depending on the trader's jurisdiction they will have dynamic leverage from 1:30 to 1:1000.
In the next section, we'll discuss how Doo Prime entices traders to register with them and whether its features are worth your time and effort.
Doo Prime Fees and spreads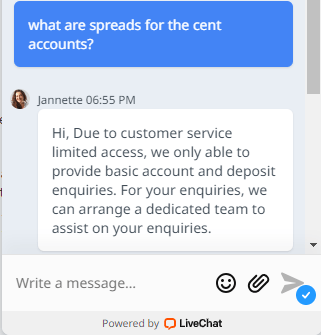 Moving on, let's talk about the spreads. It was painful to get the information about exact spreads for Cent and other accounts. We assume the spreads are higher than average and this is why the broker is shy of showing them on the website like other brokers do. we will discuss the quality of customer support in more detail below, but overall the spreads may be higher than average. A lower score in this category for sure.
Doo Prime trading conditions – Accounts, deposits, and withdrawals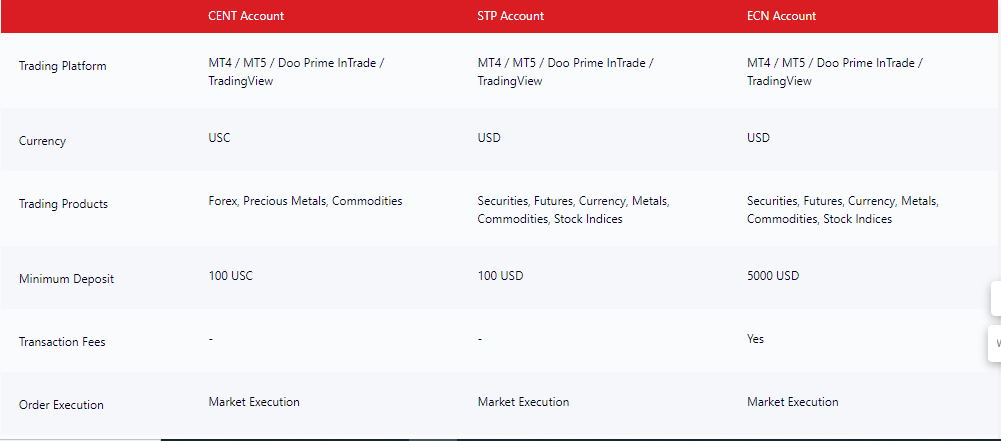 There are currently added three main account types which is very good as it is now possible to know what exactly this broker has to offer in trading conditions.  The existence of a cent account is already a plus as it allows beginners to start with relatively small accounts and learn to trade. The minimum deposit for this account is just 1 dollar, which is very competitive when compared to other brokers out there. But the number of asset types is limited to only Forex, commodities, and precious metals (also commodities). For FX trading, the cent account still holds its own with its attractive requirements. We were not able to find out the exact spreads for the cent account, but as the broker indicated they are higher than for other account types.
Let's start with leverage. As you may or may not already know, this feature is used to increase the initial trading funds substantially. For instance, with Doo Prime's leverage rate, you can increase your trading capital by x1000 times, which is equal to 100'000 with just 100 bucks on your trading account.
However, we need to point out that many reliable brokers tone this feature down quite a bit. In the US and EU, brokers are restricted to only 1:30 leverage for customer safety. So, can Doo Prime be trusted, considering its overzealous leverage offering? Well, we cannot say for sure that it's a scam but it certainly raises some questions.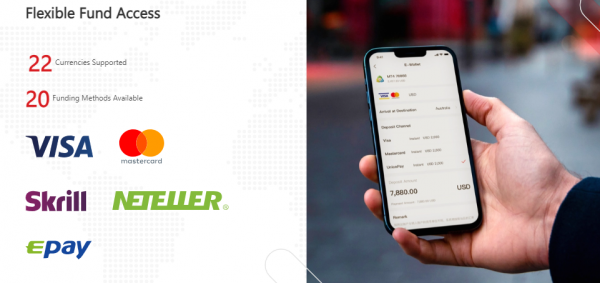 Deposits and Withdrawals
We weren't previously able to find any information about the methods that traders will have in terms of Doo Prime withdrawals and deposits, but judging from our current visit, the broker has improved its transparency and is now providing a list of methods available. The fact that they promote a "partnership" between banks like the Bank of America and HSBC, it's easy to believe that they also use Wire transfers and credit cards the most.
We were not still able to find out about fees on deposits or withdrawals, yet we can speculate that there will be some charges on the transactions you make, simply because Doo Prime doesn't really strike us as a customer-oriented brokerage. Whenever we are unable to find out the exact withdrawals and deposit fees we assume the broker charges fees.  There is no other reason not to show the fees related to deposits and withdrawals.
Doo Prime Trading assets and features
The broker has 60+ currency pairs for trading. As for other asset classes, there are soft and hard commodities, indices, securities, and futures. there are no stock CFDs or cryptos available which is a downside for crypto traders. Since the cryptos are becoming super popular many brokers try to offer their traders numerous cryptos, but Doo Prime is falling behind its competitors in this regard.

Where the broker shines besides being one of the best regulated in the scene are numerous advanced trading platforms it gives access to their traders. The most appealing one is definitely a TradingView which is becoming super popular because of its modern design and inbuilt social capabilities. Doo Prime also has API available for automated trading software and 3rd party trading applications. This API could become very useful to use for TradingView and other trading robots. All in all, the broker is strong in this department and offers complete support and choices on many platforms.
Doo Prime Customer Support Review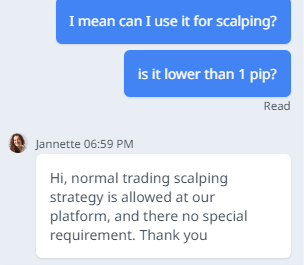 as we can see the broker has a working live chat and support together with the chat is responsive. The issue lies in something else, though. we were not able to find out the exact spreads from the support. As they told us, it was due to the broker's policy which means the support is good and there is no issue with training. The issue is the broker is not willing to tell us the exact fees and spreads which increases our suspicion of high spreads for the cent account, which may become a trap for newbies with low budgets. If spreads are higher enough it could blow up a newbie account in a matter of days which is a very bad sign.
Let's continue about support, the broker has email support, and a hotline as well. Live chat is the fastest and most cost-efficient way to contact the broker.
Doo Prime Education
Trading Central and VPS are two major tools offered by the broker. VPS is a must if you want to run your automated trading software on the cloud 24/7 without interruptions. trading central offers signals and automated chart analysis which can help some traders and investors to make better decisions. The latest News section provides important news updates about the financial trading industry and events.
When it comes to educational resources there are no substantial materials on the website. The resources in this regard are scarce and we hope the broker addresses this issue in the near future.
Should you consider Doo Prime?
This Doo Prime review has discovered many grey areas previously on the broker's trading platform, which should suggest that trading with it might not be a great idea. But currently, the broker has improved some of the major flaws and has only to address relatively minuscule details and issues to become worthy of recommending to our readers. The broker is safe there is no doubt about that, but what it lacks is on services department and fees.
While the broker is legit and super-regulated, there are still other brokers on the market offering better services with lower spreads and commissions and who are also reliable.
On top of that, the trading terms and conditions are either too overzealous or underwhelming, therefore, we cannot fully recommend you to trade with Doo Prime. But if you trade with them, you will be fine.
Is Doo Prime a legitimate broker?
What trading assets and features does Doo Prime offer?
What are the fees and spreads at Doo Prime?