The hard old times when only the biggest financial companies like banks were able to participate in the Forex market are long gone. Today, more than ever before, people from all over the world have access to this very popular market. However, many people around the world started using this opportunity for the wrong reasons, which is creating a lot of problems for people.
Forex trading is considered to be one of the riskiest markets around the world, and if one is not doing everything to stay safe, it could end up being a very dangerous market. There are many scam companies around the world, and they are working very hard to steal the hard-earned money of investors. They are doing so by creating very realistic brokers, and some of them even get licenses.
Today, we are going to review VT Markets, a Forex broker that seems to be a little suspicious. Over the reviewing process, we found many things that raised a lot of questions. So, if you want to learn more about this Forex broker and the things that we were able to find out, follow this very detailed review.
VT Markets – a quick background
According to the information provided by the Forex broker, the company is registered in Australia and is working very hard to get international exposure. The company was established in 2016, and it is a fairly new broker. There are several hundred available trading assets on this platform, with the help of the MetaTrader 4 trading platform, and a web-based version of it, WebTrader.
These trading platforms were developed by a Russian company called MetaQuotes, and are among some of the best-known platforms. This broker recently added a newer version of MT4, MetaTrader 5. While reviewing this company, we found that it does not have that many problems when it comes to trading platforms, however, with everything else, we found some cons of this broker. Since the broker is constantly evolving and improving their services, we will review its features and what can they improve.
The safety and security of VT Markets
The broker is registered in Australia and claimed to have a license from the Cayman Islands Monetary Authority, called CIMA. However, the broker updated its licenses and got several licenses from reputable regulators of Forex including Australia ASIC and FSCA of South Africa. These regulators are much more reputable and reliable than the previous license and should enable VT Markets to become one of the few well-regulated brokers.
Many brokers decide to register with regulatory bodies like this to avoid following strict regulatory frameworks, but it is creating a lot of problems for investors. While reviewing the VT Markets broker, we found that this company does offer negative balance protection, there was no information about it provided by the broker. We contacted the live chat and got the information that the broker offers negative balance protection which is great news.
Suppose there's a negative balance in your trading account. The "reset" button will appear in the column next to the number of your account equity. In this case, you can reset the negative balance directly by clicking the "reset" button in your client portal. Before you reset the negative balance, kindly ensure there are no open positions in your trading account.
In addition, according to the T&C of promotions, the system will clean the bonuses along with the negative balance.
Most of the regulatory bodies around the world required brokers to adopt this policy, to make sure that every investor stays safe, and it seems like this broker is trying to make their services safe.
VT Markets Fees and spreads
The spreads offered by VT Markets can be considered average, as the spreads for major pairs start from 1.2 pips and are variable. This means, if the markets are highly volatile the spreads will widen and traders should exercise caution when trading during major news releases. This said, the commission for zero-spread accounts is below the industry average which is good news for scalpers. scalpers are traders who rely on many small profits during the day and low spreads are super important to them. With the spreads starting from 0 pips and commissions being 6 USD round turn VT Markets offers terms that can hardly be ignored by scalpers.
VT Markets accounts, deposits, and withdrawals
VT Markets when it started was only offering one trading account for all kinds of traders. This has changed and the broker has diverse offerings to their clients now. The three accounts offered are
Standard STP
RAW ECN
Swap Free
The standard account is for general day traders and investors as it offers zero commissions for trading, but has spread. The spreads on major pairs start from 1.2 pips which is a bit more expensive than the industry average of 1 pip.
For scalpers and traders who want to have low spreads, but are willing to pay commissions the RAW ECN is the account type to choose. The spreads for the Raw account are from 0.0 pips which is a very attractive term for scalpers. What's even better is that the commission is 6 USD round-turn which is cheaper than the industry average of 7 USD round-turn. For Islamic traders, the swap-free account offers all the benefits and enables the traders to trade without betraying their religious beliefs.
VT Markets deposits, and withdrawals
There are plenty of options for deposits and withdrawals. The methods include Visa/MasterCard, wire transfers, Neteller, Skrill, UnionPay, Fasapay, Alipay, and several popular cryptos. The broker takes responsibility to pay all transfer fees from their side and both deposits and withdrawals can be made free of charge. This is very attractive as many new brokers sometimes have high fees for withdrawals. As for withdrawals the fastest way to get your funds are through crypto payment methods.
Trading assets and features of the VT Markets
According to VT Markets, there are several available trading instruments for investors. They include:
Currency pairs
Indices
Cryptocurrencies
Soft commodities
CFDs
Energy
The thing that was very shocking for us is that the broker claims that they have no fees or commissions, and the spreads are within the industry average of 1.2 pips on major pairs.
The thing about Forex trading is that the only way a company can get funding is through commissions and fees. If the broker claims that they do not charge any fees, they are simply lying. Money is very important for Forex brokers, first of all, there are dozens of people who work very hard to create a safe and secure platform for investors, and they need to be paid. If the broker claims that they do not charge any fees, it means that they are using some other ways to get the money.
Leverage is flexible
Our review of the VT Markets broker shows that the company offers three trading accounts. In today's Forex market, brokers have several different account types for every type of investor. In this regard, VT Markets is also among the majority of brokers.
The leverage for everyone who trades Forex is as high as 1:500. This is a very flexible number, when it comes to Forex trading with high leverage, there is a huge chance for investors to lose all of the money that they have, and maybe even more than they have, because of high leverage. But in experienced traders' hands, the leverage of this high may be used to generate massive profits. You should avoid trading with high leverage, especially if you do not have enough experience with trading.
The website of  VT Markets
As a result of a detailed review of FX broker VT Markets, we found that the website of this company has improved a lot during these years. At first, it was nothing that good, but when checked for the information that we needed, everything was easily found. We were able to find all the useful information on the website.
The website has some issues when trying to access the right-side drop-down menu, but overall it is responsive and intuitive. The website was much worse when the broker was launched and recent adjustments by the broker made several noticeable improvements which is a very good approach by the broker.
How to contact the Customer Support Team?
When it comes to Forex trading, there are many complications that might happen. For this purpose, top Forex brokers around the world offer a very helpful and professional customer support team that is available 24/5. In the case of VT Markets, the broker claims that their customer support team is very professional, which is something that we can agree with after we contacted the broker. Their live chat is full of features and the bot can assist in providing important information. In case traders still have questions representatives can be contacted with just a click of a button and their team are very polite and answer all questions quickly. Other methods for customer support include email and hotline, but live chat is the best option for quickly resolving any issues.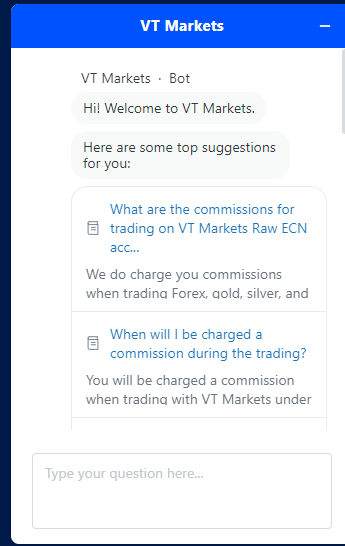 What type of educational material does this broker offer?
According to some of the regulatory guidelines of the top-tier regulatory bodies around the world, Forex brokers are required to offer a lot of educational materials to investors. This is true for VT Markets as they are offering plenty of tools and several useful educational guides on Forex and trading platforms. There is also a daily market analysis offered by VT Markets. Among the tools are Expert Advisors, Forex signals, economic calendar, and Trading Central MT4/MT5 tools. and MAMM/PAMM. From educational resources, the noticeable ones are the Forex guide, MT4 guide, and Trading Central guides. As we can see there are not very diverse and rich educational materials, but the broker still tries to help traders understand their trading platform and tools.
Should you consider this broker VT Markets?
After working on this review for a very long time, we found that this Forex broker has improved a lot. There are many things that are very good about this broker, and we believe that you should not avoid trading with them. The spreads are well within average and the broker offers two account types for all traders, plus the Islamic account. With this, VT Markets ensures that all traders can find their preferred account and asset types.
The Forex trading market is a very risky field, we believe that you should only trade with a reputable and safe Forex broker so that you will lose huge amounts of money for nothing.
With all said, VT Markets is a regulated broker that has improved its website and support greatly in recent years. The fact that brokers managed to stay in Forex broker's super competitive scene makes them really attractive. Although there are other better brokers out there VT Markets too, offers value to traders.
Is VT Markets a regulated Forex broker?
What types of trading accounts does VT Markets offer?
What educational resources does VT Markets provide?