There are many trustworthy and untrustworthy forex brokers on the market. Sometimes it can be hard to tell them apart because you need to be certain before you invest your money. This is why we spend hours researching forex brokers and reviewing them so we can save you the hassle and help you find a broker that will make you money rather than scam you. Today, we will be discussing JAFX forex broker and answer the question. Can JAFX be trusted?
JAFX History
JAFX is a relatively new forex broker. According to JAFX's About Us page, it was started in mid-2016 by a group of traders with a mission to create a retail forex trading broker to provide their clients with exceptional service.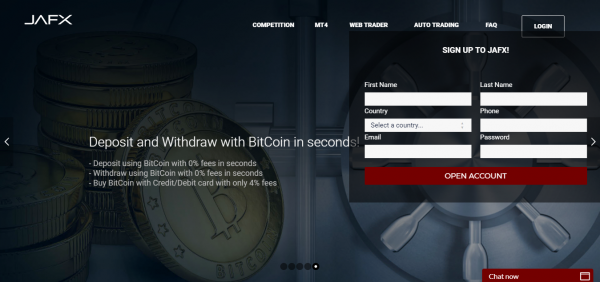 All of this sounds good and looks good on paper but it is not the reality of how this young broker operates. Even though JAFX has been around for a little over a year, it has earned itself a rather nasty reputation.
JAFX User Experience
While researching forex brokers, we make sure to read online user reviews to get a general feeling of how different people are treated by these brokers. When we came across JAFX reviews, we saw a lot of positive responses which made us quite pleased because we like when traders of all walks of life are taken care of by brokers.
Unfortunately, this joy did not last long as the more we looked into JAFX, the more we learned. One of the sad facts we came across was that all of the positive reviews were not written by real JAFX clients but rather by people who were paid by JAFX's owner and operator, John Anthony.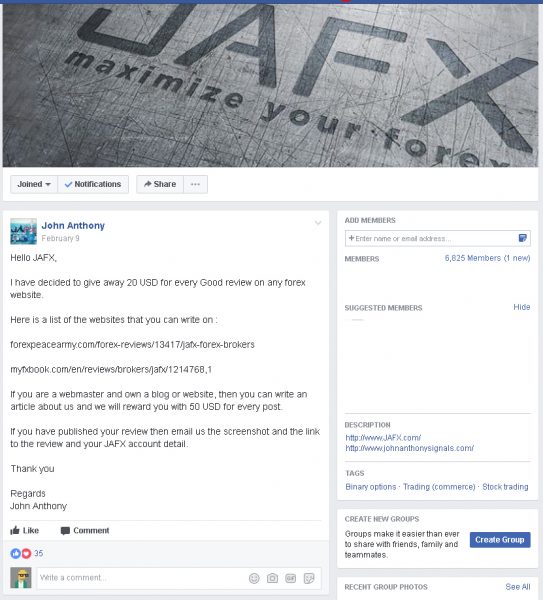 The real reviews told stories of how John Anthony defrauded and scammed many clients. This man also has a nasty reputation himself, as he is known for scam binary signals and has received multiple bad reviews on his NADEX auto trader.
JAFX Regulation
Regulation is an important requirement for a broker because it provides traders with a certain level of protection and peace of mind. To no surprise, JAFX lacks any form of regulation whatsoever.
The company claims to be located in St. Vincent and the Grenadines but there is no actual proof of this and they are not regulated by the financial authority of that country. This is yet another red flag and clear sign that the JAFX scam is nothing more than that. A scam.
JAFX Customer Support
Contacting JAFX is rather easy as they offer multiple ways to reach out such as:
Live Chat
Online form
Telephone
There's even a FAQ page to answer common questions. The problem with JAFX's customer support is that there is no actual support. You can send hundreds of emails, as many others have done before, and not receive one reply.
There is even a Facebook group that John Anthony has made, but this is merely a way for him and his marketing team to try to convince you to invest your money if you have not had the misfortune of doing it before.
It seems JAFX opinions are only regarding how much money can be made from clients, which is no surprise given the person who runs it and the horrible reputation, it has already earned itself within the forex trading community.
JAFX Accounts
There is only one account offered by JAFX and that is an STP/ECN account which, according to the company's website, is easy to setup and operate through the JAFX Portal. There is no JAFX bonus available with this account or any other offered by the broker.
JAFX claims that this account offers leverage of up to 1:500 with a low latency and "true" ECN. The trade size is a minimum of 0.01 lot with each lot having a $4 commission. Spreads begin at 0.4 and the average spread is 0.6. It's a no dealing desk format with hedging allowed.
In addition to the STP/ECN account, there is also a free demo account with $50,000 virtual cash to practice trading. There is also an Islamic account which JAFX claims which is geared to towards Muslim traders.
Lastly, is the PAMM account which allows you to choose money managers that will do the trading for you. This is where a lot of traders lost their money due to JAFX fraud and scamming activity.
JAFX Platforms
Like many brokers, JAFX employs the MetaTrader platform to allow its clients to trade online. While this is a renowned platform with many advantages to both traders and brokers alike, its availability allows fraudulent brokers such as JAFX to use it to profit from unsuspecting clients.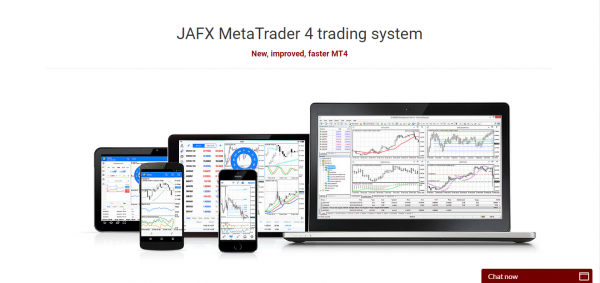 JAFX Review Conclusion
When you were researching this broker, there were many questions that were undoubtedly in your mind and one of them was "is JAFX legit?"
Sadly, the answer to that is no!
JAFX is operated by an immoral man who has no regard or respect for people and their hard earned money. He has set up JAFX as a way to rob you and many others like you. This broker should not be trusted and neither should the phony positive reviews that you see online either.
It wise that you stay away from JAFX at all costs and advise your fellow traders to do so as well.