City Index has been one of the oldest retail forex brokers on the market. It has been servicing clients for decades. This is why City Index is a trusted place.  During out City Index Review, we haven't encountered many negative points. It is quite a solid brokerage, yet slightly old fashioned in terms of the pricing. Together with spreads and commissions you will end up paying more than in the competition. As City Index provides services for a long time, they come at a price. It is a not the greatest choice, especially when you are just starting with forex and CFDs trading online. Top Forex Brokers would not recommend you to go for this broker. Why? Read City Index review to find out.
[broker-overview]
City Index Forex Trading Broker at a Glance
City Index is a normal forex brokerage. It has been known for years, especially in the UK. Being one of the oldest and most respectful brokers, City Index is a great choice for any type of a trader. It provides some education, various platforms and online support. Yet, you do have to take into account that City Index is quite a conservative forex broker, and they haven't adapted the new ways of trading forex. This is why Top Forex Brokers would advice against opening an account with this broker.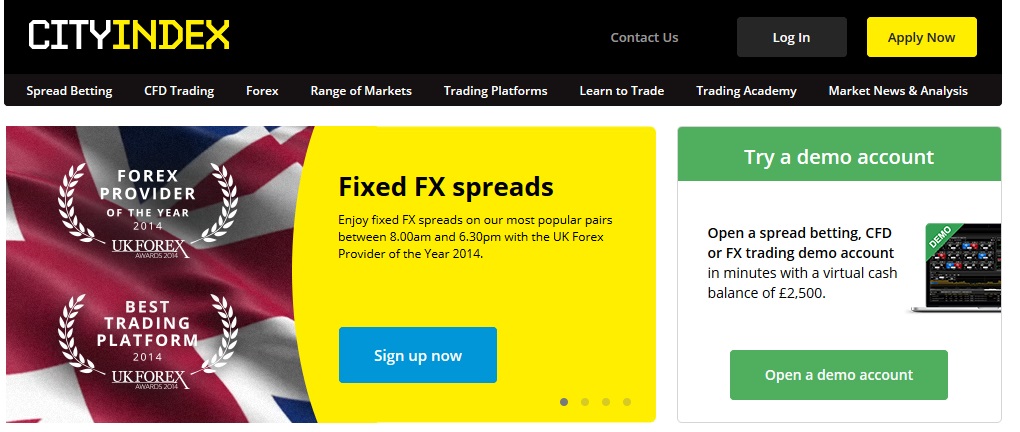 City Index Forex Broker Accounts
The instrument that you want to trade defines the account you'll end up with. People who choose Spread Betting that is tax free or CFDs, will need to apply for a Spread Betting or CFD Account. Those who prefer pure Forex trading might find that a FX Account is suitable for them.
It is very easy to open an account at City Index. The application process can be completed in a very short amount of time, because of the comprehensive instructions offered. During this City Index review it took us less than 3 minutes to fill out the forms. Even though it is fast, it doesn't mean you should do it.
It is easy to see that City Index wants to win traders over with the simplicity and elegance of its interface. City Index goes through to try and establish a connection with novice traders. New traders are asked if they want start with small positions for the first weeks. This demonstrates the care and attention that the broker has invested into creating a positive image. This is especially useful for novice traders who want to get a boost on their confidence. In addition to a free demo account you get a package of educational materials.
Do not go for City Index!
City Index Reviews of Trading Platforms
City Index offers MetaTrader4 which is very well-known to the traders that have grown accustomed to it. City Index but also provides its own in-house platform consisting of Advantage Trader, which comes as a standalone app and a web version.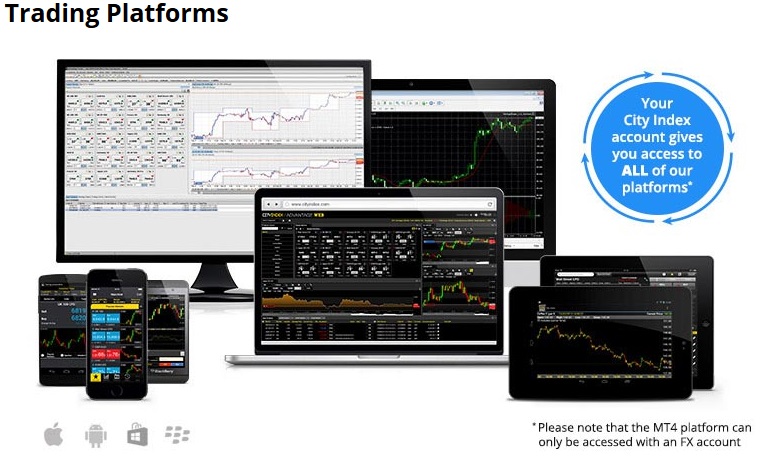 City Index also caters to the traders that are on the move, by having mobile versions of the platforms. Even if the trades were made with the smartphone or tablet, no problems were detected and the responsiveness was seamless. City Index gives access to iPhone, Blackberry, Android and Windows Mobile trading through smartphones and trades can be easily executed with an Android or iOS tablet too.
City Index Reviews Extra Features
The learning center is very innovative and it is called The Learning Academy. This looks less like video tutorials and more like a TV series similar to The Apprentice, to make a loose comparison. There are 6 episodes and it's a much recommended watch even if you don't want to use this broker for trading.
City Index Forex Broker Customer Support
Customer support at City Index is available during the weekdays 24 hours a day. Customers of City Index are able to contact the support team by means of: e-mail, live chat and telephone. The waiting times are short and the operators know what they are doing. Service feels like you are one of the important clients.
City Index Deposits and Withdrawals
Withdrawals and deposits are available for Switch, Maestro, Solo and Laser Debit Cards. On Master and Visa Cards only deposits can be performed.
City Index Review Conclusion
There are many brokersthat let you trade Forex and CFDs online. Many companies like this have appeared within last two decades, making the Forex market a risky place for an uninformed trader. The 30 years in which City Index has been operating on the market has really helped it to refine and improve the services. The technological solutions offered during City Index Review are top of the line. Many traders have been giving it good word of mouth, consolidating its reputation.
Nevertheless, after a detailed City Index review, Top Forex Brokers does not recommend to open an account with this broker. Why is that? The reason is simple, there are far better deals you can get with XTB, FxPro or any other reputable UK Forex Brokers.
Still Interested in City Index Review?
If you still want to open an account and pay more for your traders – do try City Index. It is not the worst forex broker and definitely City Index is not a scam. To sign up with City Index, choose one of the accounts below.
[RICH_REVIEWS_SNIPPET category="page"]
[RICH_REVIEWS_SHOW category="page"]
[RICH_REVIEWS_FORM]