Based in the UK, Fortrade is the trading name for the company Fortrade Ltd. It was started in 2011 and falls under the regulation of the Financial Conduct Authority (FCA) and several other reputable regulators. Take your time to read our Fortrade review to see whether or not this broker is trustworthy.
The Safety and Security of Fortrade Regulations
When it comes to regulations Fortrade is a super safe broker. Australian Securities and Investments Commission (ASIC), Investment Industry Regulatory Organization of Canada (IIROC), UK's Financial Conduct Authority (FCA), Cyprus Securities and Exchange Commission (CySEC), National Bank of the Republic of Belarus (NBRB), and Financial Services Commission of Mauritius (FSC) oversee the broker's activities. With this many regulators, legitimacy is guaranteed. The only thing remaining is to find out if the broker's spreads and fees are competitive.
Fortrade Fees and Spreads
While regulations are top-notch, the spreads are a completely different story. Popular major pairs of EURUSD, GBPUSD, and USDJPY all have 2 pips spreads which are very expensive. The industry average spread is accepted to be around 1 pip on EURUSD. Fortrade offers unattractive conditions for Forex trading with its super-exaggerated spreads.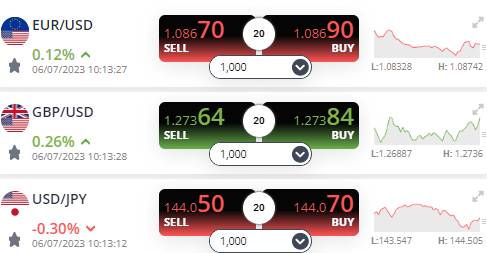 There is no trading account with 0 spreads, only one live trading account. This needs immediate attention from the broker as it can improve the attractiveness of Fortrade. As of now, we do not recommend opening a live account with this broker.

There is no way you can make a profit when the spread is over 700 and 10 000 for cryptos! Stay away from Fortrade!
The broker charges increased inactivity fees for every consecutive month after two months of inactivity. We weren't able to find the exact numbers for inactivity fees.
Fortrade Accounts, Deposits, and Withdrawals
There is only one live account type with super high spreads. This is very unattractive from the super well-regulated broker. It is unclear how Fortrade did not conduct market research and introduced 0 spread accounts already. This indicates a potential red flag and we strongly advise against opening an account with them. If the broker adds more trading account types then we may change our mind, but now stay away from them. Spreads start from 2 pips meaning for every lot traded you will have to pay 40 USD.
The Fortrade broker offers MetaTrader 4 platform for all devices including desktop, web, and mobile. Both Android and iOS are supported.
They also have a demo account available so you can test out their services without committing any actual money.
Fortrade Minimum Deposit
The minimum deposit for trading with Fortrade starts at $100, but the broker-recommended amount is $500. It may be alarming for some to see a minimum deposit requirement by a broker when wanting to start trading, especially if they're new to the field.
Many brokers may use a minimum deposit to get their clients to deposit more into their accounts than they normally would and in some cases, their victims. However, as Fortrade regulation concerns have already been addressed, this shouldn't be something to worry about.
But better alternatives exist in this matter as well. Some brokers may not only have any minimum deposits but offer a welcome bonus to new investors to make it easier for them to enter the financial market.
Trading Assets and Features of Fortrade
Fortrade offers 50 currency pairs, 18 indices, 20 metals, energies, and soft commodities, 321 stock CFDs, Ethereum futures, and Bitcoin futures, and direct market access to 25 real stocks, 2 ETFs, and 3 US treasuries. The assets offered are diverse and instruments are abundant. The only downside is horrific spreads and fees. The only thing the broker this well-regulated has to do is to offer low spreads to attract clients and make money from spreads and fees.
Fortrade Broker Bonus Review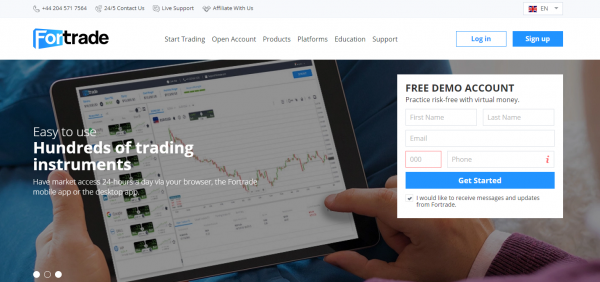 The Fortrade forex broker offers a welcome bonus of 30% which covers up to $3000. This is great for you because not many other brokers offer welcome bonuses and this will undoubtedly help increase your ability to trade more. Unfortunately, their bonus expires after 90 days and can't be withdrawn but given how things are operated at Fortrade, that more than likely won't be a problem.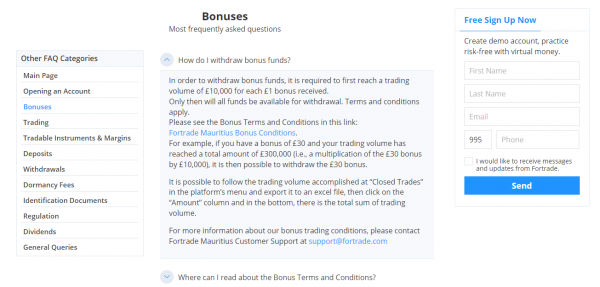 Fortrade Broker Customer Support Review
Fortrade's opinion is that the client is the center of their world and has therefore designed everything with simplicity, ease, and comfort in mind.
This is why their customer support is offered via several channels such as email, telephone, fax, and live chat. Their customer service agents respond promptly and seem to know what they are doing. The main drawback of their customer support is the placement of the information on their website.
Many other brokers show their contact info either on their homepage or make it easily accessible however the Fortrade broker has designed their website in such a way that you have to scroll to the bottom of their page and click the "Contact us" link to get in touch with them. That's something that should be changed to make it easier for clients.
Fortrade Education

Just like regulations, the educational materials of Fortrade are also excellent. All forms of educational materials are offered including ebooks, trader's glossaries, FAQs, online seminars, advanced and beginner trader courses, blogs, and video tutorials.
As for market research and trading tools economic calendars, trading calculators, trading strategies, trading central, and daily analysis are all offered.
Fortrade Review Conclusion
The Fortrade forex broker is very well regulated and offers excellent educational and market research resources. The huge downside is their horrific spreads and undisclosed fees. Because of these reasons, we strongly advise our traders to stay away from this broker.
Is Fortrade a trustworthy broker?
What are the fees and spreads offered by Fortrade?
What are the account options, deposits, and withdrawals with Fortrade?