The Forex market has many brokers, but finding a reliable one requires experience and knowledge. To help you, we have reviewed Forex Chief to determine if it's trustworthy.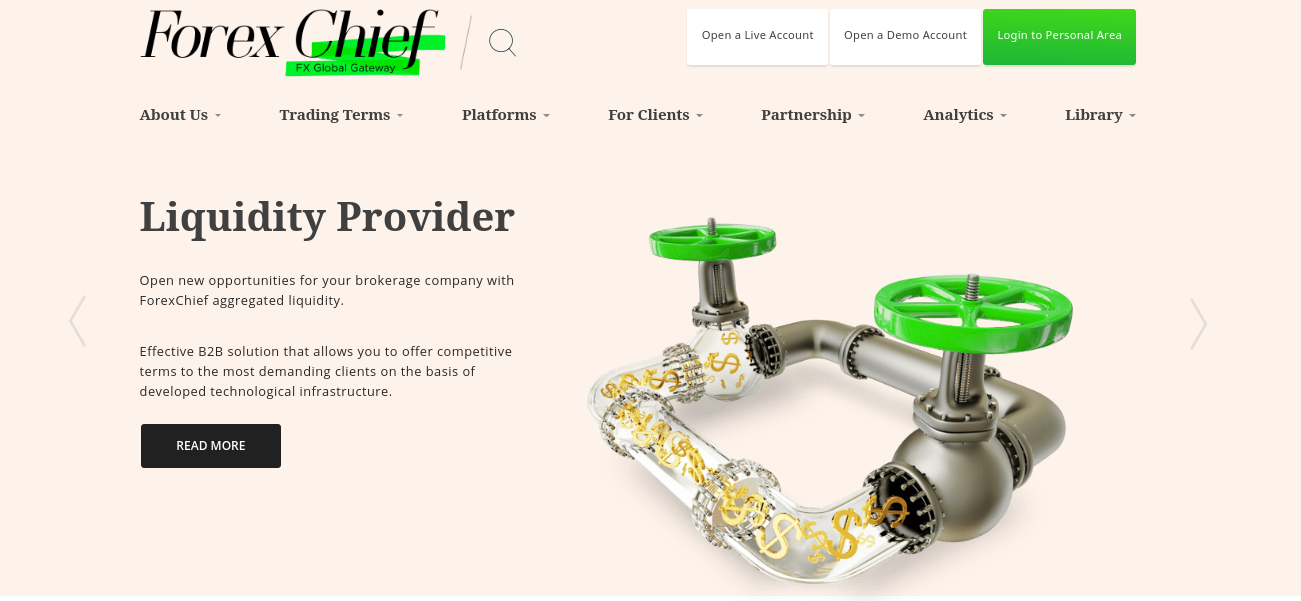 The safety and security of Forex Chief
Users find the website informative, easy to navigate, and responsive. However, our primary concern when evaluating a broker is their regulatory framework. Forex Chief is regulated by Vanuatu's Financial Services Commission (FSC). They have multiple websites designed for Asian and International traders, ensuring a wide reach. Forex Chief is also a member of the Financial Markets Association, further ensuring the broker's reliability and security.
One notable feature of Forex Chief is the negative balance protection. All accounts are equipped with negative balance protection. You won't be held responsible for covering the deficit if you go into minuses. Some scam brokers exploit this feature and push traders into debt. Forex Chief ensures you can trade with peace of mind.
Forex Chief employs segregated accounts, preventing their employees from touching client funds. And they are part of the investor compensation fund, providing additional protection in case of insolvency.
Forex Chief Fees and spreads explored
Let's delve into its spreads and fees to determine if its trading conditions are appealing. The spreads vary depending on the trading account and can be as low as 0 pips. What's even more exciting is that the account offering these low spreads requires a minimum deposit of only 10 USD or an equivalent amount.
Spreads start from 0.9 pips on cent accounts, which is lower than the industry average of 1 pip. The absence of commissions on Metals, Commodities, and Indexes is another advantage. Stocks and Crypto have commissions of just 0.1%. Beginner traders can use these favorable commissions to test various strategies.
Forex Chief Accounts, deposits, and withdrawals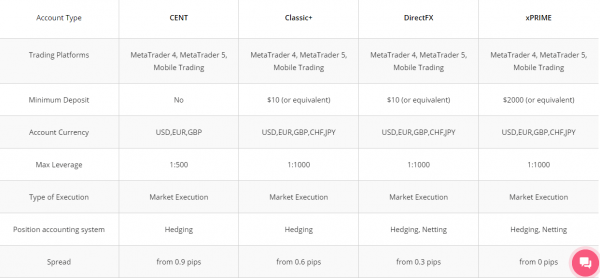 Four trading accounts by Forex Chief are CENT, Classic+, DirectFX, and xPRIME. All four come with diverse conditions to appeal to all types of traders with diverse capital and experience. The spreads are very competitive and start from 0.9 pips for cent accounts, 0.6 pips for the classic+, 0.3 pips for DirectFX, and 0 pips for the xPRIME account. To be eligible for the 0 pips spreads of the Prime account the minimum deposit required is 2 000 USD which is not a small amount for beginners. However, the spreads of 0.3 pips on DirectFX accounts are still useful for scalpers as it has 1.5 USD per side per 100k traded. Meaning, if you were to open a trading position on the EURUSD for 1 lot you would have to pay around 9 USD in total which is still usable for scalping purposes. And the deposit required is 10 USD which is a very low budget even for developing countries.
Trading assets are limited for cent accounts to only 40+ FX pairs and metals, while other accounts can enjoy a diverse number of assets with over 150+ tradable instruments.
The leverage is also very high with Forex Chief starting from 1:500 on cent and 1:1000 for other accounts. With the leverage this high it is super easy to wipe out all account balances in a matter of few trades. It is very good that the broker has negative balance protection on all accounts to avoid traders getting into minuses.
Deposits and Withdrawals explained

One important aspect of defining a broker's legitimacy besides its regulations is to examine its withdrawal policies. Scam brokers love to make withdrawals either overly complex or impossible. In Forex Chief's case, both deposits and withdrawals are processed with the same policies which are very advantageous for traders. online payment methods bear no fees and are instant in both deposit and withdrawal cases. Currencies accepted for payments include USD, CHF, GBP, EUR, JPY, AUD, CAD, IDR, INR, IRR, NGN, MYR, THB, VND, UAH, and BRL. This ensures trader has no conversion fees to pay and can enjoy maximum flexibility during withdrawals and deposits.
Forex Chief Trading assets and features
The broker offers diverse assets with over 150 instruments including Forex, indices, commodities, cryptos, and stocks. FX pairs include all major pairs with competitive spreads, almost all minors, and many exotics to explore and trade. Since the broker offers commissionless trading on commodities and indices it is easy to start trading these asset classes. Stocks and cryptos come with a 0.1% commission and include popular instruments including BTC, ETH, Apple, Amazon, and many more.
Forex Chief Bonuses
The broker is not shy to offer several promotion offers to their potential clients. Among the bonuses two stand out with a 100 USD no-deposit bonus, and a 500 USD deposit bonus. No deposit bonus means you can just register an account and start trading without depositing your funds and can be used to start practicing real trading from demo to live. Since many brokers offer no deposit bonuses below 100 USD, Fore Chief's 100 USD no deposit bonus seems super attractive. This gives a unique opportunity to new clients to test the broker's services in a live market environment and define if they want to continue with the broker or not. In this regard, there are very few brokers who can compete with Forex Chief's bonus systems. Any strategy can be used for no deposit bonus and accounts allowed include MT4.DirectFX, MT4.Classic+, MT5.DirectFX or MT5.Classic+.

As for the deposit bonus, the broker also excels in this department. 500 USD can be received as a bonus after depositing funds. This is similar to the welcome bonus and the broker will add 100% of deposited funds as a bonus, up to 500 USD. This will add extra funds to empower low-budget accounts and offer traders the ability to build a significant initial capital for trading.
There are three other promotions and bonuses and we encourage readers to check them as they may find something useful there.
Forex Chief Copy Trading
Copy trading allows investors to copy successful traders' performance. This service is especially useful for traders and investors who don't have enough time to watch charts and analyze markets.
To use Forex Chief social and copy trading services there are specific steps required:
Open one of these accounts: MT4.DirectFX, MT4.Classic+, cent-MT4.DirectFX or cent-MT4.Classic+;
register the account on the MQL5 community
In the MT4 go to the community tab and enter your credentials for the MQL5 community
in the terminal choose a signal provider and go to its page with a double-click
Press the subscribe button and follow the instructions
The exact steps for using the copy services are clearly explained on the broker's website making this complex process easy to do.
It is also possible to become a supplier of the trading signals and the broker offers video tutorials to make it easier for signals providers and users to start using the service at its fullest.
Forex Chief Trading Platforms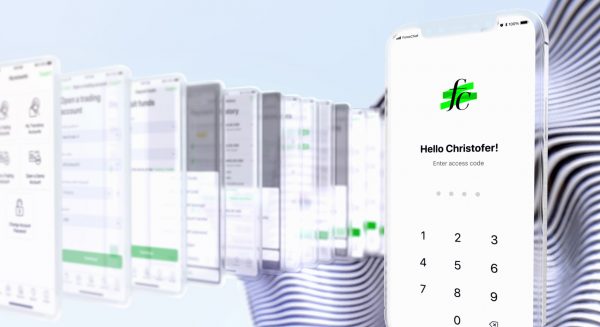 Forex Chief provides access to three trading platforms including MetaTrader 4 (MT4), MetaTrader 5 (MT5), and ForexChief App. These three platforms encompass all the devices and systems ensuring traders can analyze and trade markets on the go. The broker's proprietary app ForexChief App comes with exact bonuses and advantages as its desktop counterparts. Since smartphones are becoming popular trading devices this step is in the right direction.
Forex Chief Customer Support Review
Forex Chief excels in quality customer support and ensures that you won't be disappointed. They offer a range of convenient options, including live chats, traditional email, and phone support. What's impressive is that both the Forex Chief offers customer support services in multiple languages. We tried to ask a few questions to the support and the representative managed to answer all our questions politely and professionally.
One standout feature is the broker's live chat, which supports various popular platforms such as Instagram, Facebook, WeChat, Viber, WhatsApp, Telegram, and their own international helpdesk live chat. This diverse range of methods eliminates the need for lengthy and time-consuming registration forms, allowing you to connect with the broker and discuss any questions or issues immediately.
Forex Chief Education explored
The same tendency is occurring with the education section. Forex Chief offers a well-ordered list of topics and educational resources.

Forex Chief offers trading articles and trading strategies and helps newbies get started. There are no video tutorials or webinars offered which is a slight downside, but overall the articles and other materials could support beginners by providing basic concepts of trading and strategy building.
The broker is offering various tools for market analysis. These tools are useful in market research and are provided under the analytics section of the website. It includes Analytical Reviews, Economic Articles, Currency Charts, Interest Rates, and a trader's Calculator. With these diverse tools and articles increasing the trading decision accuracy becomes easily achievable.
Should you consider Forex Chief as your primary Forex broker?
We have thoroughly examined Forex Chief's safety, trading conditions, account options, bonuses, copy trading, trading platforms, customer support, education, and trading tools. It's time to address the big question: Should you consider Forex Chief?
Based on our comprehensive review, Forex Chief showcases several strengths that make it a compelling choice. The broker's safety measures, including regulation by Vanuatu's Financial Services Commission and membership in the Financial Markets Association, provide a solid foundation for trust and reliability.
Spreads and commissions are low, and excellent support will provide needed help in time.
All in all, Forex Chief is the broker you can use without fears and doubts. Recommended.
Is Forex Chief a good broker?
Is Forex Chief regulated broker?
What are Forex Chief's trading conditions and fees?
What platforms does Forex Chief provide?