IQ Option Review – can the broker be trusted?
In the world of trading, one of the trickiest and most challenging undertakings is choosing the service provider – also known as a broker. Brokers are an incremental part of this industry because they provide trading tools, mechanisms, and various indicators like spreads, leverages, etc.
A trustworthy broker can positively influence the trading experience for its customers, making it easy for them to generate profits; on the other hand, scam brokers are completely distorting the traders' perception of the industry, making them believe that everyone's lying and tricking the others for their benefit.
And to some extent, that outlook is true because the market definitely is dangerous and people don't always succeed in trading. However, that doesn't mean that there are no success stories in this industry. If someone is claiming that, they're either lying or don't know much about Forex.
The truth is, the industry is multifaceted: there are both credible and untrustworthy brokers and one has to tread lightly not to fall into the scammers' traps. In this IQ Option review, we'll take a look at the broker's trading terms and conditions, as well as its licensing materials,s and finish off by the online platform and the website where every product and service is put on display.
Initial impressions
IQ Option is an online broker that operates in various markets. For instance, the traders can use the broker's services in options, Forex, stocks, cryptocurrencies, commodities, and ETFs. Now, since Forex is the biggest and most popular market in this business, we'll focus our review on that side of the broker.
The broker was established in 2013 and quickly began spreading all over the world, attracting more than 20 million followers globally and becoming a recipient of various prestigious awards. So, in its 7-year-long existence, IQ Option has managed to accumulate a lot of experience and recognition on the market.

Website
We will begin our initial overview of the website. Since a lot depends on what the first impressions of traders are, the broker has put a lot of effort into building a very good-looking and easy-to-understand website that provides all the useful information to the visitors. The interface isn't too overcomplicated with visual decorations – the habit which is very popular among many Forex brokers.
When it comes to the informative side of the website, the broker still manages to deliver a superb performance. Iqoption.com keeps it as simple as it gets with its three main tabs: Trade, For Traders, and About Us. These sections contain all the information about trading terms and conditions, the license, and all sorts of other offerings/conditions.
On top of that, the broker also offers a diverse account base that works for a variety of traders. For example, beginner traders can open practice accounts and gain experience without any risks.
Apart from the demo account, there are two more – real and VIP – accounts that work for both medium-level traders, as well as veterans. These accounts have a lot in common, as well as even more distinctive features. We'll mention all of them in the upcoming chapter.
As for the IQ Option withdrawal and deposit, there is an abundance of financial platforms that support the transactions on the system. Among the most popular platforms are good-old credit cards and bank wire, as well as more recent Neteller, Skrill, and many more.
Licensing
The next part of our review will be the license. When you want to find out whether your broker is trustworthy or not, taking a look at the license is one of the most clear-cut ways you can take. It can say a lot about the broker's legal obligations towards a given financial institution, as well as what the financial standards are that this institution is founded on.
The licensing material that regulates the broker's financial activities is, just like the software elements reviewed earlier, also quite sophisticated, making it sure that the IQ Option scam suspicions are just suspicions and unfounded.
IQ Option is licensed by CySEC (Cyprus Securities and Exchange Commission) which is a compliant material to the European Union standards. So, when it comes to the customer-oriented service, the CySEC license is there to guarantee it.
IQ Option promotions
Thanks to the sound regulatory material binding the broker's actions, we're not surprised to see its good-looking trading offerings. For instance, take a look at the leverage and you'll have a hard time not to feel astonished – IQ Option offers a staggering 1:1000 leverage ratio that can increase your initial deposits to a much larger size.
Not only that, the spread sizes and minimum deposit requirements are also pretty decent, revolving around the traders' interests and ensuring the most lucrative trading experience for them. Spreads can go as low as 0.4 pips (0.004%) on Forex pairs, while other securities have a bit wider bid-ask spreads. The minimum deposit requirement, just like other offerings, is one of the most exciting features one can see on the market: just $10 to set up an account.
When it comes to the trading software, the broker has one of the most sophisticated digital infrastructures that work on every mainstream device out there – be it Windows or Mac devices, or Android/iOS smartphones.
IQ Option also offers quite exciting trading promotions to its clients. One example of this is regular tournaments that occur on the platform from time to time. These tournaments have a prize pool of tens of thousands of dollars, making trading stocks, Forex, and other securities even more lucrative.
So, ultimately, we believe that IQ Option is one of the most legit and at the same time, generous brokers you can find online right now. With its offerings and regulatory measures, we believe that the IQ Option fraud suspicions couldn't be further from reality. To dissipate those suspicions even further, let's dive deeper into the platform, shall we?
Iqoption.com review
First and foremost, let's talk about the website. If the 7-year-long experience on the trading market taught something to the broker, it's that the customers really appreciate simplistic and easily-distinguishable websites that offer them information in the easiest way possible.
And that's the piece of knowledge that IQ Option has utilized to build this slender website. The interface is a combination of the blank whites and mat violet that creates a relaxing tone, keeping the visitors engaged with the content and not bombing them with unnecessary visual effects.
As for the website segments, there are three main sectors – Trade, For Traders, and About Us – that provide all the information regarding the trading indicators and tools, as well as software, account types, etc. The information is literally one click away from the users, which is a sign of great website development.
Three main account types
Speaking of account types, the broker offers three types of accounts that revolve around the specific needs of traders. A practice account is useful for beginner traders who want to gain knowledge and experience in trading but not sacrifice their money. With this account, all the IQ Option promotions are still available and beginners can execute various trades with the refillable $10,000 account.
But that's for those people who want to practice. The majority of traders are focused on trading with actual returns. And for them, there are Real and VIP accounts. Real account holders can deposit as little as $10 to the platform and start trading Forex, commodities, and other assets.
With VIP accounts, the more experienced traders can up their game by depositing no less than $1,900 on the account. This account type also comes with a personal assistant that provides help at any time should an issue arise. On top of that, the traders receive monthly statistics of their trades on IQ Option.

Start trading Forex with IQ Option
Withdrawals and deposits
And then, there are withdrawal and deposit mechanisms that don't fall behind other impressive offerings. The broker supports both conventional payment platforms like credit cards and bank wire, as well as alternative e-wallets like Neteller, Skrill, and Qiwi.
And there are quite a few advantages to all of them. For instance, all of them have the same $10 minimum deposit requirement, are commission-free, and complete transactions instantly – with the exception of Perfect Money which takes about 1-2 minutes.
As for the withdrawals, the minimum amount a trader can take out is 2 US dollars, while the commissions are at 2% for every currency with the maximum cap of $30. Credit card withdrawals are instant, while all the other platforms take around 1-3 days to complete.
All in all, all the pieces of the software are pretty sophisticated and have a lot of payout potential for the traders.
Educational materials and market news
Next up, let's talk about various educational tools and materials, as well as the news feed on the platform. One of the ways of distinguishing the real broker from a scam is to look at their educational section and compare their merits. While the licensed brokers are required to offer this section to their clients, the scammers are also copying this practice in order to create a false sense of credibility.
But that doesn't necessarily mean that fraudsters cannot be distinguished from legit brokers. The looks of the educational content may be somewhat similar within the platforms of both brokers but when it comes to the actual content inside, the legit ones will always be more comprehensive. Scammers don't usually care much about what is written in those articles and people can catch that if they're attentive enough.
IQ Option's educational material conveys a sense of professionalism and a deep understanding of trading markets. The information provided in the articles is both comprehensive and easy-to-understand, as they are written in a simple language. In short, the educational content about basic trading terms and features, as well as CFD trading, technical analysis, margin trading, and many more are spot-on on IQ Option.
Then there's another section where traders can track all the news and developments that take place on the market. In the News Feed segment, the broker offers regularly updated market developments that occur in Forex, as well as stocks, commodities, and other markets. This way, technical analysis becomes much easier as traders can analyze previous price movements, observe current events, and make predictions about future prices.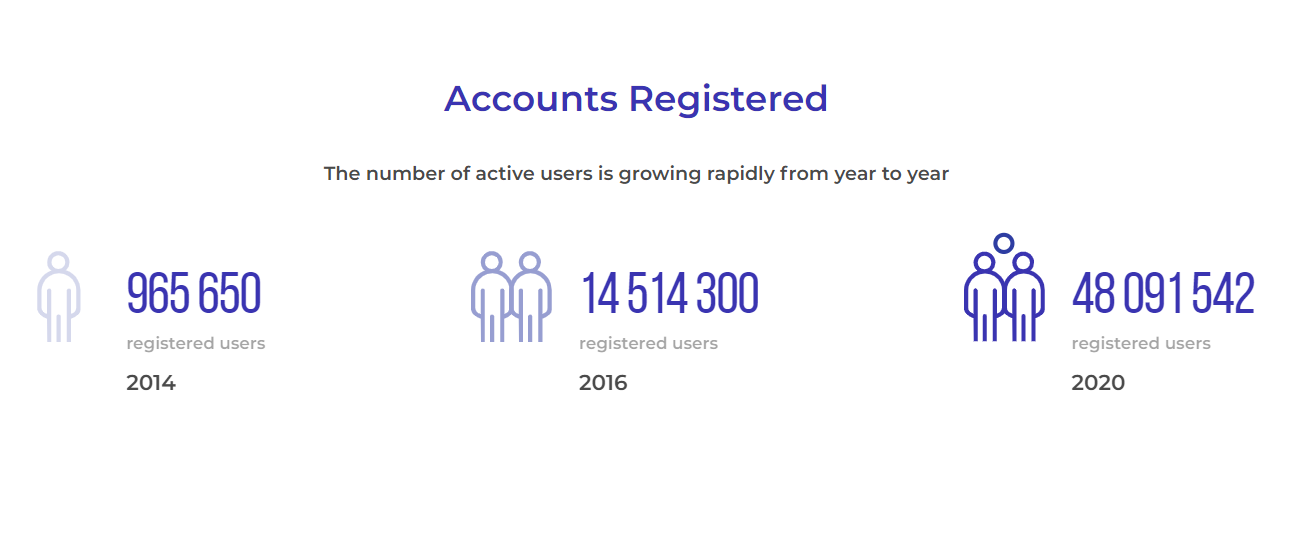 A 24/7 customer support
Another pretty important aspect of every website, whether it's for a Forex broker or the art magazine, is customer support. No matter how streamlined the website is, it is pretty much unavoidable that people will have questions that aren't answered on the platform. And having a fully-functioning customer support team can take a website from moderately-good to superb.
On IQ Option, we are greeted with a professional customer support department that functions 24/7, which is somewhat surprising considering the Forex market only operates 24/5. Besides, the platform offers support in ten different languages, making IQ Option Forex broker one of the most versatile service providers on the market.
How credible is the CySEC license?
Let's now switch to the licensing part and see, whether the broker is bound to the higher financial rules and standards. As noted earlier, the license can be a decisive factor when pondering whether the broker is a scam or the real deal. There is an abundance of Forex brokers that have either no license or mention one that has no financial prowess whatsoever.
For instance, a broker with the SVGFSA license from the St. Vincent and the Grenadines may claim to be properly licensed but in reality, there are not many regulatory restrictions to the broker's actions. That's because the SVGFSA license comes from a weak and remote country, which cannot control its subjects that operate all over the globe.
Fortunately, that is not the case with IQ Option. As we've mentioned earlier, IQ Option was registered in 2013 and received a license from Cyprus.
The Cyprus Securities and Exchange Commission (CySEC) is the main financial body of the country that regulates the financial activities of its subjects. Now, some people might suggest that Cyprus isn't the country that can hold companies accountable for their actions because it's a small island with a dormant political crisis.
However, one has to realize that Cyprus is still a member of the European Union. And if one thing can be said about the EU, it's that the organization is really focused on ensuring the financial safety of its citizens.
The CySEC license is one of the most popular and widely-used legal pieces that exist in the financial industry right now. Brokers operating in Forex, stocks, commodities, even in cryptocurrencies are licensed by the same institution, and according to the online reviews, we found when making this review, people are really happy with the CySEC-licensed brokers.
That's why the talks and suggestions about the IQ Option fraud are not to be taken seriously. What is more, IQ Option has been the recipient of some of the most prestigious financial awards, including the 2017 Award of Excellence, the Best Binary Options Broker and Best Binary Options Broker/Trading Application, alongside many other awards.
That's right, IQ Option is a universally-trusted broker for binary options trading – the one segment of trading that is most dangerous and risky. The majority of brokers are fraudsters, which makes IQ Option even more special than it already is.
Open a free IQ Option demo account
Can IQ Option be trusted with its exciting offers
Okay, now that we're done with the website and licensing measures, let's take a closer look at trading terms and conditions and examine the actual numbers, because that's the first thing that traders tend to look at when they're choosing the brokerage.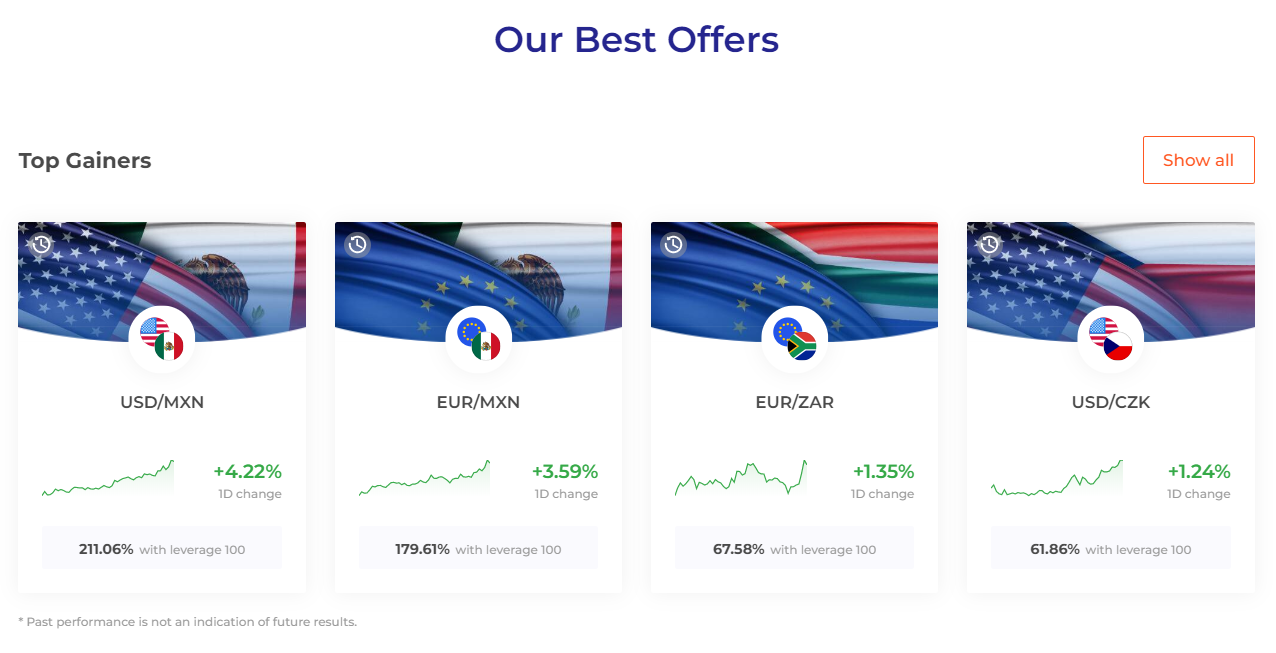 Leverage and spreads
As noted above, IQ Option has one of the highest leverage rates on the market. With a 1:1000 maximum leverage ratio, traders' deposits and prospective payouts are being expanded by an incredible rate. Here's how it works:
Let's say you want to open a position for the USD/JPY Forex pair for one lot ($100,000). Without the leverage, you would have to make a $100,000 deposit and open the trade with your own money, which would be serious financial pressure to your bank account.
With the leverage, however, traders have the ability to take a loan from their broker and open the same positions at much lower deposits. In our case, the 1:1000 leverage ratio would allow us to deposit just $100 from our pocket, the rest would be provided by IQ Option. It goes without mentioning what would happen to the prospective profits: they would also be increased a thousandfold by this multiplication rate.
However, the losses would behave in the same way, that's why it is important to choose the most suitable leverage ratio to your needs. And that is why the broker has two different leverage levels depending on the geographical area. In the EU, the maximum leverage IQ Option can offer is 1:30, whereas the above-mentioned 1:1000 leverage works in non-EU countries.
On top of that, there are also spreads ranging from 0.004% to 0.578% for different currency pairs. Spreads are beneficial for traders because the difference between the buying and selling prices is the amount of money that their broker takes as a form of commission for its services. Therefore, the wider the spreads, the more the broker takes from its clients.
With IQ Option, the spreads are among the lowest trading conditions on the market. The 0.004% spread is equal to just 0.4 pips, which means that for every $1,000 of profit, the broker only takes 4 dollars from you.
The Bonus and minimum deposit requirement
Next up, let's talk about the existing IQ Option bonus promotions on the platform. This broker is known for its lucrative bonuses that make trading Forex, stocks, and other securities much more exciting. For example, there have been various tournaments occurring regularly on the platform from time to time that had a lot to offer to their participants:
The Mad March tournament that had a prize pool of more than 70,000 US dollars; the Big Win tournament with the maximum prize pool of almost 19,000 dollars; and the IQ Launch, which is considered the lowest-end tournament, yet it still has a $10,000 prize pool.
Then comes the minimum deposit requirement. As we mentioned earlier, the beginner traders can completely eliminate the financial commitment by opening a practice account. But if they want to have a real account, their only requirement is a mere $10 deposit. This way, anyone can start trading their favorite instrument without too big of a strain on their bank account.
Now, if a trader wants to take their trading game to the next level, they can open a VIP account which requires no less than a $1,900 deposit. With this account size and a 1:1000 leverage, they can hold an investment of $1,900,000 in various assets, be it currency pairs, commodities, stocks, etc. And it goes without saying how lucrative the trades can be in that case.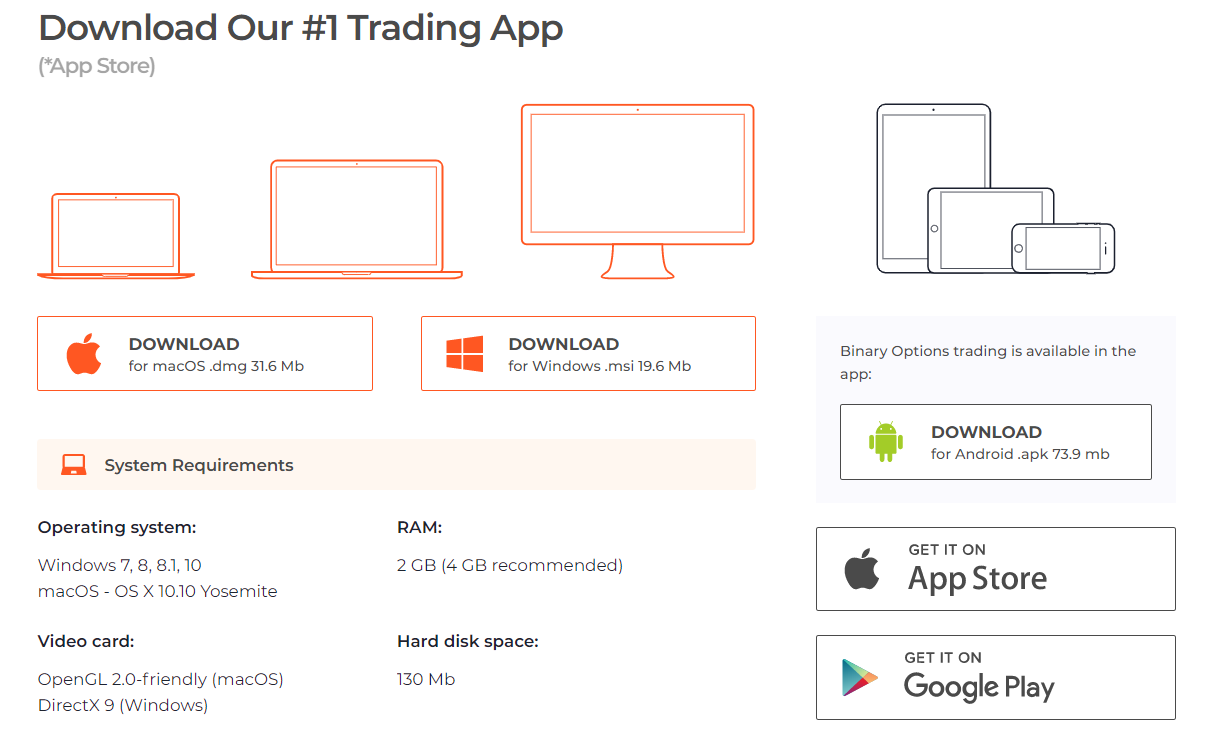 Trading platforms on IQ Option
Finally, let's talk about the trading platforms available on IQ Option. Now, while there's no IQ Option MT4 (MetaTrader 4), which would've been the safest way to offer the above-mentioned trading features, the broker still doesn't fall behind the market trends, offering some of the most sophisticated proprietary web and mobile trading platforms. That way, users of Windows or Mac computers, as well as Android or iOS smartphones can easily trade without hardships or complications.
Not only that, IQ Options even has its own desktop trading software, which is a rather bold move from an individual Forex broker. The software is full of useful features such as economic calendar, historical quotes, lots of technical/economic indicators, and many more. What's more, it doesn't have too big of a footprint on the computer, which is even more surprising and impressive.
In short, the trading platform offered on IQ Option is one of the most sophisticated alternative platforms one can find on the market right now. And for that boldness, our IQ Option opinion is elevated even higher!
Overall IQ Option rating
In this review, we examined all the main offerings of the IQ Option FX brokerage that also operates on other markets such as stocks, commodities, ETFs, etc. As a result, we got a pretty well-rounded idea about who the broker is and whether one can trust it or not.
First, we examined the website and other parts of the software. The interface is simplistic and easy-to-navigate, the trading accounts are diverse, and the withdrawal/deposit mechanisms support every major payment platform that exists on the market. Besides, the broker has a customer support team that works 24/7 in 10 different languages.
Then we moved to the licensing part and deduced that the CySEC license is a credible legal piece that holds IQ Option to higher financial standards. So, the suspicions of fraudulent activities are basically non-founded.
And finally, the trading terms and conditions have revealed that the broker is focused on making trading a lucrative endeavor for its customers. High leverage rates, spreads, low deposit requirements – all of these indicators work in tandem to increase the payout chances for the traders. On top of that, there are lots of regular tournaments and other bonuses that elevate the trading spirit on IQ Option.
The final conclusion is this: IQ Option is a credible broker with great trading offerings. It's definitely worth trying out their service!