If you want to keep your money safe and profit from trading Forex online in the long-run, then you should definitely avoid scam brokers. Forex frauds are hunting for your money, so it is important to be vigilant. In our Stocksforex review, you will learn the reasons why you should cross out this broker from your list.
[broker-overview]
Stocksforex Review: About the company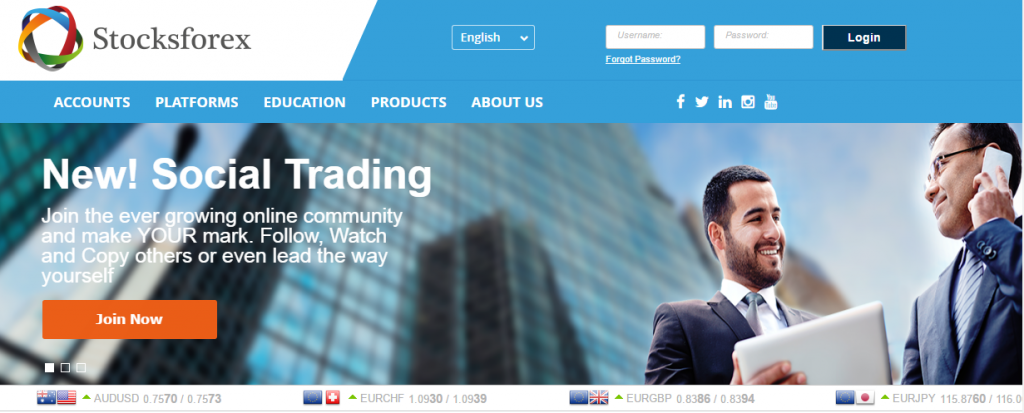 As we have identified, the website is owned by Nuntius Brokerage & Investment services. Stocksforex company is located in Dragatsaniou 6 Athens 10559, Greece.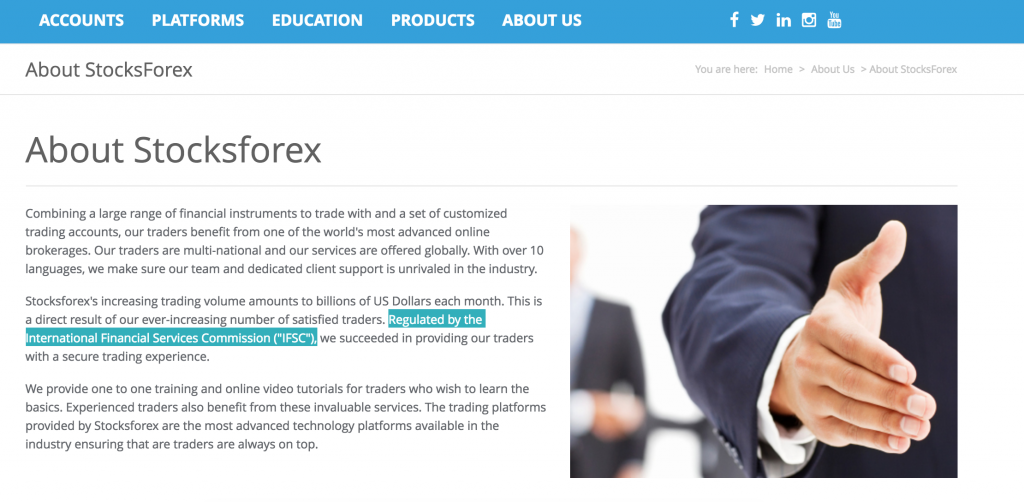 The company is said to be regulated by the Hellenic Capital Market Commission under license number 1/46/10.7.1990. However, there is a direct contradiction to this information, because in the "About Us" section Stocksforex scam claims that they are under IFSC regulation.

Hence, we have a tricky situation where it is actually unclear what regulation governs your relationship with this company. If StocksForex broker does not know itself what license it holds, how do traders suppose to answer the questions "is StrocksForex trusted?".
StocksForex Customer Support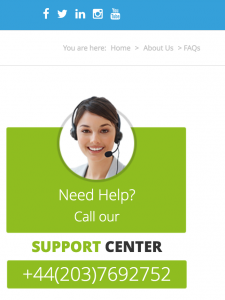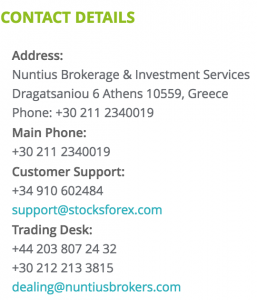 In addition, the website is available only in 2 languages – English and Spanish. Of course, if you get into a trouble, you might want to contact the support via a phone line. This is another case where things get tricky.
The picture on the left shows the screenshot from StocksForex FAQ section where you can contact a support center via a phone number that starts with +44. But when you visit another page, contact details (as seen on the right), you see a completely different number.
The information above tells us that the company cannot actually work out their means of support on their own website. Hence, how can a trader expect good quality services?
StocksForex History
So, a trader might be curious about how long has StocksForex been on the market. The most obvious thing to do is to actually go visit the website of a broker and see what they say.

And here is the answer, the company was founded in 2010. Now let's take a look at the whois data of the domain.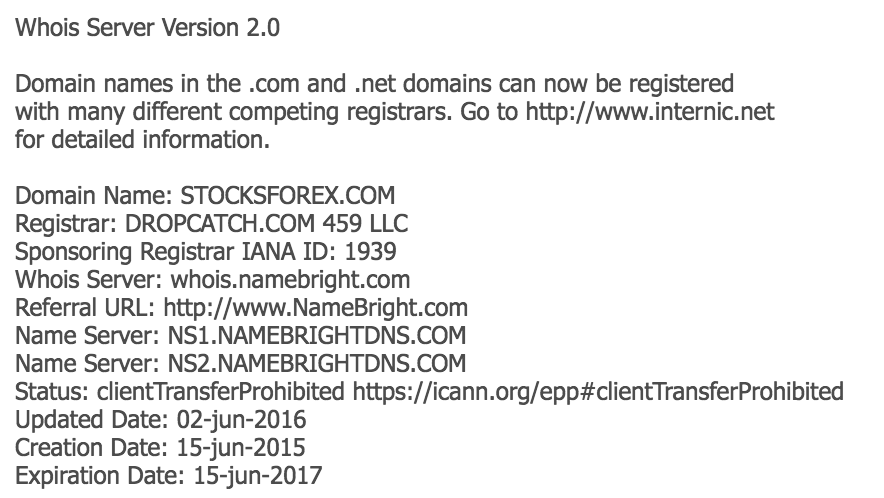 Snap! The domain was only registered on the 15th of June, 2015. We all understand that FX brokerage activity is a purely online business, hence, it must not be possible to operate a website without a domain. A logical question to ask here, how could StocksForex broker operate without a domain for 5 years? We have no idea if that is possible.
StocksForex Opinions
Clearly, this brand is a rather newcomer to the market. This is why there aren't many opinions about StocksForex broker available online. However, here we can take 2 routes to find out more about the company:
StocksForex brand belongs to Nuntius Brokerage & Investment Services S.A (as they claim on the website)
StocksForex does not long to Nuntius Brokerage & Investment Services S.A
If we assume that the 2nd case is right, then things become quite easy. The statement "StocksForex scam" is true and it is simply a website that tries to show that they belong to an EU regulated entity. The screenshot below is taken from the official website of Nuntius Brokerage & Investment Services S.A and it clearly does not contain StocksForex logo.

Well, we do not actually say that the it is the 2nd case. Perhaps the company just badly messed up and failed to update their websites to make StocksForex brand look more legitimate. But this does raise some questions.
Now let's think that the 1st route is right. StocksForex brand actually belongs to Nuntius Brokerage & Investment Services S.A (Nuntius). What do we know about this company?
We can clearly see that StocksForex is not the first of its brands. A quick search on google shows us that this company is associated with a few more brands: Keystock, Keyoption. Anything else? Well, in early 2016 a binary brand of Markets.com (TopOption) has claimed that its accounts are now operated by Nuntius. Also, there were some forum claims that the same procedure applies to Markets.com account holders. Hence, we can just take a look at what people say about other brands of this company: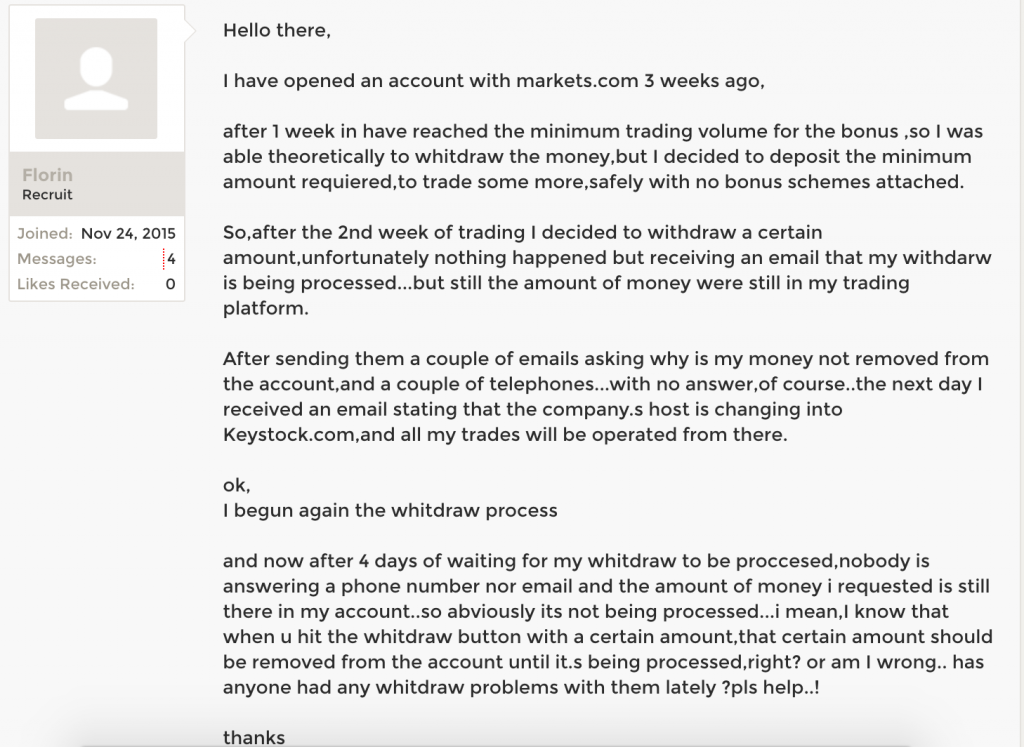 This is just one of the complaints, the more you go – the more you find out.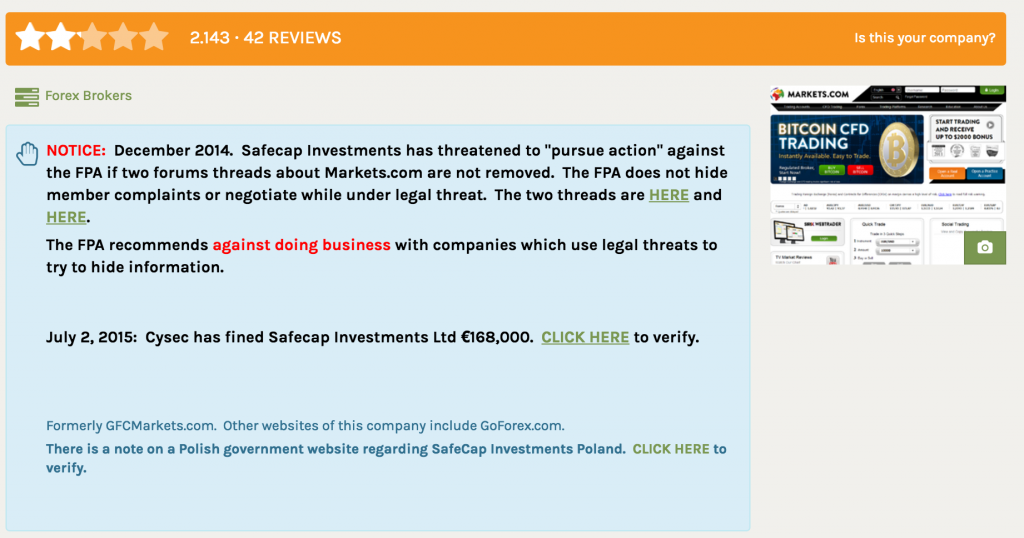 In general, you don't even have to trust us here. Google up Nuntius and see the brands that it owns. Then try to find at least one brand that has some positive comments. From what we see, after markets.com has been sold to Playtech, the later company started launching lots of both binary and Forex brokers. What's the purpose of this? Hard to say. As you can see, most of the legitimate FX brands operate under a single website with minor or no rebranding at all. Hence, the only reason we could think of is that a new wrapping for a broker is needed only when it loses the reputation.
Now let's get back to the broker services found by this StocksForex review.
Trading Accounts
Stocksforex offers 3 live account packages to choose, namely Micro, Standard and VIP. The accounts do not differ much from each other, although the minimum deposit requirements vary significantly.
Trading with Stocksforex broker is costly, because the minimum deposit requirement for Micro account is $100. As this account is meant to be picked by beginners, such investment barrier is rather high for them.
We suggest taking a look at the comparison of the trading accounts at the image below: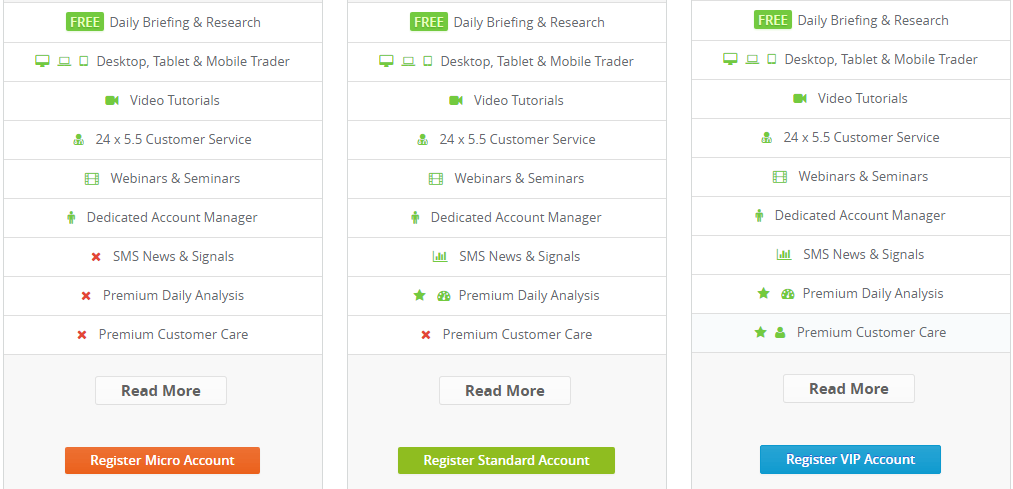 Another aspect worth mentioning is the spread available for real trading. The spread on EUR/USD pair is 3 pips. For other currency pairs, like AUD/NZD, it can be as high as 10 pips. Does this tell us that this broker offers competitive conditions? It certainly does not, especially if you are into scalping. In general, trading with a legitimate broker will cost you much less.
Demo account is offered at Stocksforex as well, but we advise you to ignore this feature as you are dealing with the broker that cannot disclose the information in a clear manner on its website. Best to stay away and don't register, you never know how persuasive the sales people might be.
And here is a final striking moment. If you are going for the most basic account, you get no access to the signals. But other two account types entitle you to receive signals. We do not have any experience with StocksForex signals, but we have lots of experience with the signals that are sent by the brokers. None of the legitimate brokers will supply trading signals to its traders, this is simply a conflict of interests.
Stocksforex Trading Platforms Review
There are 2 platforms accessible at Stocksforex website – MT4 and Sirix WebTrader. The platforms are pretty good if we talk about the trading software features exclusively. MT4 is the top-notch Forex trading platform and the most popular one. Automated trading is considered one of the strongest aspects of the MetaTrader 4, presented by EAs and the MQL4 programming language.
The second platform at Stocksforex is Sirix WebTrader. Sirix is a web-based platform that uses HTML5. Although charting is quite basic at Sirix, it is still not a bad choice. When preparing one of the most honest opinions Stocksforex, we have discovered that the broker has introduced social trading powered by Sirix. Sirix social trading allows you to copy other traders either manually or automatically. Moreover, you can trade on the move with mobile Sirix applications for Android and iOS.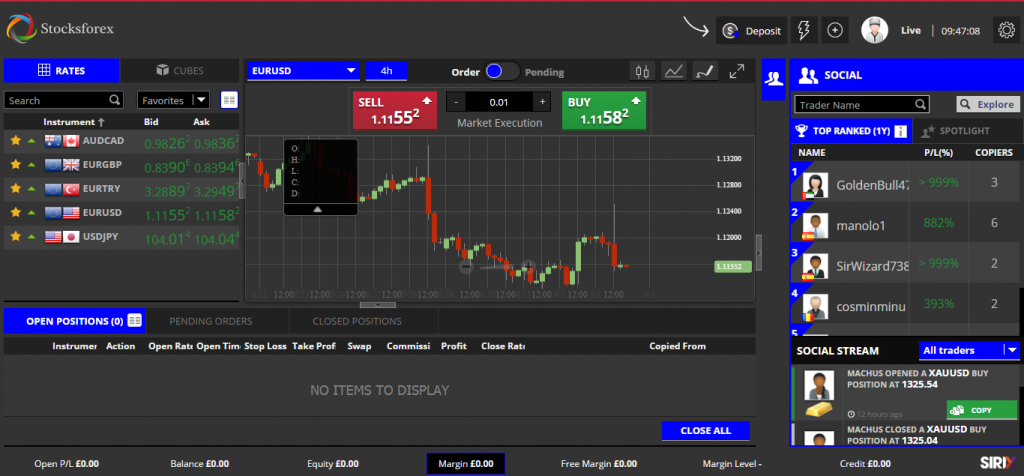 Despite all the pros of utilizing these platforms, Stocksforex remains untrusted and it is better to benefit from using MT4 or Sirix only at trusted online trading brokers.
There are 5 asset classes at Stocksforex: Forex, Stocks, CFDs, Indices and Commodities. The total number of tradable currency pairs is 49. As the majority of honest Stocksforex opinions admit, the maximum leverage seems to be very limited, i.e. up to 1:200 for FX trading. Although the broker tries to convince that spreads are tight, they are not. For instance, variable spread for EUR/USD starts from 3 pips per trade.
Deposits and Withdrawals
When preparing our review about broker Stocksforex, we were quite disappointed about the transfer methods available. To make either deposit or withdrawal, you can only use credit/debit cards, Sofort banking or use paysafe card.
Although Stocksforex has described the fees policy concerning wire transfers, it is still better not to deposit any money.
Can we say that "StocksForex fraud" is a true statement? We cannot. You may deposit and find out yourself, but this review has shown a number of reasons why you should stay away from this brokerage. Take a look at other brands of the company behind StocksForex and think again. Otherwise, we welcome you to open an account with a trusted and FCA-regulated brokerage:
[RICH_REVIEWS_SNIPPET category="page"]
[RICH_REVIEWS_SHOW category="page"]
[RICH_REVIEWS_FORM]