The best way to find a reliable and professional broker is to explore the market as much as possible and to perform the necessary research. Our BlackWell Global review is the perfect thing for your needs since we took the time to carry out a very meticulous research of this particular company. That is why we can provide you with relevant facts and the most important data about BlackWell Global, and this will enable you to make an informed decision before you actually put your pen to paper. Not all brokers in the world are honest and trustworthy, and that is why learning a thing or two about them can be of great help in the long run.

BlackWell Global – about the company
STP brokers provide traders with direct market access and immediate execution of trades, and BlackWell Global belongs to this category of trading organizations. Since FCA had issued a license to this company last year, it seems that there is no BlackWell Global scam going on, but you can never be too careful in the Forex world. The company is owned by a larger corporation called BlackWell Global Investments Ltd, and they are both registered in England and Wales. However, one of the exaggerated claims at the website of this broker says that they have a presence in more than 90 countries.
[broker-overview]
Trading platform
Most BlackWell Global reviews will focus on the software of their website, simply because the trading portal is an integral element of any modern trading site. When it comes to BlackWell Global, they are using a popular MetaTrader4 software package, but it seems that they are not using all the capabilities of this platform to their full extent. With only 32 currencies, some precious metals, and CFDs – this software solution is underperforming, to say the least. However, BlackWell Global is also using their proprietary software, named Infinitum, and this back-office program acts as an administrative system.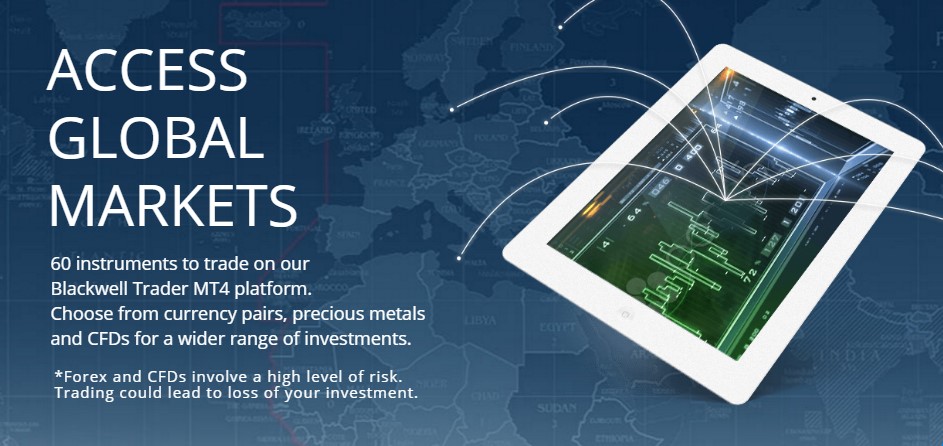 Types of trading accounts
Before you start the actual trading process, you will need to open up an account with the particular broker house. When BlackWell Global broker is in question, you will be offered a choice between a demo account or a live account. The demo option will bring $50.000 of "virtual" funds your way, and the Live accounts are classified in several categories, including Individual, Corporate, Joint, and Sub-account. Also, the leverage will vary in agreement with your selection of accounts, and it fluctuates in between 1:200 to 1:400.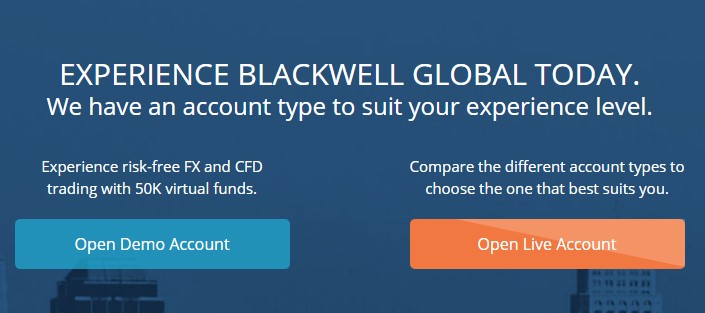 Bonuses and rewards
Our BlackWell Global opinion was not a positive one in the first place, but once we saw the lack of lucrative bonuses and promotions – we became even more disappointed with this broker. Started in 2010, this company was showing a lot of potential at first, but it seems that most of the experts made a wrong prediction back then. This broker is only offering a 100% Welcome bonus, and this bonus is given only on deposits that do not exceed $100, and you have to make ten trades before withdrawing your amount.
Banking methods
The security and efficiency of payment methods are integral to any site that wants to be successful in the Forex market, and the majority of BlackWell Global opinions are not exactly thrilled with the array of options at this site. As a matter of fact, this broker is offering several of the most popular banking methods, which include credit cards and bank wire transfer. In case you require a faster method of transferring your funds, e-wallets, such as Neteller or Skrill, are also available.
Customer support
Not enough educational material is the most common complaint that people make about the BlackWell Global Forex broker and their customer support. Even though their staff seems to be available 24/5 via live chat, e-mail, or telephone, the overall quality of customer relations should be on a significantly higher level. Modern companies, in any line of business, are putting a lot of effort into this particular segment of their operations, but this is not the case with BlackWell Global.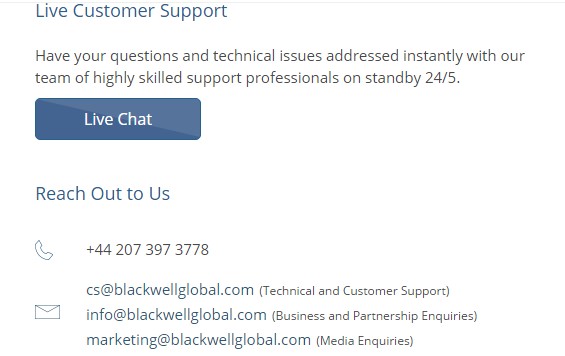 The final word
We tried to cover everything that could interest our readers, and our BlackWell Global FX broker review presented you with the most relevant information about this enterprise. Unfortunately, BlackWell Global still needs to improve their services so that they could compete with the big boys in the Forex market, and this broker is not a company that we would recommend to our friends or family.
[RICH_REVIEWS_SNIPPET category="page"]
[RICH_REVIEWS_SHOW category="page"]
[RICH_REVIEWS_FORM]