In our search for best options to trade, we stumbled upon a broker with a rather pompous name: FX Giants. And while the name is appealing, their practices are far from helping traders get the best of their strategy. Find out everything in our FX Giants Review below!
Don't be fooled by the name, or by the claims that they are present in that many countries or on that many markets. Do not take their word for granted and read the fine print in all their promotions and trading practices. We did, while preparing this FX Giants review and the findings are to say the least interesting, if not rather upsetting. From promotions that prevent you from cashing in on your profits, to high deposits for starting trading, to overall "do as we please" attitude, all makes us want to go as far as possible from this broker. But don't just take our word for it. Let's analyze their offer and practices.
[broker-overview]
FX Giants Bonus Review
First of all, you need to have at least 500 USD to open an account with them and this makes FX Giants broker quite expensive. And this is an account for USD, EUR, GBP, AUD, JPY, CHF, PLN, HUF, and CZK. Besides this "micro account", you may choose the premium one, for 2,500 USD. They also have several other 500 USD minimum accounts, such as 0 Fixed Spread or SPT/ECN 0 Spread. So, let's say the account variety is not necessarily bad, although expensive. And you also need to be aware of the fact that for some of those accounts you will pay a healthy commission. For instance, the 0 Fixed Spread charges 18 USD/lot, and the lot starts from 0.01.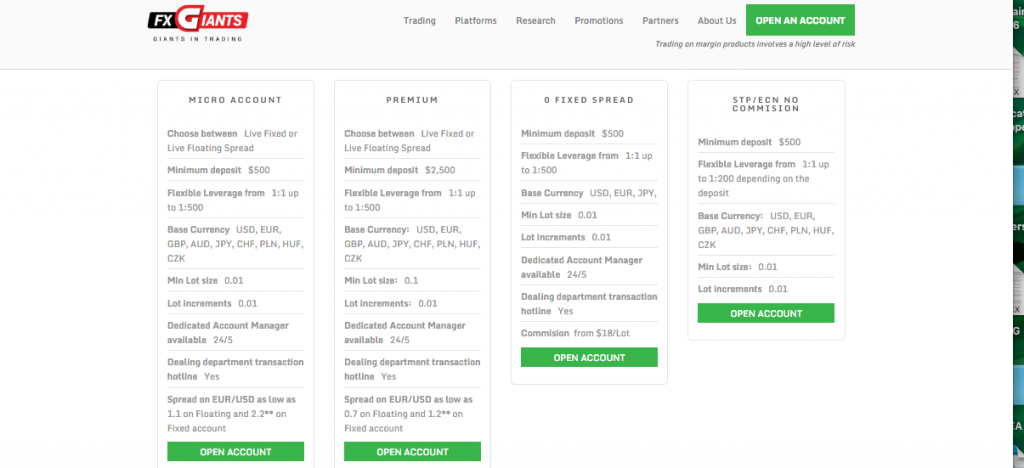 The broker also advocates for its promotions, and we checked them for this FXGiants review. Currently, they have two such promotions, one offering 100% bonus, and the other offering 20% bonus. But they may as well offer you 10,000% bonus. It will make no difference whatsoever in your trading or in your cashing in the profits. Unless we consider a negative impact as a good difference. Let's explain. Take the 100% bonus. This is a one-month promotion, available in June. And they seem to do what they say: give you 100% of your deposit to trade with them. But this is only Monopoly money, don't get your hopes up.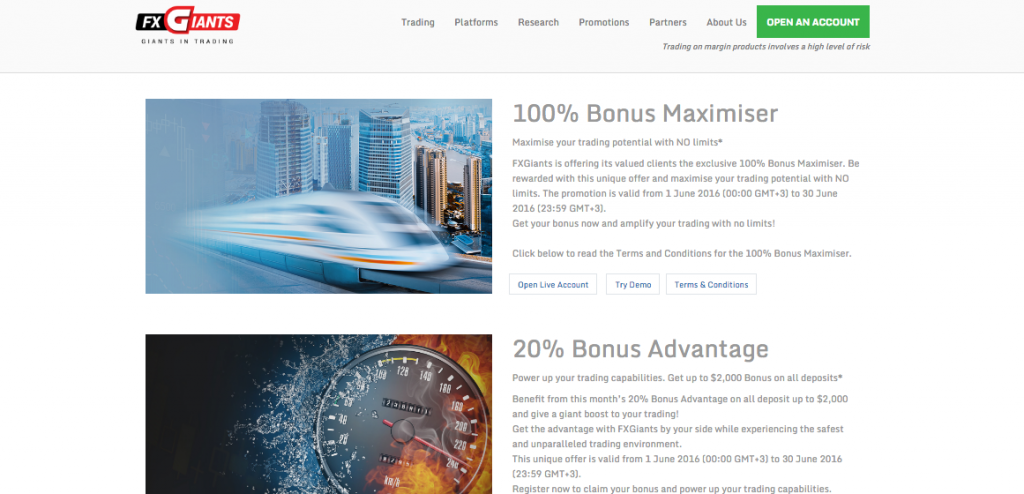 As we said, you need to read the fine print in the Terms and Conditions and you will understand why you don't find too many positive FX Giants opinions out there. And just to make you better understand the situation, we will take you to their very own terms and conditions where they even have examples of how you will never get that money. At a 10,000 USD deposit (huge, right?), they will give you another 10,000 we will call they Monopoly money, because the currency is irrelevant. Now you have, in theory, 20,000 USD to trade. You make 10,000 USD profit (and now comes the not so nice part), and you will be able to withdraw 15,000 USD. Meaning your initial deposit and only half of the profits.
So, you just make 5,000 USD for the broker, besides the commissions and taxes they charge. A 50% commission is to say the least rather huge. The same applies with the other bonuses. Therefore, besides the FX Giants reviews, we urge you to read their terms. You will find them unacceptable and our advice is to find a less greedy broker to trade with.
Check best Forex brokers and pick the best choice for you!
[RICH_REVIEWS_SNIPPET category="page"]
[RICH_REVIEWS_SHOW category="page"]
[RICH_REVIEWS_FORM]