In our search for the best options to trade, we stumbled upon a broker with a rather pompous name: FX Giants. And while the name is appealing, their practices are far from helping traders get the best out of their strategy. Find out everything in our FX Giants Review below!
Don't be fooled by the name, or by the claims that they are present in that many countries or on that many markets. Do not take their word for granted and read the fine print in all their promotions and trading practices. We did, this while preparing this FX Giants review and the findings are, to say the least interesting, if not rather upsetting. From promotions that prevent you from cashing in on your profits to high deposits for starting trading to an overall "do as we please" attitude, all make us want to go as far as possible from this broker. But don't just take our word for it. Let's analyze their offer and practices.
The Safety and Security of FX Giants
While the broker is overseen by the UK's FCA, numerous sources confirm the fraudulent activities of this broker. The broker refused to pay withdrawals and suggested its clients add more funds. FX Giants is also related to another scam broker called IronFX and both of them are confirmed scam companies! Stay away from this broker.
FX Giants Fees and Spreads
Spreads are average from 1.1 and 1.2 pips depending on the trading account selected. The commission is expensive at 9 USD per side per lot for 0 spread accounts. The broker will not give you your money or profits so, there is no point in these shiny spreads!
FX Giants Accounts, Deposits, and Withdrawals
six different account types are offered in two categories Live and STP/ECN. The difference is unclear as generally, brokers offer either STP or ECN accounts. Another red flag is present in the hits categorization of accounts. Three types of live accounts are Live Floating Spread, Live Fixed Spread, and Live Zero Fixed Spread with spreads of 1 pips, 1.3 pips, and 0 pips respectively. The other three accounts are named STP/ECN No Commission with 1.7 pips, STP/ECN Zero Spread with 0 spreads and $3.75 per lot per side, and STP/ECN Absolute Zero with 0.2 pips spreads and zero commission.

For funding options, there are only three methods supported. Wire transfers, bank cards, and cryptos. There are no online payment methods offered potentially indicating another red flag.
FX Giants Trading Assets and Features
FX Giants scam supposedly offers 70 currency pairs, indices, commodities, futures, and share CFDs. Both the spreads and trading assets are excellent from the FX Giants and if the broker was not a scam company we would recommend them to our readers. But there are so many claims from traders of the broker declining withdrawals and asking for more deposits that the numbers are overwhelming. Stay away.
FX Giants Bonus Review
First of all, you need to have at least 500 USD to open an account with them and this makes FX Giants broker quite expensive. And this is an account for USD, EUR, GBP, AUD, JPY, CHF, PLN, HUF, and CZK. Besides this "micro account", you may choose the premium one, for 2,500 USD. They also have several other 500 USD minimum accounts, such as 0 Fixed Spread or SPT/ECN 0 Spread. So, let's say the account variety is not necessarily bad, although expensive. And you also need to be aware of the fact that for some of those accounts you will pay a healthy commission. For instance, the 0 Fixed Spread charges 18 USD/lot, and the lot starts from 0.01.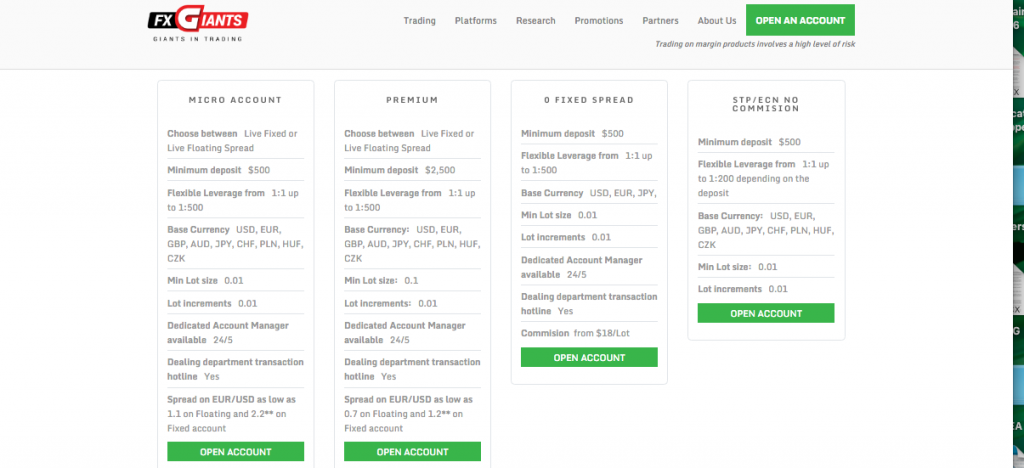 The broker also advocates for its promotions, and we checked them for this FXGiants review. Currently, they have two such promotions, one offering a 100% bonus, and the other offering a 20% bonus. But they may as well offer you a 10,000% bonus. It will make no difference whatsoever in your trading in your cashing in the profits. Unless we consider a negative impact as a good difference. Let's explain. Take the 100% bonus. This is a one-month promotion, available in June. And they seem to do what they say: give you 100% of your deposit to trade with them. But this is only Monopoly money, don't get your hopes up.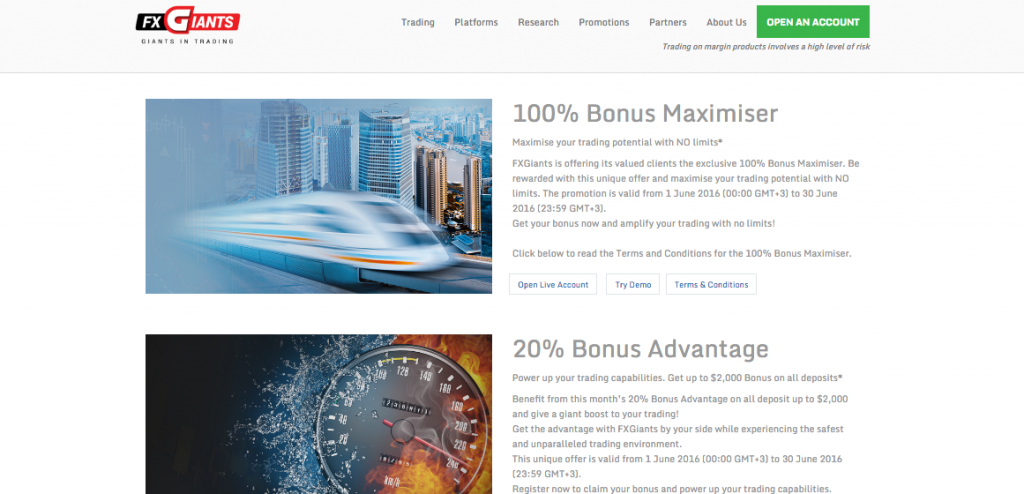 FX Giants Customer Support Review
FX Giants customer support love to ask for more deposits from clients to whom they declined withdrawals. This is unprofessional and scam activity and we hope FCA addresses this issue sooner. All forms are supposedly offered by FX Giants including live chat, online form, email, and hotline. But when the company is confirmed to be a scam these support channels are not for helping their clients, but only to steal even more money from traders.
FX Giants Education
There are no educational resources offered by this scam broker. You don't need to educate your clients when you are after their money. Some tools are offered together with the blog, but please stay away from them as soon as possible. If the support asks you to deposit more funds to withdraw money, do not proceed and add money.
Should You Consider FX Giants?
This broker is a confirmed scam and a branch of another scam company called IronFX! Stay away from them as soon as possible. If you initiate withdrawal they will ask you for more money. Do not deposit any funds and if you happen to have an account contact authorities right away!
Is FX Giants a safe and trustworthy broker?
What are the fees, spreads, and account options with FX Giants?