Online, as well as offline Forex trading, is one of the most lucrative financial endeavors in the world. However, such high profitability has its drawbacks – there are many risks associated with this business. You have to be extremely careful if your financial stability and security are important to you.
One of the most important undertakings for Forex trading is choosing the right Forex broker. The internet is full of such brokers that claim to have the best offers on the market. While they're flashing their impressive numbers and fancy regulatory abbreviations into your eyes, you must be able to differentiate legit brokers from the scams.
In this Eurotrader review, we'll take a look at yet another Forex broker and see, whether its promotions hold up against closer scrutiny.
A brief overview
Before we go into a full-depth review, let's quickly browse through the Eurotrader's offerings. While the first impression is not decisive for or final conclusion, it's still important to get a basic idea of what the broker represents.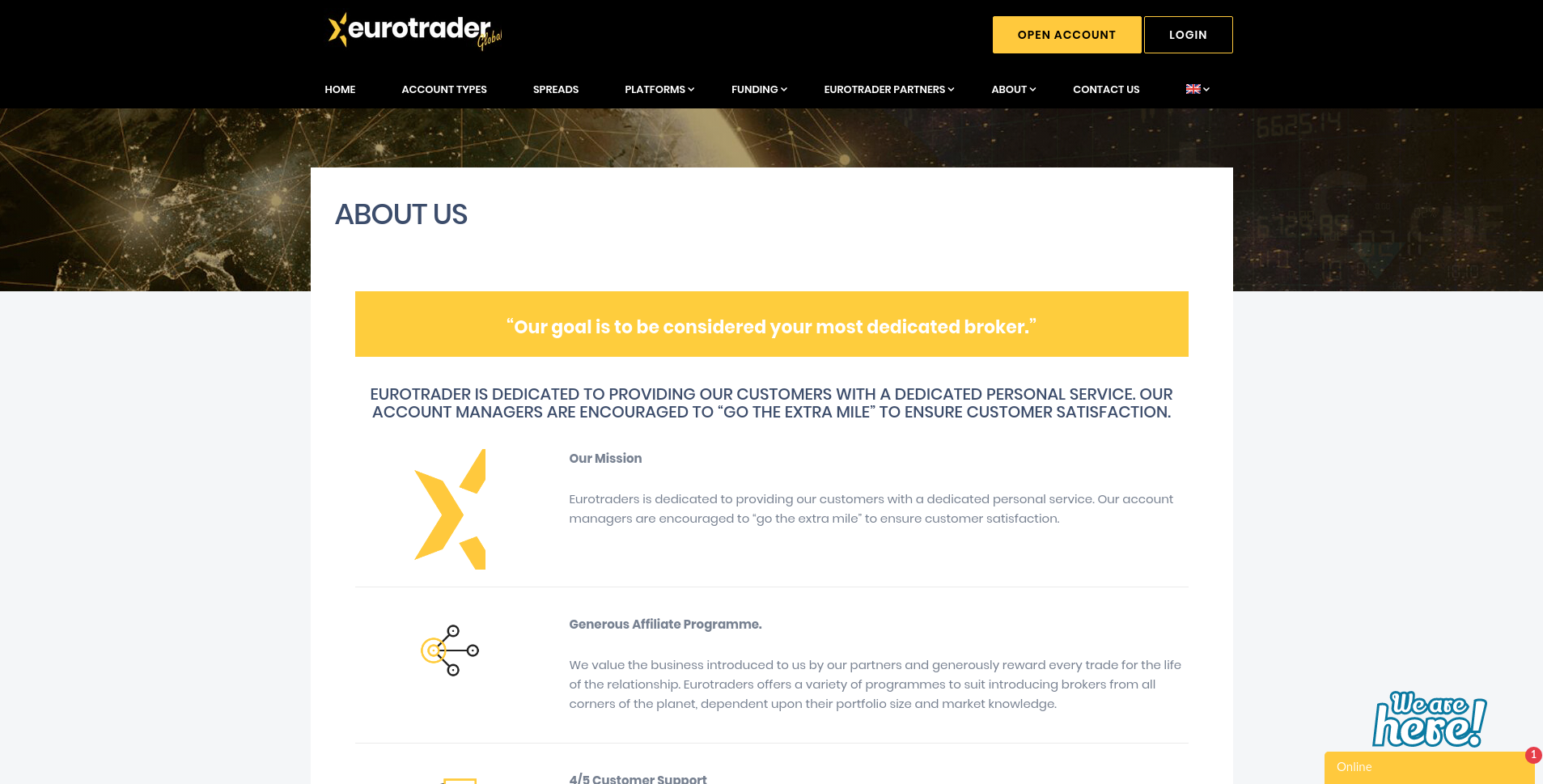 Let's start with the website because that's where the consumer gets the initial idea about the Eurotrader FX brokerage. To be fair, there's not much negative to be said about the Eurotrader's website – it's streamlined, well separated into various thematic sections, as well as featuring every little detail about the broker.
Another impressive feat is the diverse payment platforms. Eurotrader supports not only traditional methods like Visa, Mastercard, and whatnot but also more unorthodox ones like Bitcoin. This is a great opportunity for those gamblers who want to remain hidden from the centralized surveillance, however, Bitcoin might have its drawbacks in this case and we'll explain why in a second.
However, the few flaws that are present here are quite apparent, to say the least. For example, there are some cases where the visual decoration feels a bit too much – we'll discuss this and other aspects in detail down below.
As for the trading terms and conditions, some of the broker's offers are truly impressive. For example, the maximum leverage can go as high as 1:500 which makes for a very lucrative prospect. As for the spread, it's not similarly mind-blowing at its minimum rate of 0.6 pips, but nonetheless, it's pretty lucrative as well.
Another downside in Eurotrader promotions is it's quite hefty minimum deposit requirements. For the Regular account, the traders are required to deposit no least than $250 which is a very high demand for those traders who don't have a lot of experience and don't want to risk their money in Forex trading.
When it comes to the trading accounts, Eurotrader supports four different account types – Regular, Gold, Premium, and VIP. They all have their own perks and advantages. And the best thing about having a diverse account base is that you can cover almost every experience levels on the consumer market.
Now, when it comes to choosing a legit broker, you need to make sure that it has a credible licensing. With Eurotrader, that's what gives us the clearest idea about what it really represents. The broker claims that it was registered in the Republic of Marshall Islands. Now, we don't know who would believe that the Island's financial regulator is able to oversee the financial activities of Eurotrader but for us, this only means one thing: Eurotrader has no effective license at all!
Eurotrader.com review
Now, let's move to a more comprehensive review of Eurotrader and start with its website. We've already mentioned in the first chapter that the website is actually pretty well-balanced. The interface looks sophisticated, it contains almost every crucial information about the broker, and there are even some educational materials included.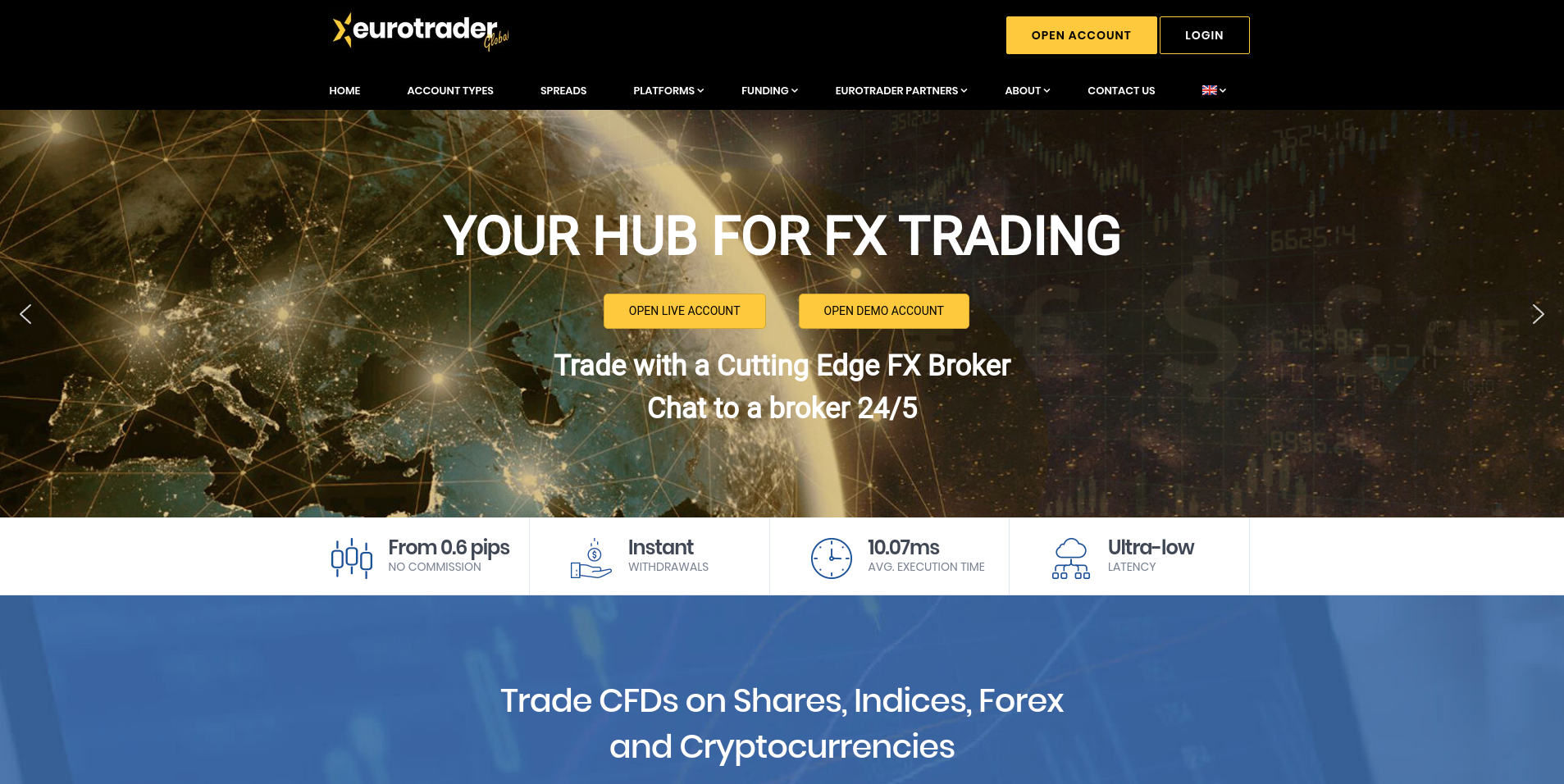 As for the separation of the website, there are 8 different sections that contain Home page, Account Types, Spreads, Platforms, etc. To be honest, such detailed segmentation is a bit too much when the broker could incorporate several segments into one section, for example, the Account Types section could have been mixed with Spreads. But that's not something that majorly influences our Eurotrader opinion.
Another important advantage of the broker is that it supports various payment platforms. From conventional methods like Visa, Mastercard, and wire transfer, to the more unorthodox ones like Bitcoin, Eurotrader features almost every major payment platform.
What's beneficial about Bitcoin is that not only does it provide fast and secure transactions but it also ensures that your payments are anonymous. Nowadays, many major banks consider gambling and trading as an unwelcome financial endeavor and therefore, every time you make a transaction related to these areas, they'll reduce your credit points. With Bitcoin, however, you can deposit and withdraw as much money as you want without your accounts being compromised or otherwise influenced.
While having Bitcoin as a major payment option is certainly a great advantage, there are still some downsides with Eurotrader. For example, while the deposits are instantaneous, the withdrawals take one day to complete – be it on Bitcoin or on other platforms.
In addition, we're not certain the broker isn't a scam which, in turn, paints a whole another picture. While Bitcoin is a great advantage for the credible broker and its customers alike, when the broker is actually a scam, the advantages shift away from the customer. The anonymity of transactions ensures that these brokers can confiscate their customers' funds illegally and no one is going to find who did that. Therefore, you might need to look into other areas to make sure your broker is the one you're looking for.
Besides, we've also mentioned that there are other areas on the website that look a bit too overpowering to us. For example, on the very first page of the website, the image of the globe looks too complicated, even more so that it's a bit low-quality. But again, this isn't going to influence our final conclusion.
How do the Eurotrader promotions stack up against the market indicators?
Now, let's get to the actual numbers and compare them to the market averages. Let's start with the leverages. The broker claims to have the maximum leverage of 1:500. What this basically means is that for every dollar you deposit (which is actually impossible as you're required to deposit no less than $250), Eurotrader will add another 499 to make it $500. This way, your trading volumes, as well as received profits, will increase drastically. And considering the market average of 1:250, it's really impressive how much the broker really offers.
As for the spreads, the minimum difference between buying and selling the Forex pairs can go as low as 0.6 pips – but that's only for the most expensive VIP accounts. For the regular ones, the spreads start from 1.1 pips. While these numbers certainly aren't low, nevertheless, they're not the ones to be excited about.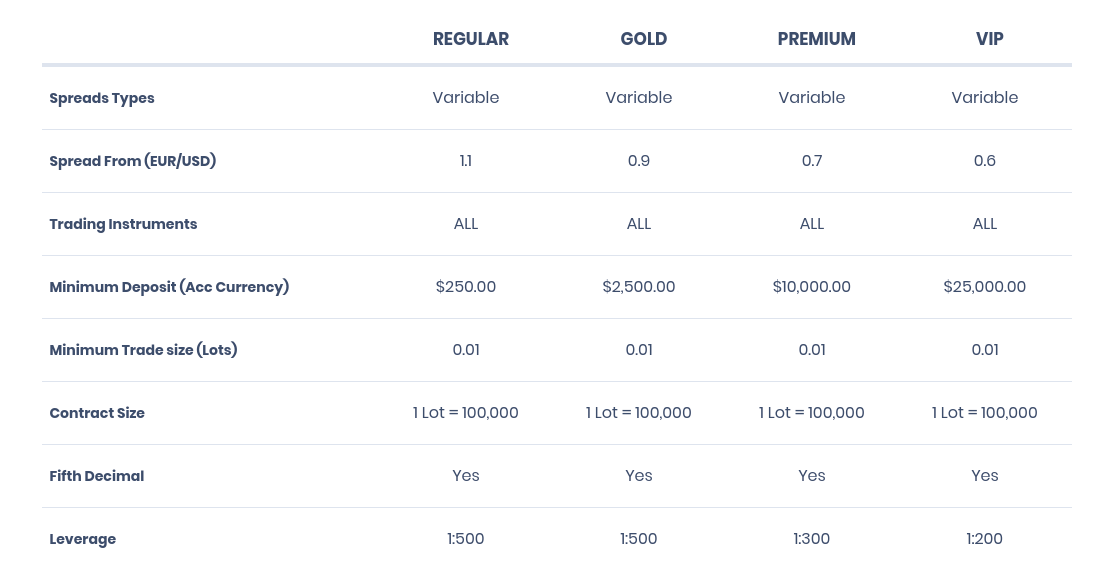 On the one hand, these numbers might be appealing to many consumers – and rightly so, but on the other hand, the broker might be trying to boast with them. If our Eurotrader scam suspicions are to be true, then these numbers are actually used as a lure: they're designed to attract as many traders as possible, while not being concerned about what they really represent.
Let's now turn our attention to the minimum deposit requirement which gives us a glimpse into what Eurotrader might be trying to accomplish. The Regular account-holders are required to deposit not less than $250 which is a lot of money for the beginner traders who might be opting for this account. The beginners usually want to minimize their risks as much as they can and with such a hefty requirement, the whole risk-minimizing efforts go to waste.
What we suspect here is that the broker wants to reap as much money from its customers as possible while not really thinking about what it can give back. This is especially true when you remember that some of the trading indicators, like spreads, are only low (0.6 pips) for the VIP accounts who deposit no less than $25,000. For the Regular account, it's a higher 1.1 pips. Therefore, the broker only offers the basic conveniences to those traders who pay much.
As we've mentioned above, Eurotrader features four different trading accounts: Regular, Gold, Premium, and VIP. You already know that they have their own perks, for example, spreads get lower as you move towards more expensive accounts.
Now, such diversity might be good for covering the vast consumer base with different experience levels, however, with our already-suspicious Eurotrader opinions, we believe that these accounts are yet another attempt for luring in as many customers as possible.
Should you trust Eurotrader for its regulatory remarks?
In the first chapter, we said that the licensing part is where the broker reveals its true colors. But what do we actually mean by that?
The thing is, Eurotrader claims to be registered in the Republic of Marshall Islands and also regulated by its financial institutions. When it comes to merely mentioning the regulatory measures, this could work. However, there are some major flaws that provide us with the clearest idea about the broker and its financial activities.

And here's why: the Republic of Marshall Islands is a small distant island in the Pacific Region. Usually, businesses use these types of countries for one simple reason: to avoid any regulation and financial oversight. With the Marshall Islands, you can be sure that the country has no political or economic prowess to control the financial company operating all around the world. It's physically impossible to do that.
By registering its business on this island, Eurotrader had a goal to hide its earnings from the taxes, as well as illicit activities from the strict financial rules. The outcome is simple: there's no effective regulation that holds the broker against the higher standards.
Our final Eurotrader rating
When you're stepping into the world of Forex trading, it's particularly important to choose the broker that is focused on its customers – and not on its profits. With Eurotrader Forex broker, it's the opposite of what we'd suggest.
The broker might have a streamlined website which is very well-separated into different sections; it might also have some impressive trading conditions and offerings; but at the end of the day, when there's no effective regulation that oversees its financial activities, we're easily scared away as Eurotrader could use that opportunity to scam the customers.
Of course, we wouldn't be sure in our suspicions because we haven't really tried Eurotrader's services. But sometimes the mere suspicions are enough to just stay away from a certain broker.
When it comes to your financial security, it's better to be safe than sorry!