Online, as well as offline Forex trading, is one of the most lucrative financial endeavors in the world. However, such high profitability has its drawbacks – there are many risks associated with this business. You have to be extremely careful if your financial stability and security are important to you.
One of the most important undertakings for Forex trading is choosing the right Forex broker. The internet is full of such brokers that claim to have the best offers on the market. While they're flashing their impressive numbers and fancy regulatory abbreviations into your eyes, you must be able to differentiate legit brokers from scams.
In this Eurotrader review, we'll take a look at yet another Forex broker and see, whether its promotions hold up against closer scrutiny.
A brief overview
Before we go into a full-depth review, let's quickly browse through Eurotrader's offerings. While the first impression is not decisive for or final conclusion, it's still important to get a basic idea of what the broker represents.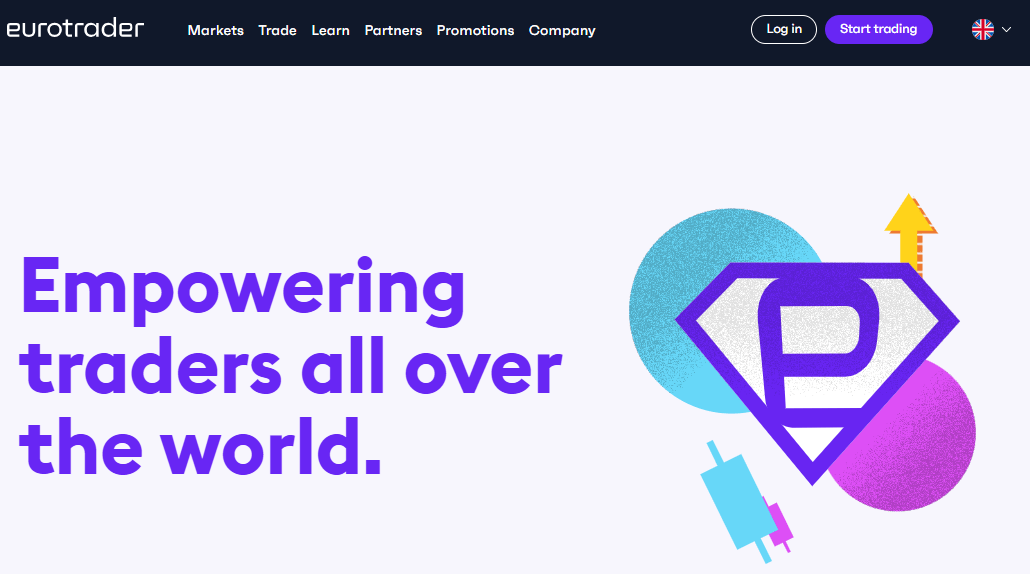 Let's start with the website because that's where the consumer gets the initial idea about the Eurotrader FX brokerage. To be fair, there's not much negative to be said about the Eurotrader's website – it's streamlined, well separated into various thematic sections, as well as featuring every little detail about the broker.
Another impressive feat is the diverse payment platforms. Eurotrader supports not only traditional methods like Visa, Mastercard, and whatnot but also more unorthodox ones like Bitcoin. This is a great opportunity for those gamblers who want to remain hidden from centralized surveillance, however, Bitcoin might have its drawbacks in this case and we'll explain why in a second.
In a previous version of the website, there were crowded visuals and sometimes it was hard to find what you were searching for, but now the website was completely rebuilt and is now very sleek and easy to navigate. The user interface is friendly and offers all critical information a first glance which is very positive about this company.
When it comes to trading accounts, Eurotrader was offering four different account types – Regular, Gold, Premium, and VIP. But has since changed and the current account types are  Micro, Zero, and Hero, which we will cover in more detail below. They all have their own perks and advantages. And the best thing about having a diverse account base is that you can cover almost every experience level on the consumer market.
Now, when it comes to choosing a legit broker, you need to make sure that it has credible licensing. With Eurotrader, that's what gives us the clearest idea about what it really represents. The broker has three independent licenses from reputable regulators which are one of the best ones in the trading world. we will cover all of them below.
Now, let's move to a more comprehensive review of Eurotrader and start with its website. We've already mentioned in the first chapter that the website is actually pretty well-balanced. The interface looks sophisticated, it contains almost every crucial information about the broker, and there are even some educational materials included.
The safety and security of Eurotrader overviewed
In the first chapter, we said that the licensing part is where the broker reveals its true colors. But what do we actually mean by that?
The broker is regulated by several authorities. In the past, the broker was not regulated and was only registered in the Marshall Islands, but it has changed as Eurotrader has grown from zero to hero with its regulators' list. Eurotrader is licensed and regulated by the Financial Sector Conduct Authority (FSCA) in South Africa. Additionally, the broker holds a license from Cyprus Securities and Exchange Commission (CySEC). In the UK Eurotrader is authorized and regulated by the Financial Conduct Authority (FCA). FCA is one of the most reputable Forex regulators in the world and with these many regulators, the safety of client funds is almost guaranteed. The broker is now legit and regulated and clients should feel safe and secure.
Eurotrader Spreads and Fees
As for the trading terms and conditions, some of the broker's offers are truly impressive. For example, the maximum leverage can go as high as 1:500 which makes for a very lucrative prospect. As for the spread, it's not similarly mind-blowing at its minimum rate of 1-1.2 pips, but nonetheless, it's pretty lucrative as well.
Another positive change of Eurotrader promotions is its quite low minimum deposit requirements. For the Regular account, the traders were required to deposit no least than $250 which was a very high demand for those traders, but recently the broker changed the initial deposit to mere 50 dollars.  50 USD is a very achievable first deposit for any beginner trader and this change is very positive for Eurotrader brokers.
Now, let's get to the actual numbers and compare them to the market averages. Let's start with the leverages. The broker claims to have the maximum leverage of 1:500. Eurotrader will add another 499 to make it $500. This way, your trading volumes, as well as received profits, will increase drastically. And considering the market average of 1:250, it's really impressive how much the broker really offers. The leverage is a double-edged sword and it amplifies both potential profits and losses, but still, this leverage gives traders the flexibility to have maximum control over their trading volume sizes.
As for the spreads, the minimum difference between buying and selling the Forex pairs can go as low as 0.1 pips – but that's only for Zero accounts. For the regular ones, the spreads start from 1.2 pips. While these numbers certainly aren't low, nevertheless, they're not the ones to be excited about.
Accounts, deposits, and withdrawals at Eurotrader
Micro account is the most affordable account type from Eurotrader with zero commissions and spreads from 1.2 pips. Zero account requires minimum deposits of 500 USD which makes it expensive to start trading with low spreads. Hero account is for trading heroes who are already professionals with huge experience and will have to start with at least 25 grand. commission is low and spreads attractive, but the leverage is moderate on 1:100.
Deposits and withdrawals
Another important advantage of the broker is that it supports various payment platforms. From conventional methods like Visa, Mastercard, and wire transfer, to the more unorthodox ones like Bitcoin, Eurotrader features almost every major payment platform.
What's beneficial about Bitcoin is that not only does it provide fast and secure transactions but it also ensures that your payments are anonymous. Nowadays, many major banks consider gambling and trading as an unwelcome financial endeavor and therefore, every time you make a transaction related to these areas, they'll reduce your credit points. With Bitcoin, however, you can deposit and withdraw as much money as you want without your accounts being compromised or otherwise influenced.
While having Bitcoin as a major payment option is certainly a great advantage, there are still some downsides with Eurotrader. For example, while the deposits are instantaneous, the withdrawals take one day to complete – be it on Bitcoin or on other platforms.
Eurotrader Trading assets and features
Eurotrader offers a diverse range of assets from various financial markets worldwide. Forex, stocks, indices, and commodities are among the tradable asset classes. The cryptos are gaining momentum and popularity lately and it is fantastic that Eurotrader offers these instruments as well.  Stock CFDs will enable traders to speculate on the underlying prices of popular stocks in the USA, Europe, and Australia. What's more exciting is Eurotrader offers daily market insights and various calendars.
Trading platforms
MetaTrader 4 (MT4) and MetaTrader 5 (MT5) are among the best trading platforms right now and Eirtrader is offering both to their clients. There is also a free VPS offered to certain customers. Broker also has platform tutorials to teach newbies how to use this advanced software. Both MT4 and MT5 are available for all devices and operating systems used today and traders will be able to trade and analyze markets on the go.
Eurotrader Customer Support reviewed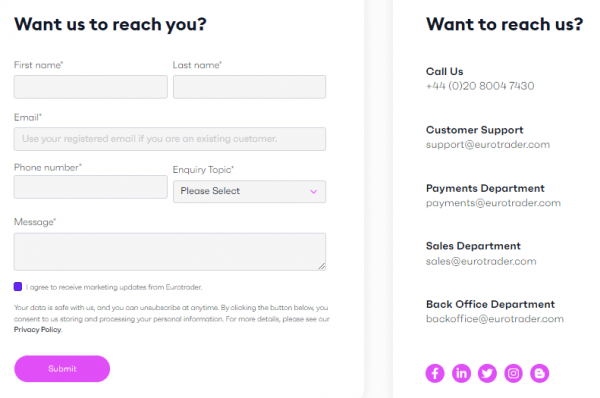 The broker offers all forms of customer support for their clients. From hotline, email address, and online form to advanced live chat and offices. Live chat is still the most comfortable and fast way to connect with the support team directly in no time. It is very good that clients can choose between departments and contact the required ones directly instead of wondering what to do. The live chat offers multilingual solutions to support and enables clients quickly get solutions and answers if there was no answer in the FAQs section.
Education at Eurotrader
In the Learn section of the website, beginners will find various useful resources to master the art of FX trading. With trading course 101 the broker tries to establish an educational environment that offers full trading courses to beginners. Eurotrader Academy will offer traders with articles in this section to understand many basic concepts about the currency markets. but this is not all, there are ebooks and video tutorials as well. offering a full range of educational materials that should be sufficient to start trading on the demo account and develop and test trading strategies. With the blog also offered there is no gap in the educational department for Eurotrader.
besides the abundant educational resources, there are trading tools to help traders make trading processes more simple and more intuitive. Economic calendar, margin and pip calculator, currency converter, profit and loss calculator, and risk calculator are among offered tools. These tools are very useful for beginners to calculate important numbers before entering the trade.
Should you consider Eurotrader?
When you're stepping into the world of Forex trading, it's particularly important to choose the broker that is focused on its customers – and not on its profits. With Eurotrader Forex broker, it's the opposite of what we'd suggest.
The broker has a streamlined website that is very well-separated into different sections; Eurotrader also has some impressive trading conditions and offerings; But the minimum deposit for zero spreads account starts from 500 USD which is a bit high. The Micro account offer average trading experience with industry average spreads and no commissions. Hero account is for heroes and offers the best conditions for 25 grand minimum requirements.
The broker is very well-regulated and client funds should be in safe hands with various regulatory oversight from top regulatory bodies. When it comes to your financial security, it's better to be safe than sorry!
In the end, Eurotrader is recommended only for swing traders and day traders. For scalpers who rely on many small profits and low spreads, the conditions require a high minimum deposit which may not be attractive for beginners.
Is Eurotrader a regulated broker?
What are the account types and deposit requirements?
What trading platforms are available?