This XTB review will uncover one of the oldest forex brokers on the market. Also known as X-Trade Brokers, XTB has been headquartered in Poland, while now this XTB review has shown the move of the operations to the UK. Great Platform, amazing spreads and professional service – keep on reading XTB Review.
[broker-overview]
XTB Forex Broker at a Glance
XTB is one of the most important brokers in Europe and it has offices in 10 countries. Their main office is located in London and they are regulated by the FCA. With regard to Forex and CFD trading they are considered one of the best, having built their reputation over time.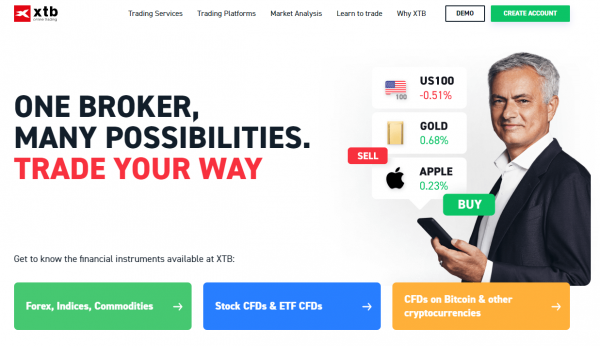 XTB Forex Trading Broker Accounts Overview
At XTB there are three types of accounts. The Basic account has a fixed spread and no commission. The Standard account has a floating spread, also no commission and has the big advantage of instant confirmation of the transaction. The Pro account has a commission. All three accounts offer a maximum leverage of 1:200 and there is no minimum deposit for any of them.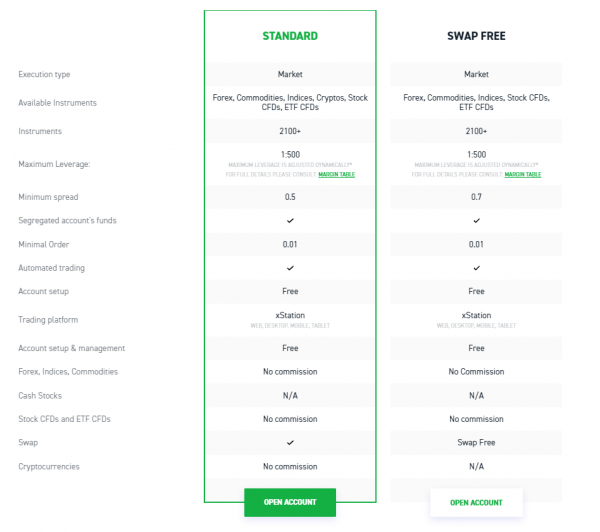 The Basic account has a fixed spread and no commission. The Standard account has a floating spread, also no commission and has the big advantage of instant confirmation of the transaction. The Pro account has a commission.
X-Trade Brokers provides an extensive range of trading instruments including Forex, Indices, Commodities, Equities, CFD's, EFT's and more.
XTB Regulation
A broker's regulation is a common concern amongst traders when they're looking for a new broker to trade with. In this case, the XTB regulation is governed by multiple regulatory bodies:
Financial Conduct Authority (FCA)
International Financial Services Commission of Belize (IFSC)
Cyprus Securities and Exchange Comission (CySEC)
National Securities Market Commission (CNMV)
Polish Financial Supervision Authority (KNF)
Dubai Financial Services Authority (DFSA)
Given the state of XTB regulation, it would be safe to assume that it is not just another scam company disguised as a broker with the intention of parting potential investors with their funds.
In terms of XTB safety, it should not be of too much concern and a trader looking for a broker should instead direct their attention toward other aspects of the company.
XTB Reviews of Trading Platforms
The first thing that is noticeable is that XTB has its own platform, meaning they are confident enough to come up with a new platform to stand beside the other established ones. This gives it a vote of confidence. This in-house platform has enhanced responsiveness. It offers a lot of features such as Markets Squawk that provides a news feed to traders and the fact that market orders can be placed directly from charts.

A lot of technical indicators are available, such as Fibonacci, Chart Overlay and more. The settings are saved on their central server and can be accessed by a trader from any computer. Users who prefer mobile trading are also taken care of. The advanced trading calculator shows exactly how much a trader can gain in the event that the price moves by a specified amount.
The MetaTrader 4 trading platform is also available and has an advanced charting package and about thirty technical indicators. The functionality of placing orders directly from charts is also available for MetaTrader4.
Expert Advisors are available and are designed to analyze market data and produce trading signals. These can be customized with the programming language of MetaTrader4, called MQL4. The fact that XTB went so far as to let traders customize their EA shows the effort XTB has place in winning traders over their side.
Yet another feature xAPI, an on request scheme using JSON format which allows traders to code in any language they prefer. Support materials are provided in order to help traders who want this degree of customisation.
XTB Review of Bonus Features
The learning section consists of a series of webinars and articles. The webinars are numerous, free to watch and they present a lot of different concepts in a professional manner. The articles are also of a great variety and cover both chart patterns as well as psychology.

Also, currently you can get 10% Bonus from XTB upon applying for an account.
XTB Customer Support
X-Trade Brokers.com offers 24-hour customer support via email and phone lines to each of their core hubs. The website is accessible in English, Chinese and Spanish languages.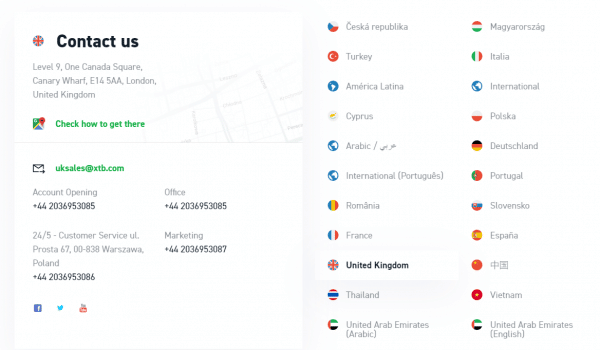 XTB Deposit
When it comes to any transactions with brokers, be it deposits or withdrawals, sometimes there are fees associated with them as well. The types of fees can range from being broker specific to the method itself being used.
In this case, for an XTB deposit, there are no fees for bank transfers. However, depositing with a card or e-wallet may incur a small fee, about 1%. This fee usually depends on the country of residence of the investor and the payment method or e-wallet used.
XTB Withdrawal
Withdrawing one's funds are just as if not more important than depositing them. It's an important topic to discuss when reviewing a broker.
Typically, the things to pay attention to when it comes to a broker's withdrawal policy are the fees and methods allowed.
XTB withdrawals come at no fee as long the withdrawal amount is above a certain amount ($50-$200 depending on country of residence).
However, the only way to do a withdrawal from XTB is by using a bank transfer.
XTB Payment Methods
Different people all around the world use different methods to transfer their funds from one account to another or to pay for products or services.
Some of these methods can be more limiting than others. Some can be accessed by anyone worldwide and some are restricted to only certain countries. Popularity is another factor in what payment methods are being used.
As a result, it's an important concern for a broker to have support for multiple payment methods, specifically the ones that a potential client is using to simplify the payment process, in regards to both deposits and withdrawals.
In the case of XTB payment methods that are supported, they provide access to bank transfers, credit/debit cards, and e-Wallets.
The e-Wallets supported by XTB payment methods include Skrill, Paysafe, SafetyPay, Neteller, and more.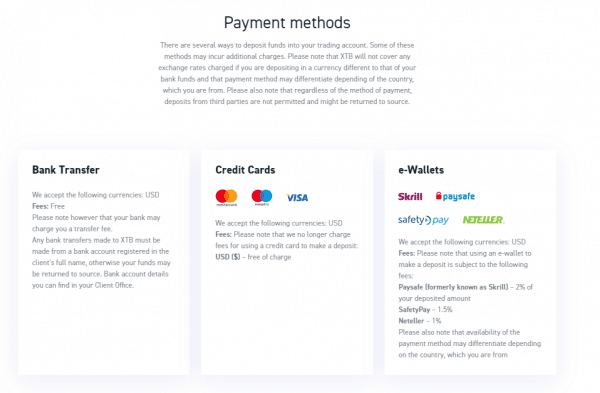 XTB Review Conclusion
All in all, XTB comes as a highly recommended broker in Europe and all over the World. The trading software is exclusive and offers various features that are not offered by other brokers. It is obvious that the people behind this company are very passionate about what they are doing, because of their own platform that has a lot of new features and functionalities, because of their very helpful and respondent customer support and because the fact that they try to make every client, from small ones to large ones, comfortable and content about the environment.
XTB is not a recommended choice now! We do not advise you to sign up. Go with our trusted offer below.