Trading currency pairs and other assets can be pretty exciting and even highly lucrative, but this activity also entails a considerable amount of risk, which means that potential investors should always be cautious and careful when starting their journey in the foreign exchange market. Knowing who you are dealing with is one of the first lines of defense, and every trader should learn a thing or two about his or her broker before putting their name on the dotted line. For instance, our InterTrader review will present you with the facts and the most relevant information about this particular broker, and if you read the complete article, you will find out why this trading provider is not one of the best options for your investments.
InterTrader – about the company
As a part of GVC Holding Plc., InterTrader was opened only a year ago, i.e. in 2016, and this means that the possibility of InterTrader scam is still present. GVC family consists of a lot of sports betting and gaming sites, and this corporation has more than 3000 employees. These numbers are impressive, and they surely mean something in the modern world of business, but InterTrader may be the black sheep of the herd. This broker is licensed and regulated by the Gibraltar Financial Services Commission (GFSC) and UK Financial Conduct Authority (FCA). These agencies also have a lot of integrity in the Forex market, but we will have to see how InterTrader behaves in a real-life environment.
InterTrader Minimum Deposit
The minimum deposit for InterTrader is $1, which in a way could be saying that there is no real minimum deposit for InterTrader. However, depending on the type of trading account you might want to open, the InterTrader minimum deposit then starts to vary from account to account going upwards of $10,000.
How to start trading with InterTrader
Since InterTrader is an STP broker, it means that this provider offers market-neutral execution and direct market access. This model is attracting a lot of attention in the foreign exchange market, and traders from all over the globe are thrilled with the efficiency of this relatively young system. A lot of InterTrader reviews are also saying that this particular broker made a mess of the trading model and that they are clearly not up to the task. To start trading with InterTrader you will have to open up an account, and this company is offering two categories of accounts – demo or live version.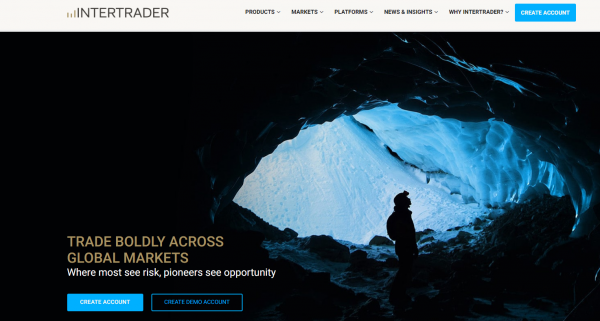 InterTrader – software platform
Modern trading platforms are offering a large selection of trading tools and resources, but InterTrader broker did not incorporate a lot of those features into their portal. This enterprise is using a MetaTrader 4 platform, which is a preferred choice for the majority of broker houses in the current market. MT4 is a reliable and robust software package, and when it comes to InterTrader – they are providing 57 currency pairs, stocks from 14 countries, and some other assets to trade with.

InterTrader Bonus features
Our InterTrader opinion is negative because of several prominent reasons, but the lack of bonuses and other incentives is one of the most powerful ones. In other words, rewards and promotions are the backbones of every modern broker house, and InterTrader offers just a couple of tiny "gifts" and trading incentives. Their 10% Welcome bonus comes as a limited time offer, and their Refer-a-Friend feature will not reward you with a lot of benefits. That is why we feel that InterTrader needs to work on this area of their operations and they should improve this segment as soon as possible.
InterTrader Banking methods
Nowadays, clients want to have efficient money-processing methods at their disposal since this will allow them to transfer the funds to and from their accounts in a flash. However, a lot of InterTrader opinions are stating the fact that this broker did not add a full range of payment options on the platform, and this is something that will not satisfy a lot of clients. But, the most common banking methods are available, including credit cards, wire transfers, and e-wallet services.
InterTrader Withdrawal Fees
It is not rare for a brokerage to charge a withdrawal fee and this may be for multiple reasons. Some of the most common reasons for charging a withdrawal fee are processing fees that come with the different methods used for transferring cash between mediums.
Fees for wire transfers may be different than withdrawals to e-wallets.
Brokers may also have their own custom fees for withdrawals that can be used to discourage traders from withdrawing funds from their accounts. They may even have thresholds for minimum amounts that can be withdrawn.
In this case, the InterTrader withdrawal fee is 0, with the exception of processing fees associated with the withdrawal methods. A transfer using a Skrill wallet will have a 3% fee.
InterTrader Regulation & Security
Is InterTrader a scam? This is a question that may come to mind when researching the broker and looking for an InterTrader review and it may be good news for a potential investor to know that the InterTrader regulation is governed by 2 regulatory bodies: the Gibraltar Financial Services Commission (GFSC) and the UK's Financial Conduct AUthority (FCA) register.
However, while the InterTrader regulation might put ones mind at ease regarding concerns for safety and security, it still doesn't completely eliminate possibilities of a scam as the InterTrader broker is still relatively new to the market and it would be a safer choice to look into other more established brokers instead.
The quality of InterTrader customer support
Client satisfaction should be the number one priority for any company, and InterTrader Forex broker seems to be ignoring this "rule" of conduct. Admittedly, you could reach their staff 24/5 via phone, live chat or e-mail, but the lack of educational material or other similar sections on the site is showing the lack of care for the client's well-being and trading experience.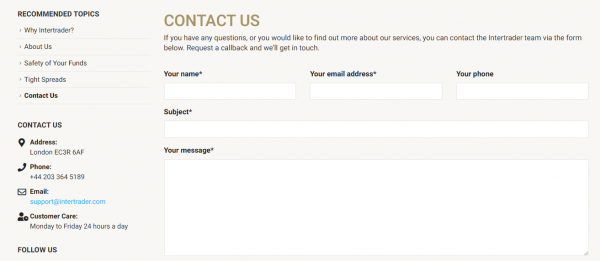 InterTrader Review Conclusion
InterTrader belongs to the new generation of Forex brokers, and it remains to be seen if individual investors will be attracted to the new models of financial trading. For now, InterTrader is not on the satisfying level, which is pretty obvious from our InterTrader FX broker review, but they will have all the time in the world to correct the mistakes and improve their services.
[RICH_REVIEWS_SNIPPET category="page"]
[RICH_REVIEWS_SHOW category="page"]
[RICH_REVIEWS_FORM]