When you visit Finq.com, you will find the layout of the website quite appealing. However, if you are new to Forex trading or if you are browsing the internet for a legit FX broker, there are more factors to consider before signing up. In this Finq.com review, we are going to look into some of the key features of the brokerage firm that should help you determine whether the firm is legit or not.

Understanding Finq.com Forex broker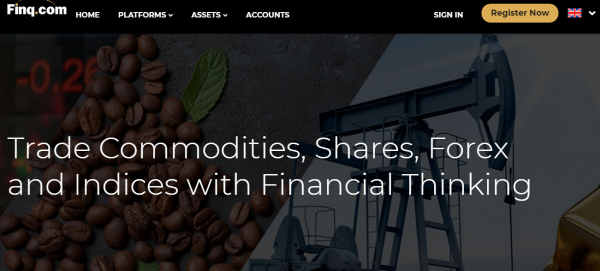 Finq.com is a Forex broker which is relatively new. It was incorporated with the aim of serving the Asian market. As such, the website is available in Urdu, Chinese, Tagalog, Thai, Vietnamese, Indonesian, Malaysian, and Arabic languages. The additional languages are Spanish, English, Russian, and Albanian. According to the official website of the broker, residents of the EU, North Cyprus, Belgium, USA, and numerous other jurisdictions cannot open or operate an account here. Compared to other FX brokers, Finq.com serves a small section of the market. Of interest to a trader who insists on proper licensing is the fact the firm does not enlist clients from parts of Cyprus where the global regulatory body, CySEC is based.
Review of the regulations and licenses of Finq.com
According to the Finq.com website, the Finq Forex broker is owned by Leadcapital Corp Ltd (LCC) which was established in 2014. Leadcapital is authorized and regulated by the Seychelles Financial Services Authority (SFSA). The license number is SD007. The official offices of Leadcapital are to be found in Mont Fleuri, Office Suite 3, Global Village, Jivan's Complex, Mahe, Seychelles.
In this Finq review, you will find that unlike many FX brokers that are owned and operated by one firm, Finq is owned by Leadcapital but is operated by Dilna Investments Ltd which happens to be the primary service provider and website operator. Dilna Investments Ltd, however, operates on behalf of Leadcapital Corp.
Even though related to Leadcapital Company which is CySEC licensed, Leadcapital Corp Ltd is quite different because it operates in different jurisdictions and is licensed by FSA Seychelles (SFSA). Licensing and regulation of a Forex broker are critical factors to consider when you are shopping around for an ideal broker. Seychelles does not fit the category of the most reliable jurisdictions where you want your broker to be regulated from. In Seychelles, it is not a must for a broker to be physically present in Seychelles in order to acquire a trading license. One can get an SFSA license online. Moreover, the segregation of customer accounts and protection of traders' funds is not strict here. Finq.com is part of a group of international FX companies which are regulated by some of the best regulatory bodies. There are some Finq opinions out there are that one has to be wary of all the brokers that hold offshore trading licenses. But the Finq track record up to now has inspired nothing but confidence.
Finq.com trading platform review
In this Finq scam review, we also look at the trading platform of the broker. The first thing you will note is that there are over 2,100 instruments that a trader can choose to trade in. These assets include CFDs, metals, currencies, indices and stocks. Finq.com is among the leading brokers that are adopting cryptocurrency trading. Here, you have access to at least 10 cryptocurrencies.

When it comes to the actual trading, the company affords you the globally popular Finq MT4 trading tool. In addition, you also have access to a web-based trading platform which you easily download. There are mobile apps trading tools too.
In this Finq.com Forex broker review, we learn that the maximum leverage is 1:300. Even though is reasonable when compared with what many firms were offering in 2016 or 2017, it is very high now. While high leverage means a trader can earn a huge profit even when they have a micro account, it also means they stand to lose a lot in case things don't go as they had planned. This is why jurisdictions such as the EU have reduced leverage drastically. According to the European MiFID regulations a broker cannot offer more than 1:30 for currency pairs and 1:2 for cryptos, and Finq complies, which is why you need to have proof of pro status in order to get full benefits. As for spreads, Finq has set 2 pips to be average for a standard account. However, Finq acts as a market maker which means that there is a possibility of a conflict of interest.
Finq accounts review
Basically, there are four different types of accounts namely; Basic, Classic, Gold, and Platinum. With a minimum of $100, you can open and operate a Basic Account. Some of the features you get to enjoy our daily analysis, desktop and mobile trading platforms, and 24-hour customer support. For a Classic account, you get a dedicated account manager and webinars as extra. The minimum deposit is $1,000. With $5,000, you can open a Gold account and what you get extra on top of what Classic gets is Premium daily analysis. The minimum deposit for the Platinum account is $25,000. The payment options available here are Skrill, Neteller, FasaPay, Wire transfer, and credit/debit cards.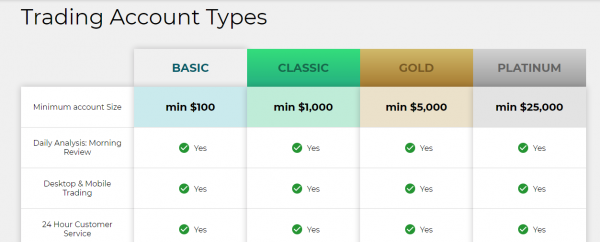 Is Finq.com legit?
When you read Finq reviews you will find that the firm is associated with some of the better-established FX brokers that hold trading licenses from renowned regulators. However, upon further reading, you will find that the broker is a separate entity that operates in accordance with the financial regulations of Seychelles which happens to not have the cleanest track record. Although this could be the result of the Asian audience that the company mostly targets and can be taken as meaning that the broker is doing their best to be licensed wherever they are operating.
Even though the product portfolio is rich, one can't help but note that the broker employs a market maker model which makes it gain an advantage over its clients. Moreover, the high initial deposit is not very inviting given that there are many reliable brokers out there that ask for much less. On the other hand, the broker has a good track record of providing reliable service and being good to their clients. Which is why so far we believe that Finq.com is a reliable broker to work with. The initial deposit of $100 is average, creating a barrier of entry to those who do not have the money to operate safely on the Forex markets, while the market maker model allows them to protect their clients a bit better. This makes us believe that the broker is indeed legit.
Just remember, CFD trading can be risky no matter who you do it with. So be careful and happy trading!