When you visit trade.Berry website, you will find it to be a convincingly good online Forex broker, at first. Trade Berry is an online Forex trading service provider which was established in 2014 but got its trading license with CySec at the end of July that year. Its trading license with CySec is quoted by the Cyprus-based regulatory body as 246/14. The approved domains that use this license are rcapitalsolutions, centrofx, and TradeBerry. However, in this TradeBerry review, we are going to take a deeper look at TradeBerry in order to help you determine whether it is safe to engage with them or not.
An overview of the TradeBerry Company
Tradeberry.com is a trading name which is owned and operated by R Capital Solutions Limited which is based in Kanika International Business Center, along Xenofanaus Street, Limassol, Cyprus. While the location and the licensing of the company seem okay, that does not mean that you should trust them just yet.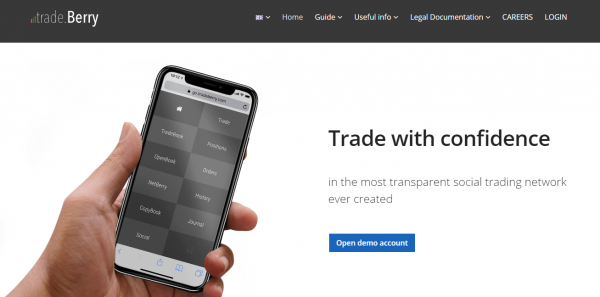 Is trade.Berry.com legit or not? That is the question that you will ask yourself when you browse the main website. According to the broker, the platform offers more than 150 trading instruments. On top of that, the platform handles more than 760 quotes per second while requotes per trader remain at zero. While this is impressive, there is no evidence that these statistics are actually true. For a platform which boasts of being global having live data feed on the main page should not be too much to ask. Below the statistics on the main page, the company writes that the data given was collected on April 10, 2018. We would expect Tradeberry Forex broker to have a platform which shows live data.
There are icons on the website of the broker which are simply inactive. There is a button which is supposed to let you share your trading position with friends on the main page of the website but clicking it will lead you nowhere. Even the icon for 'share news' will lead you nowhere. The trade.Berry.com scam fears might be well placed if the main page of the company is anything to go by.

Trading on the platform
You will need to deposit $500 into your account in order to start live trading. This is quite high in an industry where you can find a broker requiring only $100 as initial deposit. In some trade.Berry.com reviews, there are complaints that the broker has offered no trading platforms and there are no trading accounts to choose from. Hardly will you ever find a broker that doesn't have several different types of accounts for you to pick from. In addition to this, you will find that the platform does not have MT4, which for most traders is a must-have trading tool. As from December 2017, after CySec applied the new FX trading regulations, TradeBerry's default leverage was set at 50:1.

Is TradeBerry a scam?
True, the company is registered by one of the most respected regulatory bodies in the world. However, it is the traders' responsibility to perform due diligence test since it's their money at stake. In this TradeBerry review, we have found that the company has less than a satisfying trading platform. In addition, its presence online is minimal meaning that it does not attract traffic which then means that if you deposit with them, you will become one of the very few people to trust them with their money. Finally, a vast majority of the customer reviews on trade.Berry.com are overly positive. This is not to say that there can't be satisfied customers out there but it is now common to find websites paying people to write positive reviews about them.