TopTrader or previously known as CFD World is a CFD brokerage operating from Cyprus under its parent company by name Goldenburg Group Ltd, which is regulated and licensed by the Cyprus Securities and Exchanges Commission. Much of the services and details about the broker remain the same after its recent rebranding. Let's dive in and review what this broker has to offer.
Normally we'd immediately chuck the TopTrader scam question out of the window because of the regulation, especially in Cyprus, but the terms and conditions of this brokerage have left us questioning the general criteria we use to rate these companies.
TopTrader was not the best CFD broker we've ever seen, but some of the features are so improved and in line with the traders after rebranding that we had to re-review this broker again. Read the upgraded review on TopTrader below to find out what exactly this broker does right.
The safety and security of TopTrader – Does it comply with the regulations?
As already mentioned in the intro of this TopTrader review, the brokerage is a subsidiary of Goldenburg Group Ltd, operating under a CySEC license.
As we all know, Cyprus is part of the European Union, therefore it directly falls under the jurisdiction of the European Securities and Markets Authority (ESMA). Because of this, it is expected that traders get only 1:30 maximum leverage on major currency pairs.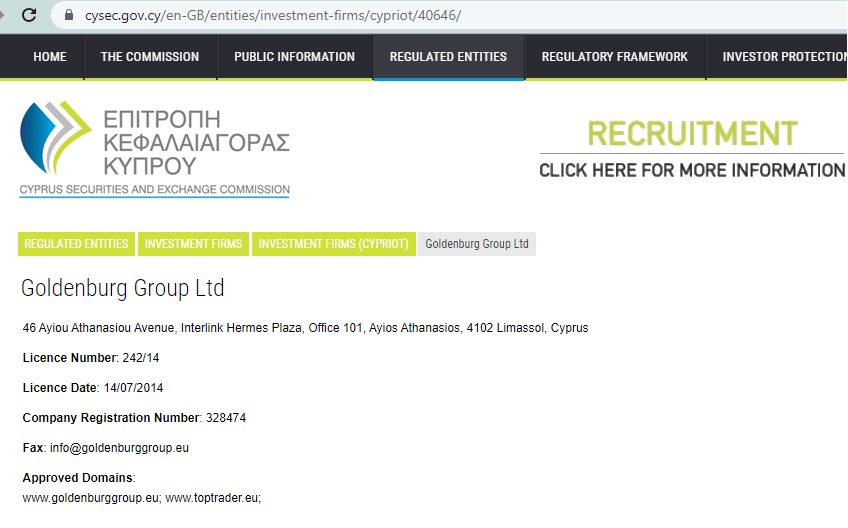 However, TopTrader promises that if the trader convinces them that they're a professional, the brokerage will allow leverage up to 1:500. As we know, the leverage restrictions are only targeted at retail clients and brokers are not prohibited from offering higher leverage to professional clients. Professional clients are typically individuals or entities with significant experience, knowledge, and expertise in the financial industry. They are subject to different regulatory requirements and are considered to have a higher level of understanding of the risks involved in trading with higher leverage.
Parent company license isn't always reliable
Although we trust with all of our hearts that CySEC is a very capable financial regulator, given the fact of how many companies they need to govern on a daily basis, having its license isn't necessarily a 100% guarantee. It's more like a 90% guarantee for safety. When it comes to due diligence, it is largely up to the traders themselves to tell between scammers and legitimate brokerages.
Furthermore, we also mentioned in the intro of our TopTrader review that it's the parent company, Goldenburg Group Ltd that holds the license and not TopTrader itself. Having a hereditary license is indeed better than nothing, but it definitely isn't the best-case scenario.
The broker managed to survive on the market which indicates they were playing fair and treating their customers well. With improved services and trading conditions after rebranding the license is still active and promotes the broker's legitimacy.
TopTrader Fees and Spreads
The very first thing we'd like to highlight is the available spreads. One would think that because of the restrictions imposed by ESMA on maximum leverage, brokers would be more focused on decreasing their commissions and spreads in order to at least somehow accommodate their traders and make their stay with the company at least a bit more profitable.

According to the company's website, spreads started at 3 pips per standard lot, which was way too much. The industry standard on spreads for major currency pairs starts at 1 pip and goes up to a maximum of 1.2 pips on the standard accounts. TopTrader has upgraded its spreads system and is now offering spreads from 0.6 pips on standard accounts which is super competitive in the industry. Having 0.6 pips as a spread for zero commission FX trading can be considered one of the best available on the market right now.
TopTrader review – Accounts, deposits, and withdrawals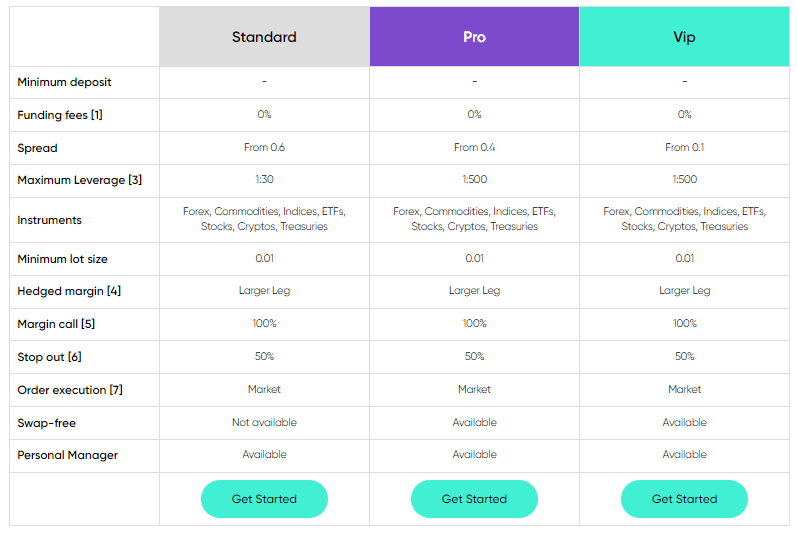 Now that we've gotten all of the legal aspects of the brokerage out of the way, let's focus on what traders will be getting in this company in terms of trading conditions.
The three account types offered by the TopTrader broker are standard, pro, and VIP accounts and all come with super good spreads. The leverage is different though, the 1:30 leverage is for standard accounts while other accounts holders can enjoy the leverage of up to 1:500. What this means is that the spread of 0.1 pips and leverage of 1:500 can only be used by pros and retail traders will have to get only 0.6 pips and 1:30 deal. Still, very competitive conditions and services. But here lies a red flag too, with trading conditions with good, there is a suspicion that the broker may be not legitimate and this is why its offerings are so good.
There was only an MT5 platform available before the rebranding event, which, although the most popular, would have benefited greatly from an alternative WebTrader option. The broker acknowledged their weaknesses and added proprietary TopTrader that supports Android, and iOS, and also comes as a webtrader.
Previously, TopTrader had only one account type, which was extremely uncomfortable for veteran traders as they'd most likely prefer a larger deposit and would expect some additional benefits from it, but unfortunately, there were no benefits to speak of. The minimum deposit started at $250 and starts now from 0 USD. The improvements with this broker are obvious and there is a difference between old and new rebranded brokers similar to night and day. We are always glad to see brokers improve over time and become more in line with their client's desires.
Speaking of deposits and withdrawals…
No longer lacking diversity in payments
There were only two options for deposits and one option for withdrawals. These were Wire transfer plus credit/debit card and Wire transfer respectively. Recently, the broker added several popular methods for deposits and withdrawals including PayPal, TrustPay, Skrill, and TrustPayments. Needless to say, this is a very welcoming improvement.
TopTrader Trading assets and features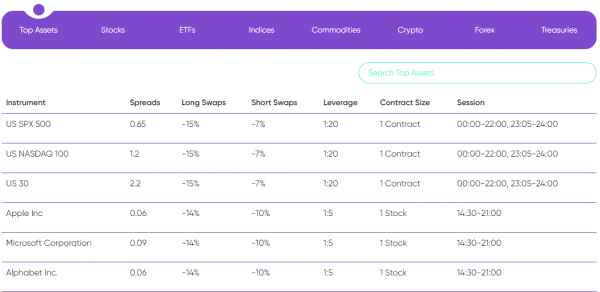 The main asset types offered by TopTrader after rebranding have also been updated and the broker offers more assets. Stock CFDs, ETFs, indices, commodities, cryptos, treasuries, and Forex pairs are all available for trading, and conditions on FX pairs are especially attractive. To be more exact there are 177 ETFs, 1530 stock CFDs, 23 indices, 26 commodities, 45 cryptos, 312 FX pairs, and 13 treasuries. 312 Forex pairs are by far the largest number of available tradable Forex pairs we have seen on any other broker. This should include all the pairs any trader may want to trade including a full range of exotics and all majors, and minors. All in all the number of tradable instruments and their diversity are clear and solid improvements from TopTrader Broker.
Additionally, the broker offers a trading conditions guide, to help inexperienced traders understand how fees and commissions structure works and make an informed decision.
TopTrader Customer Support Review
There are four types of live chats including Messenger, Telegram, WhatsApp, and traditional live chat. This ensures users can get support on their preferred social platform to make the experience even more comfortable. All forms of customer support are available from Monday to Friday from 9 a.m. to 6 p.m. UTC+2. There is no online form, but with these many live chat options, the online form is no longer needed. Other than these, there is a hotline for the dealing desk and a support desk to contact in case of need. Email addresses also are available.

TopTrader Education
The educational resources and divided into two groups: ebooks, and video academies. There are very interesting books provided for free and we encourage beginners to download and read these books, as books are a very robust source of knowledge and can be used as a first step to familiarize with the industry.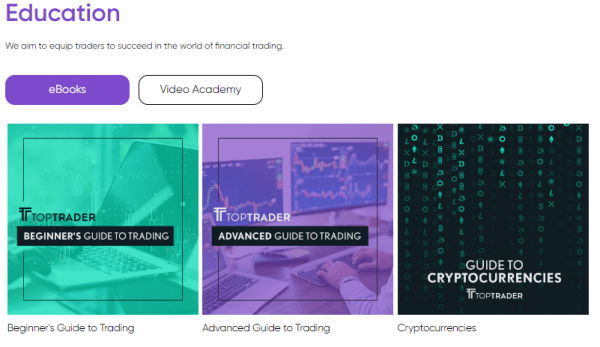 Books together with video guides and tutorials where important Forex and financial trading concepts like CFDs, markets, and exchanges are explained can make a complete course for trading. Each of the asset classes has its own section with numerous video tutorials which makes TopTrader's educational materials absolutely a must-read and must-watch.
From the needed tools, there is also an economic calendar, cryptos calendar, and holidays calendar available.
Should you consider TopTrader Broker?
Previously, we could not recommend this broker to our readers, as the issues and lacking quality services were very clear. But, now the broker seems to have improved greatly and is now on par with some of the good brokers out there. After our re-review, TopTrader seems an interesting broker that cared about its services and has improved them. all in all, the broker can be used for trading activities, but we still recommend readers exercise extra caution in case new promises fail to hold up.
What improvements has TopTrader made after rebranding?
Is TopTrader a regulated CFDs brokerage?
What are the account types and trading conditions offered by TopTrader?