There are a lot of scam brokerages that try to impress traders with great-looking offerings and service to lure them into opening an account with them. 8MAX Forex broker is one of them. Forex and CFD's broker provides financial services worldwide but targets Japanese and English speaking countries most. It offers to trade on MT5 trading platform with only 5 USD minimum deposit. One can trade currency pairs as well as CFDs on commodities, energy, precious metals, and equity indices with 8MAX while using 1:1000 leverage. The broker also showcases two types of bonuses – no deposit and deposit bonus. The service that the broker showcases look too good to be true, considering that it is not a well-known broker and there are no valid 8MAX reviews made by its customers. There is a high possibility that the broker is scamming traders. This review will help you get to know the broker closer and will reveal what's behind the nice-looking offerings.
Website review
As the website is often the first touch-point with the brokerage and creates the first impression, let us start with it. On the front page, the broker showcases the bonus offerings and tries to convince the traders that it is legit. But it is hard for the interested trader to find full information about any offer or service that 8MAX Forex broker provides to its customers. Description of services is too small and misses important points. Some of the pages do not work at all, and the languages are mixed. English and Japanese are only available languages on the website. It is strange to see as the broker claims to be international. According to the website, 8MAX provides its services to every country except the United States of America, Canada, Israel, and Iran.
Both the technical side and contentwise the website is poorly designed. Usually, brokers that are planning to stay on the market for a long time put enough effort to make the website look good and be useful. This is not the case with scam brokerages. Overall, the 8maxtrading.com review left us disappointed.

Revealing 8MAX trading scam
Website is enough to give you the idea of how bad 8max trading is, but there are other things that will make you sure that the broker is not legit and is leading a scam.
Is 8MAX legit?
8MAX claims to be regulated and licensed, but it is simply a lie. The company behind the broker is Red Blue Systems Ltd which is registered in Vanuatu. Vanuatu, with some other countries such as the Marshalls Islands, or Saint Vincent and the Grenadines is considered to be a haven for scam brokers. It is easy and cheap to get a license there. However, seemingly 8MAX does not have a license even from the financial authority of Vanuatu as the license number is nowhere to be seen on the site. It is almost impossible to check regulated entities directly on the regulator's webpage simply because it does not work well, which emphasizes how bad of a regulator it is. The fact that the broker is operating without license already answers a question – is 8MAX legit?
8MAX offerings
8MAX offerings seem too good to be true. As the broker has a very low minimum deposit which is 5 USD it makes its service available for everyone. It also offers the possibility to trade with the leverage as high as 1:1000, that is 33 times more than the allowed leverage in the EU. The broker also showcases very low spreads on the website.  Considering the broker's profile it is hard to believe that it can offer such good services. Offering low minimum deposit, high leverage, and low spreads is a traditional way of luring customers for fraudster brokerages and seemingly it is a part of 8MAX scam scheme. One might be impressed with them, but later will find out that he cannot take out any profits he has made.
welcome and deposit bonus
Another wide-spread method for tricking customers is offering them various bonuses. 8MAX offers two kinds of bonuses. One is 5000 Yen no deposit bonus, which is approximately 46 USD, and another is 100% and 20 % deposit bonus. The offer sure looks good, but the broker does not provide any additional information about them. The bonuses always come with a certain requirement such as meeting mandatory turnover set by brokers in order to be eligible for withdrawal. This information is essential to know before applying for a bonus. There is no information whatsoever about no deposit bonus and the page says it is in preparation. The deposit bonus information is given, but there is no requirements or policy mentioned. There is a link that should redirect you to the terms and conditions page for 8MAX bonuses but the link does not work,
8MAX withdrawal policy
Cashing out your profits from the 8MAX trading account can be really difficult if not impossible. There are only two options you can choose from to withdraw your money. One is telegraphic transfer and the other is i-Account. i-Account withdrawal is better in terms of time, as it takes up to three business days as the broker claims. However, the withdrawal is going through the mail which does not sound reliable. There is a withdrawal fee 3 USD for cashing out money with i-Account.
8MAX withdrawal using bank transfer seems more reliable but it is not the best choice either. The transfer takes up to 12 business days which is more than two weeks considering weekends. The withdrawal fee is 30 USD. It is strange that the broker offers these two options only for withdrawing money as there are more payment methods available for depositing funds including credit/debit card and Bitcoin. However, there is a deposit fee for every payment method which consists of exchange, remittance, transfer fees, and 8MAX commission.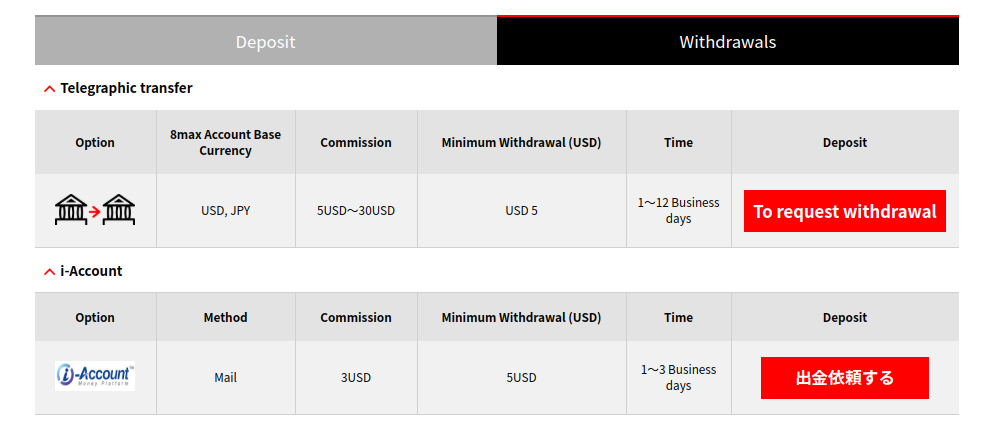 customer service
Last but not least, the broker claims that it is customer oriented but does not have proper customer support. The best way to contact broker is to write the customer support representative in live chat, but there is no live chat on the 8maxtrading.com. The broker does not provide with its number as well, there is only an email available. Email is by far least convenient way to contact the broker and get assistance, especially on urgent matters. If the customer support is not dedicated one might have to wait for a very long time to receive an answer. 8MAX does not provide any possibility to the traders to contact the broker directly, it means that either broker does not care about customer satisfaction or 8MAX scam is real and the broker avoids direct contact with its victims this way.
8MAX opinion
It is hard to find something good about 8MAX, the broker fails to provide information about itself or its services. There is no terms and conditions document available for the traders to see what are they signing up for. The broker shows information that is misleading or completely false. It is registered offshore and does not have a license. There is nothing behind the bonus offerings and it is simply used to get the attention of traders. The withdrawal takes too much time, the policy for withdrawal and depositing money is confusing and poorly designed. In addition, there are too many commissions. Overall, the 8MAX review shows that the broker is scam and should be avoided.