Fusion markets is a mediocre broker at best. It was created in the year 2010 and over a course of a decade only has managed to get two licenses. The broker is indeed regulated and we can presume it may even be safe to do business with however one still needs to be cautious of the broker's many faults.
There's not much variety when it comes to trading accounts and other products of the firm. however, the trading instruments are many including forex pairs, energy, precious metals, equity indices, commodities, and share CFDs. The maximum amount of leverage ratio available with this broker is 1:500.
The firm's prime broker and liquidity providers calculate the spread pricing rate on the site, which is based on current market conditions and risk assessments. It's important to note that Fusion Markets has no control over spread rates.
Regarding trading software, there is a huge variety as the broker offers the standard MT4 and MT5 trading platforms alongside with WebTrader, DupliTrade, and MyFXBook Auto trading software.
There are no bonuses on the website available for the consumers. Instead, the broker only has a referral program which is more of a marketing gimmick rather than an actual promotional initiative.
The customer service on the site is very diligent and unflattering. The constant flow of information is not a given thing on the site. One can get6 in touch with the customer service team via email, phone call, or the live chat widget which can be found on the bottom right corner of the website.

Licenses and regulations – Is Fusion markets legit?
The broker has two local licenses and a third international one. They are very direct about this matter on their website. The broket has qualifications from regulatory bodies that reside in Australia and Vanuatu.
Gleneagle Asset Management Limited is the name of the company that owns Fusion markets. It has an Australian Financial Services Licence, its number is 226199, which is used by Fusion Markets. The Australian Securities and Investment Commission regulates Gleneagle Asset Management Limited as well. The firm is Australian based so having two local licenses is definitely a good thing.
The firm provides its services to jurisdictions other than Australia. However, they are not allowed to provide products and services to any US resident. The Vanuatu Financial Services Commission regulates Gleneagle Securities Pty Limited trading as Fusion Markets, which is a registered Vanuatu corporation, the firm's registration number is 40256.
Trading Features
A broker is only as good as its trading features. Fision markets have many trading tools which we will discuss in the upcoming sections of our review. we found it odd how the most important aspects of the broker are barely mentioned and discussed on the broker's site. The content is severely underwritten which can cause confusion with novice traders. This is quite a predatory opposition between the firm and its clientele.
Account types
Fusion Markest guarantees a low trading environment with its two account types. These are the Zero and Classic accounts.
The Zero account has many features. With Fusion traders, this is the most popular account. The account is meant for customers who have traded before, understand how commission scaling works, and are typically more active, with spreads starting at 0 pips and our industry-leading $4.50 commission.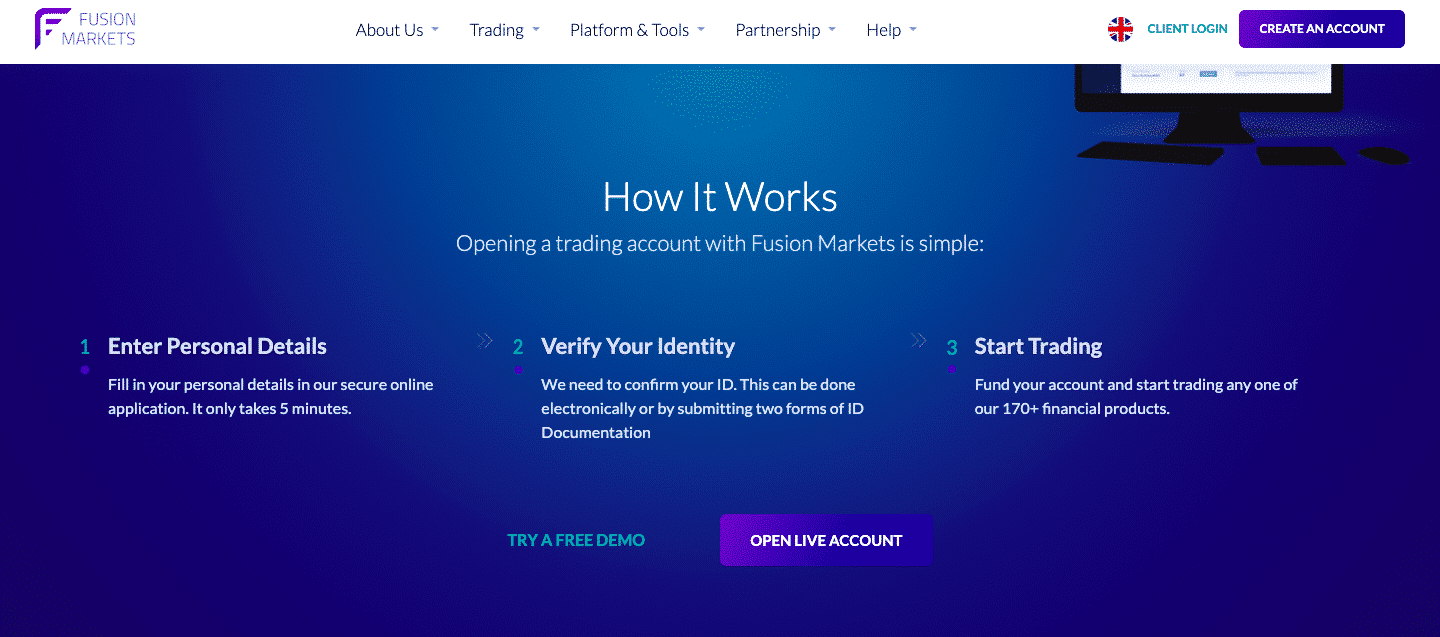 This is the account to use if you're just getting started and don't want to worry about calculating your commission before each trade. Spreads begin at 0.8 pips and there are no commissions. The commission is included in the spread when you trade, so what you see is what you get.
Leverage
The maximum amount of leverage the firm can provide is the ratio of 1:500. The risk associated with Forex trading is undeniable. Forex, like almost anything else related to money, comes with its own set of hazards. If you have a good chance of making a profit, you also have a good chance of losing all of your money. The Forex market and the potential trader are effectively separated by a large buffer zone. Brokers like to avoid losses rather than chase profits, therefore it might be difficult to persuade yourself to risk a loss, even if a reward is sitting right there.
Spreads
There is no set amount for spreads on the site. overall they start as low as 0.0pips. However, the spread amount is very much dependent on the market conditions. each asset type has its limits, as far as how the firm can provide according to its resources.
Minimum deposit
There is no minimum depositing amount set on the site for the consumers. There is no set amount for how much you should deposit into your account; do whatever makes you feel comfortable, but keep in mind that some payment providers will not allow you to deposit less than $10. Fusion Market does not have a minimum deposit requirement, however, most clients deposit $1500 or more.
Bonus
Fusion takes pride in providing its clients with extremely reduced trading expenses. They wouldn't be able to accomplish this by giving out bonuses. They feel that by keeping costs as low as possible, the benefit to their clients will be higher. which is kinda preposterous as many brokers have done both and have better features.
The broker has no bonuses. they do have a refer a friend program but that's more of a marketing tool to get more clientele. This raises questions about the validity of this initiative. is it worth it? is it nothing more than a cheap ploy to get more consumers interested in the forex broker's brand?
Existing customers would be rewarded for referring their friends, usually in the form of additional cash to their accounts. Their acquaintances would also receive a product offered in a cash form. in this regard, the customers are both new and returning to the brand.
Let's have a look at how the firms operate their referral program and the outcomes they've obtained. The firm will give each individual $50 when all the requirements are met. Which are sharing the custom fusion markets link to one's friend. after the referee sings up, each can benefit from the $50. additionally, we have to mention the fact that, unlike other brokers, the referral program's cash bonus is now withdrawable.
Final Verdict
All in all, even though the broker firm is regulated by three different entities In this day and age a broker needs to back its reputation within not only qualifications but for its own actions. in this regard, we have found many faults with the site. the lack of security on the website is shocking. The SSL software on the site is extremely outdated and can't really seem to be functioning in the right manner as there have been instances when the site has crushed for few minutes,. This is definitely not something to look forward to with a forex broker, after all, efficiency is key when it comes to trading.
the customer support team although professional at their job seems to have no distinctive answers when it comes to the most important trading tool. in fact, one of the main defying factors of this firm is the fact that there are many tools, to use. which can be an advantage when all of the tools can properly function. unfortunately, this is not the case for any of the available tools on the site.
Overall the site is very ineffective regarding functionality, the SSL encryption 0on the site is alu8ghing matter. There are no advanced security measures that are pretty much standard at this point, like the two-factor authentification process.