XM Group Forex Review
*This is the maximum leverage for clients registered under the EU regulated entity of the Group.
Forex trading is one of the most popular occupations in the financial world. Thanks to its popularity, the traded volume reaches an astounding 6 trillion US dollars a day, making Forex the largest trading market in the industry.
With an immense scale comes increased responsibility, yet entities that operate on this market aren't always earnest to their customers; the internet is full of reports depicting how people got scammed by a broker who seemed too good to be true.
Unfortunately, the proliferation of online resources doesn't make the situation any easier. Scam brokers can easily set up a platform, think up some of the most lucrative offerings, and attract lots of new clients.
It's for that reason that traders appreciate legit brokers so much more. And while there's no shortage of scammers, by no means does that mean that there are only a few credible brokers out there.
To help our readers find their best trading companion and avoid wrong turns, our team at Top Forex Brokers has prepared this XM Forex broker review. In it, we'll examine every big and little detail about the broker, whether it's leverage, spreads, minimum deposit requirements, bonuses, and all sorts of stuff.
So, let's not waste any more time and get right into the review!
XM Broker at a Glance
XM Forex Broker is a group of regulated online brokers. Trading Point of Financial Instruments Ltd was established in 2009 and it is regulated by the Cyprus Securities and Exchange Commission (CySEC 120/10), Trading Point of Financial Instruments Pty Ltd was established in 2015 and it is regulated by the Australian Securities and Investments Commission (ASIC 443670) and XM Global Limited was established in 2017 with headquarters in Belize and it is regulated by International Financial Services Commission (000261/158).
The trading instruments they offer are Forex pairs (Major, minor, exotic), Stocks CFDs, Commodities CFDs, Equity Indices CFDs, Precious Metals CFDs, and Energies CFDs. XM is a market maker with 99.35% of all trading orders executed in less than one second, with no re-quotes and no rejections.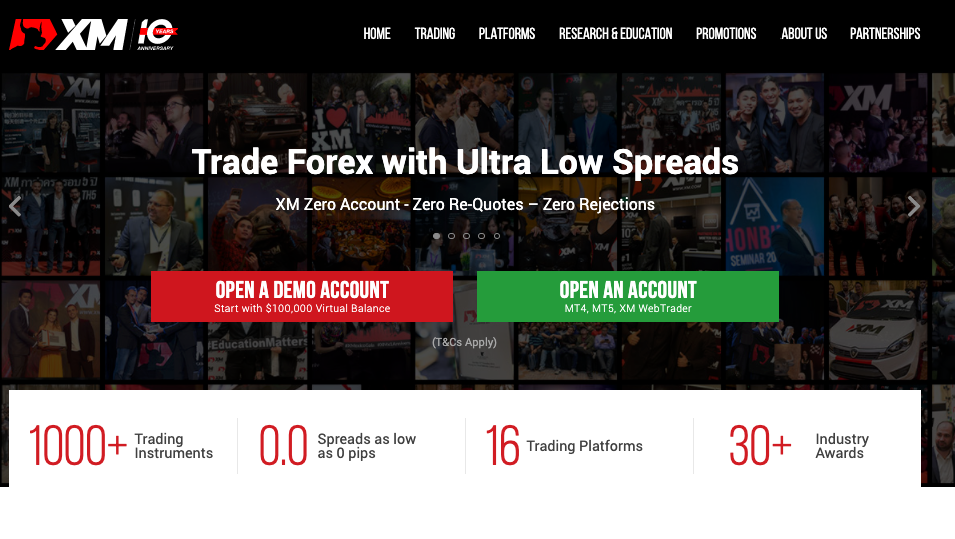 Initial xm.com review
One of the key requirements of any online Forex broker is to have a proper website. And by proper website, we mean a simplistic, as well as sophisticated interface design that radiates professionalism from every corner. And we're happy to see that XM FX Brokerage has done a great job with its website.
The interface isn't overcomplicated with unnecessary visual decorations; there's only one collage in dark tones that kind of distracts the viewers' eyes, however, the rest of the interface is a plain white and neutral grey, making the experience as seamless as it can get.
As for the thematic segmentation, XM has, once again, done a praiseworthy job: all the seven individual tabs, ranging from Home all the way to the Partnerships, contain valuable details about the trading process on this platform.
Then there are trading account types. The broker realizes that its clients will be from all over the place with different experience backgrounds, that's why it offers four live, as well as one demo account. This way, everyone can try their luck in trading Forex, stocks, and other securities offered on the platform.
In this review, we'll also talk about the pieces of trading software. Currently, XM supports both MetaTrader 4 and MetaTrader 5, two of the most popular and widely-used platforms on the market. Both of them are available on desktop, as well as WebTrader mode, offering lots of different features and functionalities to the users.
Licensing
Next up, let's quickly overview licensing materials present to the platform. As we have already noted earlier, the XM group – its three main members – are under the regulatory oversight of three different sovereign countries: Cyprus, Australia, and Belize.
The CySEC (Cyprus), ASIC (Australia), and ISFC (Belize) licensing materials are there to ensure that nothing suspicious is happening on the platform. Therefore, our initial XM opinion is that the scam suspicions regarding the broker's offerings are just suspicions and nothing more. But to give those claims the benefit of the doubt, we'll individually examine these pieces of license further down below.
XM promotions and trading conditions
The final aspect of our review will be the actual numbers and offerings on XM. As the broker claims, all live accounts come with exceptional trading terms and conditions; and what is our job other than to examine those claims and prove their legitimacy.
We'll start with the leverage and spread offerings. XM's Forex trading platform offers clients a whopping 1:30 leverage ratio which, if you know what this tool does, is one of the most lucrative offerings to any trader, experienced or not. As for spreads, the shift between buying and selling prices is variable on this platform, going as low as 0.6 pips – another impressive offering from a Forex broker.
As for the minimum deposit requirement, XM doesn't fail to impress us: Micro and Standard accounts only require a $5 initial deposit to enter the platform and start trading (although to open the actual trade, you need a position size no less than $1,000). Even a $5 minimum deposit for XM Ultra-Low Account is still a better condition than what other brokers are demanding. The XM ZERO has a minimum initial deposit of $5. XM ZERO account has a $3.5 commission per $100,000 traded.
*XM Ultra Low and XM Zero are not available to all the entities of XM Group
We also have different XM bonuses. In short, trading with XM seems to be steeped with amazing offerings.
*Clients registered under the EU regulated entity of the Group are not eligible for the bonus
Finally, let's talk about financial platforms that power deposits and withdrawals on the platform. XM offers both traditional, as well as more alternative payment platforms, randing from credit/debit cards all the way to Neteller and Moneybookers. Both methods are advantageous in their own way and offer high flexibility to the users.
So, the initial overview of the XM Group has shown us that the broker has really thought through everything on the platform. And now, let's dive deeper into all the points we've discussed above and tackle them individually.
A detailed website review
As we have already mentioned in the first chapter, XM's website looks very polished and sleek. Apart from one contrasty collage at the very beginning of the first page, there are no unnecessary visual decorations that distract users and prevents them from acquiring important information about the broker.
The combination of a blank/grey background and regular black font makes the experience pretty straightforward, yet we have to note that not many brokers can boast with such simplicity: their overzealous decor can throw any user's attention off.
But the visual side isn't the only impressive aspect of the website. The informative side is also quite spot-on: the website is divided into 7 different categories: Home, Trading, Platforms, Research & Education, Promotions, About Us, and Partnerships. In each of these sections, the broker discloses everything there is to know about XM promotions, trading terms and conditions, financial platforms, or account types.
XM Forex Accounts Overview
Speaking of account types, there are four live account packages on XM's platform, as well as one demo account for beginner traders. The live accounts include: Micro, Standard, XM Ultra Low and XM Zero account with low spreads. The Micro account allows you to operate with micro lots, lower level of risk and it has a minimum initial deposit of $5.
The Standard account allows you to operate with standard lots and it also has a minimum initial deposit of $5. Finally, the XM Ultra Low account allows you to operate with standard lots, lower spreads starting at 0.6 pips and it has a minimum initial deposit of $50. The XM ZERO account allows you to operate with standard lots, lower spreads starting at 0 pips and it has a minimum initial deposit of $100. This account type has a $3,5 commission per $100,000 traded.
Spreads can start from as low as 0.6 pips, depending on the instruments and account types used. This broker has more than 1000 financial instruments that can be traded on the MT4/MT5 platforms and this includes Forex Trading, Stocks CFDs, Commodities CFDs,  Equity Indices CFDs, Precious Metals CFDs, and Energies CFDs.
At XM, quality execution is essential, therefore, most trades are completed in less than a second; there aren't re-quotes and all orders are executed.
XM Forex Trading Platforms
From one account as many as eight trading platforms can be accessed. Trading operations are speeded up and users are given lots of choices in order to trade regardless of where they are.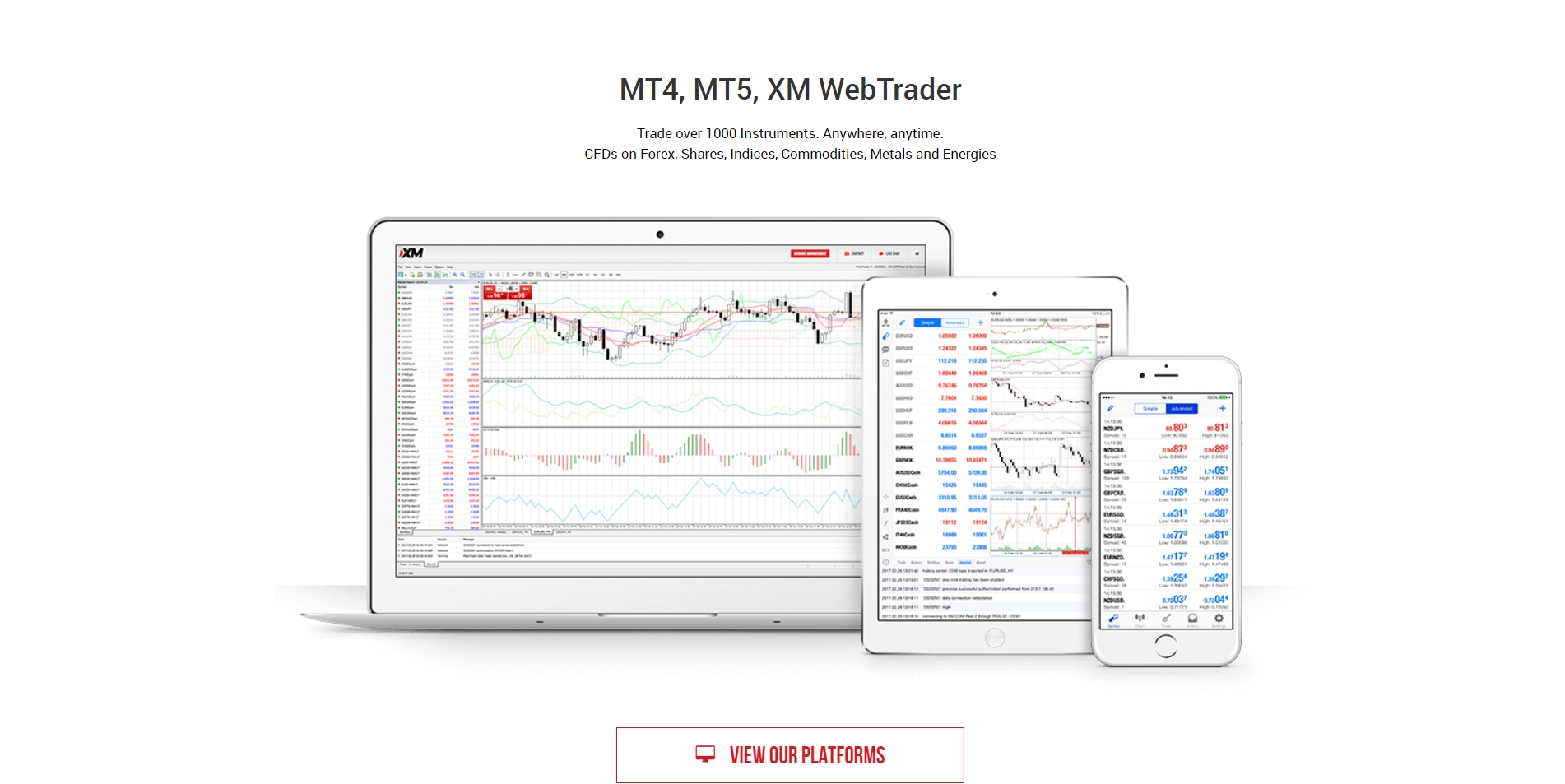 The obvious choice for many beginners, as well as experienced traders, is MetaTrader 4, which is available to the platform with all its glory, including the Expert Advisor feature. Expert Advisor is an automatic trading mechanism that allows traders to program the software in a way that it automatically executes, as well as modifies positions.
The comprehensive list of all the trading software is as follows: XM MT5, MT4, MT4 Mac, Web Trader Terminal, MT4 iPhone, MT4 iPad, MT4 Android and Mobile Trader for other smartphones. Another feature that is present is multi-account management, allowing traders to make transactions with multiple accounts at the same time while providing them with a large number of instruments.
The reason why we're so impressed by this level of diversity in trading platforms is that many Forex brokers, those that claim to be fully licensed and legit, only offer a proprietary WebTrader to their clients. This, in short, allows scam brokers to plant fraudulent schemes into the platform where no one will be able to detect them.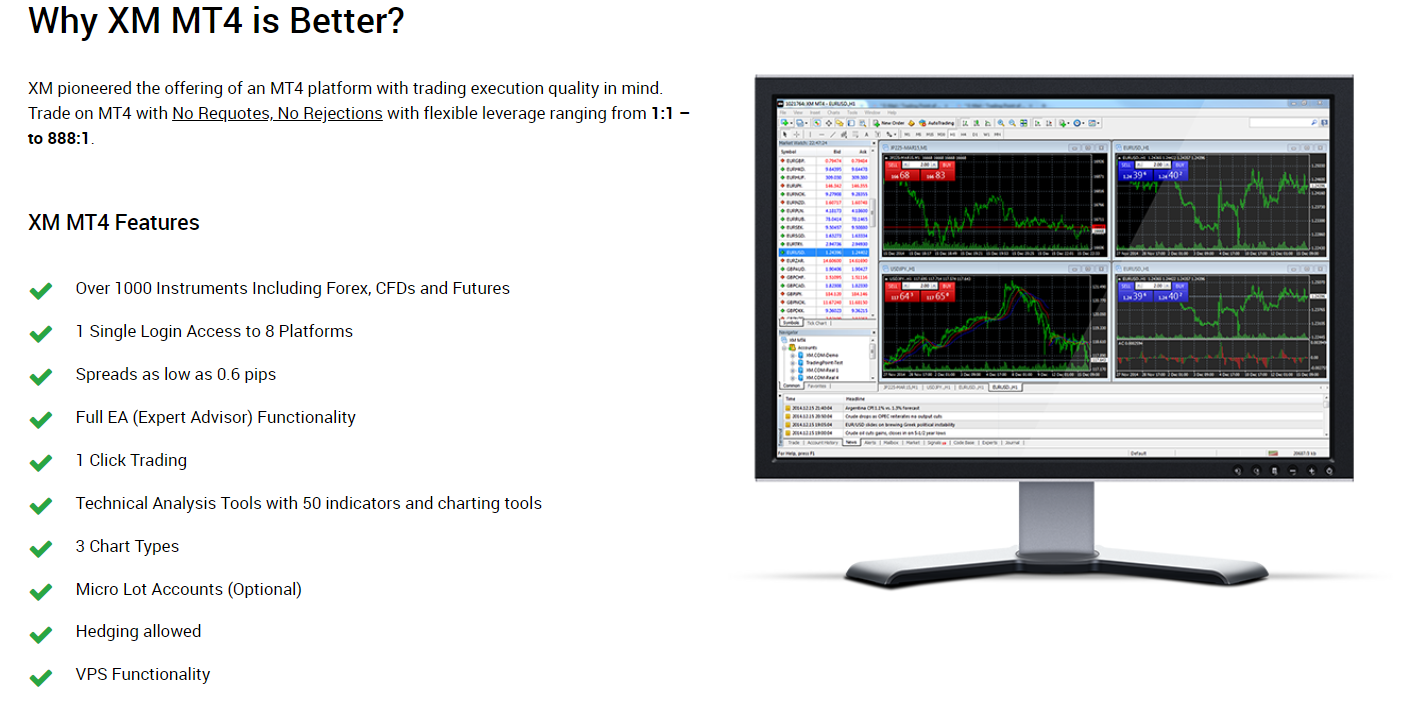 With MT4 and MT5, this is a much smaller possibility because these platforms are open to the world. Users constantly go in and out of the platform; they check every corner of it, therefore, they'd be able to instantly detect any type of fraudulent activity.
On top of that, XM also features some of the more exclusive software features such as economic calendars, negative equity protection, VPS functionality, and many many more. In short, the software execution on this platform is as premium as the broker claims.
Educational content
The final piece of this section is the educational content. Now, while this section should act as a diverging point between the licensed and unlicensed brokers, there are more and more unregulated entities that are creating educational sections on their website, making it more difficult to differentiate the legit ones from scammers.
Fortunately, the quality of the content itself still gives us the ability to catch a difference. With credible entities such as XM Forex broker, the educational content is spot-on with simple, easy-to-read articles, yet drenched with information. On the other hand, unlicensed brokers just want to have such a section on their website, therefore, they don't really care much about the content written inside.
When you actually enter XM's Research & Education section, you'll find lots of different materials, whether it's seminars/webinars, market news, research tools, or Forex calculators. Basically, you're trading and learning Forex all at the same time.
Can XM be trusted with its triple license setup?
Moving on, let's talk about the licensing material on XM. For lots of traders and analysts, including us on Top Forex Brokers, one of the main clues for detecting the broker's credibility is its license, but it's not as easy to make actual conclusions.
You see, a broker may have no licensing material whatsoever and you'd be right to scorn at the prospect of doing business with it. But what if a broker does have a license? Are we to immediately think that it is credible and free of scams?
Absolutely not! We have to be much more careful than that; we need to realize that not all licenses are created equal. In terms of XM FX brokerage, we have three separate pieces of license: IFSC, CySEC, and ASIC. Let's find out how "unequal" these materials are.
First, let's start with IFSC. The International Financial Services Commission is a government department of Belize responsible for any kind of financial activity taking place within the country. Now, if we were to find only this piece of regulatory material on the broker's website, we'd not be so quick to deem the broker credible. The reason for that is the prowess of Belize as a country: a Caribbean state with low GDP per capita and not very stable governmental institutions.
However, the IFSC license isn't the only one present on XM: we still have CySEC and ASIC licenses. CySEC – the Cyprus Securities and Exchange Commission – is an EU-backed financial institution that has one of the highest financial standards in the whole region. A CySEC license means that if any kind of Ponzi scheme is brewing under XM's surface, the broker will definitely be held accountable for it.
And finally, the license from ASIC – Australian Securities and Investment Commission. We don't know if anyone can find any counter-arguments to this license or the institution that granted it but for us, the ASIC license is as legit and credible as it can ever get.
Therefore, the combination of IFSC, CySEC, and ASIC licenses further stamps our positive XM opinion in place, proving to us that there is a very small chance that the broker is involved in fraudulent activities.
Trading terms and conditions
Leverage and spreads
The maximum leverage for clients registered under the EU regulated entity of the Group is 30:1. Leverage depends on the financial instrument traded.
Next up, let's discuss spreads. Spreads measure the difference between the bid and ask prices of an asset, indicating how much the broker takes as a servicing cost. On XM, spreads are floating, which means the price shifts can vary from time to time. The minimum spread is as low as 0.6 pips and you can be sure that there aren't many brokers that offer such an impressive condition.
Margin
Another important feature we need to discuss is the margin. The margin is closely tied with leverage and together, these two features make it easy for traders to buy more securities. When a trader wants to open a position for, say, $100,000, they can either deposit the whole sum to their account and open a trade with their own money.
But if they don't want to do that, they can use the leverage to control larger positions with smaller deposits. Yet the broker doesn't lend money to its clients just like that. It has to get the processing fee at some point. Therefore, it'll ask a trader to have a certain amount of money on their account to open a leveraged position.
If the leverage is 1:100, the margin will be 1% – that is, a trader will have to deposit 1% of the whole position. In our case, if a trader opens a $100,000 leveraged position, they have to deposit just $1,000 to their account. That requirement is called margin.
Now, there are all sorts of specific terms that would take ages to explain. We only need to mention two for this XM review: the margin call level and the stop-out level. The margin call level is when a broker notifies its client that their account balance is running out and they cannot open new leveraged trades. What's more, if they continue to lose money, they won't be able to maintain even the existing positions, that's why the broker asks them to either refill the account balance or close some positions. XM initiates this level at a 100% margin level – that's when the available equity is twice as less as the funds taken as margin by the broker.
The stop-out level occurs when a trader has neglected the margin call, continued on the downward slope of losses, and further reduced the account balance. This way, the broker initiates the stop our – starts closing positions until the balance is restored. XM initiates this level at 50% margin level – when the available equity is five times less than the margin taken by the broker.
XM Bonuses, minimum deposit, and payment platforms
As we said earlier, XM offers lots of different promotions to its clients. On the platform, you can find regular bonuses like a 50% Deposit Bonus, 20% Deposit Bonus, XM Loyalty Program, as well as more exclusive promotions. All of these promotions are designed to increase traders' deposits or give them cash that they can easily withdraw with the available transaction methods.
*Clients registered under the EU regulated entity of the Group are not eligible for the bonuses and the XM Loyalty Program
When it comes to the minimum deposit requirement, XM has probably the most exciting conditions we've ever seen: just a $5 deposit will suffice for you to open either a Micro or Standard account. That's right: if you're a beginner and want to get into the game of trading, yet the demo account and virtual trading don't really appeal to you, you can spare just 5 bucks and get a fully-functional trading account on XM.
Speaking of making deposits, XM offers some of the most sophisticated financial platforms to its users. XM offers multiple local payment methods available. The broker makes sure that its clients can make deposits via any platform of their liking.
The same goes for the XM withdrawals; all the platforms mentioned above are available for getting your funds to your bank or e-wallet account. What's more, there are no commission fees on credit card/e-wallet deposits or withdrawals – traders get exactly what they ask.
XM Customer Support
As a rule of thumb, the broker that doesn't have a professional team in the customer service department can count itself as a failure. We weren't surprised a bit by XM's customer support, which is reachable 24/5 by live chat, telephone, or an email.
People that work in that department definitely are excellent in their trait, providing support in a variety of languages and with the needed attention. In short, XM has once again passed the stress test.
XM Review Conclusion
XM Forex Broker offers a wide range of accounts for all types of traders. Moreover, this broker has more than 1000 financial instruments that can be traded on the MT4/MT5 platforms and this includes Forex Trading, Stocks CFDs, Commodities CFDs, Equity Indices CFDs, Precious Metals CFDs, and Energies CFDs. In addition, their learning center is very well put together and offers an important amount of information that helps new traders find their way.
We reviewed every big and small offering available on the website. The first in-depth overview focused on the interface and design, concluding that the website developer at XM has done a pretty good job of maintaining simplicity, yet not sacrificing the informative side of the website.
We then moved to the account packages and found four live, as well as one demo account. This further improved the XM rating in our eyes by proving that the broker does think about its clients, both experienced and novice.
Then we discussed the trading software, which revolves around MT4 and MT5. In our opinion, there's just no way of being wrong by going for these well-known pieces of software.
Next up, we took a look at the license. Three different pieces of regulatory material – IFSC, CySEC, and ASIC – were pretty enough for us in terms of dissipating all the scam and fraud concerns roaming around the broker. These licenses are very much legit and the countries that have issued them are very much capable of holding any financial actor accountable for their actions.
Finally, we moved to the trading terms and conditions, reviewing lucrative offerings of leverage, spreads, various bonus promotions, and very loose minimum deposit requirements. All of these numbers further proved us right in our positive assessments of the broker.
We also examined financial platforms available on the website. The broker supports all the traditional, as well as alternative payment methods, which makes it easy for all sorts of users to make deposits/withdrawals with their own platforms. And what's more, none of the transactions have commissions.
So, what's our final opinion? Can XM be trusted? Is it legit? To all of these questions, we think there's only one possible answer: Yes! XM has proved its worth and it would be very wrong to deny these virtues. Therefore, it's safe to do business with XM! In fact, it's lucrative to do business with XM!