With the number of Forex brokers increasing around the world, it is becoming harder for beginner Forex traders to decide which companies to trust and why. The number of Forex brokers has skyrocketed over the past few years, and while this has created very high competition in the market, there are some drawbacks to this process as well.
Many of the newly-established Forex brokers lack the standards that could guarantee the fund safety of Forex traders. While not all of these brokers are not scams, their services are simply not good enough to offer traders a high level of security and safety.
One of such Forex brokers in Nextmarkets. At the first sight, the broker seems to be a regular company. Regulated in the EU, offering competitive and innovative services, and so much more. But, when you go into details, a lot of drawbacks can be identified.
The services of the broker are simply not good enough. It lacks a lot of small details that could make trading more rewarding for traders. But, what exactly does Nexmarkets offer? That is exactly what we tried to find out with this Nextmarkets review. So, follow our detailed review and see what this brokerage is all about.

Trading conditions of Nextmarkets
While reviewing Nextmarkets, we focused on all the different factors that traders are considering when choosing a new brokerage. First of all, let's start by reviewing the website of Nextmarkets. At first, the website seems to be okay. But, once you start looking for information about the services of the broker, things get a bit tricky.
First of all, the website of the broker is very laggy and it is hard to get around. Finding information about different types of things is not easy either. The broker does not really have pages created for different types of services that it has to offer. This makes finding the much-needed information a very hard venture for traders.
This is a huge disadvantage, which can lead to many traders making uninformed decisions. As for the actual trading conditions of the Forex broker, they do not seem too bad. First of all, the broker claims to have very tight spreads and no commissions for deposits and withdrawals.
As for the leverage, the broker claims that it is limited to 1:30 due to the local regulations in the EU. However, at the same time, the broker says that the leverage can go up to 1:200, but, there is no specific information provided about when such high leverage applies and how can one use it. The broker also notes that it is heavily focused on offering its clients assets such as stocks and ETFs.
Trading platforms of Nextmarkets
One of the biggest disadvantages that we were able to identify about this Forex broker is the fact that it does not offer traders well-known trading platforms. While there is nothing wrong with offering a custom trading platform, it would be better if traders had some type of choice.
While reviewing Nextmarkets, we found that there is only one platform that traders can use, which is a custom trading platform and not all traders are familiar with this platform. It is very common for the majority of the brokers in the market to offer traders different types of trading platforms, including those like MetaTrader 4 and MetaTrader 5 to ensure that they can use the platform that they are already familiar with.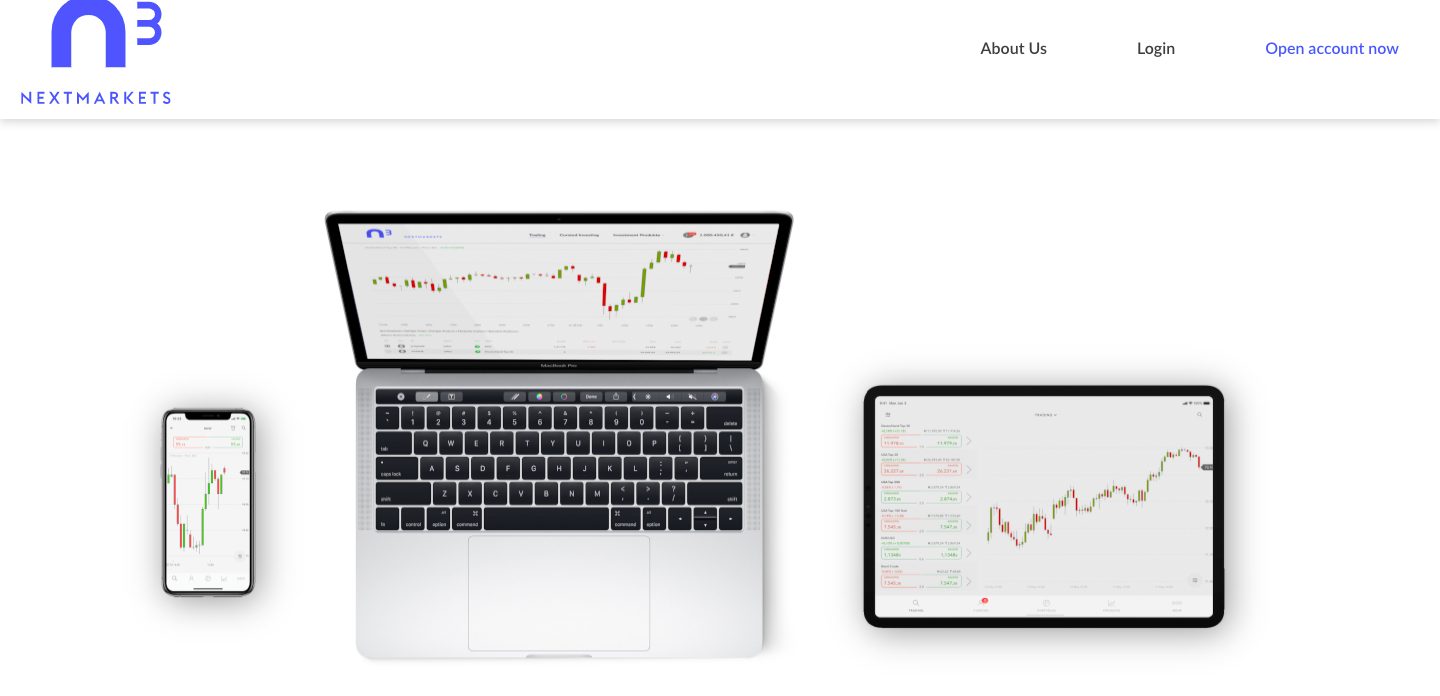 By not offering these trading platforms, it can be a bit hard for traders who are used to using trading platforms such as MT4 and MT5 to start using the services of the broker and it can take them additional time to get used to the feeling of the new trading platform.
In addition, traders using Nextmarkets will have to miss out on the opportunities that MT4 and MT5 have to offer, specifically, the analytical tools of the trading platforms and the Expert Advisors, which are very frequently used to make trading a bit easier.
It should also be noted that there is an apparent lack of available trading assets on this brokerage. It only offers traders assets like ETFs and stocks, which are not that much and leaves traders without having the opportunity to trade what they really like. If you want to trade different types of assets, this broker simply won't be able to satisfy your needs and wants.
Lack of analytical options
When trading, one of the most important factors that traders have to keep in mind is comprehensive market analysis. While this Forex broker offers traders the opportunity to use different types of technical indicators, it lacks the offering of fundamentals. Fundamental analysis is a very important part of market analysis. It is the process of analyzing the market data, such as ongoing events around the world, statements of central banks, and many others and their possible impact on the trading markets.
It is a very common practice for brokers to offer traders different types of market updates to ensure they are up-to-date with the ongoing events in the market. There is no such offering by this broker, which can make it harder for traders to stay in touch with ongoing events around the world that could have a huge influence on the price fluctuations in the market.
Not enough information provided by the broker
One of the biggest disadvantages that we were able to find about this Forex broker is that it simply does not provide traders with enough information about their services. There is only one page on the website of the broker and it is the About Us page, where the broker simply talks about their history.
This is a huge disadvantage. Even the information that is provided by the broker is very vague and general, which does not have any actual value for traders.
Is it really commission-free?
One of the biggest selling points of this brokerage is that it claims to be totally commission-free, offering traders the opportunity to get the most out of their trading and initial deposits. But, this is not necessarily correct. The broker still charges spreads, which are in-trade commissions, commonly viewed as the main income source for brokers.
As we were able to find out, the spreads on this broker are above-average and while the broker has been claiming to be commission-free, this offer only applies to orders that are above 250 euros. Other than that, the broker still charges commissions. This is a sign that this brokerage is not really a commission-free brokerage, it is just the way it attracts more traders. This is a huge drawback of this broker.
While the commissions are still very low, it is not totally commission-free and traders should understand this before opening an account with this broker.
Opening account on Nextmarkets reviewed
While working on this broker review, we found on the website of the broker that it claims that getting started with them is very easy, and opening an account should not take a long time. But, we were met with a number of issues while trying to register on this brokerage.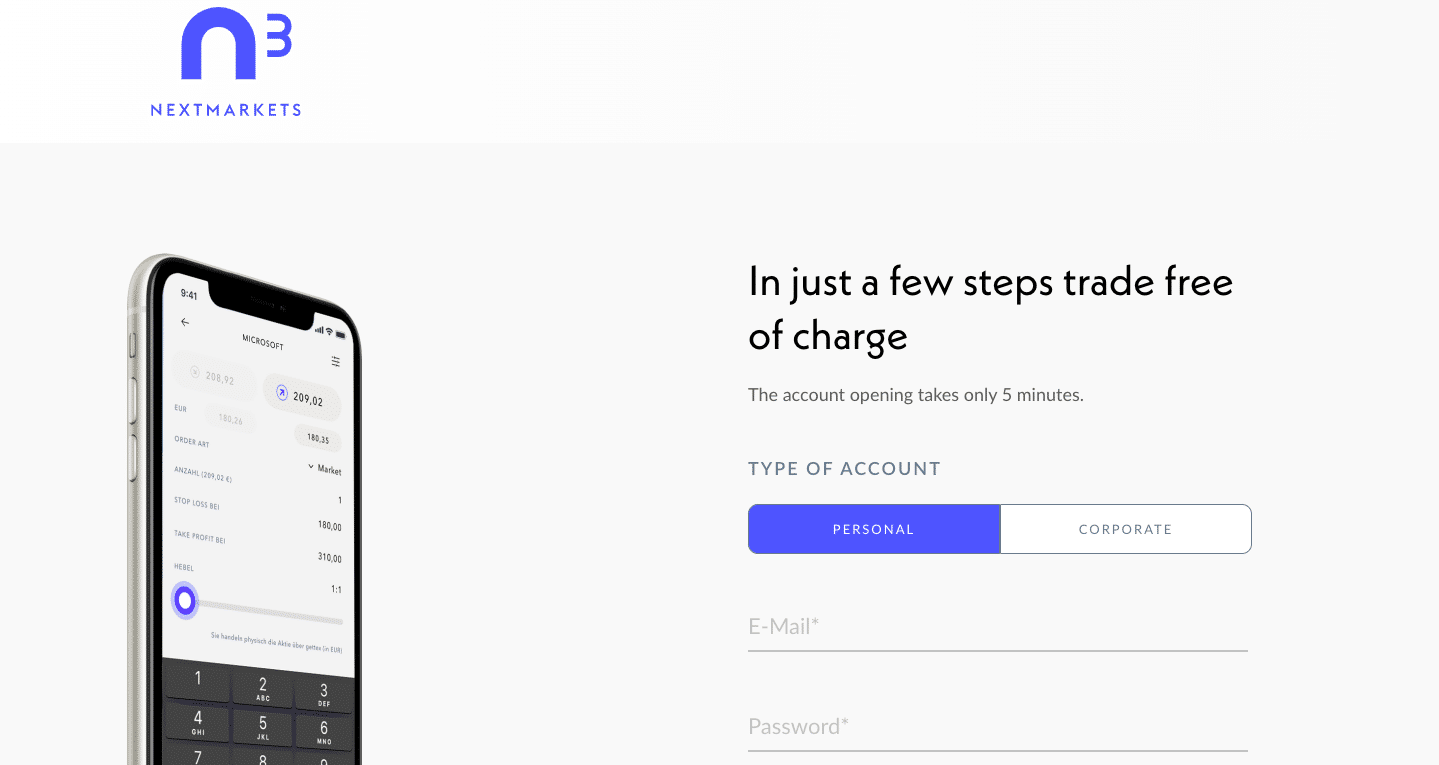 But, the time needed to register was not as much of an issue. The worse thing is that the broker only offers one type of account to all different types of traders. This is a very bad thing since not all traders want the same thing in the trading market. Their needs are different it is very important for brokers to ensure that they offer traders of all different interests and backgrounds services that are tailored to their own needs.
Educational opportunities
Throughout our review of Nextmarkets, one of the most disappointing things that we found is the lack of educational material on this brokerage. While it claims that it helps beginners by connecting them to experienced traders to learn more and grow their skills, there is no actual trading educational material that beginners can use on their own.
This is a huge disadvantage, considering that the broker claims to be regulated in the EU. The European regulatory bodies require brokers to provide traders with educational material, and there is no such thing available at Nexmarkets.
The only thing that traders can use for practice and learning about the market is the demo account. This type of account is offered by almost all of the brokers available around the world and is not a huge advantage.
Is Nextmarkets safe?
While reviewing Nextmarkets, we made sure to focus on the most important factor for traders – the security and safety standards that the broker offers. One of the most important things for ensuring clients' safety is being regulated by a reputable regulatory agency.
As we were able to find out, the broker is regulated by the agency of Malta. Malta Financial Services Authority is an independent regulatory agency that follows the regulatory standards of the EU. While this regulator is known for providing some type of safety standards to Forex brokers, this is not the best regulatory agency to be licensed by.
It is very interesting why the broker chose this regulatory body while having offices in many different nations of the EU, including Germany. It does raise a lot of questions about the actual aims of the broker, which might not be the safety of their clients. While we do not think that Nexmarkets is a scam, we think that there are several disadvantages associated with this broker that simply makes it not so good for trading.
There are many other brokerages available in the market, offering very high-quality trading services and it simply does not make any sense why anyone would be using the services of Nextmarkets.
What about customer support?
Another huge disadvantage of this broker that leads us to believe that it shouldn't be trusted by traders is the fact that its customer support team is almost useless. It took us a very long time to get in touch with the representatives of the customer support team and even when they replied to our questions, they simply were not helpful at all.
We believe that it is a very big disadvantage of this broker. Offering high-quality customer support services is a very important thing that every broker should be focused on.
Can Nextmarkets be trusted?
After a very detailed review of Nextmarkets and everything it has to offer, we were able to find out that traders should avoid trading with this broker. While we do not think that Nextmarkets is a scam, the broker is simply not good enough to meet the needs that modern traders have.
The broker lacks innovation, and the offerings that it has are simply not good. There is a lack of analytical opportunities, no educational material, and very few trading assets that can only be useful for very specific traders.
There are numerous other brokers available in the market, offering traders different types of high-quality services. Because of this, we simply can't recommend this broker to our readers.