Every once and awhile, the global financial market goes through a revolutionary change, and these phases are typically introduced by brave individuals and companies that "boldly go where no man has gone before." One such organization is called Tradeo, and in case you haven't heard about this broker – this Tradeo review will be the perfect source of information about the company in question. A lot of interesting facts are connected with Tradeo, so sit tight and enjoy the show. We promise you will not be disappointed after learning a thing or two about this trading provider, and the chances are that you will be inspired to open up an account and start making money as soon as possible.

Tradeo at a glance
As we already said, Tradeo is not your average broker house, and this company does not offer DMA (Direct Market Access). In other words, Tradeo is not and ECN broker either, and you may ask – then what is it? Well, the truth is that this company is not a broker per se, and it acts more as a service provider. What this means in reality, is that Tradeo focuses on social trading, which they believe to be the future of the Forex world. Also, this enterprise is putting a lot of effort into providing their traders with an exceptional service, which means that their customers can enjoy trading in a highly convenient and pleasant environment.
[broker-overview]
Tradeo is a subsidiary of a larger corporation called "Hogg Capital Investments Ltd," and the headquarters of this organization are located in Malta. The fact that FSA (Financial Service Authority) regulates this company is a clear sign that no trace of Tradeo scam is present, and investors can feel safe and protected when trading with this brokerage. The Maltese FSA has a lot of integrity and credentials in the global trading market, and this agency can act as a guarantee in case any problems appear in the future.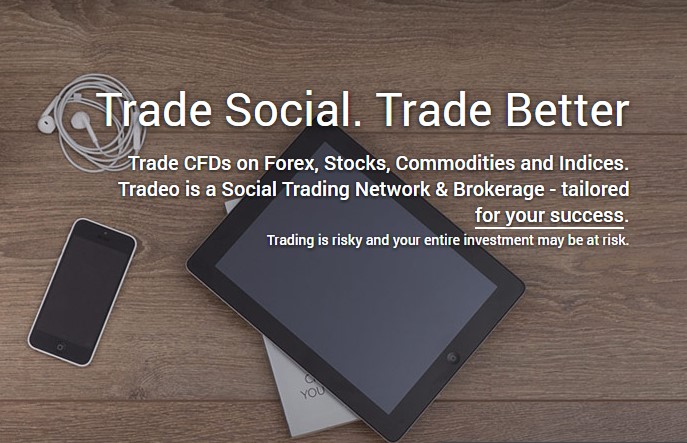 How to start trading with Tradeo Forex broker
Since Tradeo is a platform that is heavily oriented towards social trading, they offer only one type of trading accounts. In other words, you can only have a Real trading account, and this is something that appeals to most users. As a matter of fact, the majority of Tradeo reviews are pointing out that the simplicity of the registration and the intuitive nature of this account is remarkable and in a true spirit of progress and trading revolution. Around 100 assets are on offer with this broker, and you can choose between stocks, currencies, indices or commodities. Additionally, traders can opt for a demo account first, and this feature will grant them with $50.000 "play money" or virtual currency. The free demo account will let you explore all the features of the trading process with Tradeo, and this option can be of particular use to beginners and novice traders.
Tradeo trading platform review – features and performances
Tradeo broker is a using a MetaTrader4 software as their dominant trading terminal, but this brokerage also offers their proprietary Social WebTrader piece of software. Both of these platforms are providing traders with top-notch performances and a beautiful interface, which means that you can quickly grasp the basics and start trading with this company. Besides the actual assets, Tradeo offers a lot of additional trading tools on their platform, and some of those features include accurate market feeds and charting. However, the primary characteristic of this broker is contained in its social feeds, and this means that traders can "follow" each other and mimic the successful trades. Social data can be filtered and displayed in a straightforward manner, and these presentations can significantly facilitate the trading process and improve your overall trading results.
Bonuses and other trading features
Tradeo is not an "ordinary" broker, and this is pretty much evident from a lot of their characteristics. For example, you will probably have an even better Tradeo opinion once you learn that this broker offers various bonuses and promotions. For example, there is a no deposit bonus available, but you could also receive a lucrative gift if you refer a friend to this brokerage. All in all, Tradeo offers exciting bonuses and promotions, but they also make trading even easier with incorporating trading signals into their platform.

Tradeo review of the banking methods
Since Tradeo is a member of the Investor Compensation Scheme in Malta, which falls under the EU Directive 97/9, this broker offers highly safe environment when it comes to payment options. Most Tradeo opinions are positive exactly because of this fact, and SSL encryption is used to protect your personal information and your hard-earned funds. Of course, ID documents are required when making a withdrawal. Traditional credit cards can be used, such as VISA, Maestro or MasterCard, but today's investors also frequently use e-wallets such as Neteller, Skrill, or TrustPay. Also, wire transfers are on offer, and this abundance of options is certainly beneficial to the overall trading experience.

Customer support
Tradeo Forex broker is a company that pays a lot of attention to client satisfaction, and this means that they will hire only the most capable of experts in their customer support teams. By doing so, they ensured high levels of quality whenever their users encounter a problem, and this benefits both parties in the long run. Their helpful personnel can be reached by various means of communication, but investors are predominantly using e-mail, telephone, or the live chat feature on the website. Also, a lot of educational material and tutorials can help traders solve potential problems with the trading process.
Tradeo review conclusion
Tradeo is an exceptional addition to the world of Forex trading, and many investors are already earning impressive amounts with the help of Tradeo's intuitive social trading platform. At the end of our Tradeo FX broker review, we can only say that this brokerage is offering high-quality service and that you will not regret signing up with them. The performances of their trading platform and the knowledge of their customer support team will make trading as easy as possible, and you will enjoy making profits with this broker company.
[RICH_REVIEWS_SNIPPET category="page"]
[RICH_REVIEWS_SHOW category="page"]
[RICH_REVIEWS_FORM]