When it comes to Forex trading or crypto trading, you will need a reliable broker in your corner else you might lose all your money. The first thing that you will need to check is whether the broker is registered and licensed in your country. You will need the law to be on your side in case things turn awry. In our Coinbull.io review, you will find that this crypto broker is not regulated by any recognizable body anywhere in the world. That alone should discourage you from even browsing the type of accounts they have or the leverage they offer on trades. Still, let us dive in and see why you should be wary of this broker.
An overview of Coinbull.io
Coinbull.io was started in July 2017. According to the official website, the company is owned by and also managed by ABC Marketing. The address used is 8 Copthall, Roseau Valley, 00152, Dominica. ABC Marketing is an online marketing company which offers customers affiliate marketing services. The company is very explicit at displaying its team, its associates and affiliated companies but nowhere does it mention it owns or manages Coibull.io. On the other hand, the io domain name for Coinbull is for the British Virgin Islands where many shell companies are formed. On the website, the firm says that it has four support offices located in the U.K, Zurich, and the USA. Coinbull.io scam is likely especially when you consider that it is unlicensed and it does not have any credible links to it or team to back it.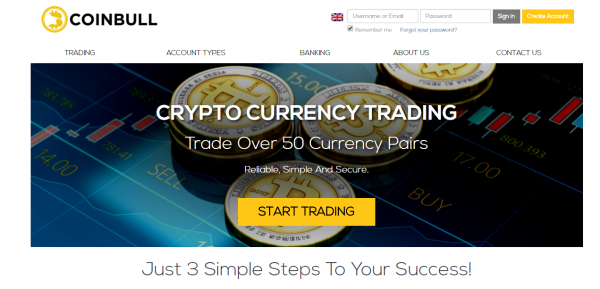 In this www.coinbull.io review, we found the trading software used on the platform and which was developed by Finantick to be user-friendly for any trader. The company offers CFD trading services and includes cryptocurrencies such as Bitcoin, Litecoin, Ethereum, and Dash.
A look at Coinbull.io website
When you visit the official website, you will find the platform easy to navigate and understand. However, one of the things that will catch your eye is a banner showing the daily statistics for January 30th, 2017. The crypto statistics of Jan 2017 are in no way comparable to what is happening today in the crypto world and hence it is misleading. Moreover, having such outdated data on the website and yet such information is meant to attract clients shows that either the website is poorly maintained or it is a scam site.

There are several Coinbull.io reviews which have not been very positive. The main complaint has been the lack of registration and license. The other thing highlighted by traders is the unreasonableness of the conditions attached to the bonuses. They offer a 20% bonus on deposit made but under strict terms and conditions. You are supposed to execute a minimum of 40 trades for every $1 bonus. Of course, this makes it extremely difficult for traders to access their funds. The broker offers three different types of accounts but has forgotten to indicate the minimum deposit. This is a glaring omission which makes the platform look all the more poorly managed.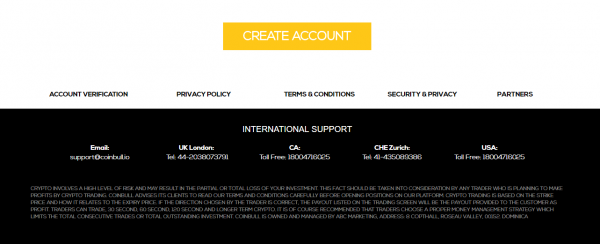 Is Coinbull a scam?
The one thing that a crypto or Forex trader should never compromise on is the registration and the licensing of their broker. Our Coinbull.io review has shown that the company is unlicensed. By depositing money with them, you risk not only losing that cash but also losing more. Among the regulatory and licensing bodies that are found around the world include CySec, FCA of the U.K and ASIC of Australia. These regulatory bodies ensure that their members adhere to a strict code of conduct. At CySec for example, brokers are now required to deposit $730,000 in order to get a trading license. This is meant to protect the traders.
There are numerous Coinbull.io reviews online where traders complain that withdrawing cash from the platform is impossible. There are those who complain that they don't get bonuses while there are those who suffer because of getting the bonuses as explained above.