Forex is a complex financial market. It requires both theoretical and practical knowledge to make money. One of the key factors in Forex trading is to find a reliable broker that offers trustworthy services. In today's review, we are going to dive deep into the services and conditions of FXCL and conclude if this broker can be trusted. So, let's begin.
The Safety and Security of FXCL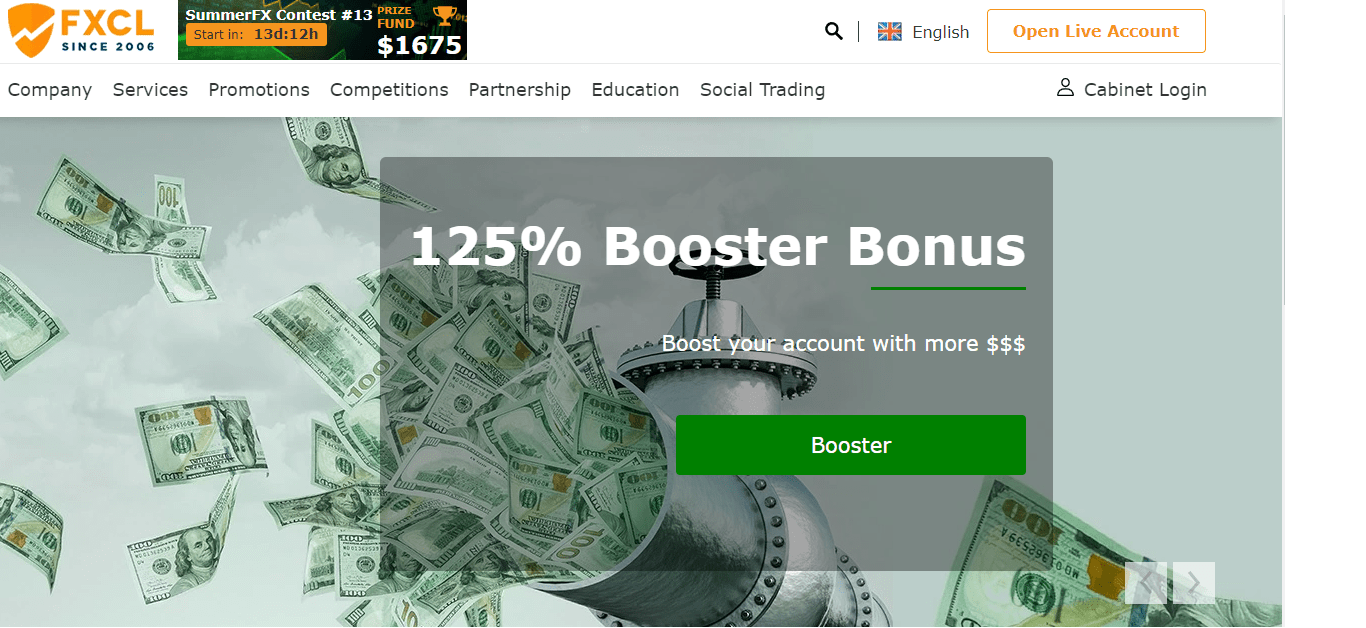 The safety is number one concern for our team when evaluating FX brokers. Regulations define in the majority of cases if the broker can be trusted. No matter how shiny and competitive spreads, fees, and other services may be if the broker is not under proper oversight the chances of losing money can be high.
FXCL is not regulated, it does not hold a license from any reputable Forex regulators in the world. This alone, is a huge red flag as no authority can address a broker's proper client treatment and its ethical activities.
However, the broker has negative balance protection, which protects traders from going into minus in case of overleveraged trading. This feature is very useful for beginners, as it prevents them from losing more than their initial investment for trading.
FXCL Fees and Spreads

The spreads are competitive from FXCL. There are diverse trading accounts and spreads are variable and fixed. The smallest spread is from 0.1 pips for the ECN Pro account and the highest is 1.6 pips for the start account. Other accounts have an industry average spread of 1-1.1 pips. ECN Pro account comes with a trading commission of 3 USD per side per lot for Forex, metals, and indices and 0.15% per lot for cryptocurrencies.
FXCL has a dynamic inactivity fee depending on the days of dormancy. It starts from 25 USD per month after 32 days of inactivity and increases to over 100 USD per month after 365 days. The inactivity fee starts after 32 days, which is very low as any trader can have a month of inactivity.
FXCL Accounts, Deposits, and Withdrawals
FXCL has so many account types, it becomes confusing to select the proper one for your goals. While diversity is very positive for traders, the majority of trading accounts offer somewhat similar trading terms. Trading accounts of FXCL are start, cent, standard, interbank cent, interbank standard, and ECN Pro. Many of these accounts offer 1 pip spreads on majors and it is unclear what are differences between them. The leverage varies from 1:10 to 1:2000 and all trading accounts have a different maximum cap.

Deposits and Withdrawals
When it comes to funding options, FXCL offers a wide range of options. Wire transfers, Fasapay, Dragonpay, and even Bitcoin are among the options to make deposits or withdraw funds. The fastest way for withdrawals is Bitcoin which is natural as the blockchain is very fast.
FXCL Trading Assets and Features
The total tradable instruments are 61 of which 49 are FX pairs. With this information, it is clear that FXCL is a Forex broker that offers a moderate number of tradable instruments. The asset classes include FX pairs, indices, commodities, and cryptos. To be more exact there are 4 cryptos, 3 commodities, and 5 indices.
Trading Platform

MT4 is the main trading platform offered by FXCL. The broker enables traders to download the platform for all devices and operating systems. MT4 is a very popular platform among the trading community, because of its advanced features, vast number of indicators, and full customizability. No matter the device, traders will be able to download and trade on a desktop or on the go.
Bonuses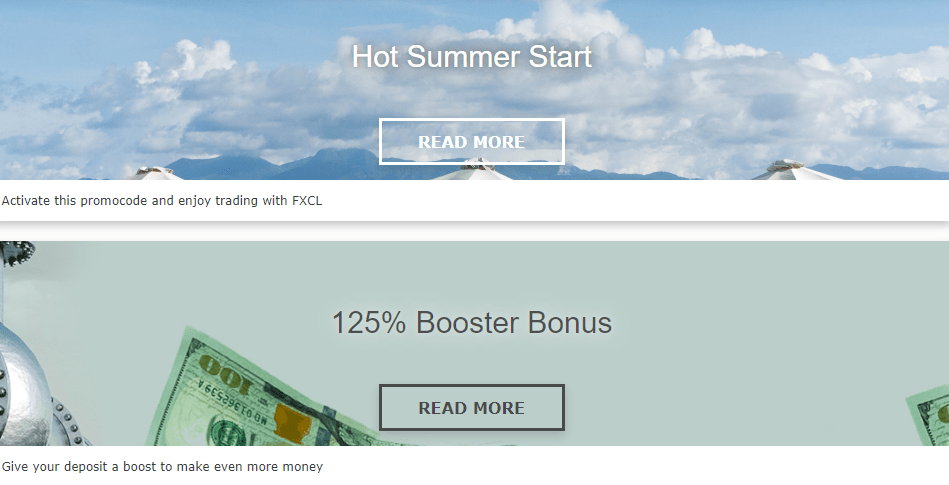 FXCL shines in offering very diverse bonuses. New bonuses are added almost every day and offer traders more than enough incentives to open a live account with the broker. But in the majority of cases, these bonuses come with many terms and conditions which make them unattractive for many traders. The main reason is the huge trading volume requirements for several tens of lots making it difficult to achieve profitability while trading with large lot sizes.
FXCL Customer Support Review
FXCL offers live chat, online forms, and email addresses as main support options. There is no hotline support which is a red flag as the company does provide limited information about its address and number. The live chat is quick and responsive and should provide an efficient way to connect with the broker directly. The online form will allow traders to leave a message to the broker.
FXCL Education
The broker offers Forex glossary and analysis theory as its main educational resources which is not enough. The glossary is very useful for explaining major Forex terms briefly, but analysis theory is a brief text consisting of around 200 words which is less than enough to understand trading basics. The Forex market is very complex and requires extended theoretical and practical knowledge to be able to become profitable. FXCL resources are not good enough in the education department as they are brief and scarce.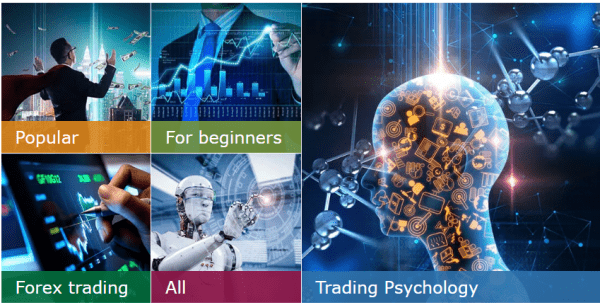 The blog offers some resources and articles about trading. It consists of short articles explaining various interesting facts about the markets. But the FXCL blog is not sufficient for getting a full Forex trading education either.
As for the market research tools, FXCL offers an economic calendar and calculator. Both are useful for making informed trading decisions. With FXCl's economic calendar, traders can track major fundamental news events and stay ahead of the curve by knowing which important indicator is released.
Should you consider FXCL?
FXCL is an unregulated Forex broker and we recommend avoiding doing business with them. The broker offers excellent trading conditions with competitive spreads and commissions, but the lack of regulatory oversight is a huge downside and red flag. Since there are so many well-established brokers out there FXCL is not competitive enough to be recommended for our readers.
Is FXCL a regulated broker?
What are the fees and spreads offered by FXCL?
What trading assets and features does FXCL offer?