FXCL review

Forex market is a volatile environment, and that is why it is best to have a reliable broker on your side since a right partnership can mean a lot in this risky sector. However, it is not always easy to recognize a trustworthy and professional company, and this task becomes even more challenging if you do not have sufficient experience in the foreign exchange market. But, learning a thing of two about a broker can prepare you and give you the necessary knowledge to make the right decision, and our FXCL review is one such source of information. We examined every aspect of their activities so that you have every relevant fact delivered right at your doorstep, i.e. computer, and hopefully this in-depth guide will be of some help on your journey through the Forex world.
FXCL – about the company
As a very young broker, started in April 2016, FXCL is still a mystery to a lot of investors, and even seasoned analysts and market experts are debating the possibilities of an FXCL scam being at play here. Since the company seems to be regulated by the Republic of Vanuatu, the odds of malicious intent are growing rapidly, and that is why we do not recommend trading with this broker. Even though FXCL is a part of FX Clearing Group Holding, which was active in the financial circles even since 2006, the broker itself is not so reliable as the parent company.

Types of accounts
FXCL offers both dealer and broker services, and most FXCL reviews will also point out the fact that this company provides Forex and Binary Options trading. However, the abundance of categories when it comes to trading accounts is an area that many investors will not be content with, and it seems that people at FXCL just made a mess of the whole thing. Aside from the demo account, which can be used to examine the features of the trading portal, this broker also offers the following types of accounts – Beginner, Micro Cent, Mini, ECN Light, ECN Interbank, and ECN Plus. As far as we could notice, there is almost no difference between some of these categories, which means that a lot of them are entirely unnecessary.

Trading software
FXCL broker is using a well-known MetaTrader 4 software solution, and this package is also used by many other trading providers in the market. Simply, this platform offers a lot of options, and it allows for a multitude of customizations, but the management of FXCL was not overly creative when it came to the tools and features that will be a part of this trading terminal. Clients can download the apps for iOS and Android, but they will be restricted to using a small number of features, such as trading signals, Expert Advisors, and so on.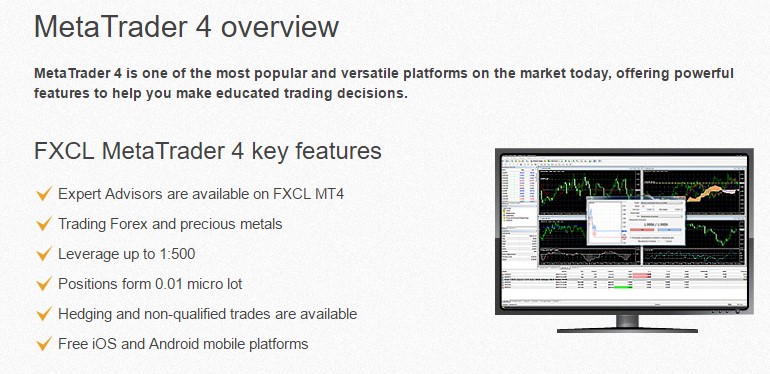 Bonus features
Various forms of trading incentives are present in the foreign exchange market, and broker houses only have to cherry-pick the best of them. However, our FXCL opinion about bonuses and promotions is not the best one because this company does not offer generous and rewarding incentives. What that means is that their bonuses are tied to demanding terms and conditions, and they also offer some unorthodox and even strange promotional activities. FXCL is giving out a 50% no deposit bonus, a 60% deposit bonus of up to $2.000, and many other forms "free stuff," which is there just for the show.
Banking methods
The efficiency of banking methods was also a significant factor when forming our FXCL opinions, and this broker offers a standard set of features when it comes to this area. You can use Neteller, Skrill, Payza, UnionPay, or even Bitcoin, but we urge our readers to be cautious and careful when depositing their hard-earned funds with unreliable trading providers such as FXCL. Your money can be gone for good if the broker becomes insolvent or simply disappears from the face of the Earth, and government of Vanuatu will probably not be of much help when it comes to these matters.
Customer support
The segment of customer support is one of the rare areas in which FXCL Forex broker shows any signs of professionalism, and they are incorporating several channels of communication into their website. Clients can reach the staff via Skype, live chat, or several designated e-mails.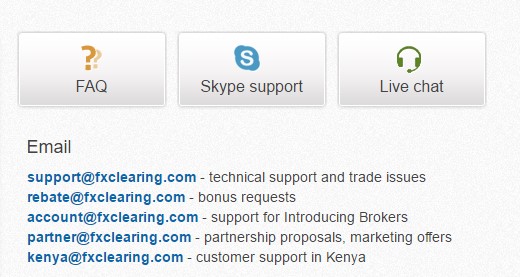 Conclusion
FXCL is still testing waters in the foreign exchange market, and as you could see from our FXCL FX broker review – they have a long road ahead of them if they want to become one of the best companies in the Forex world.