Pwrmarkets Forex broker is a financial services provider that is registered in Geneve, Switzerland according to its official website. However, the broker raises a lot of question marks among traders for several reasons. First of all, there is no exact information available, when the broker was established. Furthermore, it does not hold any relevant license meaning there is no regulatory body that will supervise the financial activities of the broker. Details about trading terms and conditions are vague, and without opening a new account on the website, it is almost impossible to get additional information. We will explore additional details surrounding the broker in our Pwrmarkets review.

Is Pwrmakerts Legit?
Legitimacy and reliability of any broker are pivotal because it is someone you would trust your funds to. Pwrmarkets broker does not have any kind of license and is completely absent from the regulatory framework. While the broker says in its terms and conditions, that it is in compliance with AML requirements, there are no official documents or proof that would make us think the same. The absence of the license is noteworthy, because, if there are certain complications or issues, there is no regulatory body to whom you would appeal, meaning that your funds are in danger.
The broker says that the funds are highly secured with the proper technology, but a high minimum deposit is suspicious. You will need to transfer $250 to your account to start trading. Furthermore, there is no information about segregated accounts and negative balance protection. The majority of reputable Forex brokers pay massive attention to these details. With that being said, it is pretty risky to start trading with the broker even though it says the opposite.
When it comes to KYC policy, the broker requires providing information about a credit card. This is pretty sensitive information, which might be used against a trader.
Pwrmarkets Trading Terms and Conditions
After talking about the regulation, we should move on to trading terms and conditions. The broker states that it supports over 200 instruments for trading including currency pairs. While it mentions the information about trading instruments there are no additional details about leverage and you cannot find information about the maximum amount of leverage offered by the broker. Leverage in general carries a lot of risks and is a double-edged sword, that can act both as an enemy and a friend. Not informing clients about the available leverage is a huge disadvantage of the broker. It does mention a leverage bonus policy but it is not enough.
As for commissions also known as spreads, we can only find that there are silver, gold, and platinum spreads related to each account, but there is no exact rate specified on the website. Spread is the difference between the bid and ask price. The information is not available on the Pwrmarkets website.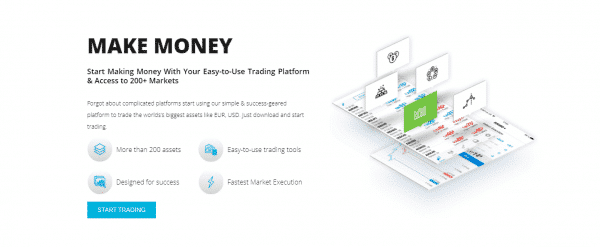 To start trading with the broker you need to replenish your account with a minimum of $250 or equivalent in other currency. For such a broker $250 is a pretty large amount, which increases the chances of being scammed. The broker has a sort of welcome bonus, that changes depending on the type of your account (from 40% to 100%), but the turnover requirements for the bonus are pretty strict.
We should not forget available methods for deposits and withdrawals. The broker supports Visa, Mastercard, Neteller, Bitcoin, Bank, and Wire Transfer. You need to fill in the information to make deposits and withdrawals. There is no requirement for the minimum withdrawal amount which is pretty weird. Almost every broker has a minimum limit set, but Pwrmarkets states, there is no such requirement.
Pwrmarkets Website and Trading Platform
We have not talked about the UI and UX of the website. The design of Pwrmarkets looks a bit odd – the colors do not follow the general pattern, navigation is hard, and finding information about trading terms and conditions is extremely difficult. It is really overcomplicated and there are extra details that are not quite necessary.
The broker offers 5 account types from Basic to Platinum. With each of these accounts, you can clearly see what additional things are provided. For example, the Platinum account has every possible feature. Once again, there is no detailed information about spreads and leverage. There are no spreads present on Basic and Bronze accounts.
As for trading platforms, surprisingly, there is neither MetaTrader 4 nor MetaTrader 5 platform available for download. You can only use the website's exclusive trading platform called Pwrmarkets Trader. It can be used online as well as downloaded on iOS, Android or Windows. Considering the broker's suspicious reputation the platform might be filled with flaws and the absence of the MT4/MT5 platform is noteworthy.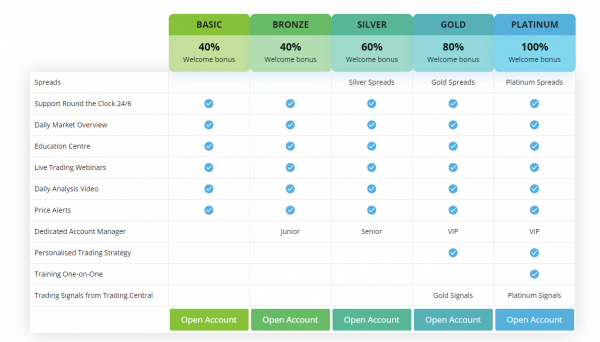 The Bottom Line
Thoroughly reviewing the Pwrmarkets broker, we should finally answer the main question about the broker – is it a trustworthy operator? Considering, that the broker does not have any license and official documents, it is highly likely that Pwrmarkets is a scam company. At the same time, the minimum deposit required to start trading with the broker is high. Trading terms and conditions are vague and you will not find relevant details about spreads and leverage. What makes brokers' activities even more suspicious is that there is no year of establishment available in the About Us section.
We would highly recommend not to start trading with this broker. Pwrmarkets has some issues with the license and trading conditions. It is advisable to choose another broker with a decent license and trading terms, where everything is clearly indicated and demonstrated.