Billion Capitals is an online ECN/STP forex broker that was started in 2015. It's located in the UK and offers online trading services to its clients. But Billion Capitals is not all it appears to be. If you are considering registering with this broker then read our Billion Capitals broker review to find out what this broker is really like.
Billion Capitals Regulation
Whether or not a forex broker is regulated is an important question ask when you are deciding to register with a broker. There are numerous regulatory bodies around the world. In the case of Billion Capitals which is a forex broker in the UK, it would fall under the jurisdiction of the Financial Conduct Authority (FCA).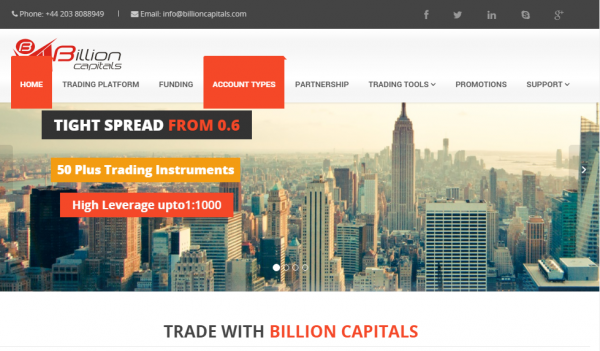 Unfortunately our research shows that the Billion Capitals forex broker is not regulated. This is a major red flag. It is a fact that unregulated brokers are far more likely to scam their clients due to their lack of accountability. This is why we encourage you to only register with a regulated broker so in the event of an issue, you can file a complaint and even be compensated by a regulatory body such as the FCA.
Billion Capitals Customer Support
You can contact Billion Capitals' customer support via:
Email
Skype
Online Form
Telephone
Live chat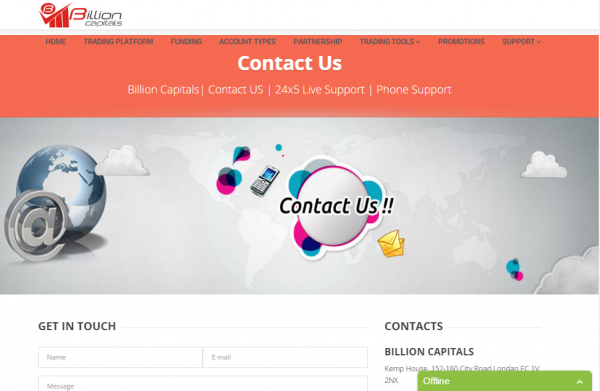 On the Billion Capitals' website, there's a claim that customer support is offered 24 hours a day, 5 days a week. Yet when we contacted Billion Capitals, that was not the case.
We tested the Billion Capitals' customer service agents' responsiveness on Skype and live chat however we were disappointed to find out that it was not actually 24/5. In fact, it was far from it. There were no responses at all at any time during the day or night. It was truly disappointing especially since we tried to contact them on several different occasions, leaving the chats open for hours to await a response but nothing.
The email addresses and online form also proved to be futile. We are not sure what type of broker Billion Capitals is but it is safe to say, it is not a trustworthy or reliable one.
Billion Capitals Accounts
There are three account types offered by Billion Capitals:
Bronze Account ($50 Minimum Deposit)
Silver Account ($250 Minimum Deposit)
ECN-Gold Account ($1000 Minimum Deposit)
While all three of these account types have differences, they also have similarities. Each account uses a market execution and has a minimum lot size of 0.01. They also have a margin call of 50% and give users access to metals, forex and CFDs.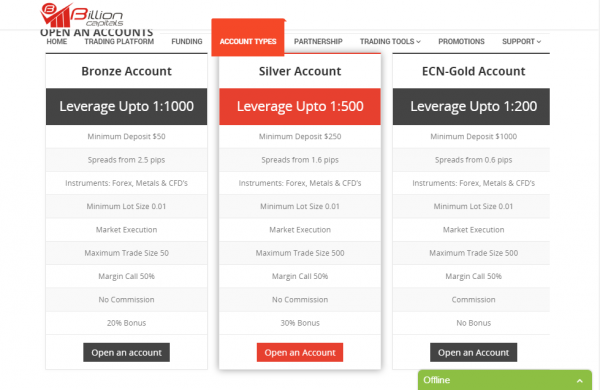 Bronze Account
The account with the lowest minimum deposit is the Bronze Account. Billion Capitals claims it offers spreads from 2.5 pips along with a maximum trade size of 50. Leveraging is available up to 1:1000. No commissions are available for this account type but there is a 20% bonus.
Silver Account
The Silver Account has spreads from 1.6 pips and a maximum trade size of 500. This account like the Bronze account carries no commission however there is a 30% bonus available unlike the Bronze account which offers a 20%bonus. Clients can also leverage their positions up to 1:500.
ECN-Gold Account
The spreads for the Gold Account are from 0.6 pips. There's a commission available however there is no bonus option. It, like the Silver Account, carries a maximum trade size of 500 and clients can leverage up to 1:200.
Given Billion Capitals poor customer support and lack of regulation, we would not trust what they list as their account features. However, we found it suspicious that the account with the lowest deposit offered the highest leverage.
The reason why is because the Bronze Account will most likely be used by newbie traders and allowing them to have such a high leverage, up to 1:1000, will undoubtedly cause them to lose far more than they deposited. It is an underhanded move by the Billion Capitals broker scam but then again, it is a scam after all.
Billion Capitals Platform
Billion Capitals is using the renowned MT4 platform. We have seen this platform used by suspicious brokers all the time. Because it is free, customizable and has a great reputation, brokers like Billion Capitals use it to lure unsuspecting traders and scam them of their money.
Billion Capitals Review Conclusion
It is clear by the lack of regulation, poor customer support and tricky use of leverage that Billion Capitals is nothing more than a scam. We advise you to steer clear of this broker and save yourself the stress.
[RICH_REVIEWS_SNIPPET category="page"]
[RICH_REVIEWS_SHOW category="page"]
[RICH_REVIEWS_FORM]