Bitcoin and other analogous cryptocurrencies have garnered the popularity on the Forex markets to the extent never seen before. The blockchain-based currency allows its users safe and instantaneous transactions that are also very profitable when it comes to online trading.
When you're preparing to start online trading of cryptocurrencies, you have to make sure that you choose the right assistant for this venture. The internet is full of brokerages that claim to have the most competitive offerings on the market. It comes down to us to determine, whether their claims are real or not.
In this review, we're going to take a look at Bexplus FX brokerage and see, what it's offering, as well as check the credibility of these offers.
Initial impressions
Bexplus is a broker who operates in the cryptocurrency area with global reach. It has been established in 2017 under the regulatory oversight of St. Vincent and the Grenadines with the headquarters located in Hong Kong.
While the SVGFSA license might be convincing to someone, we think that it's only as good as the paper that it's written on. We're going to discuss this, along with other details, down below.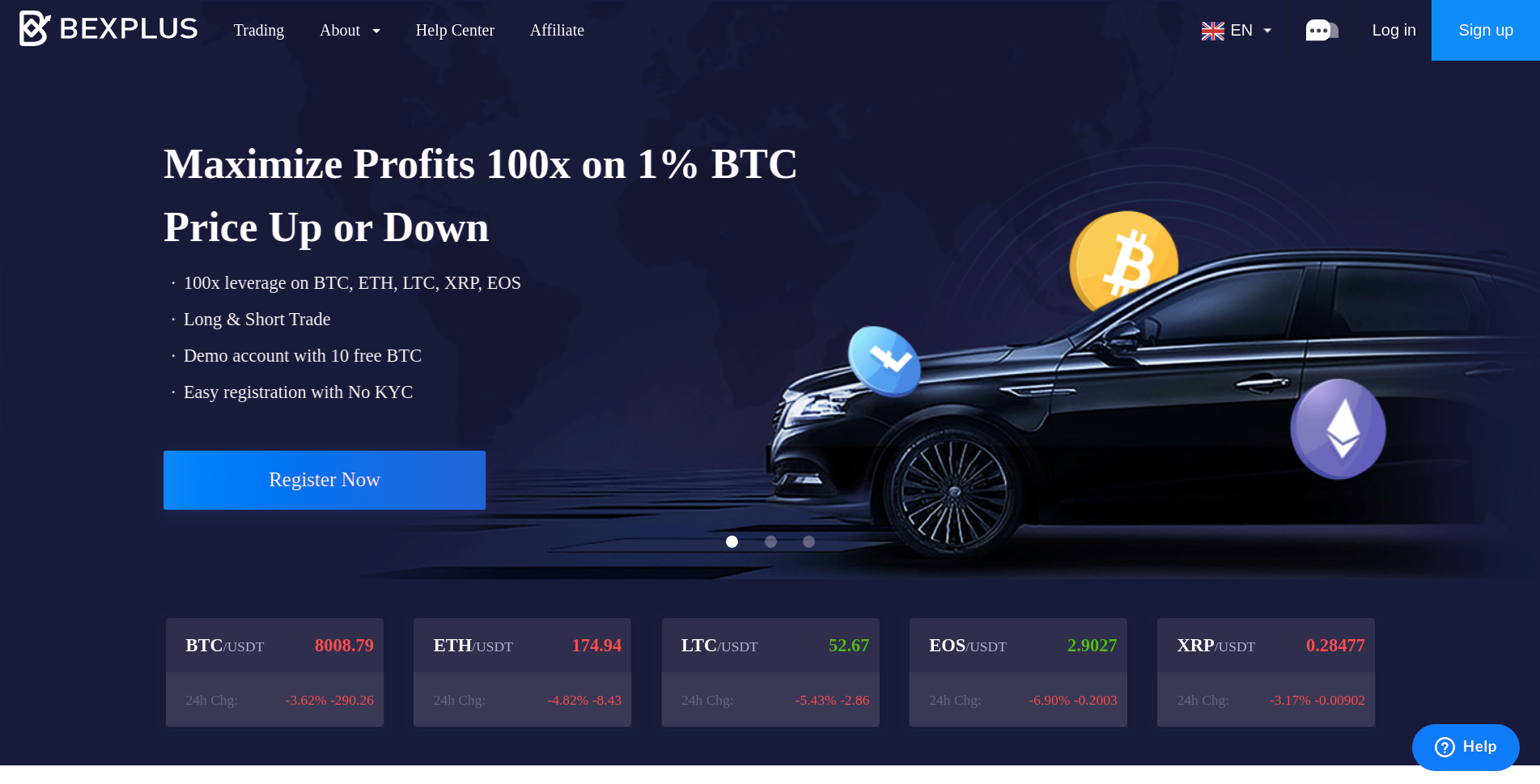 The website looks professional and at the same time, simplistic enough. It is separated into 4 thematic sections that contain information about trading, the company itself, help center, and affiliations.
The broker doesn't really have separate account types. Every offer is the same for every trader across the board. But, at the same time, this might hinder many novice traders from kickstarting their trading careers. However, there are some basic instructions about the crypto-trading on the website that can guide those inexperienced traders initially.
When it comes to the trading platforms, the website features its own WebTrader built inside the interface that's fairly easy to use. The broker also supports iOS/Android apps for better versatility.
As for the withdrawal possibilities, it's quite obvious: the crypto-trading broker should be featuring crypto-based withdrawal options, which it does. However, each time you withdraw the money, the transaction cost will be at least 0.001 BTC, which is approximately $8.
The trading conditions look fairly competitive as well. The leverage goes up as high as 1:100, while there are no spreads whatsoever. This can guarantee that your trading ventures will bring a decent amount of profit. The broker requires its customers to make at least 0.1 BTC worth of bets, which is equal to $800 and is too high for the majority of traders. However, the Bexplus Forex broker offers new users a $10 bonus for registration and a $100 bonus at their first deposit.
To put it in a nutshell, the broker offers competitive trading conditions but also demands high financial commitments from its users. Added to it the fact that there's something inherently wrong with the SVGFSA regulation, we suspect that the Bexplus scam possibility is real.
Are Bexplus promotions legit?
Since we're talking about the numbers, let's start our comprehensive part of the review with them as well.
As you already know, the broker offers 1:100 leverage. This means that for every 0.1 BTC that you bet, you'll get an additional 0.99 BTC and be able to trade using 1 BTC on your account. This ensures that your profits are also multiplied by 100. However, we have to note here that the average amount of leverage on the market revolves around 1:300.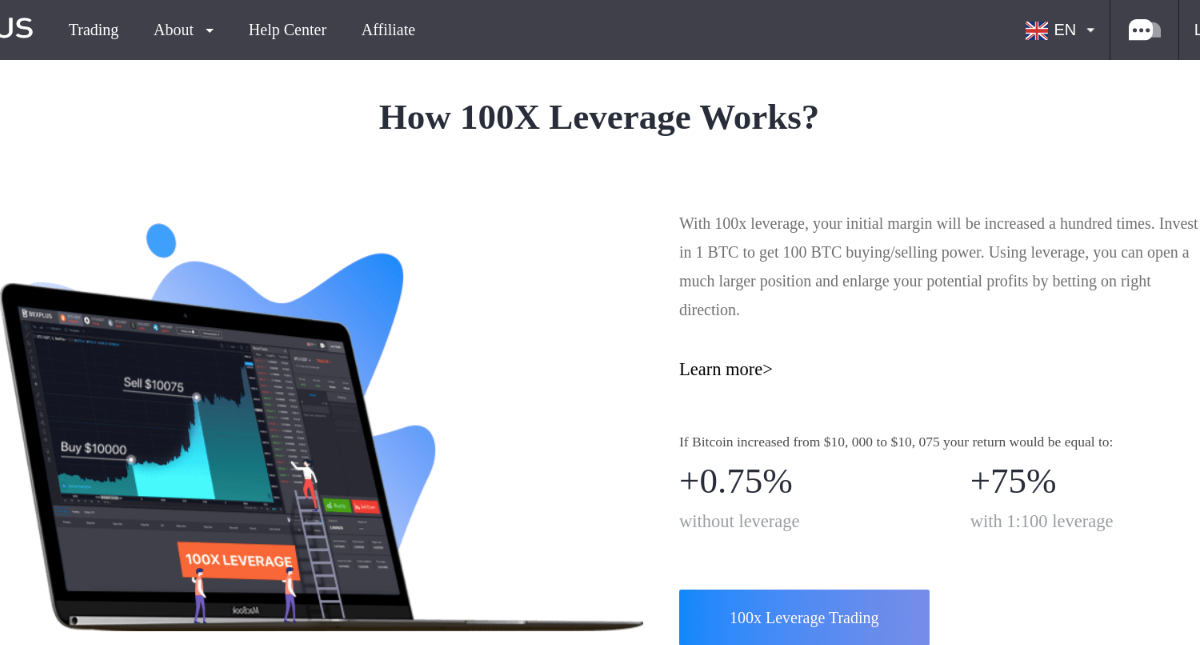 As for the spreads, there's absolutely no slippage between the pairs and you can sell the currencies exactly the price at which you buy them. This, also, has pretty lucrative profit opportunities of its own.
However, these impressive numbers are quickly offset by the heavy trading volume requirements from the broker. For a single execution, a user is required to bet 0.1 BTC, which is approximately $800. This is way too much for not only beginners but also for experienced traders alike. Considering the market average revolves somewhere around $200, the Bexplus requirement goes at the extremes and further proves our Bexplus fraud suspicions.
Another neat little feature here is that for every new user registered on the platform, the broker offers $10 just for registration and $100 for their first deposit. These offers are there to attract as many new customers as possible.
Overall, some of these trading terms and conditions promise large profits, but some have very high requirements from the customers. As far as we're concerned, the cons are much more prominent than the pros.
A good-looking website
The website, as we've already mentioned, looks professional enough. The design is simplistic with blank backgrounds and calming colors such as purples and greys. And even though sometimes the color saturation goes too far, the interface still looks nice.
One thing to mention here is that in some places you can find the inconsistencies that undermine the professional look of the website. For example, there are several grammatic mistakes, as well as low-quality images, and unconventional separation of thematic sections.
As you already know, the broker doesn't really have different account types for traders from various experience levels. This might be an impeding factor for novice traders. With no actual experience and the vast world of crypto-trading, they might get easily scared away without some special conditions from the broker.
We think that by failing to offer special treatment to the newcomers, Bexplus further demonstrates its unprofessionalism and ill-devised plan to attract as many customers as possible.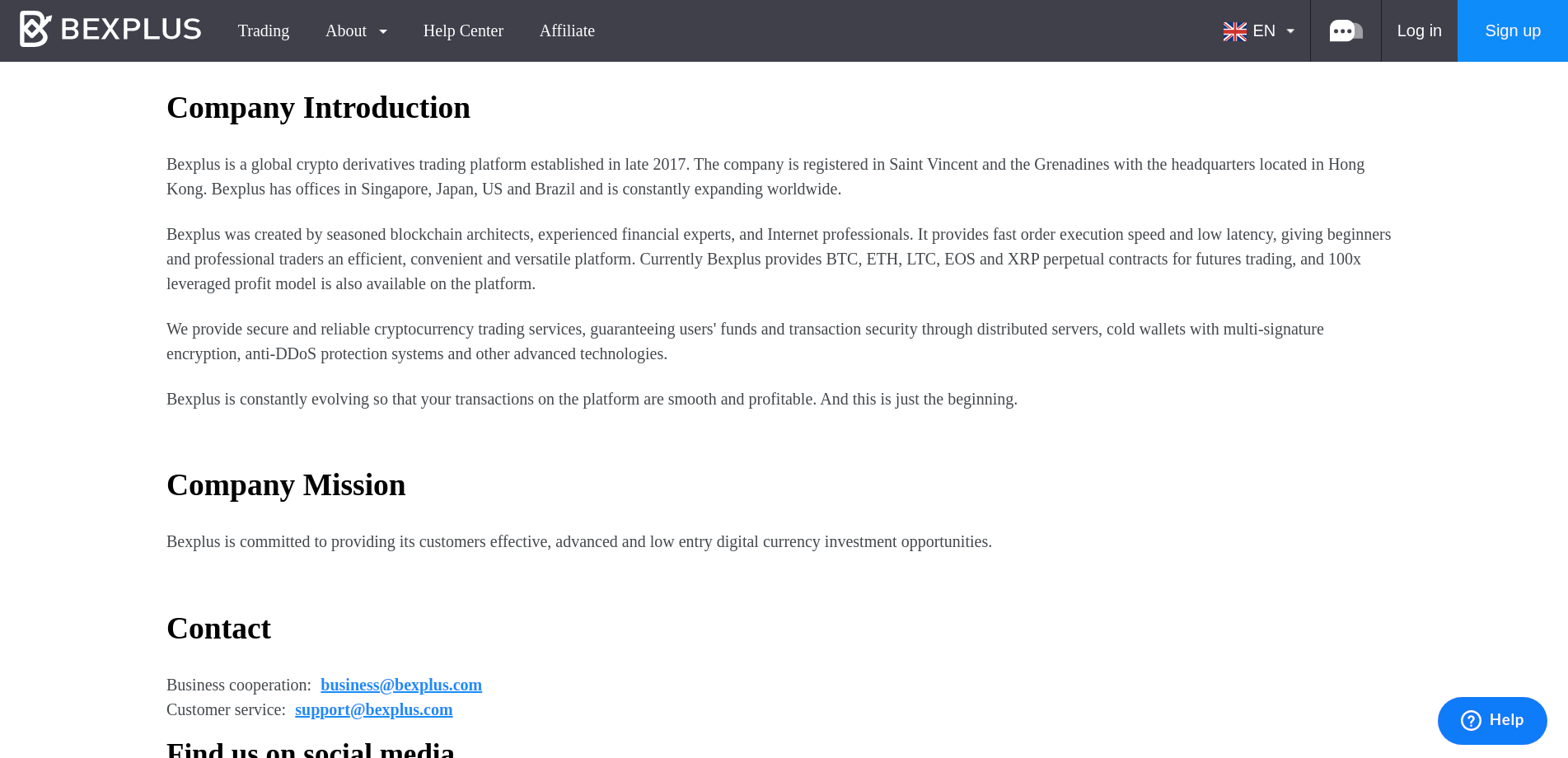 Even though the Bexplus withdrawal is based on cryptocurrencies and has high security and speed advantages, we're still not convinced that the broker isn't involved in some sort of a financial scheme. In fact, it would be pretty weird if the crypto-based brokerage didn't use cryptocurrencies as the main withdrawal method.
What is our Bexplus opinion on SVGFSA licensing?
The company has been established in 2017 under the regulatory oversight of St. Vincent and the Grenadines. The license was issued by the country's Financial Services Authority.
Now, this institution might be the main financial regulator in the country but it certainly doesn't represent much of a regulatory power when it comes to the financial companies operating across the globe.
As you know, St. Vincent and the Grenadines is a small island in the Carribean with no effective political or economic prowess of any sorts. By claiming that it has an SVGFSA license, Bexplus merely deceives its customers. There cannot be any regulatory oversight from this institution when the broker conducts its operations, say, in Asia.
To conclude, the SVGFSA regulation is as effective as no regulation whatsoever, which is a beneficial situation for Bexplus. The companies like this one transfer their businesses on distant islands to avoid taxes and hide their suspicious activities. As far as we're concerned, that's what's going on here.
Should you do business with Bexplus?
One major takeaway from this review that every reader should get is that there's no way Bexplus can be trusted.
On the one hand, the broker features competitive market indicators like 1:100 leverage and no spreads, as well as initial bonuses, quick transaction methods, and a simplistic website.
On the other hand, however, Bexplus requires heavy commitments from its customers – $800 of the minimum trading volume. Not only that, the SVGFSA licensing is completely ineffective and should be discarded right away.
In conclusion, we think that you should be more careful when associating yourselves with this broker. In fact, we wouldn't even recommend using their services. Your financial stability is more important than some hypothetical profits in the future.
[RICH_REVIEWS_SNIPPET category="page"]
[RICH_REVIEWS_SHOW category="page"]
[RICH_REVIEWS_FORM]