You've probably only recently come across TNFX Forex brokerage and are looking for answers to the questions you've undoubtedly accumulated. Read our detailed TNFX review below to find out if this broker is what it promotes itself to be. If you want a hint, then we can say that they're definitely not what they seem.
TNFX review – first impressions
If we're being honest to each other in this review, we simply have to say that TNFX is one of the most obvious scam brokerages that we've ever had the privilege of reviewing.
And this is stemming from just the first impressions themselves, the rating and overall feel of the brokerage become much worse as we delve deeper in its features and trading conditions.
There were so many contradictions on the website that it's simply impossible to list them all. All we can say is that the very limited amount of information that the broker was forced to have on the website, is more than enough to tell that TNFX scam is a definite reality and that you should stay away from it as far as possible.
But just saying it is not what we're about here at ForexBonusLab, we're here to let you know what gives a company away so that you don't fall for a scam in the future if we're not around. So let's get into discussing every nook and cranny of our evidence for labeling TNFX as a scam.
TNFX scam – desperation and regulation issues
The desperation
The first major gripe we had with the brokerage when conducting our TNFX review was how desperate they were to make you believe that they're trustworthy.

The word itself, "trustworthy" shows up at least five times on the homepage alone, and the rest of the pages contain at least one mention of it as well. It's never a pretty sight to see a company be so desperate in making you believe that they're legit. As a matter of fact, the more they try to convince us about their legitimacy with words, the more we believe that they're indeed a scam.
The About Us page which should always contain information about the company's operations and its team is almost completely blank. It basically states that TNFX is a company and they do Forex, that's it.
The regulation
As for the regulation itself, TNFX Forex brokerage claims that it complies with the laws and guidelines of Saint Vincent and Grenadines, which is just absurd. The government of St.Vincent and Grenadines has mentioned on several occasions that they do not govern Forex companies, therefore to claim to have a license from them is just mind-boggling.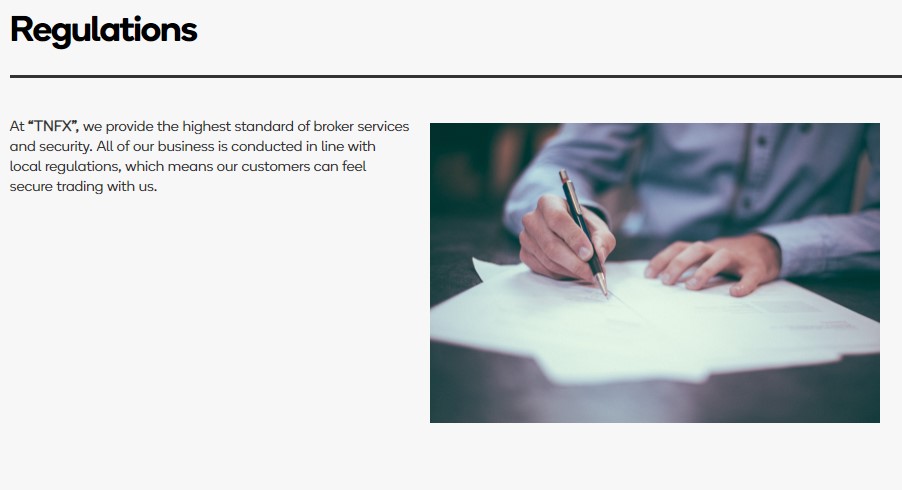 Furthermore, there are multiple occasions where we see the Arabic language being used on the website, alongside a parent company which seems to be located in Dubai. Unfortunately, there is no mention of the Dubai Financial Services Authority license. But now that we've covered most of the reasons why TNFX scam is a reality, let's at least give them the benefit of the doubt and look at their trading conditions shall we?
TNFX review – trading conditions
The trading conditions are a little above average with TNFX. They're able to offer leverage on major Forex pairs such as the EUR/USD of 1:400, which is beginning to be a luxury in Europe.
The spreads being offered are also on the low-end as the company promises nothing above 1.3 pips. However, the minimum deposit for the beginner accounts is a bit above average compared to industry standards. The TNFX minimum deposit starts at $300 all the way up to $50,000 which is really taking the cake.
In most cases, we'd expect $200 or maybe $250 from a legitimate brokerage, but with scammers, it's common to see them desperately steal as much as they possibly can before hiding in the shadows and rebranding for another resurgence.
The withdrawals and deposits are also on the shady side. There's no option for a Wire transfer or direct credit/debit card. Only third party payment providers like WebMoney and Zain Cash, which are a little harder to get a refund or a chargeback from.
Overall, if TNFX scam wasn't so obvious, it would still be an average brokerage compared to the competition.
Should you trust TNFX?
No. That much should be certain from the review. Make sure to stay away from the brokerage as far as possible, as they're so obviously trying to scam beginners.