You've probably only recently come across TNFX Forex brokerage and are looking for answers about their spreads, regulations, fees, and reliability. Read our detailed TNFX review below to find out if this broker is what it promotes itself to be. If you want a hint, then we can say that spreads with this broker are pretty high.
TNFX review – first impressions after resisting the website
The broker from one glance has grown to be better than it was before when we first reviewed it a year ago. They seem to have got a license from the regulator. What we usually encounter when we revisit the previous reviews of young brokers is that the broker is either extinct or they have improved their services and regulations.
And this is stemming from just the first impressions themselves, the rating and overall feel of the brokerage become much worse as we delve deeper into its features and trading conditions.
There were so many contradictions on the website that it's simply impossible to list them all. All we can say is that the very limited amount of information that the broker was forced to have on the website, is more than enough to tell that the TNFX scam is a definite reality and that you should stay away from it as far as possible.
Now, the broker seems a bit better with its website, but still seems very messy and we would like to see more order in menus and sections to better see the account types, markets available, and other important staff.
But just saying it is not what we're about here at ForexBonusLab, we're here to let you know what gives a company away so that you don't fall for a scam in the future if we're not around. So let's get into discussing every nook and cranny of our evidence for labeling TNFX as a scam.
TNFX – The safety and security revisited
The broker previously was not regulated as it was young on the market. But now they seem to have acquired Seychelles Financial Services Authority (FSA). This is tremendously good news for its clients as the regulations are the first step in defining how safe the broker is.
Previously, the broker was only focused on emphasizing its trustworthiness, and with current regulations, they seem to have held their ground and could be now trusted. But the regulations are not the only metrics we incorporated in our reviews to check how good the brokers are. Besides, the Seychelles regulator is the offshore regulator and is less strict than other reputable regulators from developed countries.
The About Us page which previously was blank and not very informative is now properly arranged and with some details added. All in all, from first glance the improvements are clear which is a very good fact.

Previously, there were multiple occasions where we saw the Arabic language being used on the website, alongside a parent company that seems to be located in Dubai. Now, the languages and website are sorted and in order and there is a license from the Seychelles authority.
TNFX Fees and spreads

The broker seems to have given the spreads in points rather than in pips which is why these numbers seem astronomically high. We contacted the support to clarify the exact metrics used by the broker, not present the broker's services incorrectly. As the support made clear these spreads are in points which means the spreads start from 1.3 pips for the standard accounts which are close to the industry average of 1 pip. The lowest spread available is for zero accounts from 0.2 pips. We weren't able to see the exact comparison for each account type. The account types are only visible on the spreads page but there are no other details for commissions or minimum deposit for each one of them.
TNFX Accounts, deposits, and withdrawals

There are five different account types offered by TNFX as of now:
• Standard Account $300
• Cent Account      $100
• FIX Account       not given
• Zero Account     $1'000
• VIP Account       $100'000
As the naming suggests the standard and cent accounts are for the general audience with standard spreads, and the cent account has the lowest minimum deposit requirement. Zero account has the lowest spreads and is targeted towards scalpers and has commission on trading FX pairs. Supoprt provided us with all the details in this review about account types and their deposit requirements. While this indicates superb support this is a downside for the website and it seems the broker has to lot of work to do to improve their website.
The trading conditions are a little above average with TNFX. They're able to offer leverage on major Forex pairs such as the EUR/USD of 1:400, which is beginning to be a luxury in Europe.
The spreads being offered are also on the low end as the company promises nothing above 1.3 pips. However, the minimum deposit for beginner accounts is a bit above average compared to industry standards. The TNFX minimum deposit starts at $300 for standard, and $100 for the cent accounts all the way up to $100,000 which is really taking the cake.
In most cases, we'd expect $200 or maybe $250 from a legitimate brokerage, but with scammers, it's common to see them desperately steal as much as they possibly can before hiding in the shadows and rebranding for another resurgence.
Deposits, and Withdrawals

TNFX charges no fees for deposits and withdrawals and offers various methods. To simplify the process the broker has provided several video tutorials in Arabic languages. The exact methods for transactions include WebMoney, Payeer, Asia Pay, Perfect Money, Credit Cards, Local depositor, and Office transfers. All these methods are characterized by fast processing times.
TNFX trading assets and features
Forex pairs, metals, energies, US equities, Eu equities, HK equities, indices, crypto, index futures, and futures are all among the tradable asset classes. To be more specific there are 50 FX pairs, 7 metals including gold, silver, and copper; 3 energies, 43 US equities, 24 EU equities, 67 Hong Kong equities, 13 indices, 13 cryptos, 1 US-INDEX, and three futures namely DJ30.f, US500.f, and USTEC.f. As we can see there is an abundance of tradable instruments in diverse asset classes that can be traded for speculating on the price movements.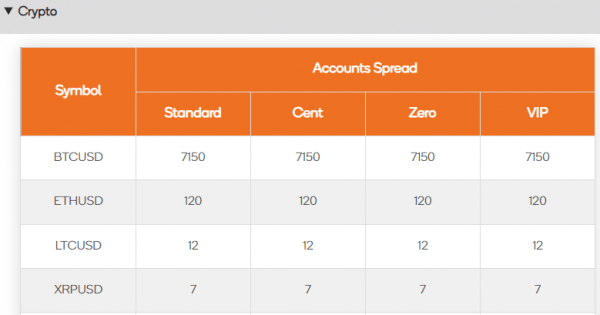 TNFX Customer Support Review
The support is excellent at TNFX with polite and responsive staff. The representative answered all our questions regarding the spreads and account type details. The response was moderately quick and professional. The staff seems to be really well trained and approach their job seriously. We were to get all the information we wanted to know about trading conditions at TNFX.
The live chat is very well designed with advanced features and is super quick and responsive.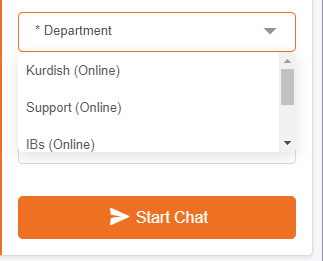 There is an option to select your language and department to get exactly the representative that can answer your questions. All in all, we were super satisfied with the professionalism of the support team of TNFX which is great. If you ever need other forms of support there are other options too including email support and a hotline number.
both the support and website are multilingual and super easy to switch between different languages.
TNFX Education
As for education, TNFX offers various resources to help newbies understand all the important details about Forex trading, deposits, withdrawals, and platforms. The tutorials are in Arabic languages too providing the necessary knowledge base for Arabic speakers.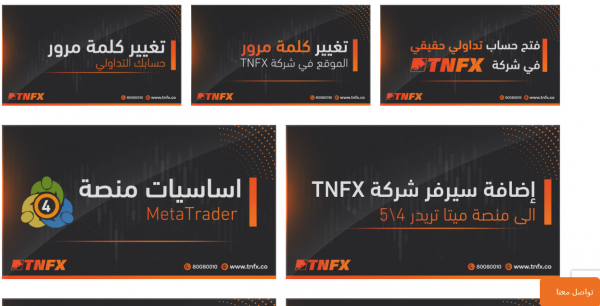 This is very good news for traders from Asia as they will be able to learn about the broker's services and FX trading concepts.
In addition to tutorials, there are articles for news, general information, and education. Among the article names are
Rules for Successful Trading
Hedge Strategy
Support and Resistance Strategy
What is a trend and what are its types?
These articles are great resources for beginners to understand important concepts about trading like hedging, support and resistance levels, trends, and many more.
From market research tools, there are economic calendars, VPS services, AutoChartist, Trading Central, and more. With these tools, it is possible to fully automate the trading processes and could become very useful for experienced traders and investors. Traders can use the economic calendar to track important macroeconomic developments and upcoming indicator releases.
Should you consider TNFX?
Previously the broker could not be recommended for traders for obvious caveats. For now, the broker seems fine and clear improvements were made. All these improvements indicate that this broker can now be trusted. But we were not able to test the real account and withdrawals and readers should exercise extra caution when dealing with this broker.
Is TNFX a regulated broker?
What are account types and spreads for each one of them?