Alvexo which is owned by VPR Safe Financial Group Limited was established in 2014. It has its headquarters in Limassol, Cyprus. Besides Limassol, Alvexo has operations offices in the UK and Switzerland. According to the official site, Alvexo specializes in global financial markets. It continues to state that traders are able to trade in currency and CFDs in a safe environment.

The firm was founded by a team of market veterans and hi-tech professionals in 2014. In this Alvexo review, we take a deeper look to help us determine whether you should invest with them or not.

The high initial deposit
The first thing that you will notice when you visit the Alvexo website is that it is colorful but simple and well laid out. Further perusal and you will find that opening an account with them is easy. However, the minimum initial deposit that you can make is $500. According to many Alvexo reviews, both professional and from traders, this amount is just too high. There are many Forex brokers that ask for a much less initial deposit. Some brokers with reputable brands ask for as little as $50. Given that a good number of traders lose their entire initial capital outlay, one can see why depositing $500 with Alvexo is risky for a newbie. Moreover, a huge number of beginner traders can't afford or don't want to risk $500.

The trading platform
Alvexo is licensed and regulated by Cyprus Securities Exchange Commission (CySEC). The license number of the firm is 236/14. The firm is also licensed by FCA and the license ref number is 683301. The good thing about being licensed and regulated by bodies such as CySEC and FCA is that your money is protected. Even if the firm were to go down, you can rest assured that you will not lose all your money. But as we have discovered in this Alvexo scam review, just because a firm is licensed doesn't mean that everything is smooth and above board at the firm. Some clients complain that it is hard to withdraw money and some have even resulted in asking help from chargeback firms.
Alvexo FX broker offers its customers different trading platforms. For those who are looking for functionality, MT4 is the platform to go with. For those traders who value accessibility, then WebTrader is the platform to pick. The smartphone users have the Mobile App to execute their trades with.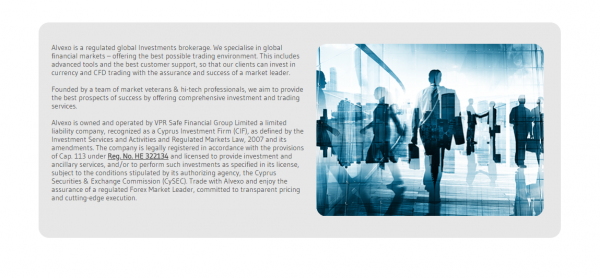 Is Alvexo a scam?
Like many Forex brokers today, there are quite some complaints directed toward Alvexo. Among the leading concerns include the inability of traders to withdraw their funds. Of course, this is a serious concern and no trader would willingly deposit $500 knowing there is a risk of not being able to withdraw not only their winnings but also their initial capital. In spite of all this, Alvexo trading signals which are compiled twice every day have proven to be quite helpful for the traders. In conclusion, we can say that Alvexo is a legit broker. However, there are features and practices within the firm which make many traders and Alvexo review writers say that everything is not done above board. This consequently means that the broker will be branded as a scam in some quarters.