Detailed TDS Capital review shows if the broker is a scam or legit

When choosing a broker to trade with you cannot be satisfied with only the looks of the broker. It is important to be fully aware of the trading conditions, offerings and regulatory background of the brokerages. Today it is easy to make your offerings look nice, but in many cases, it does not mean that the trading experience is also good. TDS Capital review features everything you need to know about the broker to decide if the broker is good or not, and how secure is trading with the broker.
While there are some seemingly exciting offerings on the TDS Capital platform such as many trading assets, diverse account base, etc. However, one cannot be content with a brief look and impression of the broker. It goes without saying that choosing the right broker can have a massive effect on trading, as well as the security of traders' funds.
Therefore, to refrain from such a mistake, let's review each of the offerings and prove their legitimacy or fraudulence.
Is TDS Capital legit?
First things first, let's see where the company operates. As the website claims, the brokerage was registered in the Commonwealth of the Dominican Republic (COTDR) and is operated by a company named Optima Express Inc. Now, many people would find the FSA license from the COTDR pretty legit and free of faults but it's not the case for us.
If anyone needs reminding, the COTDR is a small distant island that doesn't even enjoy full sovereignty. And in economics, there's one common knowledge that when companies register in such countries, they usually do so in order to avoid taxes and/or hide their illicit activities. And for this reason, we think that TDS Capital scam may actually be real.
Besides, the broker cannot provide service to the United States citizens, as well as some other nationals. We're getting more and more convinced in our assessment.
Tdscapitalgroup.com review
The next segment to review is the website. One of the main requirements of any modern website is to be simplistic and easily understandable. This way, visitors can focus on what's important – getting actual information stored on the website.
In the case of TDS Capital, we don't think that either of those requirements has been fulfilled: neither the simplicity nor informativeness. Let's start with the former aspect. The interface is stuffed with some unnecessary visuals and decorations, saturated images and fancy fonts. In light of such complexity, visitors find it difficult to navigate through the website and find what's really interesting to them.
And then there's the informative side, which is even more important than the visual side. While the broker offers an educational section, it's not professionally written content that contains complex information about various trading elements.
So, our overall TDS Capital opinion isn't greatly improved by the broker's website design and its informative side. Let's move on to the next department – trading assets.
What does the broker offer
TDS Capital is mainly a crypto CFD broker but it also offers some real cryptocurrencies for trading. As for the CFDs, here's how they work: as the name suggests – Contracts for Difference (CFD) – the trading process consists of traders and brokers making contracts about asset price movements. In this case, the asset group includes cryptocurrencies. If a trader goes long on crypto CFD, this means that whenever the price of a given cryptocurrency increases, a trader will earn a profit. And if the price goes down, they will lose money.
But as mentioned earlier, the broker also offers some cryptos for trading such as Bitcoin, Litecoin, etc. Now, we don't have much to say about those assets rather than the broker is playing a safe game here, not offering lots of direct trading assets. But it certainly doesn't mean that the TDS Capital fraud is gone forever.
TDS Capital account types
Moving on, let's talk about the account types and how well-adjusted they are to the traders' needs. The broker offers five different trading accounts on its platform: Basic, Bronze, Silver, Gold, and Platinum.
Now, the first reaction of anyone seeing so many accounts is the assurance that they'll be tailored to the traders from various backgrounds; that the Basic account would be clear-cut for beginners and the Platinum level will better suit the elite traders. However, there's not much of a difference between the accounts in reality. Some minor advantages like SMS notifications, Exclusive position access, and others don't make elite accounts really elite.
Not only that, the minimum deposit requirement of $250 on the Basic account will still be large for those people who don't have any experience in trading. Now, if there was a demo account on the platform, then we would find some justification for this issue, but from this point of view, the beginner traders will still need to make considerable deposits onto their accounts.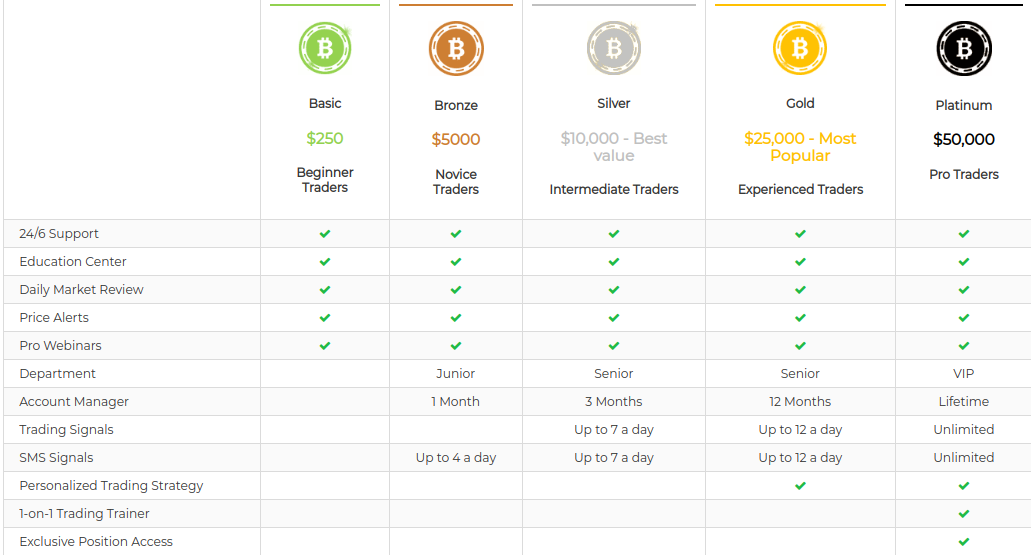 TDS Capital platform
The next unappealing aspect in this TDS Capital review is trading software. You may already know that the majority of Forex, crypto, and other security traders brokers use MetaTrader 4 or 5, or even cTrader to ensure the best possible trading experience for their clients. However, TDS Capital has clearly decided to steer clear of that path.
The broker offers its own web-based trading platform that it claims to be very comfortable and easy to use. While we have no comment about its convenience in trading, there's one thing that troubles us: having its own trading platform in the arsenal, the broker can easily put suspicious scripts and mechanisms in it and undermine its clients' finances. With MT4, there would be more monitoring means to avoid such things but with proprietary software, that's not a very likely outcome.
Final Thoughts
So, what's our final TDS Capital opinion? Do we think that notwithstanding all the downsides and flaws that we've listed in this review, the broker is still legit? No, certainly not.
The license that we reviewed comes from the Commonwealth of the Dominican Republic, a tiny distant island that has no power whatsoever to monitor its subjects' activities. Therefore, we can regard TDS Capital as an unregulated broker.
Next, we examined the trading platform and found out that the broker offers crypto CFDs, as well as the cryptocurrencies themselves. We also reviewed the website, but its overcomplicated interface didn't leave very good impression on us, nor did its informative aspect.
As for the trading accounts, while there are five different packages, all of them are more or less similar. Besides, even the Basic account has a large initial deposit requirement that not many people will manage to pay.
So, for those and other reasons, we believe that TDS Capital can very well be a scam broker and you should be careful when making business with it.