Full Review of ROinvesting – Should This Broker Be Trusted?

Forex market is developing rapidly. It is an evergrowing market that attracts a lot of traders worldwide. With Forex trading, people earn a lot of money, and some make it a primary source of income. It is a field that requires hard work and profound knowledge.
However, having a reliable broker is also crucial if you want to achieve success. A broker is an intermediary that helps you with trading, but some of them are dishonest and are based on fraudulent schemes. We come across scams every day.
But as hard as finding a trustworthy broker may look, there are many reliable Forex brokers out there, which offer excellent service and conditions to its clients. ROInvesting is one such brokerage and we will now review this Forex broker in meticulous detail.
Brief ROinvesting overview
Founded in 2017, ROInvesting was based on the idea of making use of technology in order to create a favorable environment for traders. According to its official website, the broker aims at ambitious people who are looking for a platform that gathers 'all the benefits under one roof'.
ROInvesting engages a team of professionals who are willing to bring customers the market experience they deserve. The company uses a modern and secure platform, to ensure the safety of clients and any data. Hardware and ultramodern software also work for customers' protection.
ROInvesting is a winner of several awards, including the Best CFD Broker Europe 2020.
Start trading with ROinvesting
ROinvesting.com at a glance
Now we should move to the review of the website. When you enter the website, the first thing that catches your attention is the visual side of it. The site is simple, optimized, and the color scheme chosen is pleasant to the eye. It is essential when you create a website of any kind to have a simplistic view and not to overload it with additional features, especially when it comes to a broker website.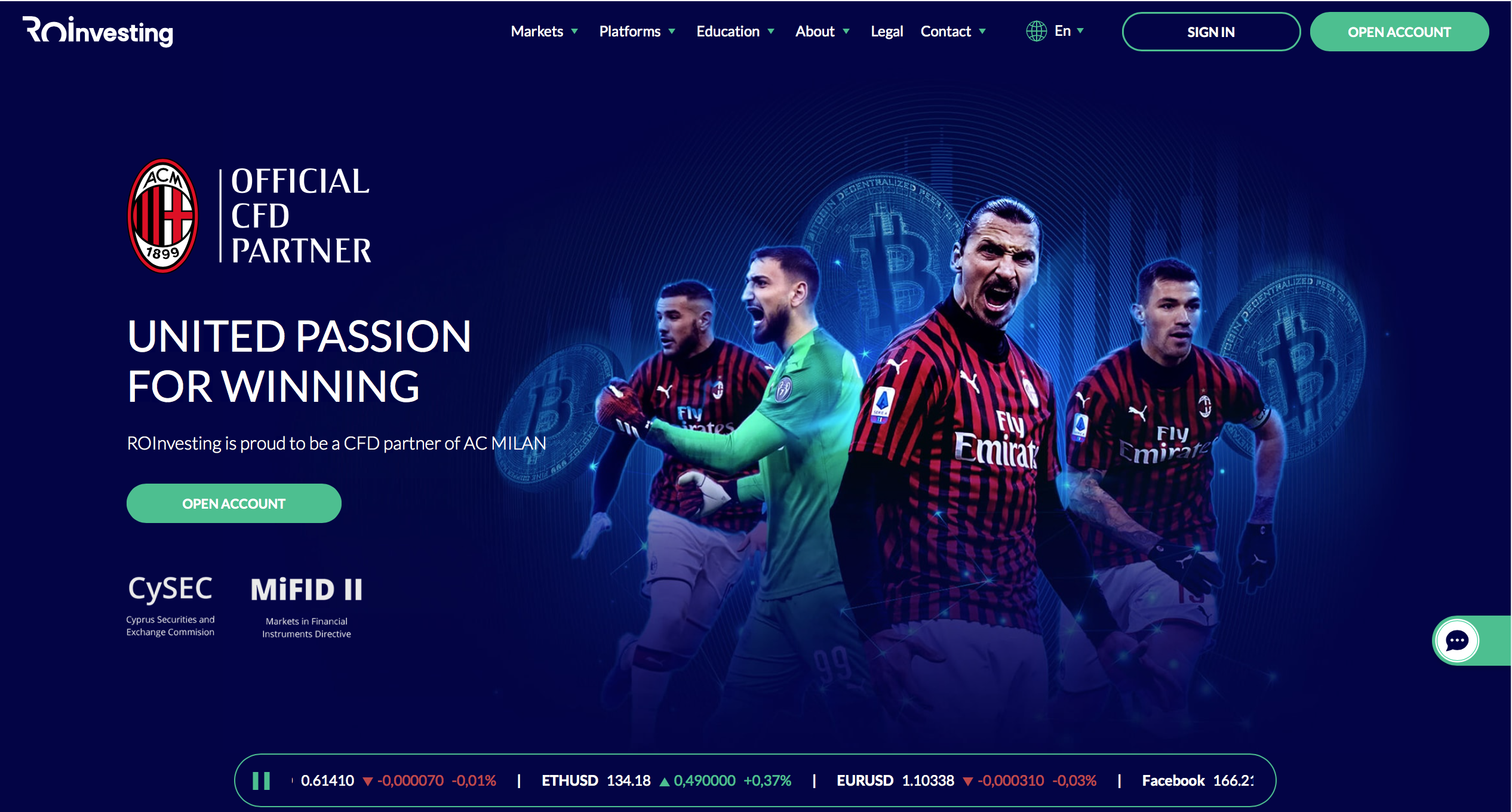 The website of ROInvesting distributes any information without any difficulty. On the main page, the first section is called Markets with 10 subsections in it. It is basically a tool about accounts and trading opportunities. The second section is Platforms with 3 subsections in it. It is pretty much evident that we are talking about primary trading platforms. The third section called Education contains 10 subsections and as the name suggests, it is a mix of courses and tutorials that enhance your knowledge. The About section has 8 subsections, providing information about regulation, costs and charges etc. The fifth section, Legal consists of regulation and legal documents. The final section is Contact Us, from where you can contact the website if you have any questions or need help.
There is a language section as well, and ROInvesting is offered in 8 languages. Next to it, you can see the Sign In icon, where you can create an account, and log in easily with the following bar. On the very right side, you can open an account by clicking the Open Account section.
We have reviewed the main sections which are available to the website. Now we should move to additional features. As soon as you open the official website, you notice that ROInvesting is partnered with a famous Italian club – AC Milan. When you scroll a little bit, you will find that ROInvesting is available on Android and iOS devices alike.
There are 6 main trading opportunities from crypto to metals. The site also shows the currency rate of cryptocurrencies as well as the exchange rate between currency pairs.
At the very bottom, there are available payment methods, and the website warns clients about the high risk of losing money if they do not have an appropriate trading experience.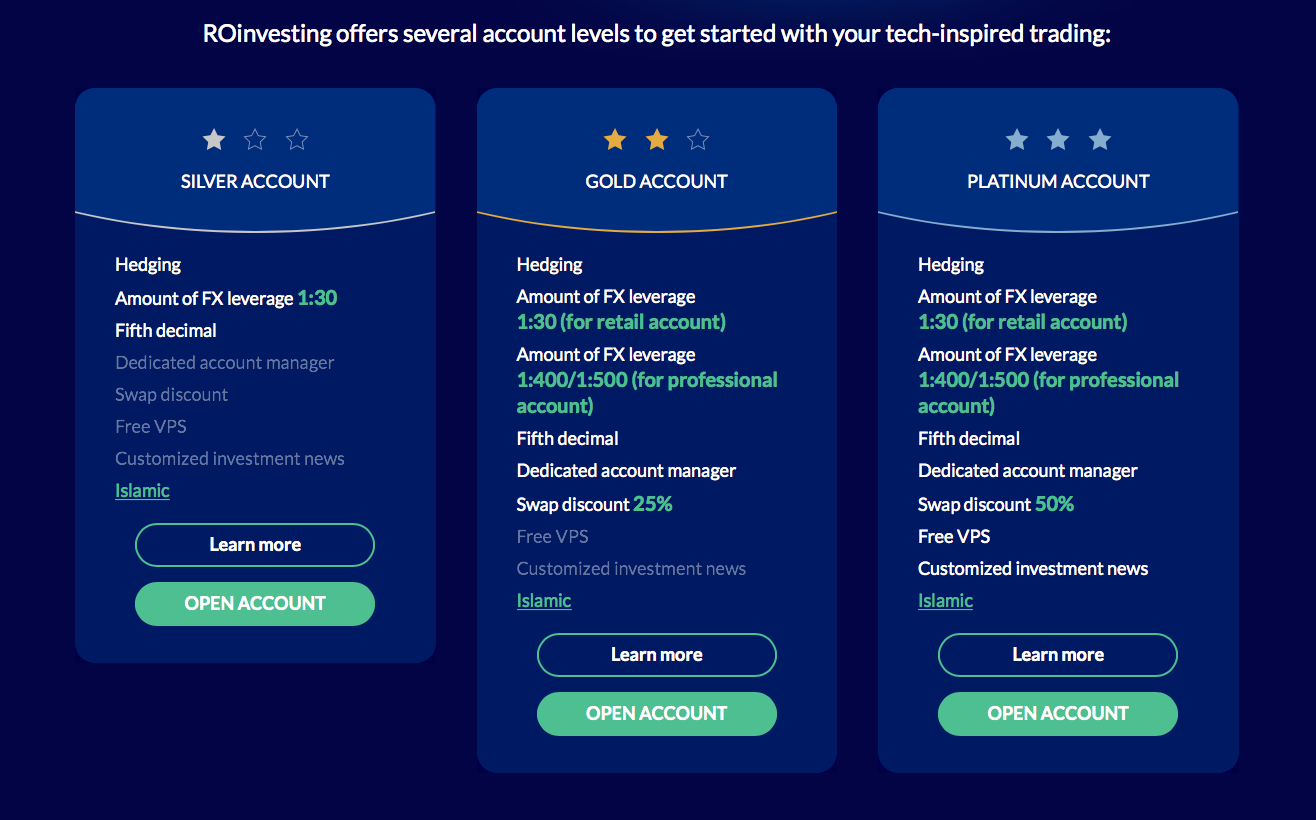 Open ROinvesting trading account
Account types
Let's move to the account types. ROInvesting offers three levels of trading accounts – Silver, Gold, and Platinum. They differ with the amount of leverage and swap discount. If you are already an experienced trader, you can apply for a professional account that offers more flexibility, dedicated technical support and personal account manager.
There is also a specific account for people who practice Islam. It is a known fact that Islam does not allow the payment of interest, so this account is created exclusively for Muslim traders.
ROInvesting also allows customers to try a demo account. It is a risk-free service, which helps novice traders test their strategy without risking real money. It is a totally safe system, and you will not be charged any additional fees for 14 days.
Customer support
The next thing we should mention is customer support. Every website, whether it is a Forex or not, requires a decent customer service, so when the clients are in need of something, they could easily contact authorities. ROInvesting is an example of that.
When you enter the website at the bottom right corner, you can see a tab, which starts a chat with the support, as soon as you enter your name and e-mail. Keep in mind that support is available from 7 AM to 5 PM, and it could be considered a drawback that the service is not available 24/7.
If you are unable to get the desired information from live chat, you can use the provided e-mail or telephone number. It is also essential to mention, that there is a specific address provided on the website, which underlines the real existence of the broker.
Not only can you contact the website about the information you need, but you can also share your feedback or any unresolved matter from the Contact Management option. If the website is truly determined to improve the experience for clients, it should always allow them to express their opinions.
Is ROinvesting licensed?
Now we have to move to the main indicator, which proves the legitimacy of a broker company – its licensing. ROInvesting is authorized and regulated by the Cyprus Securities and Exchange Commission under license No.269/15 and has its registered address at City home 81, 3rd floor, 128-130 Limassol Avenue, 2015 Strovolos, Nicosia, Cyprus. It should be said that CySEC is a very reliable and credible source of licensing. A lot of prominent brokerage companies have their licenses obtained from CySEC. So we think that in terms of a legal framework there is nothing wrong with ROInvesting. Legal documents are fine and show no sign of fraudulence.
Trading terms and conditions
We have finally come to the most interesting part which is necessary to start trading – trading terms and conditions.
As already mentioned above, there are various trading opportunities on ROInvesting from metal to crypto and USD, JPY, EUR, and another major, minor or exotic foreign exchange pairs are available through CFD trading.
Spreads and leverage
Spread is the difference between ask and bid price for the financial instrument. The spread on the website start from 0.03, and we have mentioned it varies depending on account types. It is not a very low number, but keep in mind – the higher the spread, the more amount of money a broker takes from you.
On the website, spreads are varying from silver accounts to platinum accounts
The maximum leverage available on the website is 1:500. Leverage is the concept of borrowing money to further increase your profits. You can make more money if the leverage is high, but at the same time, you can risk losing a substantial amount.
Available trading platforms
There are three main trading platforms available on the website – WebTrader, MetaTrader and Mobile App. WebTrader is a superb technology that helps you access the market directly from your browser. As long as you are connected to the Internet, you can see the changes and fluctuations going on in the market. WebTrader puts more emphasis on the customer's privacy and information safety.
MetaTrader 4, also known as MT4, is a tool used by millions of people worldwide. You can download it on your laptop or personal computer, and once you install it, you can examine price dynamics, open and close trades, perform technical analysis and many more. In MT4, the transmitted data is safely executed and encrypted. MT4 has nine different timeframes, and technical indicators are well-demonstrated. There is also a tutorial for those who wish to improve the knowledge on MT4.
The Mobile App, as the name itself suggests, is for those who are more comfortable using mobile phones while trading, rather than a laptop or PC. ROInvesting's mobile app is supported on both Android and iOS devices. This app makes traders' experience more exciting and seamless. With the high-security technology, you are able to use the application whenever you want.
Join ROinvesting – a trusted Forex broker
Deposits and withdrawals
Withdrawals and deposits play an important part on any brokerage website. Prior to starting to trade, a client must deposit $250 or equivalent to be eligible to trade. There is no commission fee for depositing the money and the processing time depends on the payment method you are using.
The company has the right to reject your deposit if it notices something suspicious takeing place. In this case, the canceled funds will be returned to a client's account. Note that the maximum deposit is not limited.
As for withdrawals, the company reserves the right to charge additional 50EUR, if it is insignificant, or no trading activity at all on the client's account before requesting the withdrawal. If a client decides to withdraw the sum below 100EUR than he/she may be a subject of additional commission fee. Always keep in mind that some banks use intermediary banks which also charge an additional fee, and it is completely the responsibility of a client. Usually, it takes several days to approve the withdrawal request, and the company is eligible to reject the withdrawal in case something wrong takes place.
At the present moment, there are no bonuses or promotions available on the website, but ROInvesting is constantly growing, so time will definitely come when the company starts introducing bonus systems.
If you are unable to find additional information on the website, you can turn to Terms and Conditions for more details that are available on the official website.
Should you trust ROinvesting?
So as we are heading towards the finish, the question that arises among readers is the following – is ROInvesting scam or a legit company? We have reviewed the company thoroughly from the website to trading terms and conditions.
We determined that the provided license is indeed legit one, with CySEC being the responsible side. Moreover, the addresses help us to make sure, that the company is not imaginary and that it really exists.
We checked the visual appearance of the website and came to the conclusion that it is nicely-designed, without extra options or useless features that are annoying for clients.
As for account types, there was a unique offer called Islamic account for people who follow the Islamic faith. We also checked spread and leverages, which are relatively normal – not too high, nor too low.
Deposits and withdrawals are the way they should be. The minimum amount of money is limited, of course; however, there is nothing regarding the maximum one.
In our opinion, ROInvesting is a perfect choice for experienced and novice traders alike. The structure, offers, services, trading opportunities are on the point, and one thing about which we can express our discontent is the absence of bonuses and promotions, but once again the company is evolving and surely the authorities will think about introducing some.
The broker is very versatile – offering products from cryptocurrency to metal trading, and the number of currency pairs is vast.
To sum up, we give this broker 4.5/5, and if you are looking for a trustworthy and reliable broker, then ROInvesting is definitely a choice you should pay attention.
Start trading Forex with ROinvesting
Frequently asked questions
What are pips in Forex?
The term pip, which is used in the terminology of the Forex market, and which can often be heard in conversations between traders, is an abbreviation for the English phrase 'Percentage in point'. Let's see what this word means in the context of the Forex market. Immediately, we can note that another way it is called is a point.
A point or pip in the Forex market is the smallest change in price. The exchange rate is measured to the fourth or even fifth decimal place. The last digit is precisely the smallest change in a currency pair; it is called a pip.
For example, if the exchange rate of the most traded Euro/Dollar pair in a certain period changed from 1.3418 to 1.3432, then, in this case, it is said that the rate changed by 16 pips. Another word came from the word pip – pipper. It means a trader who, through short-term trading, taking profits of only 5-10 pips and earns profits through a lot of transactions that happen during the day. This type of trading is quite common among traders.
What are currency pairs?
To simplify the understanding of what positions are being opened, the concept of a currency pair is introduced in the Forex market. Instead of saying 'I bought the euro for dollars' or 'I sold the euro for dollars', traders use shorter expressions.
A currency pair record is the abbreviated names of the respective currencies that go sequentially, For example, the currencies euro (EUR) and dollar (USD) together constitute the currency pair EUR/USD (euro-dollar). The purchase of this currency pair means the purchase of euros for dollars. And always, in any case, whatever currencies are in the pair, the first of the currencies in the pair is bought for the second. So, buying AUD/CAD means buying Australian dollars for Canadian dollars.
It is more professional to say that the first currency in a pair is the base currency, and the second is quoted. So, in the NZD/USD pair, the New Zealand dollar (NZD) is the base, and the quoted one is the American dollar (USD).
Considering the list of currency pairs, it can be noted that there are financial instruments in which the base currency is the American dollar (for example, USD/JPY, USD/CHF, USD/CAD). In this case, they say that there is a direct quotation. At the same time, the dollar is included in other currency pairs as a quoted currency (for example, EUR/USD, GBP/USD, AUD/USD, NZD/USD). This is called a reverse quotation. The price value, in this case, should be interpreted as the number of dollars in a unit of the base currency.
There are other groups of tools. If, for example, the base currency is Australian, and the quoted dollar is Canadian, then this is the AUD/CAD cross rate. The so-called cross-rates are divided into 'major crosses' and 'minor crosses', respectively, their liquidity in the financial markets.
In addition to the fact that there are various groups of financial instruments, we can point out that individual currencies can most often play one or another typical role. In particular, the currencies of the most stable countries, as well as contracts for precious metals can act like financial instruments, investments that can safely wait out crisis moments in the markets. In trading, such tools are called 'safe-haven currency'.
What is a Forex broker?
A broker is an intermediary between the exchange and the trader. His role is very important for trading. Indeed, it depends on how quickly and efficiently your applications will be executed, the size of the commission, the conditions for depositing/withdrawing funds. It is also worth remembering that we trust him in storing our money.
The duties of the Forex broker include the instant submission of applications from the client to the exchange and the online provision of a trading schedule. In addition, he can and should give free advice and assistance if necessary.
All client money is stored in an account with a brokerage company. He, in turn, has his own account on the Forex exchange (or the stock section) and already concludes transactions from his own.
Therefore, it is essential to approach thoroughly when choosing a reliable Forex broker. It is important not to make a mistake and not to select a broker involved in a fraudulent scheme.
The income of a Forex broker depends entirely on the turnover of users. The more his customers trade, the higher his profit will be. Therefore, he is very interested in the fact that users trade as much as possible.
Surely you have seen headlines with loud advertising about excess returns, that trading is so easy and affordable, and it is also the path to financial freedom and independence. Of course, no one will give you a ton of money, much less a chance to enjoy life lying on the beach, while your trades on the exchange are unlikely to succeed. Any trading operations on the market are fraught with great risk. Any transaction is 50/50.
A successful broker is one that is a good manager. In fact, this is the one who can motivate to invest in their company.
How much money is needed to start trading on Forex?
Today anyone can start trading Forex, having only one dollar in their account. But there are interbank trading systems in which a minimum amount of $10,000 to $100,000 is required to start trading. You must agree with a considerable amount, but if you work with such an amount of money, you can earn a decent profit and no longer have financial issues.
But if you do not have that kind of money, and most importantly, experience, then it is best for you to start with a minimum. Try to start playing with $10 and then increase the initial amount. Because if you start with large sums without experience, you will lose all of your money.
Over time, you gain experience and can already play with large sums, respectively, to win big money. Learn, gain experience, and after some time, you will be able to earn a decent amount of money. Of course, without risks, there are no profits and bear in mind that if you are determined to make Forex as a primary source of income, you should accept the risks and dangers associated with it. You will not see any results otherwise.