NPBFX review

STP brokers are becoming more and more popular in the foreign exchange market, and the reason for this increase in popularity comes from the range of benefits that are associated with Straight Through Processing. Some of those advantages are immediate execution, no dealing desk, no conflict of interests, and so on, but not all of those brokers are equally professional in their operations and activities. That is why our lqdfx review will give you the necessary knowledge about this particular broker, and this will allow you to make an informed decision when thinking about joining this trading provider.
NPBFX at a glance
As we just said, NPBFX Company has been present in the Forex market for almost two decades now, but in 2016, the corporation underwent a rebranding phase, and the broker now operates as NPBFX Limited. For those of you who are fearful of NPBFX scam being present, the fact that only IFSC in Belize licenses this broker will not make you feel any better. This regulatory body does not enforce strict controls, and their liberal approach to online safety could cause you a lot of headaches and frustrations. Also, NPBFX is a member of The Financial Commission, which is an independent organization operating in the foreign exchange market.
Types of accounts
Just like all other NPBFX reviews, we also have to examine the types of trading accounts offered at this trading provider. Unfortunately, NPBFX does not offer much in this segment of their operations, and they provide a standard set of features. What this means is that you will have access to a demo account, or you can sign up and start one of the Live accounts, including Master, Expert, and VIP type. All of these categories are swap-free, and they offer leverage of 1:100 or 1:200. The minimum amount you have to deposit to open up the Master account is just $10, which can attract gullible and less experienced investors.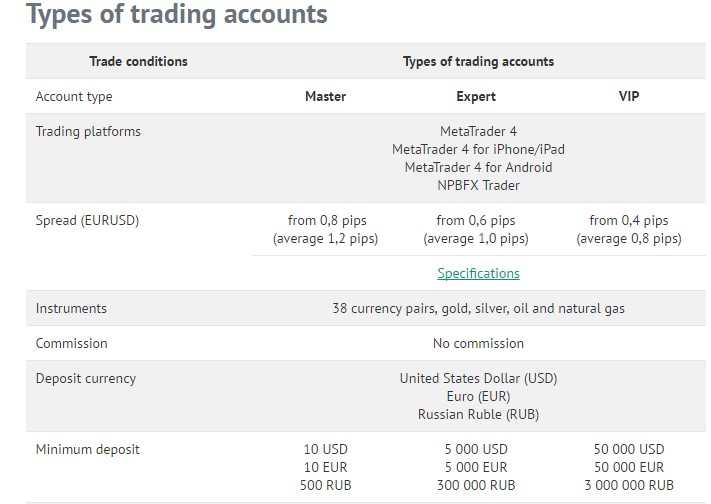 Trading platform
Since 2011, NPBFX broker is relying on MetaTrader 4 platform to be their primary software solution. We all know that this software package offers a lot of flexibility and broker houses can modify it in agreement with their specific needs and preferences, but NPBFX failed to utilize the full range of possibilities of this software. In 2016, they introduced a new platform, called NPBTrader, and clients can access their trading portal on Windows, Mac, iOS, and Android devices.

Bonuses and promotions
Almost every NPBFX opinion is based on bonuses as well, and this element plays a significant role in the modern business operations and strategies. However, NPBFX seems to miss this point, and they are not offering a lot of bonuses and promotional activities. As a matter of fact, we were only able to find a no deposit bonus of $20 at their site, and this is something a decent Forex broker should never allow to happen. Other broker companies are providing far more lucrative gifts and rewards, and NPBFX will have to invest in this area in the upcoming period.
Deposits and withdrawals
Aside from bonus features and the performances of the site, banking methods are also important in the modern foreign exchange market. In other words, our NPBFX opinions were affected by the functionality of banking methods at this site, and we have to say that this broker does not bring anything revolutionary to the table. They are relying on several most common payment processing methods, such as credit cards, wire transfer, and e-wallet services.
Customer support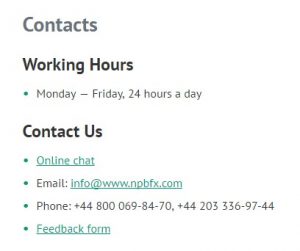 The quality of customer support is not one of the strongest assets of NPBFX Forex broker, and they will have to work on this segment of their offer as well. Admittedly, their staff is available 24/5 via phone, e-mail or live chat, but the site lacks basic educational material and other features that are typically provided by almost all other broker houses. For instance, novice traders and beginners will be the ones who will be most affected by this lack of understanding by NPBFX, and it is likely that they will move on and look for a better company for their needs and investment plans.
Conclusion
NPBFX is an offshore company, and we all know that doing business with this type of enterprises is not the best idea. As you could see from our NPBFX FX broker review, this company has shown a couple of serious drawbacks, and it will take a lot of effort on their behalf to correct those issues and become a professional and reliable trading provider.